Abstract
Interleukin-6 (IL-6) is a multifunctional cytokine which contributes to inflammation and tissue injury in several diseases. Thus, inhibition of IL-6 production may be a useful strategy for treatment of patients with diseases such as rheumatoid arthritis (RA) and systemic lupus erythematosus (SLE). A synthetic nonpsychoactive cannabinoid, ajulemic acid (AjA), prevents joint damage in experimental arthritis. Results of experiments presented here indicate that addition of AjA (3–30 μM) to human monocyte derived macrophages in vitro reduces steady state levels of IL-6 mRNA and the subsequent secretion of IL-6 from LPS stimulated cells. Although AjA binds to and activates PPARγ, its anti IL-6 effects are PPARγ independent. These studies provide evidence to support the view that AjA may prove to be an effective, safe antiinflammatory agent.
This is a preview of subscription content, log in to check access.
Access options
Buy single article
Instant access to the full article PDF.
US$ 39.95
Price includes VAT for USA
Subscribe to journal
Immediate online access to all issues from 2019. Subscription will auto renew annually.
US$ 199
This is the net price. Taxes to be calculated in checkout.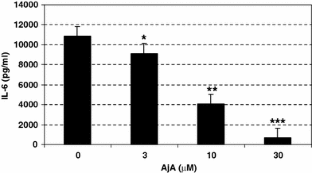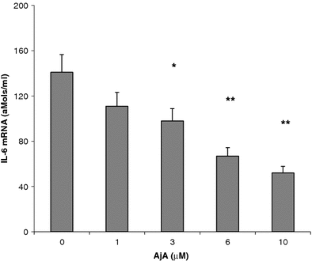 References
1.

Poupart P, Vandenabeele P, Cayphas S, VanSnick J, Haegman G, Kruys V, Fiers W, Content J (1987) B cell growth modulating and differentiating activity of recombinant human 26kd protein (BSF-2, HuIFN-beta 2, HPGF). EMBO J 6:1219–1224

2.

Abeles AM, Pillinger MH (2006) The role of synovial fibroblasts in rheumatoid arthritis-cartilage destruction and the regulation of matrix metalloproteinases. Bull Hosp Jt Dis 64:20–24

3.

Legendre F, Bogdanowicz P, Boumediene K, Pujol JP (2005) Role of interleukin-6 (IL-6)/IL-6R induced signal transducers and activators of transcription and mitogen-activated protein kinase/extracelllular. J Rheumatol 32:1307–1316

4.

Li SP, Goldman ND (1996) Regulation of human C-reactive protein gene expression by two synergistic IL-6 responsive elements. Biochemistry 35:9060–9068

5.

Dasgupta B, Corkill M, Kirkham B, Gibson T, Panayi G (2002) Serial estimation of interleukin-6 as a measure of systemic disease in rheumatoid arthritis. J Rheumatol 19:22–25

6.

Choy EHS, Isenberg DA, Garrood T, Farrow S, Ioannou Y, Bird H, Cheung N, Williams B, Hazleman B, Price R, Yoshizaki K, Nishimoto N, Kishimoto T, Panayi GS (2002) Therapeutic benefit of blocking interleukin-6 activity with an anti-interleukin-6 receptor monoclonal antibody in rheumatoid arthritis. A randomized double blind, placebo-controlled dose escalation trial. Arthritis Rheum 46:3143–3150

7.

Kaplin AI, Deshpande DM, Scott E, Krishnan C, Carmen JS, Shats I, Martinez T, Drummond J, Dike S, Pletnikov M, Keswani SC, Moran TH, Pardo CA, Calabresi PA, Kerr DA (2005) IL-6 induces regionally selective spinal cord injury in patients with the neuroinflammatory disorder transverse myelitis. J Clin Invest 115:2731–2741

8.

Dean GS, Tyrrell-Price J, Crawley E, Isenberg DA (2000) Cytokines and systemic lupus erythematosus. Ann Rheum Dis 59:243–251

9.

Abel EL (1980) Marijuana: the first twelve thousand years. Plenum, New York

10.

Burstein SH (1999) The cannabinoid acids: nonpsychoactive derivatives with therapeutic potential. Pharmacol Therap 82:87–96

11.

Dajani EZ, Larsen KR, Taylor J, Dajani NE, Shawan TG, Neelema SD, Taylor MS, Dayton MT, Mir GN (1999) 1',1'-dimethylheptyl-Δ8-tetrahydrocannabinol-11-oic acid: a novel orally effective cannabinoid with analgesic and anti-inflammatory properties. J Pharmacol Exp Ther 291:31–38

12.

Zurier RB (2003) Prospects for cannabinoids as anti-inflammatory agents. J Cell Biochem 88:462–466

13.

Karst M, Salim K, Burstein S, Conrad I, Hoy L, Schneider U (2003) Analgesic effects of the synthetic CT3 on chronic neuropathic pain. JAMA 290:1757–1762

14.

Zurier RB, Rossetti RG, Lane JH, Goldberg JM, Hunter SH, Burstein SH (1998) Dimethylheptyl-THC-11-oic acid: a nonpsychoactive anti-inflammatory agent with a cannabinoid template structure. Arthritis Rheum 41:163–170

15.

Liu J, Li H, Burstein SH, Zurier RB, Chen JD (2003) Activation and binding of peroxisome proliferator-activated receptor gamma by a synthetic cannabinoid. Mol Pharmacol 65:983–992

16.

Burstein SH, Audette CA, Breuer A, Devane WA, Colodner S, Doyle SA, Mechoulam R (1992) Synthetic nonpsychotropic cannabinoids with potent anti-inflammatory, analgesic, and leukocyte anti-adhesion activities. J Med Chem 35:3135–3141

17.

Zurier RB, Rossetti RG, Burstein SH, Bidinger B (2003) Supression of human monocyte interleukin-1β production by ajulemic acid, a nonpsychoactive cannabinoid. Biochem Pharmacol 65:649–655

18.

Kato T, Imatani T, Miura T, Minaguchi K, Saitoh E, Okudah K (2000) Cytokine-inducing activity of family 2 cystatins. Biol Chem 381:1143–1147

19.

Zingarelli B, Cook JA (2005) Peroxisome proliferator-activated receptor-gamma is a new therapeutic target in sepsis and inflammation. Shock 23:393–399

20.

Choy EH, Panayi GS (2001) Cytokine pathways and joint inflammation in rheumatoid arthritis. N Engl J Med 344:907–916

21.

Matsumoto T, Tsurumoto T, Shindo H (2006) Interleukin-6 levels in synovial fluids of patients with rheumatoid arthritis correlated with the infiltration of inflammatory cells in synovial membrane. Rheumatol Int 26:1096–1100

22.

Reddy SV (2004) Regulatory mechanisms operative in osteoclasts. Crit Rev Eukaryot Gene Expr 14:255–270

23.

Alonzi TE, Fattori E, Lazzarro D, Costa P, Probert GK, DeBendetti F, Poli V, Ciliberto G (1998) Interleukin-6 is required for the development of collagen induced arthritis. J Exp Med 187:461–468

24.

Ohshima S, Saeki T, Mima T, Sasai M, Nishioka K, Nomura S, Kopf M, Katada Y, Tanaka T, Suemura M, Kishimoto T (1998) Interleukin-6 plays a key role in the development of antigen induced arthritis. Proc Natl Acad Sci USA 95:8222–8226

25.

Scher JU, Pillinger MH (2005) 15d PGJ2: the anti-inflammatory prostaglandin? Clin Immunol 115:118–128

26.

Jiang C, Ting AT, Seed B (1998) PPAR-γ agonists inhibit production of monocyte inflammatory cytokines. Nature 391:82–86

27.

Fahmi H, Pelletier JP, Martel-Pelletier J (2003) PPAR gamma ligand as modulators of inflammatory and catabolic responses in arthritis: an overview. J Rheumatol 29:3–14

28.

Beech JT, Andreakos E, Ciesielski CJ, Green P, Foxwell BM, Brennan FM (2006) T cell contact-dependent regulation of CC and CXC chemokine production in monocytes through differential involvement of NFκB: implications for rheumatoid arthritis. Arthritis Res Ther 8:168–177

29.

Salmon M, Scheel-Toellner D, Huissoon A, Pilling D, Shamadeen N, Dupuy D'Angeac A, Hyde H, Bacon PA, Emery P, Akbar AN (1997) Inhibition of T cell apoptosis in the rheumatoid synovium. J Clin Invest 99:439–446

30.

Teague TK, Marrack P, Kappler JW, Vella AT (1997) IL-6 rescues resting mouse T cells from apoptosis. J Immunol 158:5791–5796

31.

Kobayashi M, Yasui N, Ishimaru N, Arakaki R, Hayashi Y (2004) Development of autoimmune arthritis with aging via bystander T cell activation in the mouse model of Sjogren's syndrome. Arthritis Rheum 50:3974–3984

32.

Bidinger B, Torres R, Rossetti RG, Brown L, Beltre R, Burstein S, Lian JB, Stein GS, Zurier RB (2003) Ajulemic acid, a nonpsychoactive cannabinoid acid, induces apoptosis in human T lymphocytes. Clin Immunol 108:95–102

33.

Smolen J, Maini RN (2006) Interleukin-6: a new therapeutic target. Arthritis Res Ther 8:S5–8

34.

Johnson DR, Stebulis JA, Rossetti RG, Burstein SH, Zurier RB (2007) Suppression of fibroblast metalloproteinases by ajulemic acid, a nonpsychoactive cannabinoid acid. J Cell Biochem 100:184–190
Acknowledgments
This study was supported by National Institute of Health Grants DA3691, AI1056362, and T32AR07572 (RP, Trainee), and a grant from the FAO Schwarz Research Foundation (FA, Trainee).
About this article
Cite this article
Parker, J., Atez, F., Rossetti, R.G. et al. Suppression of human macrophage interleukin-6 by a nonpsychoactive cannabinoid acid. Rheumatol Int 28, 631–635 (2008). https://doi.org/10.1007/s00296-007-0489-0
Received:

Accepted:

Published:

Issue Date:
Keywords
Interleukin-6

Inflammation

Cannabinoid acid

Macrophages

Rheumatoid arthritis