Abstract
Studies have demonstrated the beneficial effects of fangotherapy on relieve of pain improving function of rheumatic patients. Herein, we investigated the effect of Brazilian black mud in protect articular damage in chronic arthritis induced in rats. Mud was daily applied (40°C/30 min) during the course of arthritis and was compared with warm water and no treated groups. At 21th day after arthritis induction synovial fluid and membrane were analyzed regarding cellular influx, hyperplasia and vascular proliferation. Cartilage structure, cell count, proteoglycan and collagen amount were also analyzed by three pathologists blinded to the treatment. Mud treatment diminished leukocyte migration into the synovial membrane and articular cavity when compared with both control groups. Regarding cartilage, an increase in collagen, number of chondrocytes and more conserved tissue structure was observed in mud-treated animals. These results demonstrate a protective effect of Brazilian mud on this model of arthritis, suggesting that this therapy may be useful as a complementary approach to treat articular diseases.
Access options
Buy single article
Instant access to the full article PDF.
USD 39.95
Price includes VAT (USA)
Tax calculation will be finalised during checkout.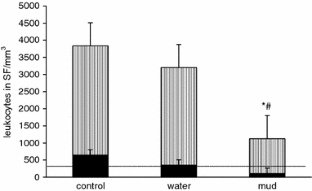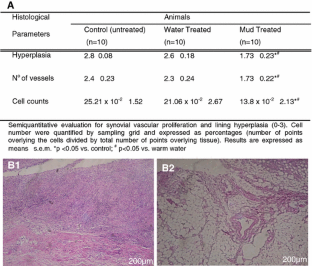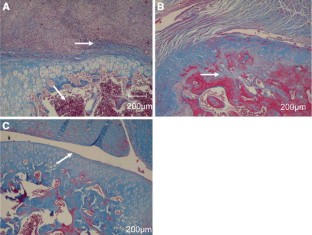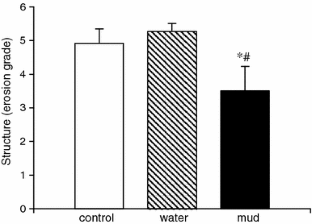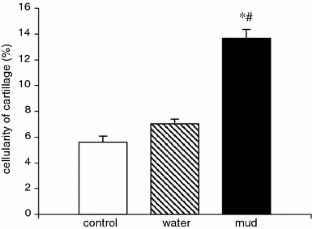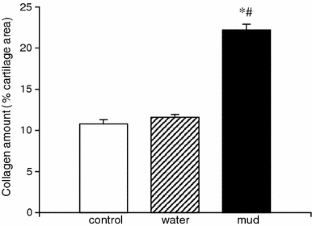 References
1.

Taibi DM, Bourguignon C (2003) The role of complementary and alternative therapies in managing rheumatoid arthritis. Fam Community Health 26(1):41–52

2.

Sukenik S, Buskila D, Neumann L, Keluiner-Baumgarten A (1992) Mud pack therapy in rheumatoid arthritis. Clin Rheumatol 11(2):243–247

3.

Bellometti S, Galzigna L (1990) Serum levels of a prostaglandin and a leukotriene after thermal mud pack therapy. J Invest Med 46(4):140–145

4.

Flussner D, Abu-Shakra M, Friger M, Codish S, Sukeni S (2002) Therapy with mud compress for knee osteoarthritis: comparison of natural mud preparations with mineral-depleted mud. J Clin Rheumatol 8(4):197–203

5.

Grossi F, Mastroiani S, Conigliaro R, Quadrani V, Gatti R (1993) Effetti di tratamenti termali balneo-fangoterapici sulla patologia reumática extra-articolare in rapporto ad attivitá sportiva. Clin Ter 143:417–420

6.

Carabelli G (1998) Effetti dell"uso di un fango su cute normale, secca e seborroica. Clin Ter 149:271–275

7.

Sukenik S, Buskila D, Neumann L, Kleiner-Baumgarten A, Zimlichman RS, Horowitz J (1990) Sulphur bath and mud pack treatment for rheumatoid arthritis at the Dead area. Ann Rheum Dis 49:99–102

8.

Sukeni S (1998) Balneotherapy for rheumatic diseases at the Dead Sea. Int Dermatol 37(9):717–718

9.

Elkayam D (1991) Effect of spa therapy in Tiberias on patients with rheumatoid arthritis and osteoarthritis. J Rheumatol 18:1799–1803

10.

Cara S, Carcangia G, Padalino G, Palomba M, Tamanini M (2000) The bentonites in pelotherapy: chemical mineralogical and technological properties of materials form Sardinia deposits (Italy). Appl Clay Sci 16:117–124

11.

Carretero MI (2002) Clay minerals and their beneficial effects upon human health: a review. Appl Clay Sci 21:155–163

12.

Veniale F (2004) Formulation of muds for pelotherapy: effects of "maturation" by different mineral waters. Appl Clay Sci 25(3, 4):135–148

13.

Galzigna L, Cheschi-Berrini E, Moschin E, Tolomio C (1998) Thermal mud-pack as an anti-inflammatory treatment. Biomed Pharmacother 52:408–409

14.

Galzigna L, Moretto C, Lalli A (1996) Physical and biochemical changes of thermal mud after maturation. Biomed Pharmacother 50:306–308

15.

Bellometti S, Galzigna L (1999) Function of the hypothalamic adrenal axis in patients with fibromyalgia syndrome undergoing mud-pack treatment. Int J Clin Pharmacol Res 19(1):27–33

16.

Bellometti S, Cecchettin M, Galzigna L (1997) Mud pack therapy in osteoarthrosis. Changes in serum levels of chondrocyte markers. Clin Chim Acta 268:101–106

17.

Bellometti S, Cecchettin M, Lalli A, Galzigna L (1996) Mud pack treatment increase serum antioxidant defenses in osteoarthritic patients. Biomed Pharmacother 50:37–39

18.

Bellometti S, Poletto M, Gregotti C, Richelmi P, Berte F (2000) Mud bath therapy influences nitric oxide, myeloperoxidase and glutathione peroxides serum levels in arthritic patients. Int J Clin Pharmacol Res 20(3–4):69–80

19.

Neumann L (2001) The effect of balneotherapy at the Dead Sea on the quality of life of patients with fibromyalgia syndrome. Clin Rheumatol 20:15–19

20.

Cherkin D (1998) Spa therapy: panacea or placebo? Med Care 36(9):1303–1305

21.

Cozzi F, Carrara M, Sfriso P, Todesco S, Cima L (2004) Anti-inflammatory effect of mud-bath applications on adjuvant arthritis in rats. Clin Exp Rheumatol 22:763–766

22.

Ramos AMO, Soares MLM, Rocha LRM, Jerônimo SMB, Rocha FAC, Patrício FRS (2001) Zymosan-induced arthritis in rats: histopathological, histochemical, and biochemical study of the articular cartilage. Rev Bras Reumatol 41(4):205–212

23.

Rocha FAC, Rocha JCS, Peixoto MEB, Jancar S, Cunha FQ, Ribeiro RA (2003) Effect of nitric oxide syntase in articular inflammatory pain and cellular influx of zymosan-induced arthritis in rats. Rev Bras Reumatol 45(4):206–217

24.

Pinto CA (2003) Morphometric evaluation of tumor matrix metalloproteinase 9 predicts survival after surgical resection of adenocarcinoma of the lung. Clin Cancer Res 9:3098–3104

25.

Mankin HJ, Dorfman MD, Lippiello L, Zarins A (1971) Biochemical and metabolic abnormalities in articular cartilage from osteoarthritic human hips II Correlation of morphology with biochemical and metabolic data. J Bone Joint Surg 53A(3):523–537

26.

Keystone EC, Schorlemmer HU, Pope C, Allison AC (1977) Zymosan-induced arthritis: a model of chronic proliferative arthritis following activation of the alternative pathway of complement. Arthritis Rheum 20:1396–1401

27.

Gegout P, Gillet P, Chevrier D, Guingamp C, Terlain B, Nette RP (1994) Characterization of zymosan-induced arthritis in the rat: effects on joint inflammation and cartilage metabolism. Life Sci 55:321–326

28.

Schmidt KL, Ott VR, Röcker G, Schalter H (1979) Heat, cold and inflammation. Z Rheumatol 38:391–404

29.

Ostberg JR, Taylor SL, Baumann H, Repasky EA (2000) Regulatory effects of fever-range whole-body hyperthermia on the LPS-induced acute inflammatory response. J Leukoc Biol 68(6):815–820

30.

Oosterveld FG, Rasker JJ (1994) Treating arthritis with locally applied heat or cold. Semin Arthritis Rheum 24(2):82–90

31.

Vassalli P (1992) The patophysiology of tumor necrosis factors. Ann Rev Immunol 10:411–452

32.

Nagase H (1997) Activation mechanisms of matrix metalloproteinases. Biol Chem 378:151–160

33.

Bellometti S, Richelni P, Tassoni T, Berte F (2005) Production of matrix metalloproteinases and their inhibitors in osteoarthritic patients undergoing mud bath therapy. Int J Clin Pharmacol Res 25:77–94

34.

Castor CW, Yaron M (1976) Connective tissue activation: VIII. The effect of temperature studied in vitro. Arch Phys Med Rehabil 57:5–9

35.

Harris ED, McCroskery PA (1974) The influence of temperature and fibril stability on degradation of cartilage collagen by rheumatoid synovial collagenases. N Engl J Med 290:1–6

36.

Bellometti S, Bertè F, Richelmi P, Tassoni T, Galzigna L (2002) Bone remodeling in osteoarthrosic subjects undergoing a physical exercise program. Clin Chim Acta 325:97–104

37.

Schimidt KL (1991) Physical therapy and balneotherapy of arthritis. Ther Umsch 48:46–51

38.

Cecchettin M, Bellometti S, Lalli A, Galzigna L (1995) Serum interleukin 1 changes in arthrosic patients after mud-pack treatment. Phys Rheab Kur Med 5:92–93

39.

Basili S (2001) Effects of mud-pack treatment on plasma cytokine and soluble adhesion molecules levels in healthy volunteers. Clin Chim Acta 314:209–214

40.

Fairchild KD, Viscardi RM, Hester L, Singh IS, Hasday JD (2000) Effects of hyperthermia on cytokine production by cultures human mononuclear phagocytes from adults and newborns. J Interferon Cytokine Res 20:1049–1055

41.

Samborski W, Sobieska M, Mackiewicz T, Stratz T, Mennet M, Muller W (1992) Can thermal therapy of ankylosing spondylitis induce an activation of the disease? Z Rheumatol 51:127–131

42.

Vescosvi PP, Gerrra G, Pioli G, Pedrazzoni M, Maninerri L, Passeri M (1990) Circulating opioid peptides during thermal stress. Horm Metab Res 22:44–46

43.

Poensin D, Carpentier PH, Féchoz C, Gasparini S (2003) Effects of mud pack treatment on skin microcirculation. Joint Bone Spine 70:367–370
Acknowledgments
The authors are grateful to Department of Pathology of Medical School of São Paulo University especially to Ana Lúcia Garippo and to Dr. Edwin Rocher Parra for his help in the morphometric analyses. We thank Cassia Arruda, Maria Aurora Gomes da Silva, Maria de Fátima de Almeida and Maria Luisa Guzzo for skillful technical assistance. We are indebted to Peruibe city concil who provided us with Black Mud. This work was partially supported by CAPES.
About this article
Cite this article
Britschka, Z.M.N., Teodoro, W.R., Velosa, A.P.P. et al. The efficacy of Brazilian black mud treatment in chronic experimental arthritis. Rheumatol Int 28, 39–45 (2007). https://doi.org/10.1007/s00296-007-0371-0
Received:

Accepted:

Published:

Issue Date:
Keywords
Mud therapy

Zymosan-induced arthritis

Synovial membrane

Cartilage