Abstract
The use of topical preparations for symptom relief is common in osteoarthritis. The effects of ibuprofen (5%) and arnica (50 g tincture/100 g, DER 1:20), as gel preparations in patients with radiologically confirmed and symptomatically active osteoarthritis of interphalangeal joints of hands, were evaluated in a randomised, double-blind study in 204 patients, to ascertain differences in pain relief and hand function after 21 days' treatment. Diagnosis was according to established criteria; primary endpoints were pain intensity and hand function; statistical design was as per current regulatory guidelines for testing topical preparations. There were no differences between the two groups in pain and hand function improvements, or in any secondary end points evaluated. Adverse events were reported by six patients (6.1%) on ibuprofen and by five patients (4.8%) on arnica. Our results confirm that this preparation of arnica is not inferior to ibuprofen when treating osteoarthritis of hands.
Access options
Buy single article
Instant access to the full article PDF.
USD 39.95
Price excludes VAT (USA)
Tax calculation will be finalised during checkout.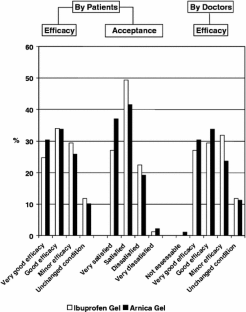 References
Zhang Y, Niu J, Kelly-Hayes M et al (2002) Prevalence of symptomatic hand osteoarthritis and its impact on functional status among the elderly: the Framingham Study. Am J Epidemiol 156:1021–1027

Hochberg MC, Vignon E, Maheu E (2000) Clinical assessment of hand OA. Osteoarthr Cartil 8(Suppl A):S38–S40

Stamm TA, Machold KP, Smolen JS et al (2002) Joint protection and home hand exercises improve hand function in patients with hand osteoarthritis: a randomized controlled trial. Arthritis Rheum 47:44–49

Moore N (2003) Forty years of ibuprofen use. Int J Clin Pract 135(Suppl Apr):28–31

Heyneman CA, Lawless-Liday C, Wall GC (2000) Oral versus topical NSAIDs in rheumatic diseases. Drugs 60:555–574

Moore RA, Tramèr MR, Carroll D et al (1998) Quantitative systematic review of topically applied non-steroidal anti-inflammatory drugs. BMJ 316:333–338

Ramesh N, Steuber U (1983) Dolgit® cream in accident- and sports-related injuries in medical practice. Results of a double blind study. Therapiewoche 33:4563–4570

Machen J, Whitefield M (2002) Efficacy of a proprietary ibuprofen gel in soft tissue injuries: a randomised, double-blind, placebo-controlled study. Int J Clin Pract 56:102–106

Dreiser RL (1988) Clinical trial of efficacy and tolerability of topical ibuprofen in the treatment of tendonitis. Le J Int Méd 119:15–31

Nasonova VA Muravyev IuV, Nasonov EL et al (1995) Local application of dolgit cream in patients with osteoarthritis: multicentre study of efficacy and tolerance. Ter Arkh 67:48–50

Guillaume M (1988) Clinical study on the efficacy and tolerability of percutaneous ibuprofen for the symptomatic treatment of arthrosis of small joints. Etude clinique de l'efficacité et de la tolérance de l'ibuprofène percutané dans le traitement symptomatique de l'arthrose des petites articulations. J Intern Med 2:1–4

Trnavsky K, Fischer M, Voegtle-Junkert U, Schreyger F (2004) Efficacy and safety of 5% ibuprofen cream treatment in knee osteoarthritis. Results of a randomized, double-blind, placebo-controlled study. J Rheumatol 31:565–572

Dominkus M, Nicolakis M, Kotz R et al (1996) Comparison of tissue and plasma levels of ibuprofen after oral and topical administration. Arzneimittelforschung 46:1138–1143

Steen AE, Reeh PW, Geisslinger G et al (2004) Plasma levels after peroral and topical ibuprofen and effects upon low pH induced cutaneous and muscle pain. Eur J Pain 4:195–209

Ernst E (2004) Musculoskeletal conditions and complementary/alternative medicine. Best Pract Res Clin Rheumatol 18:539–556

Mayer JG et al (2000) Arnica montana or Mountain Arnica—a cultural–historical essay and on the problems of writing such an essay. Arnica montana L., oder Bergwohlverleih – Ein kulturhistorischer Essay – und über die Schwierigkeiten einen solchen zu verfassen. Zeitschrift für Phytotherapie 21:30–36

Knuesel O, Weber M, Suter A (2002) Arnica montana gel in osteoarthritis of the knee: an open, multicentre clinical trial. Adv Ther 19:209–218

Lyss G, Schmidt TJ, Merfort I et al (1997) Helenalin, an anti-inflammatory sesquiterpene lactone from Arnica, selectively inhibits transcription factor NF-KappaB. Biol Chem 378:951–961

De Bosscher K, Vanden Berghe W, Vermeulen L et al (2000) Glucocorticoids repress NF-kappaB-driven genes by disturbing the interaction of p65 with the basal transcription machinery, irrespective of coactivator levels in the cell. Proc Nat Acad Sci 97:3919–3924

Wagner S, Suter A, Merfort I (2004) Skin penetration studies of Arnica preparations and of their sesquiterpene lactones. Planta Med 70:897–903

Altman R, Alarcon G, Appelrouth D et al (1990) The American College of Rheumatology criteria for the classification and reporting of osteoarthritis of the hand. Arthritis Rheum 33:1601–1610

Lequesne MG, Maheu E (2000) Methodology of clinical trials in hand osteoarthritis: conventional and proposed tools. Osteoarthr Cartil 8(Suppl A):S64–S69

European Medicines Agency (EMEA) Guideline on the choice of non-inferiority margin. [Document locator: CPMP/EWP/2158/99]. Available from: http://www.emea.eu.int/pdfs/human/ewp/215899en.pdf (Accessed: 25.04.06)

European Medicines Agency (EMEA) Note for Guidance on Choice of Control Groups in Clinical Trials. (Document locator: CPMP/ICH/364/96). Available from: http://www.emea.eu.int/pdfs/human/ich/036496en.pdf (Accessed: 25.04.06)

Dreiser RL, Maheu E, Guillou GB et al (1995) Validation of an algofunctional index for osteoarthritis of the hand. Rev Rhum Engl Ed 62(6 Suppl 1):S43–S53

Vaile J, Davis P (1998) Topical NSAIDs for musculoskeletal conditions. A review of the literature. Drugs 56:783–799

Lin J, Zhand W, Jones A, Doherty M (2004) Efficacy of topical non-steroidal anti-inflammatory drugs in the treatment of osteoarthritis: meta-analysis of randomised controlled trials. BMJ 329(7461):324

Cooper C (2004) Topical NSAIDs in osteoarthritis. BMJ 329:304–305

Whitefield M, O'Kane CJA (2002) Comparative efficacy of a proprietary topical ibuprofen gel and oral ibuprofen in acute soft tissue injuries: a randomized, double-blind study. J Clin Pharm Ther 27:409–417
Acknowledgments
RS conceived the overall project plan. RW was the Principal Investigator. The following doctors treated and evaluated patients in the 20 study clinics: D. Kähler (Wil); R. Widrig (St Gallen); D. Geiger (Au); S. Bachmann (Valens); H. Martin (Gossau); M. Burla (Zürich); B. Kindler (Zürich); M. Senn (Zürich); U. Aufdenblatten (Zürich); H. Sajdl (Zürich); K. Grimm (Dietikon); E. Zeley-Zimonyi (Zürich); M. Steigbügel (Wald); U. Pachlatko (Ebmatingen); M. Tejero (Baden); B. Haldemann (Küttigen); H. Maurer (St Gallen); F. Akermann (Buchs); F. Jaggi (Zürich); A. Stevka (Zürich); H. Steinemann (St Gallen). Statistical analysis was conducted by DSH Statistical Services GmbH, Germany.
About this article
Cite this article
Widrig, R., Suter, A., Saller, R. et al. Choosing between NSAID and arnica for topical treatment of hand osteoarthritis in a randomised, double-blind study . Rheumatol Int 27, 585–591 (2007). https://doi.org/10.1007/s00296-007-0304-y
Received:

Accepted:

Published:

Issue Date:

DOI: https://doi.org/10.1007/s00296-007-0304-y
Keywords
Osteoarthritis

Ibuprofen gel

Arnica gel

Randomised trial

Gel treatment