Abstract
The purpose of this study was to examine whether glucosamine has an antirheumatic effect in a randomized placebo-controlled study.The subjects were 51 rheumatoid arthritis (RA) patients: 25 patients in the glucosamine group and 26 patients in the placebo group. Glucosamine hydrochloride at a daily dose of 1,500 mg and placebo, respectively, were administered for 12 weeks along with conventional medication.While significant improvement was not found in joint counts and in the rate of ACR20 responders, the face scale and a visual analogue scale pain were significantly in favor of the glucosamine group. ESR and CRP levels did not change, but serum MMP-3 levels decreased in the glucosamine group. Results of the patients' self-evaluations and the physicians' global evaluations indicated that the glucosamine treatment produced noticeable improvements in symptoms.Although glucosamine administration had no antirheumatic effect evaluated by conventional measures, it seemed to have some symptomatic effects on RA.
This is a preview of subscription content, log in to check access.
Access options
Buy single article
Instant access to the full article PDF.
US$ 39.95
Tax calculation will be finalised during checkout.
Subscribe to journal
Immediate online access to all issues from 2019. Subscription will auto renew annually.
US$ 199
Tax calculation will be finalised during checkout.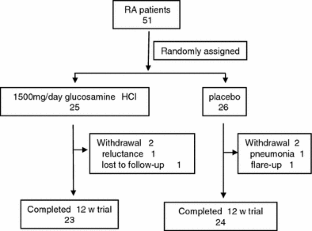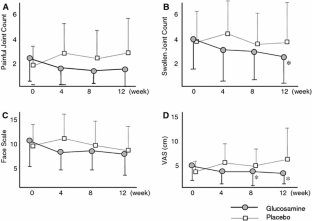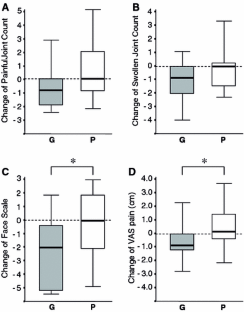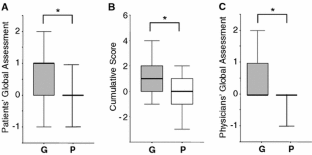 References
1.

Reginster JY, Deroisy R, Rovati LC, Lee RL, Lejeune E, Bruyere O, Giacovelli G, Henrotin Y, Dacre JE, Gossett C (2001) Long-term effects of glucosamine sulphate on osteoarthritis progression: a randomised, placebo-controlled clinical trial. Lancet 357:251–256

2.

McAlindon TE, LaValley MP, Gulin JP, Felson DT (2000) Glucosamine and chondroitin for treatment of osteoarthritis: a systematic quality assessment and meta-analysis. JAMA 283:1469–1475

3.

Clegg DO, Reda DJ, Harris CL, Klein MA, O'Dell JR, Hooper MM et al (2006) Glucosamine, chondroitin sulfate, and the two in combination for painful knee osteoarthritis. N Engl J Med 354:795–808

4.

Nakamura H, Nishioka K (2002) Effects of glucosamine/chondroitin supplement on osteoarthritis: involvement of PGE2 and YKL-40. Jpn J Rheumatol Surg 21:175–184

5.

Nakamura H, Shibakawa A, Tanaka M, Kato T, Nishioka K (2002) Effects of glucosamine hydrochloride on the production of prostaglandin E2, nitric oxide and metalloproteases by chondrocytes and synoviocytes in osteoarthritis. Clin Exp Rheumatol 22:293–299

6.

Largo R, Alvarez-Soria MA, Diez-Ortego I, Calvo E, Sanchez-Pernaute O, Egido J, Herrero-Beaumont G (2003) Glucosamine inhibits IL-1beta-induced NFkappaB activation in human osteoarthritic chondrocytes. Osteoarthr Cartil 11:290–298

7.

Byron CR, Orth MW, Venta PJ, Lloyd JW, Caron JP (2003) Influence of glucosamine on matrix metalloproteinase expression and activity in lipopolysaccharide-stimulated equine chondrocytes. Am J Vet Res 64:666–671

8.

Dodge GR, Jimenez SA (2003) Glucosamine sulfate modulates the levels of aggrecan and matrix metalloproteinase-3 synthesized by cultured human osteoarthritis articular chondrocytes. Osteoarthr Cartil 11:424–232

9.

Okada Y, Takeuchi N, Tomita K, Nakanishi I, Nagase H (1989) Immunolocalization of matrix metalloproteinase 3 (stromelysin) in rheumatoid synovioblasts (B cells): correlation with rheumatoid arthritis. Ann Rheumatol Dis 48:645–53

10.

Yamanaka H, Matsuda Y, Tanaka M, Sendo W, Nakajima H, Taniguchi A, Kamatani N (2000) Serum matrix metalloproteinase 3 as a predictor of the degree of joint destruction during the six months after measurement, in patients with early rheumatoid arthritis. Arthritis Rheum 43:852–858

11.

Posthumus MD, Limburg PC, Westra J, Cats HA, Stewart RE, van Leeuwen MA, van Rijswijk MH (1999) Serum levels of matrix metalloproteinase-3 in relation to the development of radiological damage in patients with early rheumatoid arthritis. Rheumatology 38:1081–1087

12.

Maini R, St. Clair EW, Breedveld F, Furst D, Kalden J, Weisman M, Smolen J, Emery P, Harriman G, Feldmann M, Lipsky P (1999) Infliximab (chimeric anti-tumour necrosis factor alpha monoclonal antibody) versus placebo in rheumatoid arthritis patients receiving concomitant methotrexate: a randomised phase III trial. ATTRACT Study Group. Lancet 354:1932–1939

13.

Buchbinder R, Gingold M, Hall S, Cohen M (2002) Non-prescription complementary treatments used by rheumatoid arthritis patients attending a community-based rheumatology practice. Intern Med J 32:208–214

14.

Arnett FC, Edworthy SM, Bloch DA, McShane DJ, Fries JF, Cooper NS et al (1988) The American Rheumatism Association 1987 revised criteria for the classification of rheumatoid arthritis. Arthritis Rheum 31:315–324

15.

Felson DT, Anderson JJ, Boers M, Bombardier C, Furst D, Goldsmith C et al (1995) American College of Rheumatology. Preliminary definition of improvement in rheumatoid arthritis. Arthritis Rheum 38:727–735

16.

Prevoo ML, van't Hof MA, Kuper HH, van Leeuwen MA, van de Putte LB, van Riel PL (1995) Modified disease activity scores that include twenty-eight-joint counts. Development and validation in a prospective longitudinal study of patients with rheumatoid arthritis. Arthritis Rheum 38:44–48

17.

Lorish CD, Maisiak R. (1986) The Face Scale: a brief, nonverbal method for assessing patient mood. Arthritis Rheum 29:906–909

18.

Thie NM, Prasad NG, Major PW (2001) Evaluation of glucosamine sulfate compared to ibuprofen for the treatment of temporomandibular joint osteoarthritis: a randomized double blind controlled 3 month clinical trial. J Rheumatol 28:1347–1355
About this article
Cite this article
Nakamura, H., Masuko, K., Yudoh, K. et al. Effects of glucosamine administration on patients with rheumatoid arthritis. Rheumatol Int 27, 213–218 (2007). https://doi.org/10.1007/s00296-006-0197-1
Received:

Accepted:

Published:

Issue Date:
Keywords
Rheumatoid arthritis

Glucosamine

MMP-3