Abstract
The purpose of this study was to evaluate the effect of electromagnetic field therapy (PEMF) on pain, range of motion (ROM) and functional status in patients with cervical osteoarthritis (COA). Thirty-four patients with COA were included in a randomized, double-blind study. PEMF was administrated to the whole body using a mat 1.8×0.6 m in size. During the treatment, the patients lay on the mat for 30 min per session, twice a day for 3 weeks. Pain levels in the PEMF group decreased significantly after therapy (p<0.001), but no change was observed in the placebo group. The active ROM, paravertebral muscle spasm and neck pain and disability scale (NPDS) scores improved significantly after PEMF therapy (p<0.001) but no change was observed in the sham group. The results of this study are promising, in that PEMF treatment may offer a potential therapeutic adjunct to current COA therapies in the future.
Access options
Buy single article
Instant access to the full article PDF.
USD 39.95
Price excludes VAT (USA)
Tax calculation will be finalised during checkout.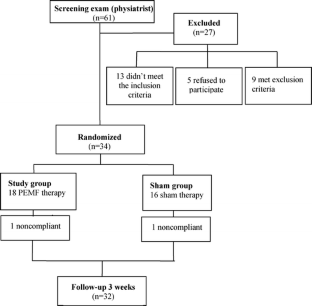 References
Lagattuta FP, Falco FJE (2000) Assessment and treatment of cervical spine disorders. In: Braddom RL (ed) Physical medicine & rehabilitation, 2nd edn. W.B Saunders, Philadelphia, pp 782–786

Borenstein DG (1998) The spine: low back pain. In: Klippel JD, Dieppe PA (eds) Rheumatology, 2nd edn. Mosby, London, pp 4.3.1–4.3.26

Duggan AW (1992) Neuropharmacology of pain. Curr Opin Neurol Neurosurg 5:503–507

Persson LCG, Lilja A (2001) Pain, coping, emotional state and physical function in patients with chronic radicular neck pain. A comparison between patients treated with surgery, physiotherapy or neck collar—a blind prospective randomized study. Disabil Rehabil 23(8):325–335

Ozdemir F, Birtane M, Kokino S (2001) The clinical efficacy of low-power laser therapy on pain and function in cervical osteoarthritis. Clin Rheumatol 20:181–184

Pipitone N, Scott DL (2001) Magnetic pulse treatment for knee osteoarthritis: a randomised, double-blind, placebo-controlled study. Curr Med Res Opin 17:190–196

Jacobson JI, Gorman R, Yamanashi WS, Saxena BB, Clayton L (2001) Low-amplitude, extremely low frequency magnetic fields for the treatment of osteoarthritic knees: a double-blind clinical study. Altern Ther 7(5):54–68

Farndale RW, Murray JC (1985) Pulsed electromagnetic fields promote collagen production in bone marrow fibroblasts via athermal mechanisms. Calcif Tissue Int 37:178–182

Pezzetti F, De-Mattei M, Caruso A, Cadessi R, Zucchini P, Carinci F et al (1999) Effects of pulsed electromagnetic fields on human chondrocytes: an in vitro study. Calcif Tissue Int 65:396–402

Fredericks DC, Nepola JV, Baker JT, Abbott J, Simon B (2000) Effects of pulsed electromagnetic fields on bone healing in a rabbit tibial osteotomy model. J Orthop Trauma 14:93–100

Holmes GB (1994) Treatment of delayed unions and non-unions of the proximal fifth metatarsal with pulsed electromagnetic fields. Foot Ankle Int 15:552–556

Loy T (1983) Treatment of cervical spondylosis. Med J Aust 2:32–34

Cooper C (1998) Osteoarthritis and related disorders. Epidemiyology. In: Klippel JH, Dieppe PA (eds) Rheumatology, 2nd edn. Mosby, London, pp 8.2.1–8.2.8.

Carlsson AM (1983) Assessment of chronic pain: aspects of the reliability and validity of the visual analogue scale. Pain 16:87–101

Wheeler AH, Goolkasion P, Baird AC, Darden BV (1999) Development of neck pain and disability scale. Item analysis, face, and criterion-related validity. Spine 24:1290–1294

Bıcer A, Yazıcı A, Camdeviren H, Erdogan C (2004) Assessment of pain and disability in patients with chronic neck pain: reliability and construct validity of the Turkish version of the Neck Pain and Disability Scale. Disabil Rehabil 26(16):959–962

Wolfenberger VA, Bui Q, Batenchuk GB (2002) A comparison of methods of evaluating cervical range of motion. J Manipulative Physiol Ther 25(3):154–160

Wlodyka-Demaille S, Poiraudeau S, Catanzariti JF, Rannou F, Fermanian J, Revel M (2004) The ability to change of three questionnaires for neck pain. Joint Bone Spine 71:317–326

Rubin CT, Mcleod KJ, Lanyon LE (1989) Prevention of osteoporosis by pulsed electromagnetic fields. J Bone Joint Surg 71:411–417

Tabrah F, Hoffmeier M, Gilbert FJR, Batkin S, Basset CA (1990) Bone density changes in osteoporosis-prone women exposed to pulsed electromagnetic fields (PEMFS). J Bone Miner Res 5:437–442

Trock DH, Bollet AJ, Dyer RH Jr, Fielding LP, Miner WK, Markoll R (1993) A double-blind trial of the clinical effects of pulsed electromagnetic fields in osteoarthritis. J Rheumatol 20:456–460

Carley PJ, Wainapel SF (1985) Electrotherapy for acceleration of wound healing: low intensity direct current. Arch Phys Med Rehabil 66:443–446

Quittan M, Schuhfried O, Wiesinger GF, Fialka-Maser V (2000) Clinical effectiveness of magnetic field therapy—a review of the literature. Acta Med Austriaca 27:61–68

Hulme J, Robinson V, DeBie R, Wells G, Judd M, Tugwell P (2002) Electromagnetic fields for the treatment of osteoarthritis. Cochrane Database Syst Rev 1:CD OO3523

Nicolakis P, Kollmitzer J, Crevenna R, Bittner C, Erdogmus CD, Nicolakis J (2002) Pulsed magnetic field therapy for osteoarthritis of the knee—a double-blind sham-controlled trial. Wien Klin Wochenschr 114:678–684

Gross AR, Aker PD, Goldsmith CH, Peloso P (2000) Physical medicine modalities for mechanical neck disorders. Cochrane Database Syst Rev CD000961 (PMID: 10796402)

Furst DE, Hillson J (2001) Aspirin and other nonsteroidal antiinflamatory drugs. In: Koopman WJ (ed) Arthritis and Allied Conditions, 14th edn. Lippincott Williams & Wilkins, Philadelphia, pp 665–703

Trock DH, Bollet AJ, Markoll R (1994) The effect of pulsed electromagnetic field in the treatment of osteoarthritis of the knee and cervical spine. Report of randomised, double-blind, placebo controlled trials. J Rheumatol 21:1903–1911

Foley-Nolan D, Barry C, Coughan RJ, O'Connor P, Roden D (1990) Pulsed high frequency (27 MHz) electromagnetic therapy for persistent neck pain. A double blind, placebo-controlled study of 20 patients. Orthopedics 13:445–451

Murray JC, Farndale RW (1985) Modulation of collagen production in cultured fibroblasts by a low-frequency pulsed magnetic field. Biochim Biophys Acta 838:98–105

Smith RL, Nagel DA (1983) Effects of pulsing electromagnetic fields on bone growth and articular cartilage. Clin Orthop 181:277–282

Diniz P, Shomura K, Soejima K, Ito G (2002) Effects of pulsed electromagnetic field (PEMF) stimulation on bone-tissue-like formation are dependent on the maturation stages of the osteoblasts. Bioelectromagnetics 23:398–405

Aaron RK, Ciombor DM (1992) Synergistic effects of growth factors and pulsed fields on proteoglycan synthesis in articular cartilage. J Orthop Res 17:527

Goodman R, Weu LX, Xu JL, Henderson A (1989) Exposure of human cells to low-frequency electromagnetic fields results in quantitative changes in transcripts. Biochem Biophys Acta 1009:216–220
About this article
Cite this article
Sutbeyaz, S.T., Sezer, N. & Koseoglu, B.F. The effect of pulsed electromagnetic fields in the treatment of cervical osteoarthritis: a randomized, double-blind, sham-controlled trial. Rheumatol Int 26, 320–324 (2006). https://doi.org/10.1007/s00296-005-0600-3
Received:

Accepted:

Published:

Issue Date:

DOI: https://doi.org/10.1007/s00296-005-0600-3
Keywords