Abstract
The aim of this study was to compare the effects of physical therapy agents (PTA) and two different intra-articular hyaluronan drugs (sodium hyaluronate (NaHA) and hylan G-F 20) on knee osteoarthritis (OA). The randomised, single-blind study, with 12 months of follow-up, was performed on 80 patients diagnosed as knee OA. The patients were randomly divided into two treatment groups: patients in group 1 were given weekly intra-articular hyaluronan treatment which consisted of either hylan G-F 20 or NaHA during the first 3 weeks and in the sixth month; PTA was applied to each patient in group 2 five times a week for 3 weeks with a series of infrared, short-wave diathermy-pulsed patterns and interferential therapy. Clinical assessments for each patient were made at 1, 3, 6, 9 and 12 months using the following measures: spontaneous pain, pain at rest, pain at night, pain on touch, pain on movement, 15 m walking time, range of motion, short form 36 (SF-36), Western Ontario and McMaster University Osteoarthritis Index (WOMAC) global assessment. There was significant improvement in all variables measured in both groups during the follow-up except the WOMAC-stiffness and range of the motion. The improvement of pain (at night, at rest, SF-36) and SF-36 social functioning subscales was greater in the PTA group. Consequently, in the subgroup analyses, there was no difference between PTA and hylan groups for this improvement. In the comparison of two drugs, the reduction of pain on touch and WOMAC-function was greater in hylan group than that of NaHA. No serious local or systemic effects were observed following injections. Although all patients had improvement, PTA was superior to hyaluronan group for no activity-related pain and functional performance. On the other hand, this study supports the preferential use of hylan over NaHA in patients with knee OA.
Access options
Buy single article
Instant access to the full article PDF.
USD 39.95
Price excludes VAT (USA)
Tax calculation will be finalised during checkout.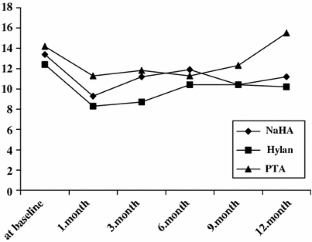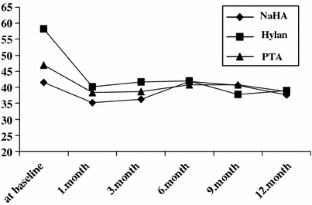 References
Solomon L (1997) Clinical features of osteoarthritis. In: Kelley WN, Harris ED, Ruddy S (eds). Textbook of rheumatology. Saunders, Philadelphia, pp 1383–1394

Bullough PG (1992) The pathology of osteoarthritis. In: Moskowitz RW, Howell DS, Goldberg VM (eds). Osteoarthritis. Diagnosis and medical surgical management. Saunders, Philadelphia, pp 39–71

Mankin HJ, Brandth KD (1997) Pathogenesis of osteoarthritis. In: Kelley WN, Harris ED, Ruddy S (eds). Textbook of Rheumatology. Saunders, Philadelphia, pp 1369–1383

Goldberg VM, Kettelkamp DB (1992) Osteoarthritis of the knee. In: Moskowitz RW, Howell DS, Goldberg VM (eds). Osteoarthritis. Diagnosis and medical surgical management. Saunders, Philadelphia, pp 599–621

Crielaard JM, Henrotin Y (1999) Scientific basis of physical therapy and rehabilitation in the management of patients with osteoarthritis. In: Reginster JY, Pelletier JP, Martel-Pelletier J, Henrotin Y (eds) Osteoarthritis clinical and experimental aspects. Springer, Berlin Heidelberg NewYork, pp 453–479

Jan MH, Lai JS (1991) The effects of physiotherapy on osteoarthritic knees of females. J Formos Med Assoc 90:1008–1013

Ghosh P, Holbert C, Read R, Armstrong S (1995) Hyaluronic acid (hyaluronan) in experimental osteoarthritis. J Rheumatol 43:155–157

Gotoh S, Onaya J, Abe M, Miyazaki K, Hamai A, Horie K, Tokuyasu K (1993) Effects of the molecular weight of hyaluronic acid and its action mechanism on experimental joint pain in rats. Ann Rheum Dis 52:817–822

Goldberg RL, Toole BP (1987) Hyaluronate inhibition of cell proliferation. Arthritis Rheum 30:769–778

Kellgren JH, Lawrence JS (1957) Radiologic assessment of osteoarthritis. Ann Rheum Dis 16:494–502

Bellamy N, Buchanan WW, Goldsmith CH, Campbell J, Stitt LW (1988) Validation study of WOMAC: a health status instrument for measuring clinically important patient relevant outcomes to anti-rheumatic drug therapy in patients with osteoarthritis of the hip or knee. J Rheumatol 15:1833–1840

McHorney CA, Ware JE, Raczek AE (1993) The MOS 36-item short-form health survey ( SF-36): II Phychometric and clinical test of validity in measuring physical and mental health constructs. Med Care 31:247–263

Hochberg MC, Altman RD, Brandt KD, Clark BM, Dieppe PA, Griffin MR, Moskowitz RW, Schnitzer, TJ (1995) Guidelines for the medical management of osteoarthritis: part II Osteoarthritis of knee. Arthritis Rheum 38:1541–1546

Murray CC, Kitchen S (2000) Effect of pulse repetition rate on the perception of thermal sensation with pulsed shortwave diathermy. Physiother Res Int 5:73–84

Falconer J, Hayes KW, Chang RW (1992) Effect of ultrasound on mobility in osteoarthritis of the knee. A randomized clinical trial. Arthritis Care Res 5:29–35

Bansil CK, Joshi JB (1975) Effectiveness of shortwave diathermy and ultrasound in the treatment of osteo-arthritis of the knee joint. Med J Zambia 9:138–139

Goats GC (1989) Continuous short-wave (radio-frequency) diathermy. Br J Sports Med 23:123–127

Scale D, Wobig M, Wolpert W (1994) Viscosupplementation of osteoarthritic knees with Hylan, in the treatment schedule study. Curr Ther Res 55:220–232

Ayral X (2001) Injections in the treatment of osteoarthritis. Best Prac Res Clin Rheumatol 15:609–626

Altman RD, Moskowitz R (1998) Intraarticular sodium hyaluronate (Hyalgan) in the treatment of patients with osteoarthritis of the knee: a randomized clinical trial. Hyalgan Study Group. J Rheumatol 25:2203–2212

Adams ME (1993) An analysis of clinical studies of the use of crosslinked hyaluronan, hylan, in the treatment of osteoarthritis. J Rheumatol 39:16–18

Balazs EA, Denlinger JL (1993) Viscosupplementation: A new concept in the treatment of osteoarthritis. J Rheum 20:3–9

Balazs EA, Bland PA, Denlinger JL, Goldman AI, Larsen NE, Leshchiner EA (1991) Matrix engineering. Blood Coagul Fibrinolysis 2:173–178

Gibbs DA, Merrill EW, Smith KA, Balazs EA (1968) Rheology of hyaluronic acid. Biopolymers 6:777–791

Wobig M, Bach G, Beks P, Dickhut A, Runzheimer J, Schwieger G, Vetter G, Balazs E (1999) The role of elastoviscosity in the efficacy of viscosupplementation for osteoarthritis of the knee: A comparison of hylan G-F 20 and a lower-molecular-weight hyaluronan. Clin Ther 21:1549–1562

Karlssonn J, Sjogren LS, Lohmander LS (2002) Comparison of two hyaluronan drugs and placebo in patients with knee osteoarthritis. A controlled, randomized, double-blind, parallel-design multicentre study. Rheumatology 41:1240–1248

Magilavy D, Polisson R, Parenti D (2003) Letters of editor. Re: Karlsson et al. Comparison of two hyaluronan drugs and placebo in patients with knee osteoarthritis. A controlled, randomized, double-blind, parallel-design multicentre study. Rheumatology 42:1262

Lussier A, Cividino AA, McFarlane CA, Olszynski WP, Potashner WJ, De Medicis R (1996) Viscosupplementation with Hylan for the treatment of osteaorthritis: finding from clinical practice in Canada. J Rheum 23:1579–1585

Wei L, Hjerpe A, Brismar BH, Svensson O (2001) Effect of load on articular cartilage matrix and the development of guinea-pig osteoarthritis. Osteoarthr Cartil 9:447–453

Petersson IF, Boegard T, Saxne T, Silman AJ, Svensson B (1997) Radiographic osteoarthritis of the knee classified by the Ahlback and Kellgren & Lawrence systems for the tibiofemoral joint in people aged 35–54 years with chronic knee pain. Ann Rheum Dis 56:493–496
About this article
Cite this article
Atamaz, F., Kirazli, Y. & Akkoc, Y. A comparison of two different intra-articular hyaluronan drugs and physical therapy in the management of knee osteoarthritis. Rheumatol Int 26, 873–878 (2006). https://doi.org/10.1007/s00296-005-0096-x
Received:

Accepted:

Published:

Issue Date:

DOI: https://doi.org/10.1007/s00296-005-0096-x
Keywords