Abstract
Fibromyalgia (FM) is a common chronic pain syndrome with an unknown etiology. Recent years added new information to our understanding of FM pathophysiology. Researches on genetics, biogenic amines, neurotransmitters, hypothalamic-pituitary-adrenal axis hormones, oxidative stress, and mechanisms of pain modulation, central sensitization, and autonomic functions in FM revealed various abnormalities indicating that multiple factors and mechanisms are involved in the pathogenesis of FM. Oxidative stress and nitric oxide may play an important role in FM pathophysiology, however it is still not clear whether oxidative stress abnormalities documented in FM are the cause or the effect. This should encourage further researches evaluating the potential role of oxidative stress and nitric oxide in the pathophysiology of FM and the efficacy of antioxidant treatments (omega-3 and -6 fatty acids, vitamins and others) in double blind and placebo controlled trials. These future researches will enhance our understanding of the complex pathophysiology of this disorder.
Access options
Buy single article
Instant access to the full article PDF.
US$ 39.95
Tax calculation will be finalised during checkout.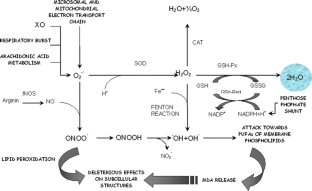 References
1.

Neeck G (2002) Pathogenic mechanisms of fibromyalgia. Aging Res Rev 1:243–255

2.

Mease P (2005) Fibromyalgia syndrome: review of clinical presentation, pathogenesis, outcome measures and treatment. J Rheumatol 32(Suppl 75):6–21

3.

Ozgocmen S (2005) New strategies in evaluation of therapeutic efficacy in fibromyalgia syndrome. Curr Pharm Des (in press)

4.

Buskila D, Neumann L, Hazanov I, Carmi R (1996) Familial aggregation in the fibromyalgia syndrome. Semin Arthritis Rheum 26:605–611

5.

Offenbaecher M, Bondy B, de Jonge S et al (1999) Possible association of fibromyalgia with a polymorphism in the serotonin transporter gene regulatory region. Arthritis Rheum 42:2482–2488

6.

Yunus MB, Khan MA, Rawlings KK et al (1999) Genetic linkage analysis of multicase families with fibromyalgia syndrome. J Rheumatol 26:408–412

7.

Buskila D, Neumann L (1997) Fibromyalgia syndrome (FM) and nonarticular tenderness in relatives of patients with FM. J Rheumatol 24:941–944

8.

Arnold LM, Hudson JI, Hess EV et al (2004) Family study of fibromyalgia. Arthritis Rheum 50:944–952

9.

Cohen H, Buskila D, Neumann L, Ebstein RP (2002) Confirmation of an association between fibromyalgia and serotonin transporter promoter region (5-HTTLPR) polymorphism, and relationship to anxiety-related personality traits. Arthritis Rheum 46:845–847

10.

Gursoy S, Erdal E, Herken H, Madenci E, Alasehirli B, Erdal N (2003) Significance of catechol-O-methyltransferase gene polymorphism in fibromyalgia syndrome. Rheumatol Int 23:104–107

11.

Buskila D, Cohen H, Neumann L, Ebstein RP (2004) An association between fibromyalgia and the dopamine D4 receptor exon III repeat polymorphism and relationship to novelty seeking personality traits. Mol Psychiatry 9:730–731

12.

Klein R, Beansch M, Berg PA (1992) Clinical relevance of antibodies against serotonin and gangliosides in patients with primary fibromyalgia syndrome. Psychoneuroendocrinology 17:593–598

13.

Werle E, Fisher H, Muller A et al (2001) Antibodies against serotonin have no diagnostic relevance in patients with fibromyalgia syndrome. J Rheumatol 28:595–600

14.

Greenfield S, Fitzcharles MA, Esdaile JM (1992) Reactive fibromyalgia syndrome. Arthritis Rheum 35:678–681

15.

Buskila D, Neumann L, Vaisberg G, Alkalay D, Wolfe F (1997) Increased rates of fibromyalgia following cervical spine injury. A controlled study of 161 cases of traumatic injury. Arthritis Rheum 40:446–452

16.

Boisset-Pioro MH, Esdaile JM, Fitzcharles M (1995) Sexual and physical abuse in women with fibromyalgia syndrome. Arthritis Rheum 38:235–241

17.

Ciccone DS, Elliott DK, Chandler HK, Nayak S, Raphael KG (2005) Sexual and physical abuse in women with fibromyalgia syndrome. A test of the trauma hypothesis. Clin J Pain 21:378–386

18.

Buskila D, Shnaider A, Neumann L, Zilberman D, Hilzenrat N, Sikuler E (1997) Fibromyalgia in hepatitis C virus infection. Another infectious disease relationship. Arch Intern Med 157:1497–1500

19.

Staud R (2002) Evidence of involvement of central neural mechanisms in generating fibromyalgia pain. Curr Rheumatol Rep 4:299–305

20.

van Denderen JC, Boersma JW, Zeinstra P et al (1992) Physiological effects of exhaustive physical exercise in primary fibromyalgia syndrome (PFS): is PFS a disorder of neuroendocrine reactivity? Scand J Rheumatol 21:35–37

21.

Alnigenis MNY, Barland P (2001) Fibromyalgia syndrome and serotonin. Clin Exp Rheumatol 19:205–210

22.

Moldofsky H (1982) Rheumatic pain modulation syndromes: the interrelationships between sleep, central nervous system, serotonin and pain. Adv Neurol 33:51–57

23.

Russell IJ, Bowden CL, Michalek J et al (1987) Imipramine receptor density on platelets of patients with fibrositis syndrome: correlation with disease severity and response to therapy. Arthritis Rheum 30:63

24.

Russell IJ, Michalek JE, Vipraio GA, Fletcher EM, Javors MA, Bowden CA (1992) Platelet 3H-imipramine uptake receptor density and serum serotonin levels in patients with fibromyalgia/fibrositis syndrome. J Rheumatol 19:104–109

25.

Russell IJ, Michalek JE, Vipraio GA, Fletcher EM, Wall K (1989) Serum amino acids in fibrositis/fibromyalgia syndrome. J Rheumatol 19:158–163

26.

Yunus MB, Dailey JW, Aldag JC, Masi AT, Jobe PC (1992) Plasma tryptophan and other amino acids in primary fibromyalgia:A controlled study. J Rheumatol 19:90–94

27.

Russell IJ,Vaeroy H, Javors M, Nyberg F (1992) Cerebrospinal fluid biogenic amine metabolites in fibromyalgia/fibrositis syndrome and rheumatoid arthritis. Arthritis Rheum 35:550–556

28.

Houvenagel E, Forzy G, Cortet B, Vincent G (1990) 5-hydroxy indol acetic acid in cerebrospinal fluid in fibromyalgia. Arthritis Rheum 33(Suppl 9):S55

29.

Mense S (2000) Neurobiological concepts of fibromyalgia-the possible role of descending spinal tracts. Scand J Rheumatol 29(suppl 113):24–29

30.

Larson AA, Giovengo SL, Russell IJ, Michalek JE (2000) Changes in the concentrations of amino acids in the cerebrospinal fluid that correlate with pain in patients with fibromyalgia: implications for nitric oxide pathways. Pain 87:201–211

31.

Vaeroy H, Helle R, Forre O (1988) Elevated CSF levels of substance P and high incidence of Raynaud phenomenon in patients with fibromyalgia: new features for diagnosis. Pain 32:21–26

32.

Russell IJ, Littman B (1994) Elevated cerebrospinal fluid levels of substance P in patients with the fibromyalgia syndrome. Arthritis Rheum 37:1593–1601

33.

Schwarz MJ, Spath M, Muller-Bardorff H, Pongratz DE, Bondy B, Ackenheil M (1999) Relationship of substance P, 5-hydroxyindole acetic acid and tryptophan in serum of fibromyalgia patients. Neurosci Lett 259:196–198

34.

Croffors LJ (2002) The hypothalamic-pituitary-adrenal axis in fibromyalgia: Where are we in 2001. J Musculuskelet Pain 10:215–220

35.

Griep EN, Boersma JW, de Kloet ER (1993) Altered reactivity of the hypothalamic-pituitary-adrenal axis in the primary fibromyalgia syndrome. J Rheumatol 20:469–474

36.

Riedel W, Layka H, Neeck G (1998) Secretory pattern of GH, TSH, thyroid hormones, ACTH, cortisol, FSH, and LH in patients with fibromyalgia syndrome following systemic injection of the relevant hypothalamic-releasing hormones. Z Rheumatol 57(Suppl 2):81–87

37.

Adler GK, Kinsley BT, Hurwitz S, Mossey CJ, Goldenberg DL (1999) Reduced hypothalamic-pituitary and sympathoadrenal responses to hypoglycemia in women with fibromyalgia syndrome. Am J Med 106:534–543

38.

Kirnap M, Colak R, Eser C, Ozsoy O, Tutus A, Kelestimur F (2001) A comparison between low-dose (1 microg), standard-dose (250 microg) ACTH stimulation tests and insulin tolerance test in the evaluation of hypothalamo-pituitary-adrenal axis in primary fibromyalgia syndrome. Clin Endocrinol 55:455–459

39.

Torpy DJ, Papanicolaou DA, Lotsikas AJ, Wilder RL, Chrousos GP, Pillemer SR (2000) Responses of the sympathetic nervous system and the hypothalamic-pituitary-adrenal axis to interleukin-6: a pilot study in fibromyalgia. Arthritis Rheum 43:872–880

40.

Gur A, Cevik R, Nas K, Colpan L, Sarac S (2004) Cortisol and hypothalamic-pituitary-gonadal axis hormones in follicular-phase women with fibromyalgia and chronic fatigue syndrome and effect of depressive symptoms on these hormones. Arthritis Res Ther 6:R232-R238

41.

Gur A, Cevik R, Sarac AJ, Colpan L, Em S (2004) Hypothalamic-pituitary-gonadal axis and cortisol in young women with primary fibromyalgia: the potential roles of depression, fatigue, and sleep disturbance in the occurrence of hypocortisolism. Ann Rheum Dis 63:1504–1506

42.

Martinez-Lavin M (2002) Management of dysautonomia in fibromyalgia. Rheum Dis Clin North Am 28:379–387

43.

Martinez-Lavin M, Hermosillo AG (2000) Autonomic nervous system dysfunction may explain the multisystem features of fibromyalgia. Semin Arthritis Rheum 29:197–199

44.

Bengtsson A, Bengtsson M (1988) Regional sympathetic blockade in primary fibromyalgia. Pain 33:161–167

45.

Elam M, Johansson G, Wallin BG (1992) Do patients with primary fibromyalgia have an altered muscle sympathetic nerve activity? Pain 48:371–375

46.

Wachter KC, Kaeser HE, Guhring H et al (1996) Muscle damping measured with a modified pendulum test in patients with fibromyalgia, lumbago, and cervical syndrome. Spine 21:2137–2142

47.

Martinez-Lavin M, Hermosillo AG, Mendoza C et al (1997) Orthostatic sympathetic derangement in subject with fibromyalgia. J Rheumatol 24:714–718

48.

Kelemen J, Lang E, Balint G, Trocsanyi M, Muller W (1998) Orthostatic sympathetic derangement of baroreflex in patients with fibromyalgia. J Rheumatol 25:823–825

49.

Raj RR, Brouillard D, Simpson CS, Hopman WM, Abdollah H (2000) Dysautonomia among patients with fibromyalgia: A noninvasive assessment. J Rheumatol 27:2660–2665

50.

Martinez-Lavin M, Hermosillo AG, Rosas M, Soto ME (1998) Circadian studies of autonomic nervous balance in patients with fibromyalgia. A heart rate variability analysis. Arthritis Rheum 42:1966–1971

51.

Wallace DJ (2005) Is there a role for cytokine based therapies in fibromyalgia. Curr Pharm Des (in press)

52.

Lloyd A, Gandevia S, Brockman A, Hales J, Wakefield D (1994) Cytokine production and fatigue in patients with chronic fatigue syndrome and healthy control subjects in response to exercise. Clin Infect Dis 1:142–146

53.

Wallace DJ, Linker-Israeli M, Hallegua D, Silverman S, Silver D, Weisman MH (2001) Cytokines play an aetiopathogenetic role in fibromyalgia: a hypothesis and pilot study. Rheumatology 40:743–749

54.

Amel Kashipaz MR, Swinden KD, Todd I, Powell RJ (2003) Normal production of inflammatory cytokines in chronic fatigue and fibromyalgia syndromes determined by intracellular cytokine staining in short-term cultured blood mononuclear cells. Clin Exp Immunol 132:360–365

55.

Gur A, Karakoc M, Nas K, Cevik R, Denli A, Sarac J (2002) Cytokines and depression in cases with fibromyalgia. J Rheumatol 29:358–361

56.

Gur A, Karakoc M, Erdogan S, Nas K, Cevik R, Sarac AJ (2002) Regional cerebral blood flow and cytokines in young females with fibromyalgia. Clin Exp Rheumatol 20:753–760

57.

Salemi S, Rethage J, Wollina U, Michel BA, Gay RE, Gay S, Sprott H (2003) Detection of interleukin 1beta (IL-1beta), IL-6, and tumor necrosis factor-alpha in skin of patients with fibromyalgia. J Rheumatol 30:146–150

58.

Sperber AD, Weisberg I, Skibin A, Neumann L, Fich A, Buskila D (1999) Serum interleukin-1, interleukin-Interleukin-6 and prolactin levels are not associated with severity of disease in patients with the irritable bowel syndrome, with or without concomitant fibromyalgia. J Musculoskelet Pain 7:5–27

59.

Jones AKP, Kulkarni B, Derbyshire SWG (2002) Functional imaging of pain perception. Curr Rheumatol Rep 4:329–333

60.

Bradley LA, McKendree-Smith NL, Alberts KR, Alarcon GS, Mountz JM, Deutsch G (2000) Use of neuroimaging to understand abnormal pain sensitivity in fibromyalgia. Curr Rheumatol Rep 2:141–148

61.

Gur A, Karakoc M, Erdogan S, Nas K, Cevik R, Sarac AJ (2002) Regional cerebral blood flow and cytokines in young females with fibromyalgia. Clin Exp Rheumatol 20:753–760

62.

Gracely RH, Petzke F, Wolf JM, Clauw DJ (2002) Functional magnetic resonance imaging evidence of augmented pain processing in fibromyalgia. Arthritis Rheum 46:1333–1343

63.

Mountz JM, Bradley LA, Modell JG, Alexander RW, Triana-Alexander M, Aaron LA et al (1995) Fibromyalgia in women: abnormalities of regional cerebral blood flow in the thalamus and the caudate nucleus are associated with low pain threshold levels. Arthritis Rheum 38:926–938

64.

Kwiatek R, Barnden L, Tedman R, Jarrett R, Chew J, Rowe C et al (2000) Regional cerebral blood flow in fibromyalgia: singlephoton—emission computed tomography evidence of reduction in the pontine tegmentum and thalami. Arthritis Rheum 43:2823–2833

65.

Ozgocmen S, Yoldas T, Kamanli A, Yildizhan H, Yigiter R, Ardicoglu O (2003) Auditory P300 event related potentials and serotonin reuptake inhibitor treatment in patients with fibromyalgia. Ann Rheum Dis 62:551–555

66.

Alberts KR, Bradley LA, Alarcon GS, Mountz JM, Ford CV, Deutsch G et al (1998) Sertraline hydrochloride alters pain threshold, sensory discrimination ability, and functional brain activity in patients with fibromyalgia (FM): a randomized, controlled trial. Arthritis Rheum 41(Suppl S):1358

67.

Staud R (2005) Are tender point injections beneficial: The role of tonic nociception in fibromyalgia. Curr Pharm Des (in press)

68.

Staud R, Vierck CJ Jr, Cannon RC, Mauderli AP, Price DD (2001) Abnormal sensitization and temporal summation of second pain (wind-up) in patients with fibromyalgia syndrome. Pain 91:165–175

69.

Li J, Simone DA, Larson AA (1999) Windup leads to characteristics of central sensitization. Pain 79:75–82

70.

Schaible HG, Ebersberger A, von Banchet GS (2001) Mechanisms of pain in arthritis. Ann N Y Acad Sci 966:343–354

71.

Staud R, Price DD, Robinson ME, Mauderli AP, Vierck CJ (2004) Maintenance of windup of second pain requires less frequent stimulation in fibromyalgia patients compared to normal controls. Pain 110:689–696

72.

Vierck CJ Jr, Staud R, Price DD, Cannon RL, Mauderli AP, Martin AD (2001) The effect of maximal exercise on temporal summation of second pain (windup) in patients with fibromyalgia syndrome. J Pain 2:334–344

73.

Staud R, Cannon RC, Mauderli AP, Robinson MD, Price DD, Vierck CJ Jr (2003) Temporal summation of pain from mechanical stimulationof muscle tissue of normal controls and subjects with fibromyalgia. Pain 102:87–95

74.

Staud R, Robinson ME, Vierck CJ Jr, Cannon RL, Mauderli AP, Price DD (2003) Ratings of experimental pain and pain-related negative affect predict clinical pain in patients with fibromyalgia syndrome. Pain 105:215–222

75.

Graven-Nielsen T, Aspegren Kendall S, Henriksson KG, Bengtsson M, Sorensen J, Johnson A, Gerdle B, Arendt-Nielsen L (2000) Ketamine reduces muscle pain, temporal summation, and referred pain in fibromyalgia patients. Pain 85:483–491

76.

Price DD, Staud R, Robinson ME, Mauderli AP, Cannon R, Vierck CJ Jr (2002) Enhanced temporal summation of second pain and its central modulation in fibromyalgia patients. Pain 99:49–59

77.

Staud R, Vierck CJ, Robinson ME, Price DD (2005) Effects of the N-methyl-d-aspartate receptor antagonist dextromethorphan on temporal summation of pain are similar in fibromyalgia patients and normal control subjects. J Pain 6:323–332

78.

Sprott H, Bradley LA, Oh SJ, Wintersberger W, Alarcon GS, Mussell HG, Tseng A, Gay RE, Gay S (1998) Immunohistochemical and molecular studies of serotonin, substance P, galanin, pituitary adenylyl cyclase-activating polypeptide, and secretoneurin in fibromyalgic muscle tissue. Arthritis Rheum 41:1689–1694

79.

Sprott H, Salemi S, Gay RE, Bradley LA, Alarcon GS, Oh SJ, Michel BA, Gay S (2004) Increased DNA fragmentation and ultrastructural changes in fibromyalgic muscle fibres. Ann Rheum Dis 63:245–251

80.

Delibas N, Ozcankaya R, Altuntas I (2002) Clinical importance of erythrocyte malondialdehyde levels as a marker of cognitive deterioration in patients with dementia of Alzheimer type: a repeated study in 5-year interval. Clin Biochem 32:137–141

81.

Bilici M, Efe H, Koroglu MA, Uydu HA, Bekaroglu M, Deger O (2001) Antioxidative enzyme activities and lipid peroxidation in major depression: alterations by antidepressant treatments. J Affect Disord 64:43–51

82.

Akyol O, Isci N, Temel I, Ozgocmen S, Uz E, Murat M, Buyukberber S (2001) The relationships between plasma and erythrocyte antioxidant enzymes and lipid peroxidation in patients with rheumatoid arthritis. Joint Bone Spine 68:311–317

83.

Ozgocmen S, Sogut S, Ardicoglu O, Fadillioglu E, Pekkutucu I, Akyol O (2004) Serum nitric oxide, catalase, superoxide dismutase, and malondialdehyde status in patients with ankylosing spondylitis. Rheumatol Int 24:80–83

84.

Keenoy BM, Moorkens G, Vertommen J, Leeuw ID (2001) Antioxidant status and lipoprotein in chronic fatigue syndrome. Life Sci 68:2037–2049

85.

Vecchiet J, Capillone F, Falasca K, Mezzetti A, Pizzigallo E, Bucciarelli T, De Laurentis S, Affaitati G, De Cesare D, Giamberardino MA (2004) Relationship between musculoskeletal symptoms and blood markers of oxidative stress in patients with chronic fatigue syndrome. Neurosci Lett 335:151–154

86.

Kretnisky TA, Spector T, Hall WW (1986) Xantine oxidase from human liver: purification and characterisation. Arch Biochem Biophys 247:108–119

87.

Esterbauer H, Schaur RJ, Zollner H (1991) Chemistry and biochemistry of 4-hydroxynonenal, malonaldehyde and related aldehydes. Free Radic Biol Med 11:81–128

88.

Sogut S, Zoroglu S, Ozyurt H, Yilmaz HR, Ozugurlu F, Sivasli E, Yetkin O, Yanik M, Tutkun H, Savas HA, Tarakcioglu M, Akyol O (2003) Changes in nitric oxide levels and antioxidant enzyme activities may have a role in the pathophysiological mechanisms involved in autism. Clin Chim Acta 331:111–117

89.

Kigwell BA (2000) Nitric oxide-mediated metabolic regulation during exercise: effect of training in health and cardiovascular disease. FASEB J 14:1685–1696

90.

Akyol O, Zoroglu SS, Armutcu F, Sahin S, Gurel A (2004) Nitric oxide as a physiopathological factor in neuropsychiatric disorders. In vivo 18:377–390

91.

Schulman H (1997) Nitric oxide: a spatial second messenger. Mol Psychiatry 2:296–299

92.

Granner DK (1996) Hormone action. In: Murray RK, Granner DK, Mayes PA, Rodwell VW (eds) Harper's Biochemistry. Appleton & Lange Publications, Stamford, pp 509–521

93.

Imaizumi S, Kondo T, Deli MA, Gobbel G, Joo F, Epstein CJ, Yoshimoto T, Chan PH (1996) The influence of oxygen free radicals on the permeability of the monolayer of cultured brain endothelial cells. Neurochem Int 29:205–211

94.

Thiel VE, Audus KL (2001) Nitric oxide and blood-brain barrier integrity. Antioxid Redox Signal 3:273–278

95.

Clancy RM, Amin AR, Abramson SB (1998) The role of nitric oxide in inflammation and immunity. Arthritis Rheum 41:1141–1151

96.

Stichtenoth DO, Frolich JC (1998) Nitric oxide and inflammatory joint diseases. Br J Rheumatol 37:246–257

97.

Brenman JE, Bredt DS (1997) Synaptic signaling by nitric oxide. Curr Opin Neurobiol 7:374–378

98.

Lafon-Cazal M, Culcassi M, Gaven F, Pietri S, Bockaert J (1993) Nitric oxide, superoxide and peroxynitrite: putative mediators of NMDA-induced cell death in cerebellar cells. Neuropharmacology 32:1259–1266

99.

Millan MJ (1999) The induction of pain: an integrative review. Prog Neurobiol 57:1–164

100.

Callsen-Cencic P, Hoheisel U, Kaske A, Mense S, Tenschert S (1999) The controversy about spinal neuronal nitric oxide synthase: under which conditions is it up or downregulated? Cell Tissue Res 295:183–194

101.

Li P, Tong C, Eisenach JC, Figueora JP (1994) NMDA causes release of nitric oxide from rat spinal cord in vitro. Brain Res 637:287–291

102.

Mense S, Hohesiel U (1999) New developments in the understanding of the pathophysiology of muscle pain. J Musculoskelet Pain 7:13–24

103.

Hoheisel U, Unger T, Mense S (2000) A block of spinal nitric oxide synthesis leads to increased background activity predominantly in nociceptive dorsal horn neurons in the rat. Pain 88:249–257

104.

Eisinger J, Gandolfo C, Zakarian H, Ayavou T (1997) Reactive oxygen species, antioxidant status and fibromyalgia. J Musculoskelet Pain 5:5–15

105.

Eisinger J, Plantamura A, Marie PA, Ayavou T (1994) Selenium and magnesium status in fibromyalgia. Magnes Res 7:285–288

106.

Romano TJ, Stiller JW (1994) Magnesium deficiency in fibromyalgia syndrome. J Nutr Med 4:165–167

107.

Bagis S, Tamer L, Sahin G, Bilgin R, Guler H, Ercan B, Erdogan C (2005) Free radicals and antioxidants in primary fibromyalgia: an oxidative stress disorder? Rheumatol Int 25:188–190

108.

Ozgocmen S, Ozyurt H, Sogut S, Akyol O, Ardicoglu O, Yidizhan H (2005) Antioxidant status, lipid peroxidation and nitric oxide in fibromyalgia: etiologic and therapeutic concerns. Rheumatol Int (in press)

109.

Bradley LA, Weigent DA, Sotolongo A, Alarcon GS, Arnold RE, Cianfrini LR et al (2000) Blood serum levels of nitric oxide are elevated in women with fibromyalgia: possible contributions to central and peripheral sensitization. Arthritis Rheum 43:S173

110.

Sackner MA, Gummels EM, Adams JA (2004) Say NO to fibromyalgia and chronic fatigue syndrome: an alternative and complementary therapy to aerobic exercise. Med Hypotheses 63:118–123

111.

Olsen NJ, Park JH (1998) Skeletal muscle abnormalities in patients with fibromyalgia. Proc Natl Acad Med USA 315:351–358

112.

Bengtsson A (2002) The muscle in fibromyalgia. Rheumatology 41:721–724

113.

Lindh MH, Johansson LG, Hedberg M, Henning GB, Grimby G (1995) Muscle fiber characteristics, capillaries and enzymes in patients with fibromyalgia and controls. Scand J Rheumatol 24:34–37

114.

Bengtsson A, Henriksson KG (1989) The muscle in fibromyalgia: a review of Swedish studies. J Rheumatol 16:144–149

115.

Lindman R, Hagberg M, Bengtsson A, Henricksson KG, Thornell LE (1995) Capillary structure and mitochondrial volume density in the trapezius muscle of chronic trapezius myalgia, fibromyalgia, and healthy subjects. J Musculoskelet Pain 3:5–22

116.

Lund N, Bengtsson A, Thorborg P (1986) Muscle oxygen tissue pressure in primary fibromyalgia. Scand J Rheumatol 15:165–173

117.

Elert JE, Rantapaa–Dahlqvist SB, Henriksson-Larsen K, Lorentzon R, Gerdle BU (1992) Muscle performance, electromyography and fiber type composition in fibromyalgia and work-related myalgia. Scand J Rheumatol 21:28–34

118.

Bennett RM, Clark SR, Goldberg L, Nelson D, Bonafede RP, Porter J, Specht D (1989) Aerobic fitness in patients with fibrositis. A controlled study of respiratory gas exchange and 133xenon clearance from exercising muscle. Arthritis Rheum 32:454–460

119.

Holloszy JO, Coyle EF (1984) Adaptations of skeletal muscle to endurance exercise and their metabolic consequences. J Appl Physiol 56:831–838

120.

Jeschonneck M, Graohmann G, Hein G, Sprott H (2000) Abnormal microcirculation and temperature in skin above tender points in patients with fibromyalgia. Rheumatology 39:917–921

121.

Gronemann ST, Ribel–Madsen S, Bartels EM, Danneskiold-Samsoe B, Bliddal H (2004) Collagen and muscle pathology in fibromyalgia patients. Rheumatology 43:27–31

122.

Frodin T, Bengtsson A, Skogh M (1988) Nail fold capillaroscopy findings in patients with primary fibromyalgia. Clin Rheumatol 7:384–388

123.

Violi F, Marino R, Milite MT, Loffredo L (1999) Nitric oxide and its role in lipid peroxidation. Diabetes Metab Res Rev 15:283–288

124.

Lund E, Kendall SA, Janerot-Sjoberg B, Bengtsson A (2003) Muscle metabolism in fibromyalgia studied by P-31 magnetic resonance spectroscopy during aerobic and anaerobic exercise. Scand J Rheumatol 32:138–145

125.

Sprott H, Rzanny R, Reichenbach JR, Kaiser WA, Hein G, Stein G (2000) 31 P magnetic resonance spectroscopy in fibromyalgia muscle. Rheumatology 39:1121–1125

126.

Jubrias SA, Bennett RM, Klug GA (1994) Increased incidence of a resonance in the phosphodiester region of 31P nuclear magnetic resonance spectra in the skeletal muscle of fibromyalgia patients. Arthritis Rheum 37:801–807

127.

Park JH, Phothimat P, Oates CT, Hernanz-Schulman M, Olsen NJ (1998) Use of P-31 magnetic resonance spectroscopy to detect metabolic abnormalities in muscles of patients with fibromyalgia. Arthritis Rheum 41:406–413

128.

Larsson B, Bjork J, Kadi F, Lindman R, Gerdle B (2004) Blood supply and oxidative metabolism in muscle biopsies of female cleaners with and without myalgia. Clin J Pain 20:440–446

129.

Wysenbeek AJ, Shapira Y (1991) Primary fibromyalgia and the chronic fatigue syndrome. Rheumatol Int 10:227–229

130.

Hudson JI, Goldenberg DL, Pope HG, Keck PE, Schleisenger L (1992) Comorbidity of fibromyalgia with medical and psychiatric disorders. Am J Med 92:363–367

131.

White KP, Speechley M, Harth M, Ostbye T (2000) Co-existence of chronic fatigue syndrome with fibromyalgia syndrome in the general population. Scand J Rheumatol 29:44–51

132.

Fulle S, Mecocci P, Fano G, Vecchiet I, Vecchini A, Racciotti D, Cherubini A, Pizzigallo E, Vecchiet L, Senin U, Beal MF (2000) Specific oxidative alterations in vastus lateralis muscle of patients with the diagnosis of chronic fatigue syndrome. Free Radic Biol Med 29:1252–1259

133.

Keenoy MB, Moorkens G, Vertommen J et al (2000) Magnesium status and parameters of the oxidant-antioxidant balance in patients with chronic fatigue syndrome: effect of supplementation with magnesium. J Am Coll Nutr 19:374–382

134.

Grant JE, Veldee MS, Buchwald D (1996) Analysis of dietary intake and selected nutrient concentrations in patients with chronic fatigue syndrome. J Am Diet Assoc 96:383–386

135.

Logan AC, Wong C (2001) Chronic fatigue syndrome: oxidative stress and dietary modifications. Altern Med Rev 6:450–459

136.

Richards RS, Roberts TK, McGregor NR, Dunstan RH, Butt HL (2000) Blood parameters indicative of oxidative stress are associated with symptoms expression in chronic fatigue syndrome. Redox Rep 5:35–41

137.

Pall ML, Satterlee JD (2001) Elevated nitric oxide/peroxynitrite mechanism for the common etiology of multiple chemical sensitivity, chronic fatigue syndrome, and posttraumatic stress disorder. Ann N Y Acad Sci 933:323–329

138.

Pall ML (2002) Levels of nitric oxide synthase product citrulline are elevated in sera of chronic fatigue syndrome patients. J Chronic Fatigue Syndr 10:37–41

139.

Nijs J, van de Velde B, De Meirleir K (2005) Pain in patients with chronic fatigue syndrome: Does nitric oxide trigger central sensitization? Med Hypotheses 64:558–562

140.

Evans PH (1993) Free radicals in brain metabolism and pathology. Br Med Bull 49:577–587

141.

Iraz M, Erdogan H, Ozyurt B, Ozugurlu F, Ozgocmen S, Fadillioglu E (2005) Omega-3 essential fatty acid supplementation and erythrocyte oxidant/antioxidant status in rats. Ann Clin Lab Sci 35:169–173

142.

Merchant RE, Carmack CA, Wise CM (2000) Nutritional supplementation with Chlorella pyrenoidosa for patients with fibromyalgia syndrome: a pilot study. Phytother Res 14:167–173

143.

Ozgocmen S, Catal SA, Ardicoglu O, Kamanli A (2000) Effect of omega-3 fatty acids in the management of fibromyalgia syndrome. Int J Clin Pharmacol Ther 38:362–363

144.

Hostmark AT, Lystad E, Vellar OD, Hovi K, Berg JE (1993) Reduced plasma fibrinogen, serum peroxides, lipids, and apolipoproteins after a 3-week vegetarian diet. Plant Foods Hum Nutr 43:55–61
About this article
Cite this article
Ozgocmen, S., Ozyurt, H., Sogut, S. et al. Current concepts in the pathophysiology of fibromyalgia: the potential role of oxidative stress and nitric oxide. Rheumatol Int 26, 585–597 (2006). https://doi.org/10.1007/s00296-005-0078-z
Received:

Accepted:

Published:

Issue Date:
Keywords
Fibromyalgia

Pathophysiology

Oxidative stress

Nitric oxide