Abstract
Considerable discrepancies exist in the literature with respect to plasma total homocysteine (tHcy) levels in Behçet's disease (BD). The aim of this study was to evaluate tHcy concentrations in these patients. Thirty-two patients with BD and 20 age- and body mass index-matched healthy volunteers were enrolled. Plasma tHcy concentrations were significantly higher, while vitamin B12 and folate levels were significantly lower in patients with thrombosis and eye involvement than those without. C-reactive protein levels also correlated significantly in a negative manner with vitamin B12 and folate but positively with tHcy. In conclusion, increased use or accelerated catabolism of folate and vitamin B12 due to chronic inflammation and moderately increased tHcy concentrations related with deficiency of these cofactors, and immunosuppressive drug administration might be potential threats of vascular disease in BD.
Access options
Buy single article
Instant access to the full article PDF.
USD 39.95
Price excludes VAT (USA)
Tax calculation will be finalised during checkout.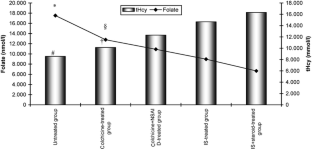 References
Behçet H (1937) Ueber rezidivierende Aphtoese, durch ein Virus verursachte Geschwuere am Mund, am Auge, und an den Genitalien. Dermatol Wochenschr 105:1152

Sahin S, Akoglu T, Direskeneli H, Sen LS, Lawrence R (1996) Neutrophil adhesion to endothelial cells and factors affecting adhesion in patients with Behçet's disease. Ann Rheum Dis 55:128–133

O'Duffy JD (1990) Vasculitis in Behçet's disease. Rheum Dis Clin North Am 16:423–431

Koc Y, Gullu I, Akpek G, Akpolat T, Kansu E, Kiraz S, Batman F, Kansu T, Balkanci F, Akkaya S (1992) Vascular involvement in Behçet's disease. J Rheumatol 19:402–410

Gul A, Ozbek U, Ozturk C, Inanc M, Konice M, Ozcelik T (1996) Coagulation factor V mutation increases the risk of venous thrombosis in Behçet's disease. Br J Rheumatol 35:1178–1180

Kuzu MA, Ozaslan C, Koksoy C, Gurler A, Tuzuner A (1994) Vascular involvement in Behçet's disease: 8-year audit. World J Surg 18:948–954

Yazici H, Hekim N, Ozbakir F, Yurdakul S, Tuzun Y, Pazarli H, Muftuoglu A (1987) Von Willebrand factor in Behçet's disease. J Rheumatol 14:305–306

Lee YJ, Kang SW, Yang JI, Choi Y, Sheen D, Lee EB, Choi S, Song YW (2002) Coagulation parameters and plasma total homocysteine levels in Behçet's disease. Thromb Res 106:19–24

McCully KS (1969) Vascular pathology of homocysteinemia: implications for the pathogenesis of arteriosclerosis. Am J Pathol 56:111–128

Selhub J, Jacques PF, Wilson PWF, Rush D, Rosenberg I (1993) Vitamin status and intake as primary determinants of homocysteinemia in an elderly population. JAMA 270:2693–2698

Harker LA, Ross R, Slichter SJ, Scott CR (1976) Homocysteine-induced arteriosclerosis: the role of endothelial cell injury and platelet response in its genesis. J Clin Invest 58:731–741

Hajjar KA (1993) Homocysteine-induced modulation of tissue plasminogen activator binding to its endothelial cell membrane receptor. J Clin Invest 91:2873–2879

Majors A, Ehrhart LA, Pezacka EH (1997) Homocysteine as a risk factor vascular disease: enhanced collagen production and accumulation by smooth muscle cells. Arterioscler Thromb Vasc Biol 17:2074–2081

Upchurch GR Jr, Welch GN, Fabian AJ, Freedman JE, Johnson JL, Keaney JF Jr, Loscalzo J (1997) Homocysteine decreases bioavailable nitric oxide by a mechanism involving glutathione peroxidase. J Biol Chem 272:17012–17017

Welch GN, Loscalzo J (1998) Homocysteine and atherothrombosis. N Engl J Med 338:1042–1050

Harker LA, Slichter SJ, Scott CR, Ross R (1974) Homocysteinemia. Vascular injury and arterial thrombosis. N Engl J Med 291:537–543

Ratnoff OD (1968) Activation of Hageman factor by L-homocysteine. Science 162:1007–1009

Rodgers GM, Kane WH (1986) Activation of endogenous factor V by a homocysteine-induced vascular endothelial cell activator. J Clin Invest 77:1909–1916

Lentz SR, Sadler JE (1991) Inhibition of thrombomodulin surface expression and protein C activation by the thrombogenic agent homocysteine. J Clin Invest 88:1906–1914

Nishinaga M, Ozawa T, Shimada K (1993) Homocysteine, a thrombogenic agent, suppresses anticoagulant heparan sulfate expression in cultured porcine aortic endothelial cells. J Clin Invest 92:1381–1386

Tsai JC, Wang H, Perrella MA, Yoshizumi M, Sibinga NE, Tan LC, Haber E, Chang TH, Schlegel R, Lee ME (1996) Induction of cyclin A gene expression by homocysteine in vascular smooth muscle cells. J Clin Invest 97:146–153

Loscalzo J (1996) The oxidant stress of hyperhomocysteinemia. J Clin Invest 98:5–7

Frauscher G, Karnaukhova E, Muehl A, Hoeger H, Lubec B (1995) Oral administration of homocysteine leads to increased plasma triglycerides and homocysteic acid—additional mechanisms in homocysteine induced endothelial damage? Life Sci 57:813–817

International Study Group for Behçet's Disease (1990) Criteria for diagnosis of Behçet's disease. Lancet 335:1078–1080

Araki A & Sako Y (1987) Determination of free and total homocysteine in human plasma by high-performance liquid chromatography with fluorescence detection. J Chromat 422: 43–52

Zar JH (1996) Biostatistical Analysis. Prentice Hall

Armitage B, Berry G, Matthews JNS (2002) Statistical methods in medical research. Blackwell Science, London

Nalbant S, Aktay D, Cingozbay Y, Top C, Kucukardali Y, Avsar K, Danaci M (2003) Homocysteine and Behçet disease. J Clin Rheumatol 9:65–66

Aksu K, Turgan N, Oksel F, Keser G, Ozmen D, Kitapcioglu G, Gumusdis G, Bayindir O, Doganavsargil E (2001) Hyperhomocysteinemia in Behçet's disease. Rheumatology 40:687–690

Korkmaz C, Bozan B, Kosar M, Sahin F, Gulbas Z (2002) Is there an association of plasma homocysteine levels with vascular involvement in patients with Behçet's syndrome? Clin Exp Rheumatol 20:30–34

Er H, Evereklioglu C, Cumurcu T, Turkoz Y, Ozerol E, Sahin K, Doganay S (2002) Serum homocysteine level is increased and correlated with endothelin-1 and nitric oxide in Behçet's disease. Br J Ophthalmol 86:653–657

Bekpinar S, Kocak H, Unlucerci Y, Genc S, Akdag KA, Gogus F (2003) The evaluation of C-reactive protein, homocysteine and vitamin B6 concentrations in Behçet and rheumatoid arthritis disease. Clin Chim Acta 329:143–145

Okka M, Ozturk M, Kockar MC, Bavbek N, Rasier Y, Gunduz K, Korkar MC (2002) Plasma homocysteine level and uveitis in Behçet's disease. Isr Med Assoc J 4:931–934

Fresko I, Hamuryudan V, Demir M, Hizli N, Sayman H, Melikoglu M, Tunc R, Yurdakul S, Yazici H (2001) Intestinal permeability in Behçet's syndrome. Ann Rheum Dis 60:65–66

Muftuoglu AU, Yazici H, Yurdakul S, Tuzun Y, Pazarli H, Gungen G, Deniz S (1986) Relation of serum C-reactive protein and erythrocyte sedimentation rates to disease activity. Int J Dermatol 25:235–239

Folsom AR, Desvarieux M, Nieto FJ, Boland LL, Ballantyne CM, Chambless LE (2003) B vitamin status and inflammatory markers. Atherosclerosis 169:169–174

de Jong SC, Stehouwer CD, van den Berg M, Vischer UM, Rauwerda JA, Emeis JJ (1997) Endothelial marker proteins in hyperhomocysteinemia. Thromb Haemost 78:1332–1337

Yxfeldt A, Wallberg-Jonsson S, Hultdin J, Rantapaa-Dahlqvist S (2003) Homocysteine in a patient with rheumatoid arthritis in relation to inflammation and B-vitamin treatment. Scand J Rheumatol 32:205–210

Chiang EP, Bagley PJ, Selhub J, Nadeau M, Roubenoff R (2003) Abnormal vitamin B(6) status is associated with severity of symptoms in patients with rheumatoid arthritis. Am J Med 114:283–287

Kuller LH, Evans RW (1998) Homocysteine, vitamins, and cardiovascular disease. Circulation 98:196–199

Pronai L, Ichikawa Y, Nakazawa H, Arimory S (1991) Enhanced superoxide generation and the decreased superoxide scavenging activity of peripheral blood leukocytes in Behçet's disease: effects of colchicine. Clin Exp Rheum 9:227–233

Orem A, Efe H, Deger O, Cimsit G, Uydu HA, Vanizor B (1997) Relationship between lipid peroxidation and disease activity in patients with Behçet's disease. J Dermatol Sci 16:11–16

Kose K, Yazici C, Ascioglu O (2001) The evaluation of lipid peroxidation and adenosine deaminase activity in patients with Behçet's disease. Clin Biochem 34:125–129

Bayes B, Pastor MC, Bonal J, Junca J, Romero R (2001) Homocysteine and lipid peroxidation in hemodialysis: role of folic acid and vitamin E. Nephrol Dial Transplant 16:2172–2175

Memon RA, Staprans I, Noor M, Holleran WM, Uchida Y, Moser AH, Feingold KR, Grunfeld C (2000) Infection and inflammation induce LDL oxidation in vivo. Arterioscler Thromb Vasc Biol 20:1536–1542

Niwa Y, Miyake S, Sakane T, Shingen M, Yokoyama M (1982) Auto-oxidative damage in Behçet's disease-endothelial cell damage following the elevated oxygen radicals generated by stimulated neutrophils. Clin Exp Immunol 49:247–255

Holven K, Aukrust P, Holm T, Ose L, Nenseter M (2002) Folic acid treatment reduces chemokine release from peripheral blood mononuclear cells in hyperhomocysteinemic subjects. Arterioscler Thromb Vasc Biol 22:699–703

Arnadottir M, Hultberg B, Vladov V, Nilsson-Ehle P, Thysell H (1996) Hyperhomocysteinemia in cyclosporine-treated renal transplant recipients. Transplantation 61: 509–512

Cole DEC, Ross HJ, Evrovski J, Langman LJ, Miner SES, Daly PA, Wong PY (1998) Correlation between total homocysteine and cyclosporine concentrations in cardiac transplant recipients. Clin Chem 44:2307–2312

Arnadottir M, Hultberg B, Wahlberg J, Fellström B, Dimeny E (1998) Serum total homocysteine concentration before and after renal transplantation. Kidney Int 54: 1380–1384

Ducloux D, Fournier V, Rebibou JM, Bresson-Vautrin C, Gibey R, Chalopin JM (1998) Hyperhomocysteinemia in renal transplant recipients with and without cyclosporine. Clin Nephrol 49:232–235

Ducloux D, Ruedin C, Gibey R, Chalopin JM (1998) Prevalence, determinants, and clinical significance of hyperhomocysteinemia in renal-transplant recipients. Nephrol Dial Transplant 13:2890

Woodside JV, Fogarty DG, Lightbody JH, Loughrey CM, Yarnell JW, Maxwell AP, Young IS (1999) Homocysteine and B- group vitamins in renal transplant patients. Clin Chim Acta 282:157–166

Gupta A, Moustapha A, Jacobsen DW, Goormastic M, Tuzcu EM, Hobbs R, Young J, James K, McCarthy P, van Lente F, Green R, Robinson K (1998) High homocysteine, low folate, and low vitamin B6 concentrations: prevalent risk factors for vascular disease in heart transplant recipients. Transplantation 65:544–550

Fogarty DG, Woodside J, Lightbody JM, Maxwell AP (1996) Plasma homocysteine in renal transplant recipients. J Am Soc Nephrol 7:1931

Fernandez-Miranda C, Gomez P, Diaz-Rubio P, Estenoz J, Carrillo JL, Andres A, Morales JM (2000) Plasma homocystenie levels in renal transplanted patients on cyclosporine or tacrolimus therapy: effect of treatment with folic acid. Clin Transplant 14:110–114

Kim SI, Yoo TH, Song HY, Hwang JH, Lee HY, Han DS, Moon JI, Kim YS, Park KI, Paenk KJ, Choi KH. (2000) Hyperhomocysteinemia in renal transplant recipients with cyclosporine. Transplant Proceed 32:1878–1879

Stein G, Muller A, Busch M, Fleck C, Sperschneider H (2001) Homocysteine, its metabolites, and B-group vitamins in renal transplant patients. Kidney Int 78: S262-S265

Mehra MR, Uber PA, Scott RL, Park MH, Milani RV (2002) Effect of immunosuppressive regimen on novel markers of atherothrombosis in heart transplantation: homocysteine, C-reactive protein, and mean platelet volume. Transplant Proceed 34:1866–1868

Ignatescu M, Fodinger M, Kletzmayr J, Bieglmayer C, Horl W, Sunder-Plassmann G (2001) Is there a role of cyclosporine A on total homocysteine export from human renal proximal tubular epithelial cells? Kidney Int 59: S258-S261

Hultberg B, Arnadottir M (2003) The effect of cyclosporine on homocysteine export in human cell lines. Transplant Proceed 35:801–802

Fodinger M, Wolfl G, Fischer G, Rasoul-Rockenschaub S, Schmid R, Horl WH, Sunder-Plassmann G (1999) Effect of MTHFR 677C>T on plasma total homocysteine levels in renal graft recipients. Kidney Int 55: 1072–1080

Bostom AG, Gohh RY, Tsai MY, Hopkins-Garcia BJ, Nadeau MR, Bianchi LA, Jacques PF, Rosenberg IH, Selhub J (1997) Excess prevalence of fasting and postmethionine-loading hyperhomocysteinemia in stable renal recipients. Arterioscler Thromb Vasc Biol 17:1894–1900

Kim MH, Kim E, Passen EL, Meyer J, Kang SS (1997) Cortisol and estradiol: nongenetic factors for hyperhomocysteinemia. Metabolism 46:247–249

Lazzerini PE, Capecchi PL, Bisogno S, Galeazzi M, Marcolonga R, Laghi Pasini F (2003) Reduction in plasma homocysteine level in patients with rheumatoid arthritis given pulsed glucocorticoid treatment. Ann Rheum Dis 62:694–695
About this article
Cite this article
Yesilova, Z., Pay, S., Oktenli, C. et al. Hyperhomocysteinemia in patients with Behçet's disease: is it due to inflammation or therapy?. Rheumatol Int 25, 423–428 (2005). https://doi.org/10.1007/s00296-004-0466-9
Received:

Accepted:

Published:

Issue Date:

DOI: https://doi.org/10.1007/s00296-004-0466-9
Keywords
Behçet's disease

Folate

Homocysteine

Immunosuppressive treatment

Vitamin B12