Abstract
Juvenile-onset ankylosing spondylitis is an unusual disorder which can present with either peripheral arthritis or more classic hip girdle and back symptoms. A 12-year-old child with this disease was admitted with walking disorder, cervical pain, restricted cervical motion, and right ankle swelling. Diffusely increased accumulation of radioactivity in the cervical spine, focally increased accumulation in bilateral sacroiliac joints, and diminished irregular uptake in thoracal spine were detected on technetium 99m methylene diphosphonate bone scintigraphy. As a result, this imaging technique may give important information for diagnosis and differential diagnosis in juvenile chronic arthritis.
Access options
Buy single article
Instant access to the full article PDF.
US$ 39.95
Tax calculation will be finalised during checkout.
Subscribe to journal
Immediate online access to all issues from 2019. Subscription will auto renew annually.
US$ 119
Tax calculation will be finalised during checkout.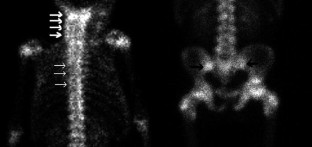 References
1.

Thompson GH, Khan MA, Bilenker RM (1982) Spontaneous atlantoaxial subluxation as a presenting manifestation of juvenile ankylosing spondylitis. A case report. Spine 7:78–79

2.

Resnick D (2002) Juvenile chronic arthritis. In: Resnick D (ed) Diagnosis of bone and joint disorders. Fourth edn. Saunders, Philadelphia

3.

Azouz EM, Duffy CM (1995) Juvenile spondyloarthropathies: clinical manifestations and medical imaging. Skeletal Radiol 24:399–408

4.

Dougados M (1998) Follow-up of a patient with spondyloarthropathy (French). Ann Med Interne (Paris) 149:149–155

5.

Strom H, Lindvall N, Hellstrom B, Rosenthal L (1989) Clinical, HLA, and roentgenological follow up study of patients with juvenile arthritis: comparison between the long term outcome of transient and persistent arthritis in children. Ann Rheum Dis 48:918–923

6.

Flato B, Smerdel A, Johnston V, Lien G, Dale K, Vinje O, Egeland T, Sorskaar D, Forre O (2002) The influence of patient characteristics, disease variables, and HLA alleles on the development of radiographically evident sacroiliitis in juvenile idiopathic arthritis. Arthritis Rheum 46:986–994

7.

Bollow M, Biedermann T, Kannenberg J, Paris S, Schauer-Petrowski C, Minden K, Schontube M, Hamm B, Sieper J, Braun J (1998) Use of dynamic magnetic resonance imaging to detect sacroiliitis in HLA-B27 positive and negative children with juvenile arthritides. J Rheumatol 25:556–564

8.

Menkes CJ, Job-Deslandre C, Feldmann JL (1984) Juvenile-onset ankylosing spondylitis (French). Sem Hop 60:543–546

9.

Bywaters EGL, Ansell BM (1965) Sacroiliitis in juvenile chronic polyarthritis. Z Rheumaforsch 24:122
About this article
Cite this article
Kekilli, E., Yagmur, C. & Aydin, O.M. Cervical involvement in juvenile-onset ankylosing spondylitis with bone scintigraphy. Rheumatol Int 24, 164–165 (2004). https://doi.org/10.1007/s00296-003-0367-3
Received:

Accepted:

Published:

Issue Date:
Keywords
Ankylosing spondylitis

Bone scintigraphy

Cervical vertebrae

Juvenile