Abstract
The cAMP cascade plays an important role in several biological processes. Thus, study of its molecular details can contribute to a better understanding of these processes, treatment of diseases, or even finding antifungal drug targets. To gain further information about the PKA pathway, and its evolutionarily conserved and species-specific features, the central regulator pka1 gene, which encodes the cAMP-dependent protein kinase catalytic subunit, was studied in the less known haplontic, dimorphic fission yeast Schizosaccharomyces japonicus. Namely, this species belongs to a highly divergent phylogenetic branch of fungi. Furthermore, S. japonicus had only a single copy pka1 gene in contrast to the budding yeasts. Therefore, the pka1 deleted mutant was created, whose RNA sequencing and phenotypic studies revealed that the Pka1 regulated at least 373 genes, among them further kinases, phosphatases and transcriptional regulators. It regulated elongation of hyphae, cell size, aging and stress response. Furthermore, half of the pka1 target genes seemed to be conserved in Schizosaccharomyces pombe and S. japonicus. However, there were oppositely regulated genes in the two closely related species. The target genes suggest that this single gene must be able to fulfill all the functions of TPK1-3 of Saccharomyces cerevisiae. Thus, our results shed light on certain similarities and differences of the PKA pathway of S. japonicus compared to the budding yeasts and confirmed the multifunctionality of the pka1 gene, but further experiments are needed to prove its involvement in the metabolic processes and transport.
Access options
Buy single article
Instant access to the full article PDF.
USD 39.95
Price excludes VAT (USA)
Tax calculation will be finalised during checkout.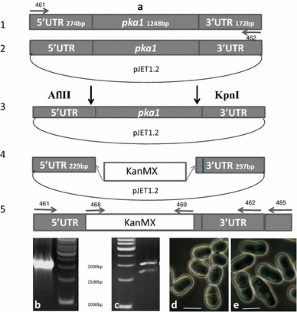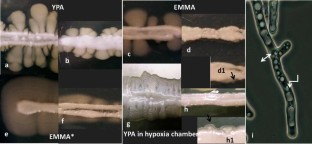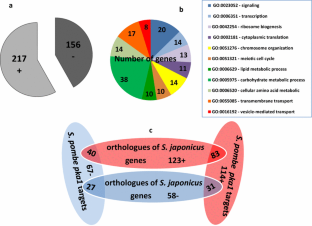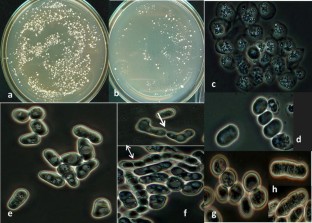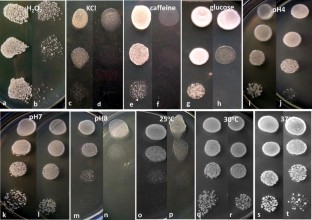 References
Amoah-Buahin E, Bone N, Armstrong J (2005) Hyphal Growth in the Fission Yeast Schizosaccharomyces pombe. Eukaryot Cell 4(7):1287–1297

Aoki K, Nakajima R, Furuya K, Niki H (2010) Novel episomal vectors and a highly efficient transformation procedure for the fission yeast Schizosaccharomyces japonicus. Yeast 27(12):1049–1060

Azuma K, Ohtsuka H, Mita S, Murakami H, Aiba H (2009) Identification and characterization of an Ecl1-family gene in Saccharomyces cerevisiae. Biosci Biotechnol Biochem 73(12):2787–2789

Benko Z, Fenyvesvolgyi C, Pesti M, Sipiczki M (2004) The transcription factor Pap1/Caf3 plays a central role in the determination of caffeine resistance in Schizosaccharomyces pombe. Mol Genet Genomics 271(2):161–170

Biswas S, Van Dijck P, Datta A (2007) Environmental sensing and signal transduction pathways regulating morphopathogenic determinants of Candida albicans. Microbiol Mol Biol Rev 71:348–376

Bockmühl DP, Krishnamurthy S, Gerads M, Sonneborn A, Ernst JF (2001) Distinct and redundant roles of the two protein kinase A isoforms Tpk1p and Tpk2p in morphogenesis and growth of Candida albicans. Mol Microbiol 42(5):1243–1257

Chen D, Toone WM, Mata J, Lyne R, Burns G, Kivinen K, Brazma A, Jones N, Bahler J (2003) Global transcriptional responses of fission yeast to environmental stress. Mol Biol Cell 14:214–229

Chevtzoff C, Vallortigara J, Avéret N, Rigoulet M, Devin A (2005) The yeast cAMP protein kinase Tpk3p is involved in the regulation of mitochondrial enzymatic content during growth. Biochim Biophys Acta (BBA)-Bioenerg 1706(1–2):117–125

Cho YW, Kim D, Park EH, Lim CJ (2002) Pap1-mediated regulation of thioredoxin gene from Schizosaccharomyces pombe. Mol Cells 13(2):315–321

Giacometti R, Kronberg F, Biondi RM, Passeron S (2009) Catalytic isoforms Tpk1 and Tpk2 of Candida albicans PKA have non-redundant roles in stress response and glycogen storage. Yeast 26(5):273–285

Giacometti R, Kronberg F, Biondi RM, Passeron S (2011) Candida albicans Tpk1p and Tpk2p isoforms differentially regulate pseudohyphal development, biofilm structure, cell aggregation and adhesins expression. Yeast 28:293–308

Grallert A, Grallert B, Zilahi E, Szilagyi Z, Sipiczki M (1999) Eleven novel sep genes of Schizosaccharomyces pombe required for efficient cell separation and sexual differentiation. Yeast 15(8):669–686

Gupta DR, Paul SK, Oowatari Y, Matsuo Y, Kawamukai M (2011) Complex formation, phosphorylation, and localization of protein kinase A of Schizosaccharomyces pombe upon glucose starvation. Biosci Biotechnol Biochem 75(8):1456–1465

Harcus D, Nantel A, Marcil A, Rigby T, Whiteway M (2004) Transcription profiling of cyclic AMP signaling in Candida albicans. Mol Biol Cell 15:4490–4499

Ho Y, Gasch AP (2015) Exploiting the yeast stress-activated signaling network to inform on stress biology and disease signaling. Curr Genet 61(4):503–511

Hu G, Steen BR, Lian T, Sham AP, Tam N, Tangen KL, Kronstad JW (2007) Transcriptional regulation by protein kinase A in Cryptococcus neoformans. PLoS Pathog 3(3):e42

Kang H, Chang M, Kang C, Park Y, Yoon B, Kim T, Yun Cheol-Won (2014) The expression of PHO92 is regulated by Gcr1, and Pho92 is involved in glucose metabolism in Saccharomyces cerevisiae. Curr Genet 60(4):247–253

Klengel T, Liang W, Chaloupka J, Ruoff C, Schröppel K, Naglik JR, Eckert SE, Mogensen EG, Haynes K, Tuite MF, Levin LR, Buck J, Mühlschlegel FA (2005) Fungal adenylyl cyclase integrates CO2 sensing with cAMP signaling and virulence. Curr Biol 15(22):2021–2026

Koyano T, Kume K, Konishi M, Toda T, Hirata D (2010) Search for kinases related to transition of growth polarity in fission yeast. Bioscience, Biotechnology, and Biochemistry 74(5):1129–1133

Liu J, Jia Y, Li J, Chu Z (2015) Transcriptional profiling analysis of individual kinase-deletion strains of fission yeast in response to nitrogen starvation. Mol Genet Genom 290:1067–1083

Lyne R, Burns G, Mata J, Penkett CJ, Rustici G, Chen D, Langford C, Vetrie D, Bähler J (2003) Whole-genome microarrays of fission yeast: characteristics, accuracy, reproducibility, and processing of array data. BMC Genom 4:27

Maeda ST, Watanabe Y, Kunitomo H, Yamamoto M (1994) Cloning of the pkal Gene Encoding the Catalytic Subunit of the CAMP-dependent Protein Kinase in Schizosaccharomyces pombe. J Biol Chem 269(13):9632–9637

Mitchison JM (1970) Physiological and cytological methods for Schizosaccharomyces pombe. Methods Cell Physiol 4:131–165

Nantel A, Dignard D, Bachewich C, Harcus D, Marcil A, Bouin A, Sensen CW, Hogues H, van het Hoog M, Gordon P, Rigby T, Benoit F, Tessier DC, Thomas DY and Whiteway M (2002) Transcription profiling of candida albicans cells undergoing the yeast-to-hyphal transition. Mol Biol Cell 13:3452–3465

Niimi M, Niimi K, Tokunaga J, Nakayama H (1980) Changes in Cyclic Nucleotide Levels and Dimorphic Transition in Candida albicans. J Bacteriol 142(3):1010–1014

Okazaki N, Okazaki K, Watanabe Y, Kato-Hayashi M, Yamamoto M, Okayama H (1998) Novel factor highly conserved among eukaryotes controls sexual development in fission yeast. Mol Cell Biol 18(2):887–895

Oowatari Y, Toma K, Ozoe F, Kawamukai M (2009) Identification of sam4 as a rad24 allele in Schizosaccharomyces pombe. Biosci Biotechnol Biochem 73(7):1591–1598

Pan X, Heitman J (1999) Cyclic AMP-dependent protein kinase regulates pseudohyphal differentiation in Saccharomyces cerevisiae. Mol Cell Biol 19:74874–74887

Perez-Nadales E, Nogueira MF, Baldin C, Castanheira S, El Ghalid M, Grund E, Lengeler K, Marchegiani E, Mehrotra PV, Moretti M, Naik V, Oses-Ruiz M, Oskarsson T, Schäfer K, Wasserstrom L, Brakhage AA, Gow NA, Kahmann R, Lebrun MH, Perez-Martin J, Di Pietro A, Talbot NJ, Toquin V, Walther A, Wendland J (2014) Fungal model systems and the elucidation of pathogenicity determinants. Fungal Genet Biol 70:42–67

Pokholok DK, Zeitlinger J, Hannett NM, David B, Reynolds DB, Young RA (2006) Activated signal transduction kinases frequently occupy target genes. Science 313(5786):533–536

Prentice HL (1992) High efficiency transformation of Schizosaccharomyces pombe by electroporation. Nucl Acids Res 20(3):621

Ptacek J, Devgan G, Michaud G, Zhu H, Zhu X, Fasolo J, Guo H, Jona G, Breitkreutz A, Sopko R, McCartney RR, Schmidt MC, Rachidi N, Lee SJ, Mah AS, Meng L, Stark JRM, Stern DF, De Virgilio C, Tyers M, Andrews B, Gerstein M, Schweitzer B, Predki PF, Snyder M (2005) Global analysis of protein phosphorylation in yeast. Nature 438:679–684

Rhind et al (2011) Comparative functional genomics of the fission yeasts. Science 332(6032):930–936

Ribeiro MJ, Reinders A, Boller T, Wiemken A, De Virgilio C (1997) Trehalose synthesis is important for the acquisition of thermotolerance in Schizosaccharomyces pombe. Mol Microbiol 25:571–581

Robertson LS, Fink GR (1998) The three yeast A kinases have specific signaling functions in pseudohyphal growth. Proc Natl Acad Sci USA 95(23):13783–13787

Robertson LS, Causton HC, Young RA, Fink GR (2000) The yeast A kinases differentially regulate iron uptake and respiratory function. Proc Natl Acad Sci USA 97:5984–5988

Roux AE, Quissac A, Chartrand P, Ferbeyre G, Rokeach LA (2006) Regulation of chronological aging in Schizosaccharomyces pombe by the protein kinases Pka1 and Sck2. Aging Cell 5:345–357

Shaikh D, Zhou Q, Chen T, Ibe JCF, Raj JU, Zhou G (2012) CAMP-dependent protein kinase is essential for hypoxia-mediated epithelial-mesenchymal transition, migration, and invasion in lung cancer cells. Cell Signal 24(12):2396–2406

Sipiczki M (2000) Where does fission yeast sit on the tree of life? Genome Biol 1(2):reviews 1011.1–reviews 1011.4

Sipiczki M, Takeo K, Grallert A (1998a) Growth polarity transitions in a dimorphic fission yeast. Microbiology 144(12):3475–3485

Sipiczki M, Takeo K, Yamaguchi M, Yoshida S, Miklos I (1998b) Environmentally controlled dimorphic cycle in a fission yeast. Microbiology 144(5):1319–1330

Taylor SS, Kim C, Cheng CY, Brown SH, Wu J, Kannan N (2008) Signaling through cAMP and cAMP-dependent protein kinase: diverse strategies for drug design. Biochim Biophys Acta 1784:16–26

Toda T, Cameron S, Sass P, Zoller M, Wigler M (1987) Three different genes in S. cerevisiae encode the catalytic subunits of the cAMP-dependent protein kinase. Cell 50(2):277–287

Trapnell CL, Pachter L, Salzberg SL (2009) TopHat: discovering splice junctions with RNA-Seq. Bioinformatics 25(9):1105–1111

Veide VJ, Dahal S, Ljungdahl T, Grøtli M, Tamás MJ (2014) Application of a peptide-based assay to characterize inhibitors targeting protein kinases from yeast. Curr Genet 60(3):193–200

Yukawa M, Maki MT (1931) Regarding the new fission yeast Schizosaccharomyces japonicus. Kyushu Daigaku Kiyou 218–226

Zaragoza O, Gancedo JM (2000) Pseudohyphal growth is induced in Saccharomyces cerevisiae by a combination of stress and cAMP signalling. Antonie Van Leeuwenhoek 78(2):187–194

Zhang W, Guo H, Jing H, Li Y, Wang X, Zhang H, Jiang L, Ren F (2014) Lactoferrin stimulates osteoblast differentiation through PKA and p38 pathways independent of Lactoferrin's receptor LRP1. J Bone Min Res 29(5):1232–1243
Acknowledgments
This work was supported by the Hungarian National Research Fund (OTKA K106172) and European Union, co-financed by the European Social Fund (SROP-4.2.2.B-15/1/KONV-2015-0001). We thank Ilona Lakatos for technical assistance.
Ethics declarations
Conflict of interest
The authors declare no conflict of interest.
Additional information
Communicated by M. Kupiec.
Electronic supplementary material
Below is the link to the electronic supplementary material.
Table S1 Data of RNA sequencing. Genes and ORFs which were up- or downregulated greater than twofold in the pka1∆ cells compared to the wild-type strain. (XLSX 124 kb)
About this article
Cite this article
Papp, L., Sipiczki, M. & Miklós, I. Expression pattern and phenotypic characterization of the mutant strain reveals target genes and processes regulated by pka1 in the dimorphic fission yeast Schizosaccharomyces japonicus . Curr Genet 63, 487–497 (2017). https://doi.org/10.1007/s00294-016-0651-x
Received:

Revised:

Accepted:

Published:

Issue Date:

DOI: https://doi.org/10.1007/s00294-016-0651-x
Keywords
pka1

cAMP cascade

Protein kinase

RNA sequencing

Dimorphism

Schizosaccharomyces japonicus