Abstract
Environmental changes, such as nutrient limitation or starvation induce different signal transducing pathways, which require coordinated cooperation of several genes. Our previous data revealed that the fhl1 fork-head type transcription factor of the fission yeast could be involved in sporulation, which was typically induced under poor conditions. Since the exact role of Fhl1 in this process was not known, we wanted to identify its downstream targets and to investigate its possible cooperation with another known regulator of sporulation. Gene expression and Northern blot analysis of the fhl1∆ mutant strain revealed the target genes involved in mating and sporulation. Our results also showed that Fhl1 could regulate nutrient sensing, the transporter and permease genes. Since the majority of these genes belonged to the nitrogen starvation response, the possible cooperation of fhl1 and tor2 was also investigated. Comparison of their microarray data and the expression of fhl1 + from a strong promoter in the tor2-ts mutant cells suggested that one part of the target genes are commonly regulated by Fhl1 and Tor2. Since the expression of fhl1 + from a strong promoter could rescue rapamycin and temperature sensitivity and suppressed the hyper-sporulation defect of the tor2-ts mutant cells, we believe that Fhl1 acts in TOR signaling, downstream of Tor2. Thus, this work shed light on certain novel details of the regulation of the sexual processes and a new member of the TOR pathway, but further experiments are needed to confirm the involvement of Fhl1 in nutrient sensing.
Access options
Buy single article
Instant access to the full article PDF.
USD 39.95
Price excludes VAT (USA)
Tax calculation will be finalised during checkout.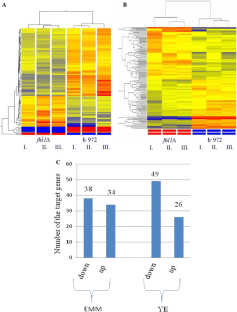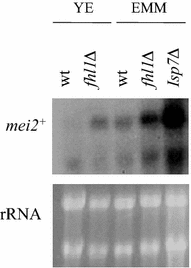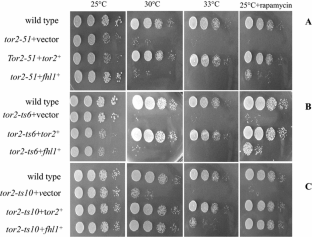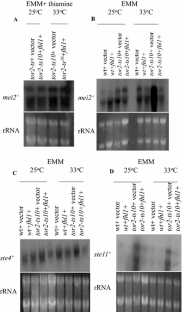 References
Álvarez B, Moreno S (2006) Fission yeast Tor2 promotes cell growth and represses cell differentiation. J Cell Sci 119(Pt 21):4475–4485

Buck V, Shien Ng S, Ruiz-Garcia A, Papadopoulou K, Bhatti S, Samuel JM, Anderson M, Millar JBA, McInerny CJ (2004) Fkh2p and Sep1p regulate mitotic gene transcription in fission yeast. J Cell Sci 117:5623–5632

Bulmer R, Pic-Taylor A, Whitehall SK, Martin KA, Millar JBA, Quinn J, Morgan BA (2004) the forkhead transcription factor Fkh2 regulates the cell division cycle of Schizosaccharomyces pombe. Eucaryotic Cell 3(4):944–954

Crespo JL, Hall MN (2002) Elucidating TOR signaling and rapamycin action: lessons from Saccharomyces cerevisiae. Microbiol Mol Biol Rev 66(4):579–591

De Virgilio C, Loewith R (2006) The TOR signalling network from yeast to man. Int J Biochem Cell Biol 38(9):1476–1481

Hayashi T, Hatanaka M, Nagao K, Nakaseko Y, Kanoh J, Kokubu A, Ebe M, Yanagida M (2007) Rapamycin sensitivity of the Schizosaccharomyces pombe tor2 mutant and organization of two highly phosphorylated TOR complexes by specific and common subunits. Genes Cells 12:1357–1370

Heitman J, Movva NR, Hall MN (1991) Targets for cell cycle arrest by the immune suppressant rapamycin in yeast. Science 253(5022):905–909

Ho YH, Gasch AP (2015) Exploiting the yeast stress-activated signaling network to inform on stress biology and disease signalling. Curr Genet 61(4):503–511

Horie S, Watanabe Y, Tanaka K, Nishiwaki S, Fujioka H, Abe H, Yamamoto Y, Shimoda C (1998) The Schizosaccharomyces pombe mei4+ gene encodes a meiosis-specific transcription factor containing a forkhead DNA-binding domain. Mol Cell Biol 18:2118–2129

Kim L, Kwang-Lae H, Yeong Man Y, Ji-Hyun Y, PilJae M (2012) The fission yeast gata factor, Gaf1, modulates sexual development via direct down-regulation of ste11 + expression in response to nitrogen starvation. PLoS One 7(8):e42409

Kjaerulff S, Davey J, Nielsen O (1994) Analysis of the structural genes encoding M-factor in the fission yeast Schizosaccharomyces pombe: identification of a third gene, mfm3. Mol Cell Biol 14(6):3895–3905

Kohrer K, Domdey H (1991) Preparation of high molecular weight RNA. Methods Enzimol 194:398–405

Kupiec M, Weisman R (2012) TOR links starvation responses to telomere length maintenance. Cell Cycle 11:2268–2271

Laor D, Cohen A, Pasmanik-Chor M, Oron-Karni V, Kupiec M, Ronit Weisman (2014) Isp7 is a novel regulator of amino acid uptake in the TOR signaling pathway. Mol Cell Biol 34(5):794–806

Loewith R, Jacinto E, Wullschleger S, Lorberg A, Crespo JL, Bonenfant D, Oppliger W, Jenoe P, Hall MN (2002) Two TOR complexes, only one of which is rapamycin sensitive, have distinct roles in cell growth control. Mol Cell 10:457–468

Martin DE, Soulard A, Hall MN (2004) TOR regulates ribosomal protein gene expression via PKA and the forkhead transcription factor FHL1. Cell 119(7):969–979

Masahiro U, Hidaka H, Hotta Y, Ueno M, Ushimaru T, Toda T (2006) Fission yeast Tor2 links nitrogen signals to cell proliferation and acts downstream of the Rheb GTPase. Genes Cells 11:1367–1379

Mata J, Bahler J (2007) Transcriptional regulatory network for sexual differentiation in fission yeast. Genome Biol 8(10):R217

Mata J, Lyne R, Burns G, Bähler J (2002) The transcriptional program of meiosis and sporulation in fission yeast. Nat Genet 32(1):143–147

Matsuo T, Otsubo Y, Urano J, Tamanoi F, Yamamoto M (2007) Loss of the TOR kinase Tor2 mimics nitrogen starvation and activates the sexual development pathway in fission yeast. Mol Cell Biol 27:3154–3164

Maundrell K (1993) Thiamine-repressible expression vectors pREP and pRIP for fission yeast. Gene 123:127–130

Moreno S, Klar A, Nurse P (1991) Molecular genetic analysis of the fission yeast Schizosaccharomyces pombe. Methods Enzymol 194:795–823

Prentice HL (1992) High efficiency transformation of Schizosaccharomyces pombe by electroporation. Nucleic Acids Res 20:621

Ribar B, Grallert A, Oláh E, Szállási Z (1999) Deletion of the sep1(+) forkhead transcription factor homologue is not lethal but causes hyphal growth in Schizosaccharomyces pombe. Biochem Biophys Res Commun 263:465–474

Rudra D, Zhao Y, Warner JR (2005) Central role of Ifh1p–Fhl1p interaction in the synthesis of yeast ribosomal proteins. EMBO J 24:533–542

Schonbrun M, Laor D, López-Maury L, Bähler J, Kupiec M, Weisman R (2009) TOR complex 2 controls gene silencing, telomere length maintenance and survival under DNA-damaging conditions. Mol Cell Biol 29:4584–4594

Schonbrun M, Kolesnikov M, Kupiec M, Weisman R (2013) TORC2 is required to maintain genome stability during s phase in fission yeast. J Biol Chem 288(27):19649–19660

Sipiczki M, Grallert B, Miklos I (1993) Mycelial and syncytial growth in Schizosaccharomyces pombe induced by novel septation mutants. J Cell Sci 104:485–493

Sugimoto A, Iino Y, Maeda T, Watanabe Y, Yamamoto M (1991) Schizosaccharomyces pombe ste11 + encodes a transcription factor with an HMG motif that is a critical regulator of sexual development. Genes Dev 5(11):1990–1999

Sun LL, Li M, Suo F, Liu XM, Shen EZ, Yang B, Dong MQ, He WZ, Du LL (2013) Global analysis of fission yeast mating genes reveals new autophagy factors. PLoS Genet 9(8):e1003715

Szilagyi Z, Batta G, Enczi K, Sipiczki M (2005) Characterisation of two novel fork-head gene homologues of Schizosaccharomyces pombe: their involvement in cell cycle and sexual differentiation. Gene 348:101–109

Weisman R, Choder M, Koltin Y (1997) Rapamycin specifically interferes with the developmental response of fission yeast to starvation. J Bacteriol 179:6325–6334

Weisman R, Roitburg I, Nahari T, Kupiec M (2004) Regulation of leucine uptake by tor1+ in Schizosaccharomyces pombe is sensitive to rapamycin. Genetics 169:539–550

Weisman R, Roitburg I, Schonbrun M, Harari R, Kupiec M (2007) Opposite effects of tor1 and tor2 on nitrogen starvation responses in fission yeast. Genetics 175:1153–1162

Wullschleger S, Loewith R, Hall MN (2006) TOR signaling in growth and metabolism. Cell 124(3):471–484
Acknowledgments
We thank Ilona Lakatos for technical assistance. This work was supported by the Hungarian National Research Fund (OTKA K106172) and TAMOP-4.2.2.B-15/1/KONV-2015-0001. E. Pataki was supported by short-term mobility Grants from the EMBO fellowship and from Campus Hungary fellowship.
Ethics declarations
Conflict of interest
The authors declare no conflict of interest.
Additional information
Communicated by M. Kupiec.
Electronic supplementary material
Below is the link to the electronic supplementary material.
About this article
Cite this article
Pataki, E., Weisman, R., Sipiczki, M. et al. fhl1 gene of the fission yeast regulates transcription of meiotic genes and nitrogen starvation response, downstream of the TORC1 pathway. Curr Genet 63, 91–101 (2017). https://doi.org/10.1007/s00294-016-0607-1
Received:

Revised:

Accepted:

Published:

Issue Date:

DOI: https://doi.org/10.1007/s00294-016-0607-1
Keywords
Sporulation

Fork-head transcription factor

TOR pathway

Nitrogen response

Gene expression analysis

Schizosaccharomyces pombe