Abstract
In species with doubly uniparental inheritance (DUI), males are heteroplasmic for two sex-linked mitochondrial genomes (M- and F-mtDNA). While a role of M-mtDNA in male gametogenesis and sperm function is evident, there is an ongoing debate on whether it is transcribed or not in male soma. In this work we report a qPCR analysis in the DUI species Ruditapes philippinarum, showing that M-mtDNA is transcribed in somatic tissues. We observed a correlation between DNA copy numbers of the two analyzed genes, cytochrome b and a novel male-specific mitochondrial gene thought to be involved in DUI (orf21), and between their transcription levels. No correlation between a transcript and its DNA copy number was found, supporting the existence of complex regulatory mechanisms of mitochondrial transcription. We found the highest amount of mtDNA and mtRNA in gonads, likely due to the intense cell proliferation and high energy request for gametogenesis, while the observed variation among specimens is probably related to their different stages of gonad development. Finally, orf21 showed a highly variable transcription in advanced stages of gametogenesis. We hypothesize a differential storage of orf21 transcripts in spermatozoa, representing different paternal contributions to progeny, possibly leading to different developmental outcomes. A transcriptional activity does not necessarily imply the translation of M-mtDNA genes, and studies on mitochondrial proteins and their localization are needed to definitively assess the functioning of male-transmitted mitochondria in male soma. All that considered, the male soma of DUI species may represent an intriguing experimental model to study cytoplasmic genetic conflicts.
Access options
Buy single article
Instant access to the full article PDF.
USD 39.95
Price excludes VAT (USA)
Tax calculation will be finalised during checkout.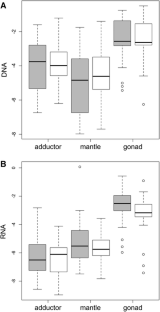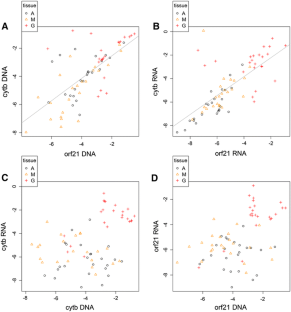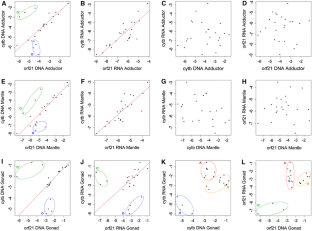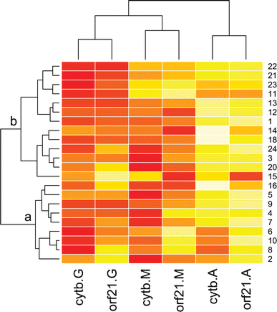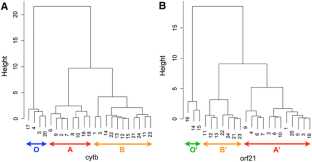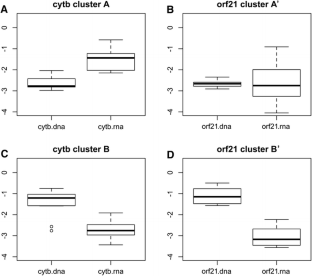 References
Breton S, Doucet-Beaupré H, Stewart DT, Piontkivska H, Karmakar M, Bogan AE, Blier PU, Hoeh WR (2009) Comparative mitochondrial genomics of freshwater mussels (Bivalvia: Unionoida) with doubly uniparental inheritance of mtDNA: gender-specific open reading frames and putative origins of replication. Genetics 183:1575–1589

Breton S, Stewart DT, Shepardson S, Trdan RJ, Bogan AE, Chapman EG, Ruminas AJ, Piontkivska H, Hoeh WR (2011a) Novel protein genes in animal mtDNA: a new sex determination system in freshwater mussels (Bivalvia: Unionoida)? Mol Biol Evol 28:1645–1659

Breton S, Ghiselli F, Passamonti M, Milani L, Stewart DT, Hoeh WR (2011b) Evidence for a fourteenth mtDNA-encoded protein in the female-transmitted mtDNA of marine mussels (Bivalvia: Mytilidae). PLoS ONE 6:e19365

Chakrabarti R, Walker JM, Stewart DT, Trdan RJ, Vijayaraghavan S, Curole JP, Hoeh WR (2006) Presence of a unique male-specific extension of C-terminus to the cytochrome c oxidase subunit II protein coded by the male-transmitted mitochondrial genome of Venustaconcha ellipsiformis (Bivalvia: Unionoidea). FEBS Lett 580:862–866

Clark KA, Howe DK, Gafner K, Kusuma D, Ping S, Estes S, Denver DR (2012) Selfish little circles: transmission bias and evolution of large deletion-bearing mitochondrial DNA in Caenorhabditis briggsae nematodes. PLoS ONE 7:e41433

Dalziel AC, Stewart DT (2002) Tissue-specific expression of male-transmitted mitochondrial DNA and its implications for rates of molecular evolution in Mytilus mussels (Bivalvia: Mytilidae). Genome 45:348–355

Diz AP, Dudley E, Cogswell A, Macdonald BW, Kenchington EL, Zouros E, Skibinski DO (2013) Proteomic analysis of eggs from Mytilus edulis females differing in mitochondrial DNA (mtDNA) transmission mode. Mol Cell Proteomics. [Epub ahead of print] PubMed PMID: 23869045

Extavour CG, Akam M (2003) Mechanisms of germ cell specification across the metazoans: epigenesis and preformation. Development 130:5869–5884

Garrido-Ramos MA, Stewart DT, Sutherland BW, Zouros E (1998) The distribution of male-transmitted mitochondrial DNA types in somatic tissues of blue mussels: implications for the operation of doubly uniparental inheritance of mitochondrial DNA. Genome 41:818–824

Ghiselli F, Milani L, Passamonti M (2011) Strict sex-specific mtDNA segregation in the germline of the DUI species Venerupis philippinarum (Bivalvia Veneridae). Mol Biol Evol 28:949–961

Ghiselli F, Milani L, Chang PL, Hedgecock D, Davis JP, Nuzhdin SV, Passamonti M (2012) De Novo assembly of the Manila clam Ruditapes philippinarum transcriptome provides new insights into expression bias, mitochondrial doubly uniparental inheritance and sex determination. Mol Biol Evol 29:771–786. doi:10.1093/molbev/msr248

Ghiselli F, Milani L, Guerra D, Chang PL, Breton S, Nuzhdin SV, Passamonti M (2013) Structure, transcription and variability of metazoan mitochondrial genome. Perspectives from an unusual mitochondrial inheritance system. Genome Biol Evol 5:1535–1554. doi:10.1093/gbe/evt112

Hecht NB, Liem H, Kleene KC, Distel RJ, Ho S-M (1984) Maternal inheritance of the mouse mitochondrial genome is not mediated by a loss or gross alteration of the paternal mitochondrial DNA or by methylation of the oocyte mitochondrial DNA. Dev Biol 102:452–461

Kajander OA, Rovio AT, Majamaa K, Poulton J, Spelbrink JN, Holt IJ, Karhunen PJ, Jacobs HT (2000) Human mtDNA sublimons resemble rearranged mitochondrial genoms found in pathological states. Hum Mol Genet 9:2821–2835

Lane N (2012) The problem with mixing mitochondria. Cell 151:246–248

Larsson N-G, Oldfors A, Garman JD, Barsh GS, Clayton DA (1997) Down-regulation of mitochondrial transcription factor A during spermatogenesis in humans. Hum Mol Genet 6:185–1991

Livak KJ, Schmittgen TD (2001) Analysis of relative gene expression data using real-time quantitative PCR and the 2(-Delta Delta C(T)) Method. Methods 25:402–408

Milani L, Ghiselli F, Maurizii MG, Passamonti M (2011) Doubly uniparental inheritance of mitochondria as a model system for studying germ line formation. PLoS ONE 6:e28194. doi:10.1371/journal.pone.0028194

Milani L, Ghiselli F, Passamonti M (2012) Sex-linked mitochondrial behavior during early embryo development in Ruditapes philippinarum (Bivalvia Veneridae) a species with the doubly uniparental inheritance (DUI) of mitochondria. J Exp Zool B Mol Dev Evol 318:182–189. doi:10.1002/jez.b.22004

Milani L, Ghiselli F, Guerra D, Breton S, Passamonti M (2013a) A comparative analysis of mitochondrial ORFans: new clues on their origin and role in species with doubly uniparental inheritance of mitochondria. Genome Biol Evol 5:1408–1434. doi:10.1093/gbe/evt101

Milani L, Ghiselli F, Nuzhdin SV, Passamonti M (2013b) Nuclear genes with sex bias in Ruditapes philippinarum (Bivalvia, Veneridae): mitochondrial inheritance and sex determination in DUI species. J Exp Zool B Mol Dev Evol 320B:442–454. doi:10.1002/jez.b.22520

Milani L, Ghiselli F, Maurizii MG, Nuzhdin SV, Passamonti M (2014) Paternally transmitted mitochondria express a new gene of potential viral origin. Genome Biol Evol. doi:10.1093/gbe/evu021

Obata M, Sano N, Komaru A (2011) Different transcriptional ratios of male and female transmitted mitochondrial DNA and tissue-specific expression patterns in the blue mussel, Mytilus galloprovincialis. Dev Growth Differ 53:878–886

Passamonti M, Scali V (2001) Gender-associated mitochondrial DNA heteroplasmy in the venerid clam Tapes philippinarum (Mollusca Bivalvia). Curr Genet 39:117–124

Rajender S, Rahul P, Mahdi AA (2010) Mitochondria, spermatogenesis and male infertility. Mitochondrion 10:419–428

Rantanen A, Larsson N-G (2000) Regulation of mitochondrial DNA copy number during spermatogenesis. Hum Reprod 15:86–91

Rozen S, Skaletsky HJ (2000) Primer3 on the WWW for general users and for biologist programmers. In: Krawetz S, Misener S (eds) Bioinformatics methods and protocols: methods in molecular biology. Humana Press, Totowa, pp 365–386

Scheffler IE (2008) Mitochondria. Wiley-Liss, Hoboken

Scheibye-Alsing K, Cirera S, Gilchrist MJ, Fredholm M, Gorodkin J (2007) EST analysis on pig mitochondria reveal novel expression differences between developmental and adult tissues. BMC Genom 8:367

Sharpley MS, Marciniak C, Eckel-Mahan K, McManus M, Crimi M, Waymire K, Lin CS, Masubuchi S, Friend N, Koike M, Chalkia D, MacGregor G, Sassone-Corsi P, Wallace DC (2012) Heteroplasmy of mouse mtDNA is genetically unstable and results in altered behavior and cognition. Cell 151:333–343

Skibinski DO, Gallagher C, Beynon CM (1994a) Mitochondrial DNA inheritance. Nature 368:817–818

Skibinski DO, Gallagher C, Beynon CM (1994b) Sex-limited mitochondrial DNA transmission in the marine mussel Mytilus edulis. Genetics 138:801–809

Turabelidze A, Guo S, DiPietro LA (2010) Importance of housekeeping gene selection for accurate reverse transcription-quantitative polymerase chain reaction in a wound healing model. Wound Repair Regen 18:460–466

Vogel C, Marcotte EM (2012) Insights into the regulation of protein abundance from proteomic and transcriptomic analyses. Nat Rev Genet 13:227–232

Wai T, Ao A, Zhang X, Cyr D, Dufort D, Shoubridge EA (2010) The role of mitochondrial DNA copy number in mammalian fertility. Biol Reprod 83:52–62

Ward JH Jr (1963) Hierarchical grouping to optimize an objective function. J Am Statist Assoc 58:236–244

Woloszynska M (2010) Heteroplasmy and stoichiometric complexity of plant mitochondrial genomes—though this be madness, yet there's method in't. J Exp Bot 61:657–671

Zopf CJ, Quinn K, Zeidman J, Maheshri N (2013) Cell-cycle dependence of transcription dominates noise in gene expression. PLoS Comput Biol 9:e1003161

Zouros E (2013) Biparental inheritance through uniparental transmission: the doubly uniparental inheritance (DUI) of mitochondrial DNA. Evol Biol 40:1–31

Zouros E, Oberhauser Ball A, Saavedra C, Freeman KR (1994a) Mitochondrial DNA inheritance. Nature 368:818

Zouros E, Oberhauser Ball A, Saavedra C, Freeman KR (1994b) An unusual type of mitochondrial DNA inheritance in the blue mussel Mytilus. Proc Natl Acad Sci U S A 91:7463–7467
Acknowledgments
This work was supported by the Italian "Ministero dell'Università e della Ricerca Scientifica" funding (PRIN09) and by the "Donazione Canziani" bequest.
Additional information
Communicated by Stefan Hohmann.
L. Milani and F. Ghiselli contributed equally to this paper.
About this article
Cite this article
Milani, L., Ghiselli, F., Iannello, M. et al. Evidence for somatic transcription of male-transmitted mitochondrial genome in the DUI species Ruditapes philippinarum (Bivalvia: Veneridae). Curr Genet 60, 163–173 (2014). https://doi.org/10.1007/s00294-014-0420-7
Received:

Revised:

Accepted:

Published:

Issue Date:

DOI: https://doi.org/10.1007/s00294-014-0420-7
Keywords
Doubly uniparental inheritance of mitochondria

Real-Time PCR (qPCR)

Mitochondrial copy number

Mitochondrial transcription

Spermatogenesis

Novel mitochondrial gene