Abstract
The mating type (MAT) locus of the lentil pathogen, Ascochyta lentis, was cloned and characterized using thermal asymmetric interlaced and inverse PCR with primers designed to the HMG-box of Ascochyta rabiei. A multiplex PCR assay for mating type was developed based on MAT idiomorph and flanking sequences. Primers were designed to specifically amplify MAT from several Ascochyta spp. including A. pisi, A. fabae and A. viciae-villosae in addition to A. lentis. Four hundred and fifty and 700 bp fragments were amplified from MAT1-1 and MAT1-2 isolates, respectively, and fragment size correlated perfectly with laboratory crosses using mating type tester strains. MAT-specific PCR allowed rapid scoring of mating type in crude DNA extracts from geographically diverse population samples of A. viciae-villosae from California and Washington State, USA. This co-dominant MAT-specific PCR assay will be a valuable tool for studying the population structure, biology and epidemiology of these fungi.
Access options
Buy single article
Instant access to the full article PDF.
USD 39.95
Price excludes VAT (USA)
Tax calculation will be finalised during checkout.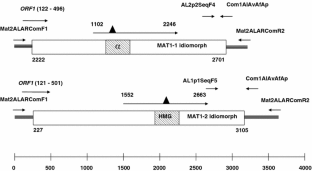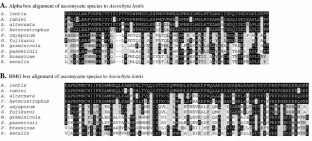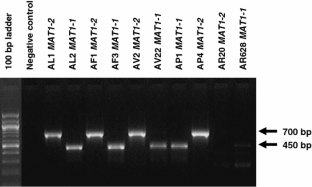 References
Ahmed S, Morrall RA, Kaiser WJ (1996) Distribution of mating types of Ascochyta fabae f. sp. lentis. Can J Plant Pathol 18:347–353

Altschul SF, Gish W, Miller W, Meyers EW, Lipman DJ (1990) Basic local alignment search tool. J Mol Biol 215:403–410

Arie T, Christiansen SK, Yoder OC, Turgeon BG (1997) Efficient cloning of ascomycete mating type genes by PCR amplification of the conserved MAT HMG box. Fungal Genet Biol 21:118–130

Arie T, Yoshida T, Shimizu T, Kawabe M, Yoneyama K, Yamaguchi I (1999) Assessment of Gibberella fujikuroi mating type by PCR. Mycoscience 40:311–314

Arie T, Kaneko I, Yoshida T, Noguchi M, Nomura Y, Yamaguchi I (2000) Mating-type genes from asexual phytopathogenic ascomycetes Fusarium oxysporum and Alternaria alternata. Mol Plant–Microbe Interact 13:130–139

Armstrong CL, Chongo G, Gossen BD, Duczek LJ (2001) Mating type distribution and incidence of the teleomorph of Ascochyta rabiei (Didymella rabiei) in Canada. Can J Plant Pathol 23:110–113

Barve MP, Arie T, Salimath SS, Muehlbauer FJ, Peever TL (2003) Cloning and characterization of the mating type (MAT) locus from Ascochyta rabiei (teleomorph: Didymella rabiei) and a MAT phylogeny of legume-associated Ascochyta spp. Fungal Genet Biol 39:151–167

Bennett RS, Yun S-H, Lee TY, Turgeon BG, Arseniuk E, Cunfer BM, Bergstrom GC (2003) Identity and conservation of mating genes in geographically diverse isolates of Phaeosphaeria nodorum. Fungal Genet Biol 40:25–37

Coppin E, Debuchy R, Arnaise S, Picard M (1997) Mating types and sexual development in filamentous ascomycetes. Microbiol Mol Biol Rev 61:411–428

Cozijnsen AJ, Howlett BJ (2003) Characterization of the mating-type locus of the plant pathogenic ascomycete Leptosphaeria maculans. Curr Genet 43:351–357

Douhan GW, Peever TL, Murray TD (2002) Multilocus population structure of Tapesia yallundae in Washington State. Mol Ecol 11:2229–2239

Dyer PS, Furneaux PA, Douhan G, Murray TD (2001) A multiplex PCR test for determination of mating type applied to the plant pathogens Tapesia yallundae and Tapesia acuformis. Fungal Genet Biol 33:173–180

Evans KJ, Scott ES, Whisson DL (1997) Heterothallism among South Australian clonal lines of Uncinula necator. Aust Plant Pathol 26:10–20

Foster SJ, Fitt BDL (2004) Isolation and characterization of the mating-type (MAT) locus from Rhynchosporium secalis. Curr Genet 44:277–286

Foster SJ, Singh G, Fitt BDL, Ashby AM (1999) Development of PCR based diagnostic techniques for the two mating types of Pyrenopeziza brassicae (light leaf spot) on winter oilseed rape (Brassica napus ssp. oleifera). Physiol Mol Plant Pathol 55:111–119

Gamliel-Atinsky E, Shtienberg D, Vintal H, Nitzni Y, Dinoor A (2005) Production of Didymella rabiei pseudothecia and dispersal of ascospores in a Mediterranean climate. Phytopathology 95:1279–1286

Goodwin SB, Waalwijk C, Kema GHJ, Cavaletto JR, Zhang G (2003) Cloning and analysis of the mating-type idiomorphs from the barley pathogen Septoria passerinii. Mol Gen Genomics 269:1–12

Halama P (2002) Mating relationships between isolates of Phaeosphaeria nodorum (anamorph Stagnospora nodorum) from geographical locations. Eur J Plant Pathol 108:593–596

Hernandez-Bello MA, Chilvers MI, Akamatsu H, Peever TL (2006) Host specificity of Ascochyta species infecting legumes of the Viciae and Cicerae tribes and pathogenicity of an interspecific hybrid. Phytopathology (in press)

Inderbitzin P, Harkness J, Turgeon BG, Berbee ML (2005) Lateral transfer of mating system in Stemphylium. Proc Natl Acad Sci USA 32:11390–11395

Jellis GJ, Punithalingam E (1991) Discovery of Didymella fabae sp nov, the teleomorph of Ascochyta fabae, on faba bean straw. Plant Pathol 40:150–157

Kaiser WJ (1973) Factors affecting growth, sporulation, pathogenicity, and survival of Ascochyta rabiei. Mycologia 65:444–457

Kaiser WJ, Kusmenoglu I (1997) Distribution of mating types and the teleomorph of Ascochyta rabiei on chickpea in Turkey. Plant Dis 81:1284–1287

Kaiser WJ, Wang B-C, Rogers JD (1997) Ascochyta fabae and A. lentis host specificity, teleomorphs (Didymella), hybrid analysis, and taxonomic status. Plant Dis 81:809–816

Kang SC, Chumley FG, Valent B (1994) Isolation of the mating-type genes of the phytopathogenic fungus Magnaporthe grisea using genomic subtraction. Genetics 138:289–296

Khan MSA, et al. (1999) Ascochyta blight of chickpea in Australia: identification, pathogenicity and mating type. Plant Pathol 48:230–234

Kovachevski IC (1936) The blight of chickpea (Cicer arietinum), Mycosphaerella rabiei n. sp. In: Ministry of Agriculture and Natural Domains, Plant Protection Institute, Sofia, Bulgaria

Kronstad JW, Staben C (1997) Mating type in filamentous fungi. Annu Rev Genet 31:245–276

Kupfer DM, et al (2004) Introns and splicing elements of five diverse fungi. Eukaryot Cell 3:1088–1100

Lee SB, Taylor JW (1990) Isolation of DNA from fungal mycelia and single spores. In: Innis MA, Gelfand DH, Snisky JJ, White TJ (eds) PCR protocols: a guide to methods and applications. Academic, San Diego

Linde CC, Zala M, Ceccarelli S, McDonald BA (2003) Further evidence for sexual reproduction in Rhynchosporium secalis based on distribution and frequency of mating-type alleles. Fungal Genet Biol 40:115–125

Liu Y, Whittier RF (1995) Thermal asymetric interlaced PCR: automatable amplification and sequencing of insert end fragments from P1 and YAC clones for chromosome walking. Genomics 25:674–681

Marra RE, Milgroom MG (1999) PCR amplification of the mating-type idiomorphs in Cryphonectria parasitica. Mol Ecol 8:1947–1950

McGuire IC, Marra RE, Turgeon BG, Milgroom MG (2001) Analysis of the mating-type genes in the chestnut blight fungus, Cryphonectria parasitica. Fungal Genet Biol 34:131–144

Mel'nik VA, Braun U, Hagedorn G (2000) Key to the fungi of the genus Ascochyta Lib. (Coelomycetes)/Opredelitel gribov roda Ascochyta Lib. Parey, Berlin

Metzenberg RL, Glass NL (1990) Mating-type and mating strategies in Neurospora. BioEssays 12:53–59

Milgroom MG (1996) Recombination and the multilocus structure of fungal populations. Annu Rev Phytopathol 34:457–477

Navas-Cortés JA, Trapero-Casas A, Jiménez-Díaz RM (1995) Survival of Didymella rabiei in chickpea straw debris in Spain. Plant Pathol 44:332–339

Navas-Cortés JA, Pérez-Artés E, Jiménez-Díaz RM, Llobell A, Bainbridge BW, Heale JB (1998a) Mating type, pathotype and RAPDs analysis in Didymella rabiei, the agent of Ascochyta blight of chickpea. Phytoparasitica 26:199–212

Navas-Cortés JA, Trapero-Casas A, Jiménez-Díaz RM (1998b) Influence of relative humidity and temperature on development of Didymella rabiei on chickpea debris. Plant Pathol 47:57–66

Navas-Cortés JA, Trapero-Casas A, Jiménez-Díaz RM (1998c) Phenology of Didymella rabiei development on chickpea debris under field conditions in Spain. Phytopathology 88:983–991

Nene YL, Reddy MV (1987) Chickpea diseases and their control. In: Saxena MC, Singh KB (eds) The chickpea. CAB International, Oxon

Nene YL, Hanounik SB, Qureshi SH, Sen B (1988) Fungal and bacterial foliar diseases of pea, lentil, faba bean and chickpea. In: Summerfield RJ (ed) World crops: cool season food legumes. Kluwer Academic Publishers, Dordrecht

Paoletti M, Buck KW, Brasier CM (2005) Cloning and sequence analysis of the MAT-B (MAT-2) genes from the three Dutch elm disease pathogens, Ophiostoma ulmi, O. novo-ulmi, and O. himal-ulmi. Mycol Res 109:983–991

Peever TL, Canihos Y, Olsen L, Ibanez A, Liu YC, Timmer LW (1999) Population genetic structure and host specificity of Alternaria spp. causing brown spot of Minneola tangelo and rough lemon in Florida. Phytopathology 89:851–860

Peever TL, Salimath SS, Kaiser WJ, Muehlbauer FJ (2004) Historical and contemporary multilocus population structure of Ascochyta rabiei (teleomorph: Didymella rabiei) in the Pacific Northwest of the United States. Mol Ecol 13:291–309

Peever TL, Hernandez-Bello MA, Barve MP, Kaiser WJ (2005) Evolution of Ascochyta species on wild and cultivated legumes. In: 23rd fungal genetics conference, Asilomar

Picard M, Debuchy R, Coppin E (1991) Cloning the mating types of the heterothallic fungus Podospora anserina: developmental features of haploid transformants carrying both mating types. Genetics 128:539–547

Pöggeler S (2001) Mating-type genes for classical strain improvements of ascomycetes. Appl Microbiol Biotechnol 56:589–601

Rau D, et al. (2005) Isolation and characterization of the mating-type locus of the barley pathogen Pyrenophora teres and frequencies of mating-type idiomorphs within and among fungal populations collected from barley landraces. Genome 48:855–869

Rozen S, Skaletsky HJ (2000) Primer3 on the WWW for general users and for biologist programmers (http://www.frodo.wi.mit.edu/cgi-bin/primer3/primer3_www.cgi). In: Krawetz S, Misener S (eds) Bioinformatics methods and protocols: methods in molecular biology. Humana, Totowa, pp. 365–386

Sambrook J, Fritsch EF, Maniatis T (1989) Molecular cloning: a laboratory manual. Cold Spring Harbor Press, Plainview

Shtienberg D, Gamliel-Atinsky E, Retig B, Dinoor A (2005) Significance of preventing primary infections by Didymella rabiei and development of a model to estimate the maturity of pseudothecia. Plant Dis 89:1027–1034

Singh G, Ashby AM (1998) Cloning of the mating type loci from Pyrenopeziza brassicae reveals the presence of a novel mating type gene within a discomycete MAT 1-2 locus encoding a putative metallothionein protein. Mol Microbiol 30:799–806

Skiba B, Pang ECK (2003) Mating trials and genetic study of virulence in Ascochyta lentis to the lentil cultivar 'Northfield'. Aust J Agric Res 54:453–460

Thompson JD, Gibson TJ, Plewniak F, Jeanmougin F, Higgins DG (1997) The ClustalX windows interface: flexible strategies for multiple sequence alignment aided by quality analysis tools. Nucleic Acids Res 24:4876–4882

Trapero-Casas A, Kaiser WJ (1992) Development of Didymella rabiei, the teleomorph of Ascochyta rabiei, on chickpea straw. Phytopathology 82:1261–1266

Trapero-Casas A, Navas-Cortés JA, Jiménez-Díaz RM (1996) Airborne ascospores of Didymella rabiei as a major primary inoculum for Ascochyta blight epidemics in chickpea crops in southern Spain. Eur J Plant Pathol 102:237–245

Turgeon BG (1998) Applications of mating-type technology to problems in fungal biology. Annu Rev Phytopathol 36:115–137

Turgeon BG, Yoder OC (2000) Proposed nomenclature for mating type genes of filamentous ascomycetes. Fungal Genet Biol 31:1–5

Turgeon BG, et al. (1993) Cloning and analysis of the mating-type genes from Cochliobolus heterostrophus. Mol Gen Genet 238:270–284

Ueng PP, et al. (2003) Sequence diversity of mating-type genes in Phaeosphaeria avenaria. Curr Genet 43:121–130

Waalwijk C, Mendes O, Verstappen ECP, de Waard MA, Kema GHJ (2002) Isolation and characterization of the mating-type idiomorphs from the wheat Septoria leaf blotch fungus Mycosphaerella gramincola. Fungal Genet Biol 35:277–286

Waalwijk C, van der Lee T, de Vries I, Hesselink T, Arts J, Kema GHJ (2004) Synteny in toxigenic Fusarium species: the fumosin gene cluster and the mating type region as examples. Eur J Plant Pathol 110:533–544

Wilson AD, Kaiser WJ (1995) Cytology and genetics of sexual compatibility in Didymella rabiei. Mycologia 87:795–804

Wirsel S, Horwitz B, Yamaguchi K, Yoder OC, Turgeon BG (1998) Single mating type-specific genes and their 3′ UTRs control mating and fertility in Cochliobolus heterostrophus. Mol Gen Genet 259:272–281

Yokoyama E, Yamagishi K, Hara A (2003) Structures of the mating-type loci of Codyceps takaomontana. Appl Environ Microbiol 69:5019–5022

Yokoyama E, Yamagishi K, Hara A (2004) Development of a PCR-based mating-type assay for Clavicipitaceae. FEMS Microbiol Lett 237:205–212

Yokoyama E, Yamagishi K, Hara A (2005) Heterothallism in Cordydeps takaomontana. FEMS Microbiol Lett 250:145–150

Yun S-H, Berbee ML, Yoder OC, Turgeon BG (1999) Evolution of the fungal self-fertile reproductive life style from self-sterile ancestors. Proc Natl Acad Sci USA 96:5592–5597

Yun S-H, Arie T, Kaneko I, Yoder OC, Turgeon BG (2000) Molecular organization of mating type loci in heterothallic, homothallic, and asexual Gibberella/Fusarium species. Fungal Genet Biol 31:7–20
Acknowledgments
A portion of this research was conducted during the visit of M. Chérif to the laboratory of T.L. Peever supported by a Fulbright Fellowship and USDA-STEEP for partial funding. The authors would like to thank Tamara Horton for technical assistance. Nucleotide sequence data reported are available in the GenBank database under the accession numbers DQ341314 and DQ341315.
About this article
Cite this article
Chérif, M., Chilvers, M.I., Akamatsu, H. et al. Cloning of the mating type locus from Ascochyta lentis (teleomorph: Didymella lentis) and development of a multiplex PCR mating assay for Ascochyta species. Curr Genet 50, 203–215 (2006). https://doi.org/10.1007/s00294-006-0085-y
Received:

Revised:

Accepted:

Published:

Issue Date:

DOI: https://doi.org/10.1007/s00294-006-0085-y
Keywords
Ascochyta lentis

High mobility group

HMG box

Inverse PCR

Thermal asymmetric interlaced (TAIL)-PCR

Multiplex PCR