Abstract
Transcriptional regulation by mitogen-activated protein (MAP) kinase signaling cascades is a major control mechanism for eukaryotic development. In budding yeast, Fus3 and Kss1 are two MAP kinases that control two distinct developmental programs—mating and invasive growth. We investigated whether signal-specific activation of mating and invasive growth involves regulation of the transcription factor Tec1 by Fus3 and Kss1. We present evidence that, during mating, Fus3 phosphorylates Tec1 to downregulate this invasive growth-specific transcription factor and its target genes. This function of Fus3 is essential for correct execution of the mating program and is not shared by Kss1. We find that Kss1 controls the activity of Tec1 mainly during invasive growth by control of TEC1 gene expression. Our study suggests that signaling specificity can arise from differential regulation of a single transcription factor by two MAP kinases with shared functions in distinct developmental programs.
Access options
Buy single article
Instant access to the full article PDF.
USD 39.95
Price excludes VAT (USA)
Tax calculation will be finalised during checkout.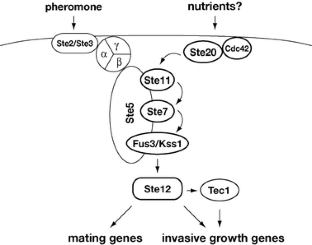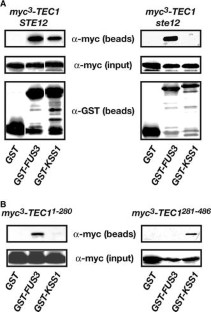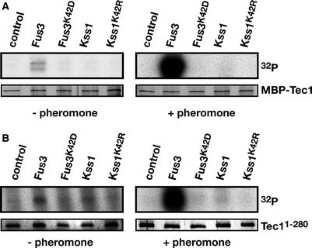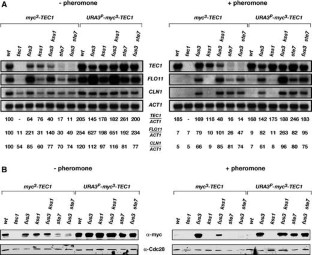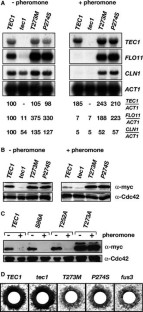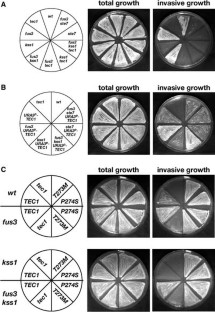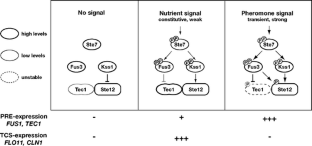 References
Bardwell L, Cook JG, Voora D, Baggott DM, Martinez AR, Thorner J (1998) Repression of yeast Ste12 transcription factor by direct binding of unphosphorylated Kss1 MAPK and its regulation by the Ste7 MEK. Genes Dev 12:2887–2898

Bardwell AJ, Flatauer LJ, Matsukuma K, Thorner J, Bardwell L (2001) A conserved docking site in MEKs mediates high-affinity binding to MAP kinases and cooperates with a scaffold protein to enhance signal transmission. J Biol Chem 276:10374–10386

Breitkreutz A, Tyers M (2002) MAPK signaling specificity: it takes two to tango. Trends Cell Biol 12:254–257

Breitkreutz A, Boucher L, Tyers M (2001) MAPK specificity in the yeast pheromone response independent of transcriptional activation. Curr Biol 11:1266–1271

Cook JG, Bardwell L, Kron SJ, Thorner J (1996) Two novel targets of the MAP kinase Kss1 are negative regulators of invasive growth in the yeast Saccharomyces cerevisiae. Genes Dev 10:2831–2848

Cook JG, Bardwell L, Thorner J (1997) Inhibitory and activating functions for MAPK Kss1 in the S. cerevisiae filamentous-growth signalling pathway. Nature 390:85–88

Elion EA (2001) The Ste5p scaffold. J Cell Sci 114:3967–3978

Elion EA, Grisafi PL, Fink GR (1990) FUS3 encodes a cdc2+/CDC28-related kinase required for the transition from mitosis into conjugation. Cell 60:649–664

Elion EA, Brill JA, Fink GR (1991) Functional redundancy in the yeast cell cycle: FUS3 and KSS1 have both overlapping and unique functions. Cold Spring Harb Symp Quant Biol 56:41–49

Elion EA, Satterberg B, Kranz JE (1993) FUS3 phosphorylates multiple components of the mating signal transduction cascade: evidence for STE12 and FAR1. Mol Biol Cell 4:495–510

Errede B, Ammerer G (1989) Ste12, a protein involved in cell-type-specific transcription and signal transduction in yeast, is part of protein–DNA complexes. Genes Dev 3:1349–1361

Esch RK, Errede B (2002) Pheromone induction promotes Ste11 degradation through a MAPK feedback and ubiquitin-dependent mechanism. Proc Natl Acad Sci USA 99:9160–9165

Gartner A, Nasmyth K, Ammerer G (1992) Signal transduction in Saccharomyces cerevisiae requires tyrosine and threonine phosphorylation of FUS3 and KSS1. Genes Dev 6:1280–1292

Gavrias V, Andrianopoulos A, Gimeno CJ, Timberlake WE (1996) Saccharomyces cerevisiae TEC1 is required for pseudohyphal growth. Mol Microbiol 19:1255–1263

Gustin MC, Albertyn J, Alexander M, Davenport K (1998) MAP kinase pathways in the yeast Saccharomyces cerevisiae. Microbiol Mol Biol Rev 62:1264–1300

Guthrie C, Fink GR (1991) Guide to yeast genetics and molecular biology. Methods Enzymol 194

Han J, Jiang Y, Li Z, Kravchenko VV, Ulevitch RJ (1997) Activation of the transcription factor MEF2C by the MAP kinase p38 in inflammation. Nature 386:296–299

Ho Y, et al (2002) Systematic identification of protein complexes in Saccharomyces cerevisiae by mass spectrometry. Nature 415:180–183

Holstege FC, et al (1998) Dissecting the regulatory circuitry of a eukaryotic genome. Cell 95:717–728

Kato Y, Kravchenko VV, Tapping RI, Han J, Ulevitch RJ, Lee JD (1997) BMK1/ERK5 regulates serum-induced early gene expression through transcription factor MEF2C. EMBO J 16:7054–7066

Köhler T, Wesche S, Taheri N, Braus GH, Mösch H-U (2002) Dual role of the Saccharomyces cerevisiae TEA/ATTS family transcription factor Tec1p in regulation of gene expression and cellular development. Eukaryot Cell 1:673–686

Lange CA, Shen T, Horwitz KB (2000) Phosphorylation of human progesterone receptors at serine-294 by mitogen-activated protein kinase signals their degradation by the 26S proteasome. Proc Natl Acad Sci USA 97:1032–1037

Lo WS, Dranginis AM (1998) The cell surface flocculin Flo11 is required for pseudohyphae formation and invasion by Saccharomyces cerevisiae. Mol Biol Cell 9:161–171

Madhani HD, Fink GR (1997) Combinatorial control required for the specificity of yeast MAPK signaling. Science 275:1314–1317

Madhani HD, Fink GR (1998) The riddle of MAP kinase signaling specificity. Trends Genet 14:151–155

Madhani HD, Styles CA, Fink GR (1997) MAP kinases with distinct inhibitory functions impart signaling specificity during yeast differentiation. Cell 91:673–684

Madhani HD, Galitski T, Lander ES, Fink GR (1999) Effectors of a developmental mitogen-activated protein kinase cascade revealed by expression signatures of signaling mutants. Proc Natl Acad Sci USA 96:12530–12535

Metodiev MV, Matheos D, Rose MD, Stone DE (2002) Regulation of MAPK function by direct interaction with the mating-specific G-alpha in yeast. Science 296:1483–1486

Mösch H-U, Fink GR (1997) Dissection of filamentous growth by transposon mutagenesis in Saccharomyces cerevisiae. Genetics 145:671–684

Oehlen L, Cross FR (1998) The mating factor response pathway regulates transcription of TEC1, a gene involved in pseudohyphal differentiation of Saccharomyces cerevisiae. FEBS Lett 429:83–88

Peter M, Gartner A, Horecka J, Ammerer G, Herskowitz I (1993) FAR1 links the signal transduction pathway to the cell cycle machinery in yeast. Cell 73:747–760

Roberts CJ et al (2000) Signaling and circuitry of multiple MAPK pathways revealed by a matrix of global gene expression profiles. Science 287:873–880

Roberts RL, Fink GR (1994) Elements of a single MAP kinase cascade in Saccharomyces cerevisiae mediate two developmental programs in the same cell type: mating and invasive growth. Genes Dev 8:2974–2985

Sabbagh W Jr, Flatauer LJ, Bardwell AJ, Bardwell L (2001) Specificity of MAP kinase signaling in yeast differentiation involves transient versus sustained MAPK activation. Mol Cell 8:683–691

Schaeffer HJ, Weber MJ (1999) Mitogen-activated protein kinases: specific messages from ubiquitous messengers. Mol Cell Biol 19:2435–2444

Schlenstedt G, Saavedra C, Loeb JD, Cole CN, Silver PA (1995) The GTP-bound form of the yeast Ran/TC4 homologue blocks nuclear protein import and appearance of poly(A)+ RNA in the cytoplasm. Proc Natl Acad Sci USA 92:225–229

Sharrocks AD, Yang SH, Galanis A (2000) Docking domains and substrate-specificity determination for MAP kinases. Trends Biochem Sci 25:448–453

Song D, Dolan JW, Yuan YL, Fields S (1991) Pheromone-dependent phosphorylation of the yeast STE12 protein correlates with transcriptional activation. Genes Dev 5:741–750

Stronach BE, Perrimon N (1999) Stress signaling in Drosophila. Oncogene 18:6172–6182

Taheri N, Köhler T, Braus GH, Mösch H-U (2000) Asymmetrically localized Bud8p and Bud9p proteins control yeast cell polarity and development. EMBO J 19:6686–6696

Tan PB, Kim SK (1999) Signaling specificity: the RTK/RAS/MAP kinase pathway in metazoans. Trends Genet 15:145–149

Tedford K, Kim S, Sa D, Stevens K, Tyers M (1997) Regulation of the mating pheromone and invasive growth responses in yeast by two MAP kinase substrates. Curr Biol 7:228–238

Vaudry D, Stork PJ, Lazarovici P, Eiden LE (2002) Signaling pathways for PC12 cell differentiation: making the right connections. Science 296:1648–1649

Widmann C, Gibson S, Jarpe MB, Johnson GL (1999) Mitogen-activated protein kinase: conservation of a three-kinase module from yeast to human. Physiol Rev 79:143–180

Yang SH, Sharrocks AD, Whitmarsh AJ (2003) Transcriptional regulation by the MAP kinase signaling cascades. Gene 320:3–21

Zeitlinger J, et al (2003) Program-specific distribution of a transcription factor dependent on partner transcription factor and MAPK signaling. Cell 113:395–404
Acknowledgements
We thank Ashton Breitkreutz, Gerald Fink, Hiten Madhani, Markus Rudolph, and Mike Tyers for generous gifts of reagents. We are grateful to Maria Meyer for excellent technical assistance. This work was supported by grants from the Deutsche Forschungsgemeinschaft and the Volkwagenstiftung.
Additional information
Communicated by S. Hohmann
The first two authors have equally contributed to this work
About this article
Cite this article
Brückner, S., Köhler, T., Braus, G.H. et al. Differential regulation of Tec1 by Fus3 and Kss1 confers signaling specificity in yeast development. Curr Genet 46, 331–342 (2004). https://doi.org/10.1007/s00294-004-0545-1
Received:

Revised:

Accepted:

Published:

Issue Date:

DOI: https://doi.org/10.1007/s00294-004-0545-1
Keywords