Abstract
O-Mannosylation is suggested to be essential for protein secretion in Trichoderma reesei. In protein O-glycosylation, the first mannosyl residue is transferred to a serine or threonine hydroxyl group of the protein from dolichyl phosphate mannose by protein O-mannosyltransferase. In Saccharomyces cerevisiae, seven PMT genes have been cloned coding for these enzymes. In the present work, the characterisation of the pmt1 cDNA from T. reesei is reported. Sequence analysis of the predicted protein revealed the highest similarity to Schizosaccharomyces pombe Pmt and to Pmt4p of Saccharomyces cerevisiae. In contrast, expression of the T. reesei cDNA in various S. cerevisiae pmt mutants showed functional similarity to the yeast Pmt2 protein.
Access options
Buy single article
Instant access to the full article PDF.
US$ 39.95
Tax calculation will be finalised during checkout.
Subscribe to journal
Immediate online access to all issues from 2019. Subscription will auto renew annually.
US$ 119
Tax calculation will be finalised during checkout.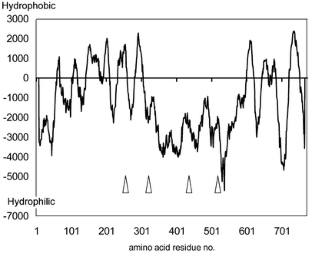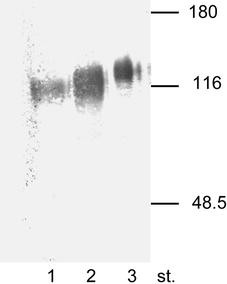 References
Altschul SF, Madden TL, Schaffer AA, Zhang J, Zhang Z, Miller W, Lipman DJ (1997) Gapped BLAST and PSI-BLAST: a new generation of protein database search programs. Nucleic Acids Res 25:3389–3402

Beltran-Valero De Bernabe D, Currier S, Steinbrecher A, Celli J, Van Beusekom E, Van Der Zwaag B, Kayserili H, Merlini L, Chitayat D, Dobyns WB, Cormand B, Lehesjoki AE, Cruces J, Voit T, Walsh CA, Van Bokhoven H, Brunner HG (2002) Mutations in the O-mannosyltransferase gene POMT1 gives rise to the severe neuronal migration disorder Walker–Warburg syndrome. Am J Hum Genet 71:1033–1043

Bourdineaud J, Vaart JM van der, Donzeau M, Sampaio G de, Verrips CT, Lauquin GJ-M (1998) Pmt1 mannosyl transferase is involved in cell wall incorporation of several proteins in Saccharomyces cerevisiae. Mol Microbiol 27:85–98

Chen D, Yang B, Kuo T (1992) One-step transformation of yeast in stationary phase. Curr Genet 21:83–84

Gentzsch M, Tanner W (1996) The PMT gene family: protein O-glycosylation in Saccharomyces cerevisiae is vital. EMBO J 15:5752–5759

Gentzsch M, Tanner W (1997) Protein-O-glycosylation in yeast: protein-specific mannosyltransferases. Glycobiology 7:481–486

Girrbach V, Zeller T, Priesmeier M, Strahl-Bolsinger S (2000) Structure–function analysis of the dolichyl phosphate-mannose: protein O-mannosyltransferase ScPmt1p. J Biol Chem 275:19288–19296

Gurr D, Unkles S, Kinghorn J (1987) The structure and organisation of nuclear genes in filamentous fungi. In: Kinghorn J (ed) Gene structure in eukaryotic microbes. IRL Press, Oxford, pp 93–139

Hoffmann K, Stoffel W (1993) Tmbase a database of membrane spanning protein segments. Biol Chem Hoppe-Seyler 347:166

Immervoll T, Gentzsch M, Tanner W (1995) PMT3 and PMT4, two new members of the protein-O-mannosyltransferase gene family of Saccharomyces cerevisiae. Yeast 11:1345–1351

Jurado LAP, Coloma A, Cruces J (1999) Identification of a human homolog of the Drosophila rotated abdomen gene (POMT1) encoding a putative protein O-mannosyl-transferase, and assignment to human chromosome 9q34.1. Genomics 58:171–180

Kruszewska JS, Messner R, Kubicek CP, Palamarczyk G (1989) O-glycosylation of proteins by membrane fraction of Trichoderma reesei QM9414. J Gen Microbiol 135:301–307

Kruszewska JS, Saloheimo M, Penttila M, Palamarczyk G (1998) Isolation of a Trichoderma reesei cDNA encoding GTP:α-d-mannose-1-phosphate guanyltransferase involved in early steps of protein glycosylation. Curr Genet 33:445–450

Kruszewska JS, Butterweck AH, Kurzątkowski W, Migdalski A, Kubicek CP, Palamarczyk G (1999) Overexpression of the Saccharomyces cerevisiae mannosylphosphodolichol synthase-encoding gene in Trichoderma reesei results in an increased level of protein secretion and abnormal cell ultrastructure. Appl Environ Microbiol 65:2382–2387

Kruszewska JS, Saloheimo M, Migdalski A, Orlean P, Penttila M, Palamarczyk G (2000) Dolichol phosphate mannose synthase from the filamentous fungus Trichoderma reesei belongs to the human and Schizosaccharomyces pombe class of the enzyme. Glycobiology 10:983–991

Kubicek CP, Panda T, Schreferl-Kunar G, Messner R, Gruber F (1987) O-linked but not N-linked glycosylation is necessary for secretion of endoglucanase I and II by Trichoderma reesei. Can J Microbiol 33:698–703

Margolles-Clark E, Tenkanen M, Nakari-Setälä T, Penttilä M (1996) Cloning of genes encoding alpha-l-arabinofuranosidase and beta-xylosidase from Trichoderma reesei by expression in Saccharomyces cerevisiae. Appl Environ Microbiol 62:3840–3846

Martin-Blanco E, Garcia-Bellido A (1996) Mutations in the rotated abdomen locus affect muscle development and reveal an intrinsic asymmetry in Drosophila. Proc Natl Acad Sci USA 93:6048–6052

Palamarczyk G, Maras M, Contreras R, Kruszewska J (1998) Protein secretion and glycosylation in Trichoderma. In: Kubicek CP, Harman GE (eds) Trichoderma and Glocladium, vol 1. Basic biology, taxonomy and genetics. Taylor and Francis, London, pp 121–138

Saloheimo A, Henrissat B, Hofrren A, Teleman O, Penttila M (1994) A novel small endoglucanase gene, egl5 from Trichoderma reesei isolated by expression in yeast. Mol Microbiol 13:219–228

Saloheimo M, Nakari-Setälä T, Tenkanen M, Penttilä M (1997) cDNA cloning of a Trichoderma reesei cellulase and demonstration of endoglucanase activity by expression in yeast. Eur J Biochem 249:584–591

Sambrook J, Fritsch RM, Maniatis T (1989) Molecular cloning, a laboratory manual, 2nd edn. Cold Spring Harbor Laboratory Press, Cold Spring Harbor, N.Y.

Sanders SL, Gentzsch M, Tanner W, Herskowitz I (1999) O-Glycosylation of Axl2/Bud10p by Pmt4 is required for its stability, localisation, and function in daughter cells. J Cell Biol 145:1177–1188

Sherman F (1991) Getting started with yeast. In: Gutherie C, Fink GR (eds) Guide to yeast genetics and molecular biology. Methods Enzymol 194:3–21

Short JM, Fernandez JM, Sorge JA, Huse W (1988) λ ZAP: a bacteriophage λ expression vector with in vivo excision properties. Nucleic Acids Res 16:7583–7600

Stålbrand H, Saloheimo A, Vehmaanperä J, Henrissat B, Penttilä M (1995) Cloning and expression in Saccharomyces cerevisiae of a Trichoderma reesei alpha-mannanase gene containing a cellulose binding domain. Appl Environ Microbiol 61:1090–1097

Strahl-Bolsinger S, Scheinost A (1999) Transmembrane topology of Pmt1p, a member of an evolutionarily conserved family of protein O-mannosyltransferases. J Biol Chem 274:9068–9075

Strahl-Bolsinger S, Tanner W (1991) Protein O-glycosylation in Saccharomyces cerevisiae. Purification and characterisation of the dolichyl-phosphate-d-mannose-protein O-d-mannosyltransferase. Eur J Biochem 196:185–190

Strahl-Bolsinger S, Gentzsch M, Tanner W (1999) Protein O-mannosylation. Biochim Biophys Acta 1426:297–307

Timpel C, Strahl-Bolsinger S, Ziegelbauer K, Ernst JF (1998) Multiple functions of Pmt1p-mediated protein O-mannosylation in the fungal pathogen Candida albicans. J Biol Chem 273:20837–20846

Wang C, Eufemi M, Turano C, Giartosio A (1996) Influence of the carbohydrate moiety on the stability of glycoproteins. Biochemistry 35:7299–7307
Acknowledgements
We thank Prof. Widmar Tanner and Dr. Thomas Aust for chitinase and Gas1p antibodies and Dr. Sabine Strahl for the S. cerevisiae Δpmt strains. We also thank Prof. Francis Karst for the yeast expression plasmids. This work was supported by the State Committee for Scientific Research (KBN), Warsaw, Poland, project no. 6P04B00621 grant to J.S.K.
Additional information
Communicated by S. Hohmann
About this article
Cite this article
Zakrzewska, A., Migdalski, A., Saloheimo, M. et al. cDNA encoding protein O-mannosyltransferase from the filamentous fungus Trichoderma reesei; functional equivalence to Saccharomyces cerevisiae PMT2 . Curr Genet 43, 11–16 (2003). https://doi.org/10.1007/s00294-003-0368-5
Received:

Revised:

Accepted:

Published:

Issue Date:
Keywords
pmt gene

Protein glycosylation

O-Mannosylation

Secretion