Zusammenfassung
Entgegen seiner rein deskriptiven Bezeichnung stellt das Nierenzellkarzinom mit eosinophilzelliger Morphologie und solid-zystischer Erscheinung (ESC-RCC) eine eigenständige klinisch-pathologisch und molekular definierte Variante des Nierenzellkarzinoms (NZK) dar. ESC-NZK treten bevorzugt bei Frauen auf und sind in den meisten Fällen durch somatische TSC-Mutationen gekennzeichnet. Gelegentlich treten diese Tumoren auch bei Patienten mit einer hereditären tuberösen Sklerose und TSC-Keimbahnmutationen auf. TSC-Mutationen wurden deshalb bei diesem Tumortyp als pathogenetisch nachgewiesen. Die meisten Tumoren präsentieren sich als relativ kleine (meist pT1), umschriebene, nicht gekapselte Läsionen mit variablen Makrozysten auf der Schnittfläche. Immunhistochemisch gilt das CD117−/CK7−/CK20+-Profil als charakteristisch. Obwohl die Kerne häufig einen ISUP/WHO Grad 2–3 aufweisen sind diese Tumoren indolent mit nur selten dokumentierten aggressiven Verläufen. In mehreren Kasuistiken wurde beschrieben, dass die seltenen aggressiven Tumoren wirksam mit mTOR-Inhibitoren behandelt werden konnten. Das ESC-NZK sollte differenzialdiagnostisch von diversen zystisch veränderten eosinophilen Nierentumoren unterschieden werden, insbesondere dem zystischen SDH-defizienten NZK, dem Onkozytom, dem eosinophilen vakuolisierten Tumor (EVT) und low-grade onkozytischen Tumoren (LOT). Die generell indolente Biologie und häufige TSC/mTOR-Alterationen in ESC-NZK, EVT und manchen LOT lässt die Frage zu, ob es sich bei diesen Tumoren um eigenständige Entitäten oder möglicherweise um morphologische Varianten im Spektrum der TSC/mTOR-assoziierten Nierentumoren handelt.
Abstract
Despite its descriptive name, eosinophilic, solid, and cystic renal cell carcinoma (ESC-RCC) represents a distinctive epithelial renal tumor entity defined by characteristic clinicopathological and molecular features. ESC-RCC occurs predominantly in women and is characterized in the majority of cases by sporadic (somatic) TSC mutations. A small subset of cases, however, affects patients with TSC germline mutations (tuberous sclerosis syndrome). TSC mutations have therefore been shown to be pathogenetic in this type of tumor. Most tumors present as small (pT1) well circumscribed but not encapsulated lesions with variable macrocystic spaces on their cut surface. Immunohistochemically, their CD117−/CK7−/CK20+ profile is characteristic. Although the tumor cell nuclei of the ESC-RCC occasionally correspond to ISUP/WHO grade 2–3, these tumors are essentially indolent with aggressive cases being only rarely observed. Single case reports have documented effective treatment of aggressive cases with mTOR inhibitors. ESC-RCC needs to be distinguished from a variety of eosinophilic RCC types with secondary cystic changes including cystic SDH-deficient RCC, the recently proposed eosinophilic vacuolated tumor (EVT; also mTOR-related), oncocytoma, and low-grade oncocytic tumor (LOT). The generally indolent behavior and frequent TSC/mTOR alterations in ESC-RCC, EVT, and some LOTs raise the question of whether these lesions represent independent tumor entities or are merely morphological variants on the spectrum of eosinophilic low-grade TSC/mTOR-related neoplasms.
Access options
Buy single article
Instant access to the full article PDF.
US$ 39.95
Tax calculation will be finalised during checkout.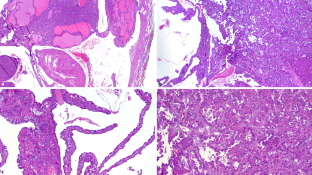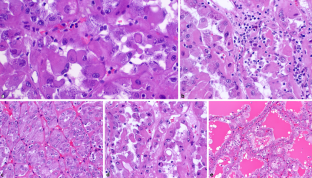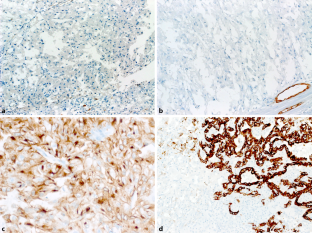 Literatur
1.

Trpkov K, Williamson SR, Gill AJ et al (2021) Novel, emerging and provisional renal entities: the Genitourinary Pathology Society (GUPS) update on renal neoplasia. Mod Pathol 34:1167–1184

2.

Trpkov K, Hes O, Bonert M, Lopez JI, Bonsib SM, Nesi G, Comperat E, Sibony M, Berney DM, Martinek P, Bulimbasic S, Suster S, Sangoi A, Yilmaz A, Higgins JP, Zhou M, Gill AJ, Przybycin CG, Magi-Galluzzi C, McKenney JK (2016) Eosinophilic, solid, and cystic renal cell carcinoma: clinicopathologic study of 16 unique, sporadic neoplasms occurring in women. Am J Surg Pathol 40:60–71

3.

Trpkov K, Abou-Ouf H, Hes O, Lopez JI, Nesi G, Comperat E, Sibony M, Osunkoya AO, Zhou M, Gokden N, Leroy X, Berney DM, Werneck Cunha I, Musto ML, Athanazio DA, Yilmaz A, Donnelly B, Hyndman E, Gill AJ, McKenney JK, Bismar TA (2017) Eosinophilic Solid and Cystic Renal Cell Carcinoma (ESC RCC): further morphologic and molecular characterization of ESC RCC as a distinct entity. Am J Surg Pathol 41:1299–1308

4.

Guo J, Tretiakova MS, Troxell ML, Osunkoya AO, Fadare O, Sangoi AR, Shen SS, Lopez-Beltran A, Mehra R, Heider A, Higgins JP, Harik LR, Leroy X, Gill AJ, Trpkov K, Campbell SC, Przybycin C, Magi-Galluzzi C, McKenney JK (2014) Tuberous sclerosis-associated renal cell carcinoma: a clinicopathologic study of 57 separate carcinomas in 18 patients. Am J Surg Pathol 38:1457–1467

5.

Li Y, Reuter VE, Matoso A, Netto GJ, Epstein JI, Argani P (2018) Re-evaluation of 33 "unclassified" eosinophilic renal cell carcinomas in young patients. Histopathology 72:588–600

6.

Bernstein J (1993) Renal cystic disease in the tuberous sclerosis complex. Pediatr Nephrol 7:490–495

7.

Lerma LA, Schade GR, Tretiakova MS (2021) Co-existence of ESC-RCC, EVT, and LOT as synchronous and metachronous tumors in six patients with multifocal neoplasia, but without clinical features of tuberous sclerosis complex. Hum Pathol. https://doi.org/10.1016/j.humpath.2021.06.002

8.

Palsgrove DN, Li Y, Pratilas CA, Lin MT, Pallavajjalla A, Gocke C, De Marzo AM, Matoso A, Netto GJ, Epstein JI, Argani P (2018) Eosinophilic Solid and Cystic (ESC) renal cell carcinomas harbor TSC mutations: molecular analysis supports an expanding clinicopathologic spectrum. Am J Surg Pathol 42:1166–1181

9.

Tretiakova MS (2018) Eosinophilic solid and cystic renal cell carcinoma mimicking epithelioid angiomyolipoma: series of 4 primary tumors and 2 metastases. Hum Pathol 80:65–75

10.

Parilla M, Kadri S, Patil SA, Ritterhouse L, Segal J, Henriksen KJ, Antic T (2018) Are sporadic eosinophilic solid and cystic renal cell carcinomas characterized by somatic tuberous sclerosis gene mutations? Am J Surg Pathol 42:911–917

11.

Mehra R, Vats P, Cao X, Su F, Lee ND, Lonigro R, Premkumar K, Trpkov K, McKenney JK, Dhanasekaran SM, Chinnaiyan AM (2018) Somatic bi-allelic loss of TSC genes in eosinophilic solid and cystic renal cell carcinoma. Eur Urol 74:483–486

12.

McKenney JK, Przybycin CG, Trpkov K, Magi-Galluzzi C (2018) Eosinophilic solid and cystic renal cell carcinomas have metastatic potential. Histopathology 72:1066–1067

13.

Gill AJ, Hes O, Papathomas T, Šedivcová M, Tan PH, Agaimy A, Andresen PA, Kedziora A, Clarkson A, Toon CW, Sioson L, Watson N, Chou A, Paik J, Clifton-Bligh RJ, Robinson BG, Benn DE, Hills K, Maclean F, Niemeijer ND, Vlatkovic L, Hartmann A, Corssmit EP, van Leenders GJ, Przybycin C, McKenney JK, Magi-Galluzzi C, Yilmaz A, Yu D, Nicoll KD, Yong JL, Sibony M, Yakirevich E, Fleming S, Chow CW, Miettinen M, Michal M, Trpkov K (2014) Succinate dehydrogenase (SDH)-deficient renal carcinoma: a morphologically distinct entity: a clinicopathologic series of 36 tumors from 27 patients. Am J Surg Pathol 38:1588–1602

14.

Smith SC, Sirohi D, Ohe C, McHugh JB, Hornick JL, Kalariya J, Karia S, Snape K, Hodgson SV, Cani AK, Hovelson D, Luthringer DJ, Martignoni G, Chen YB, Tomlins SA, Mehra R, Amin MB (2017) A distinctive, low-grade oncocytic fumarate hydratase-deficient renal cell carcinoma, morphologically reminiscent of succinate dehydrogenase-deficient renal cell carcinoma. Histopathology 71:42–52

15.

He H, Trpkov K, Martinek P, Isikci OT, Maggi-Galuzzi C, Alaghehbandan R, Gill AJ, Tretiakova M, Lopez JI, Williamson SR, Montiel DP, Sperga M, Comperat E, Brimo F, Yilmaz A, Pivovarcikova K, Michalova K, Slouka D, Prochazkova K, Hora M, Bonert M, Michal M, Hes O (2018) High-grade oncocytic renal tumor: morphologic, immunohistochemical, and molecular genetic study of 14 cases. Virchows Arch 473:725–738

16.

Chen YB, Mirsadraei L, Jayakumaran G, Al-Ahmadie HA, Fine SW, Gopalan A, Sirintrapun SJ, Tickoo SK, Reuter VE (2019) Somatic mutations of TSC2 or MTOR characterize a morphologically distinct subset of sporadic renal cell carcinoma with eosinophilic and vacuolated cytoplasm. Am J Surg Pathol 43:121–131

17.

Tjota M, Chen H, Parilla M, Wanjari P, Segal J, Antic T (2020) Eosinophilic renal cell tumors with a TSC and MTOR gene mutations are morphologically and Immunohistochemically heterogenous: clinicopathologic and molecular study. Am J Surg Pathol 44:943–954

18.

Farcaş M, Gatalica Z, Trpkov K, Swensen J, Zhou M, Alaghehbandan R et al (2021) Eosinophilic Vacuolated Tumor (EVT) of kidney demonstrates sporadic TSC/MTOR mutations: next generation sequencing multi-institutional study of 19 cases. Mod Pathol in press, 2021
Ethics declarations
Interessenkonflikt
A. Hartmann und A. Agaimy geben an, dass kein Interessenkonflikt besteht.
Für diesen Beitrag wurden von den Autoren keine Studien an Menschen oder Tieren durchgeführt. Für die aufgeführten Studien gelten die jeweils dort angegebenen ethischen Richtlinien.
Additional information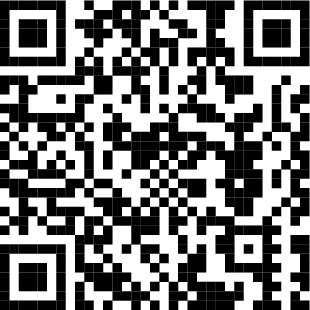 QR-Code scannen & Beitrag online lesen
Die ursprüngliche Online-Version dieses Artikels wurde überarbeitet: Der englische Beitragstitel wurde korrigiert.
Schwerpunktherausgeber
H. Moch, Zürich
About this article
Cite this article
Hartmann, A., Agaimy, A. Eosinophiles solide und zystisches Nierenzellkarzinom (ESC-NZK). Pathologe 42, 565–570 (2021). https://doi.org/10.1007/s00292-021-00998-7
Accepted:

Published:

Issue Date:
Schlüsselwörter
Eosinophile Nierentumore

Humanes mTOR-Protein

Nierentumoren

TOR-Serine-Threonin-Kinases

Tuberöse Sklerose
Keywords
Eosinophilic renal tumors

Human mTOR protein

Kidney neoplasms

TOR serine-threonine kinases

Tuberous sclerosis