Zusammenfassung
Das Krankheitsbild der Pankreatitis umfasst ein Spektrum diverser entzündlicher Veränderungen des Pankreas unterschiedlichster Ätiologie und Histopathologie. Dabei gilt es häufige Formen von seltenen zu unterscheiden, damit ein optimales Therapieregime für die Patienten bestimmt werden kann. Die Pankreatitiden sind jeweils durch spezifische Merkmale charakterisiert, u. a. das Patientenalter und das klinische Bild, die Ätiologie sowie die Art des entzündlichen Infiltrats und die histologischen Veränderungen.
Abstract
Pancreatitis harbors a spectrum of different inflammatory changes of the pancreas of variable etiology and histopathology. In this context, common variants have to be distinguished from rare variants to optimize therapy. Each type of pancreatitis has characteristic features such as the age of patients and clinical presentation as well as the composition of the inflammatory infiltrates and histological changes.
Access options
Buy single article
Instant access to the full article PDF.
US$ 39.95
Tax calculation will be finalised during checkout.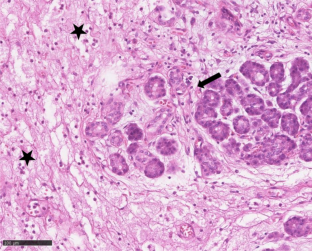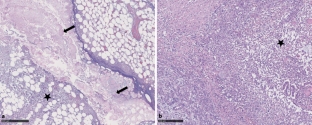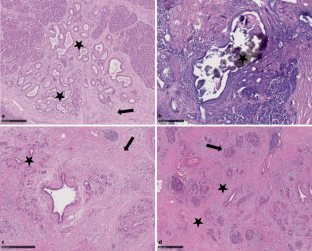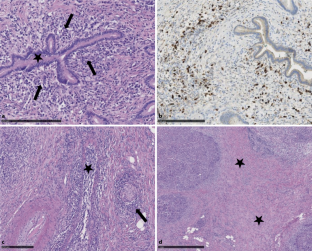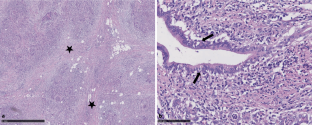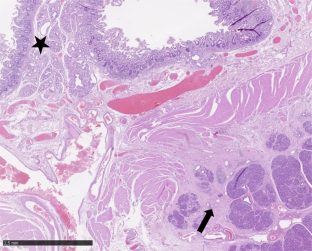 Literatur
1.

Lankisch PG, Apte M, Banks PA (2015) Acute pancreatitis. Lancet 386(9988):85–96

2.

Forsmark CE, Vege SS, Wilcox CM (2016) Acute Pancreatitis. N Engl J Med 375(20):1972–1981

3.

Klöppel G (2018) Histopathology of acute Pancreatitis. In: The pancreas, S 193–198

4.

Klöppel G, Maillet B (1993) Pathology of acute and chronic pancreatitis. Pancreas 8(6):659–670

5.

Klöppel G (2007) Chronic pancreatitis, pseudotumors and other tumor-like lesions. Mod Pathol 20(Suppl 1):S113–31

6.

Majumder S, Chari ST (2016) Chronic pancreatitis. Lancet 387(10031):1957–1966

7.

Esposito I et al (2020) Guidelines on the histopathology of chronic pancreatitis. Recommendations from the working group for the international consensus guidelines for chronic pancreatitis in collaboration with the International Association of Pancreatology, the American Pancreatic Association, the Japan Pancreas Society, and the European Pancreatic Club. Pancreatology 20(4):586–593

8.

Kamisawa T, Shimosegawa T (2018) Epidemiology of autoimmune Pancreatitis. In: The pancreas, S 503–509

9.

Detlefsen S, Klöppel G (2018) IgG4-related disease: with emphasis on the biopsy diagnosis of autoimmune pancreatitis and sclerosing cholangitis. Virchows Arch 472(4):545–556

10.

Nagpal SJS, Sharma A, Chari ST (2018) Autoimmune Pancreatitis. Am J Gastroenterol 113(9):1301

11.

Zhang L et al (2011) Autoimmune pancreatitis (AIP) type 1 and type 2: an international consensus study on histopathologic diagnostic criteria. Pancreas 40(8):1172–1179

12.

Barman KK, Premalatha G, Mohan V (2003) Tropical chronic pancreatitis. Postgrad Med J 79(937):606–615

13.

Arora A et al (2015) Clinicoradiological appraisal of 'paraduodenal pancreatitis': Pancreatitis outside the pancreas! Indian J Radiol Imaging 25(3):303–314

14.

Tom WJ et al (2020) Follicular pancreatitis: a rare pancreatic inflammatory pseudotumor. Clin Imaging 59(1):39–44

15.

Ryota H et al (2019) Clinicopathological and immunological features of follicular pancreatitis—a distinct disease entity characterised by Th17 activation. Histopathology 74(5):709–717

16.

Abraham SC et al (2003) Eosinophilic pancreatitis and increased eosinophils in the pancreas. Am J Surg Pathol 27(3):334–342

17.

Pinte L, Băicuș C (2019) Eosinophilic pancreatitis versus pancreatitis associated with eosinophilic gastroenteritis—a systematic review regarding clinical features and diagnosis. Rom J Intern Med 57(4):284–295

18.

Del Vecchio Blanco G et al (2019) Idiopathic acute pancreatitis: a review on etiology and diagnostic work-up. Clin J Gastroenterol 12(6):511–524

19.

Thoeni RF (2015) Imaging of Acute Pancreatitis. Radiol Clin North Am 53(6):1189–1208

20.

Zaheer A et al (2014) Dual-phase CT findings of groove pancreatitis. Eur J Radiol 83(8):1337–1343
Ethics declarations
Interessenkonflikt
A. Kraft und M. M. Gaida geben an, dass kein Interessenkonflikt besteht.
Für diesen Beitrag wurden von den Autoren keine Studien an Menschen oder Tieren durchgeführt. Für die aufgeführten Studien gelten die jeweils dort angegebenen ethischen Richtlinien.
Additional information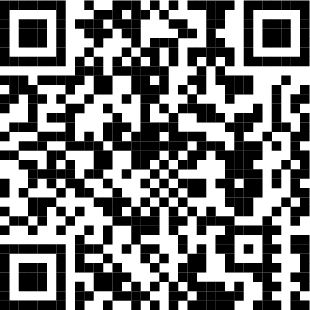 QR-Code scannen & Beitrag online lesen
Herausgeber
M. Gaida, Mainz
I. Esposito, Düsseldorf
About this article
Cite this article
Kraft, A., Gaida, M.M. Akute und chronische Pankreatitis – die häufigsten Pankreatitiden im Überblick. Pathologe 42, 501–508 (2021). https://doi.org/10.1007/s00292-021-00964-3
Accepted:

Published:

Issue Date:
Schlüsselwörter
Gallensteine

Granulozyten

Nekrosen

Hämorrhagien

Fibrosen
Keywords
Gallstones

Granulocyte

Necrosis

Hemorrhage

Fibrosis