Abstract
Based on new trial data regarding immune checkpoint inhibitors (ICIs), the detection of high-grade microsatellite instability (MSI-H) or underlying deficient mismatch repair protein (dMMR) is now becoming increasingly important for predicting treatment response. For the first time, a PD‑1 ICI (pembrolizumab) has been approved by the European Medicines Agency (EMA) for first-line treatment of advanced (stage IV) dMMR/MSI‑H colorectal cancer (CRC). Further indications, such as dMMR/MSI‑H endometrial carcinoma (EC), have already succeeded (Dostarlimab, 2nd line treatment) and others are expected to follow before the end of 2021. The question of optimal testing in routine diagnostics should therefore be re-evaluated. Based on a consideration of the strengths and weaknesses of the widely available methods (immunohistochemistry and PCR), a test algorithm is proposed that allows quality assured, reliable, and cost-effective dMMR/MSI‑H testing. For CRC and EC, testing is therefore already possible at the primary diagnosis stage, in line with international recommendations (NICE, NCCN). The clinician is therefore enabled from the outset to consider not only the predictive but also the prognostic and predispositional implications of such a test when counseling patients and formulating treatment recommendations. As a basis for quality assurance, participation in interlaboratory comparisons and continuous documentation of results (e.g., QuIP Monitor) are strongly recommended.
Zusammenfassung
Aufgrund neuer Studiendaten mit Immuncheckpoint-Inhibitoren (ICI) gewinnt der Nachweis einer hochgradigen Mikrosatelliteninstabilität (MSI-H) bzw. der zugrunde liegenden Mismatch-Repair-Protein-Defizienz (dMMR) nun auch zur Prädiktion von Therapieansprechen zunehmend an Bedeutung. Aktuell wurde von der Europäischen Medizinischen Agentur (EMA) erstmals ein PD-1-ICI (Pembrolizumab) für die Erstlinientherapie des fortgeschrittenen (Stadium IV) dMMR/MSI‑H kolorektalen Karzinoms (KRK) zugelassen. Weitere Indikationen, wie z. B. für das metastastasierte dMMR/MSI-H-Endometriumkarzinom (EK) in der Zweitlinientherapie (Dostarlimab) sind bereits gefolgt, andere werden noch im laufenden Jahr 2021 erwartet. Dies erfordert eine Neubewertung der Frage nach der optimalen Testung in der Routinediagnostik. Auf Basis einer Abwägung von Stärken und Schwächen der in der Breite zur Verfügung stehenden Methoden (Immunhistochemie und PCR) wird ein Testalgorithmus vorgeschlagen, der qualitätsgesichert eine zuverlässige und kosteneffektive dMMR/MSI-H-Testung erlaubt. Für das KRK und EK ist damit analog internationaler Empfehlungen (NICE, NCCN) eine Testung bereits bei der Primärdiagnose möglich. Somit wird der Kliniker von vornherein in die Lage versetzt, neben den prädiktiven auch die prognostischen und prädispositionsbedingten Implikationen eines solchen Tests bei der Beratung von Patienten und Erarbeitung von Therapieempfehlungen zu berücksichtigen. Als Grundlage der Qualitätssicherung wird die Teilnahme an Ringversuchen und eine fortlaufende Ergebnisdokumentation (z. B. QuIP-Monitor) empfohlen.
Access options
Buy single article
Instant access to the full article PDF.
US$ 39.95
Tax calculation will be finalised during checkout.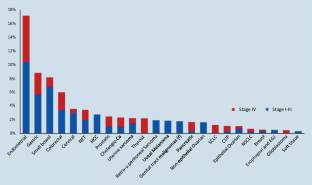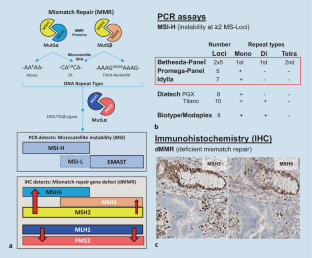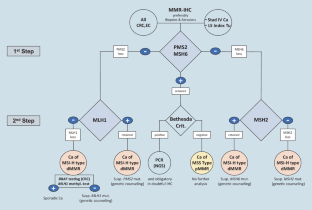 References
1.

André T, Shiu KK, Kim TW et al (2020) Pembrolizumab in microsatellite-instability-high advanced colorectal cancer. N Engl J Med 383:2207–2218

2.

AWMF (2018) S3-Leitlinie Diagnostik, Therapie und Nachsorge der Patientinnen mit Endometriumkarzinom (AWMF-Registernummer: 032/034-OL)

3.

AWMF (2019) S3-Leitlinie Kolorektales Karzinom (AWMF-Registernummer: 021/007OL)

4.

Bass BP, Engel KB, Greytak SR, Moore HM (2014) A review of preanalytical factors affecting molecular, protein, and morphological analysis of formalin-fixed, paraffin-embedded (FFPE) tissue: how well do you know your FFPE specimen? Arch Pathol Lab Med 138(11):1520–1530

5.

Bläker H, Haupt S, Morak M et al (2020) Age-dependent performance of BRAF mutation testing in Lynch syndrome diagnostics. Int J Cancer 147:2801–2810

6.

Britton H, Huang L, Lum A et al (2019) Molecular classification defines outcomes and opportunities in young women with endometrial carcinoma. Gynecol Oncol 153:487–495

7.

Buhard O, Suraweera N, Lectard A et al (2004) Quasimonomorphic mononucleotide repeats for high-level microsatellite instability analysis. Dis Markers 20:251–257

8.

Cancer Genome Atlas Network (2012) Comprehensive molecular characterization of human colon and rectal cancer. Nature 487:330–337

9.

Cancer Genome Atlas Research Network (2014) Comprehensive molecular characterization of gastric adenocarcinoma. Nature 513:202–209

10.

Cancer Genome Atlas Research Network, Kandoth C, Schultz N, Cherniack AD et al (2013) Integrated genomic characterization of endometrial carcinoma. Nature 497:67–73

11.

Cancer Genome Atlas Research Network, Weinstein JN, Collisson EA, Mills GB et al (2013) The cancer genome atlas pan-cancer analysis project. Nat Genet 45:1113–1120

12.

Carethers JM (2017) Microsatellite instability pathway and EMAST in colorectal cancer. Curr Colorectal Cancer Rep 13:73–80

13.

Casey L, Singh N (2021) POLE, MMR, and MSI testing in endometrial cancer: proceedings of the ISGyP companion society session at the USCAP 2020 annual meeting. Int J Gynecol Pathol 40(1):5–16

14.

Chen W, Frankel WL (2019) A practical guide to biomarkers for the evaluation of colorectal cancer. Mod Pathol 32:S1–S15

15.

Cho KR, Cooper K, Croce S et al (2019) International society of gynecological pathologists (ISGyP) endometrial cancer project: guidelines from the special techniques and ancillary studies group. Int J Gynecol Pathol 38(1):S114–S122

16.

Darvin P, Toor SM, Sasidharan Nair V, Elkord E (2018) Immune checkpoint inhibitors: recent progress and potential biomarkers. Exp Mol Med 50:1–11

17.

Devaraj B et al (2010) Relationship of EMAST and microsatellite instability among patients with rectal cancer. J Gastrointest Surg. https://doi.org/10.1007/s11605-010-1340-6

18.

Dietmaier W, Büttner R, Rüschoff J (2019) Mikrosatelliteninstabilität: Aktueller Überblick über Methoden und Anwendungen. Pathologe 40(3):313–327

19.

Dominguez-Valentin M et al (2020) Cancer risks by gene, age, and gender in 6350 carriers of pathogenic mismatch repair variants. Genet Med 22(1):15–25

20.

Engel C, Forberg J, Holinski-Feder E et al (2006) Novel strategy for optimal sequential application of clinical criteria, immunohistochemistry and microsatellite analysis in the diagnosis of hereditary nonpolyposis colorectal cancer. Int J Cancer 118:115–122

21.

Green AK, Feinberg J, Makker V (2020) A review of immune checkpoint blockade therapy in endometrial cancer. Am Soc Clin Oncol Educ Book 40:1–7

22.

Hayashi H, Nakagawa K (2020) Combination therapy with PD‑1 or PD-L1 inhibitors for cancer. Int J Clin Oncol 25(5):818–830

23.

Horn LC, Emons G, Aretz S et al (2019) S3-Leitlinie Diagnostik und Therapie des Endometriumkarzinoms: Anforderungen an die Pathologie. Pathologe 40:21–35

24.

https://www.clincaltrials.gov. Zugegriffen: 03.05.2021

25.

Iivanainen S, Koivunen JP (2020) Possibilities of improving the clinical value of immune checkpoint inhibitor therapies in cancer care by optimizing patient selection. Int J Mol Sci 21:556

26.

Jöhrens K, Dietmaier W, Utpatel K et al (2021) Qualitätssicherung in der MMRD und MSI Diagnostik. Pathologe, im Druck

27.

Joost P et al (2014) Heterogenous mismatch-repair status in colorectal cancer. Diagn Pathol 9:126

28.

Kim J, Park WY, Kim NKD et al (2017) Good laboratory standards for clinical next-generation sequencing cancer panel tests. J Pathol Transl Med 51:191–204

29.

Kloth M, Ruesseler V, Engel C et al (2016) Activating ERBB2/HER2 mutations indicate susceptibility to pan-HER inhibitors in Lynch and Lynch-like colorectal cancer. Gut 65:1296–1305

30.

Latham A, Srinivasan P, Kemel Y et al (2019) Microsatellite instability is associated with the presence of Lynch syndrome pan-cancer. J Clin Oncol 37:286–295

31.

Le DT, Durham JN, Smith KN et al (2017) Mismatch repair deficiency predicts response of solid tumors to PD‑1 blockade. Science 357:409–413

32.

Le DT, Kim TW, Van Cutsem E et al (2020) Phase II open-label study of pembrolizumab in treatment-refractory, microsatellite instability-high/mismatch repair-deficient metastatic colorectal cancer: keynote-164. J Clin Oncol 38:11–19

33.

Le DT, Uram JN, Wang H et al (2015) PD‑1 Blockade in tumors with mismatch-repair deficiency. N Engl J Med 372:2509–2520

34.

Luchini C, Bibeau F, Ligtenberg MJL et al (2019) ESMO recommendations on microsatellite instability testing for immunotherapy in cancer, and its relationship with PD-1/PD-L1 expression and tumour mutational burden: a systematic review-based approach. Ann Oncol 30:1232–1243

35.

Marabelle A, Le DT, Ascierto PA et al (2020) Efficacy of pembrolizumab in patients with noncolorectal high microsatellite instability/mismatch repair-deficient cancer: results from the phase II keynote-158 study. J Clin Oncol 38:1–10

36.

Mills AM, Liou S, Ford JM et al (2014) Lynch syndrome screening should be considered for all patients with newly diagnosed endometrial cancer. Am J Surg Pathol 38:1501–1509

37.

Mojtahed A, Schrijver I, Ford JM et al (2011) A two-antibody mismatch repair protein immunohistochemistry screening approach for colorectal carcinomas, skin sebaceous tumors, and gynecologic tract carcinomas. Mod Pathol 24:1004–1014

38.

National Institute for Health and Care Excellence (NICE) (2021) NICE guidance on molecular testing strategies for Lynch syndrome in people with colorectal cancer. https://www.bsg.org.uk/clinical-resource/nice-guidance-on-molecular-testing-strategies-for-lynch-syndrome-in-people-with-colorectal-cancer/#:~:text=NICE%20recommends%20that%20microsatellite%20instability,the%20presence%20of%20Lynch%20Syndrome.Andhttps://www.nice.org.uk/guidance/dg42/chapter/3-Evidence. Zugegriffen: 21. Jan. 2021

39.

NCCN (2021) https://www.nccn.org/professionals/physician_gls/pdf/colon.pdf. Zugegriffen: 22. Jan. 2021

40.

Niu BT, Hammond RFL, Leen SLS, Gilks CB, Singh N (2019) Two versus four immunostains for Lynch syndrome screening in endometrial carcinoma. Histopathology 75:442–445

41.

Oaknin A, Gilbert L, Tinker AV et al (2020) LBA36—safety and antitumor activity of dostarlimab in patients (pts) with advanced or recurrent DNA mismatch repair deficient (dMMR) or proficient (MMRp) endometrial cancer (EC): results from garnet. Ann Oncol 31(4):S1142–S1215. https://doi.org/10.1016/annonc/annonc325

42.

Overman MJ, Lonardi S, Wong KYM et al (2018) Durable clinical benefit with nivolumab plus Ipilimumab in DNA mismatch repair-deficient/microsatellite instability-high metastatic colorectal cancer. J Clin Oncol 36:773–779

43.

Pearlman R, Markow M, Knight D et al (2018) Two-stain immunohistochemical screening for Lynch syndrome in colorectal cancer may fail to detect mismatch repair deficiency. Mod Pathol 31:1891–1900

44.

Peltomäki P (2016) Update on Lynch syndrome genomics. Fam Cancer 15:385–393

45.

Ryan NAJ, McMahon R, Tobi S et al (2020) The proportion of endometrial tumours associated with lynch syndrome (petals): a prospective cross-sectional study. PLoS Med 17:e1003263

46.

Shia J, Tang LH, Vakiani E et al (2009) Immunohistochemistry as first-line screening for detecting colorectal cancer patients at risk for hereditary nonpolyposis colorectal cancer syndrome: a 2-antibody panel may be as predictive as a 4-antibody panel. Am J Surg Pathol 33:1639–1645

47.

Siemanowski J, Schömig-Markiefka B, Buhl T et al (2021) Managing difficulties of microsatellite instability testing in endometrial cancer-limitations and advantages of four different PCR based approaches. Cancers 13(6):1268. https://doi.org/10.3390/cancers13061268

48.

Sohn BH et al (2017) Clinical significance of four molecular subtypes of gastric cancer identified by the cancer genome atlas project. Clin Cancer Res 23:4441–4449

49.

Soslow RA, Tornos C, Park KJ et al (2019) Endometrial carcinoma diagnosis: use of FIGO grading and genomic subcategories in clinical practice: recommendations of the international society of gynecological pathologists. Int J Gynecol Pathol 38(1):S64–S74

50.

Stelloo E, Jansen AML, Osse EM et al (2017) Practical guidance for mismatch repair-deficiency testing in endometrial cancer. Ann Oncol 28:96–102

51.

Talhouk A, McConechy MK, Leung S et al (2017) Confirmation of ProMisE: a simple, genomics-based clinical classifier for endometrial cancer. Cancer 123:802–813

52.

Xicola RM, Llor X, Pons E et al (2007) Performance of different microsatellite marker panels for detection of mismatch repair-deficient colorectal tumors. J Natl Cancer Inst 99:244–252

53.

Yang G, Zheng R‑Y, Jin Z‑S (2019) Correlations between microsatellite instability and the biological behaviour of tumors. J Cancer Res Clin Oncol 145:2891–2899
Ethics declarations
Conflict of interest
G. Baretton, H. Bläker, W. Dietmaier, M. Dietel, K. Jöhrens, T. Kirchner, S. Merkelbach-Bruse, P. Schirmacher, and K. Tiemann declare that they have no competing interests. Honoraria for lectures and advisory boards have been received by: MB from AstraZeneca, Roche, Novartis, GSK, MSD, Targos, Molecular Health, Merck. R. Büttner from AbbVie, AstraZeneca, Bayer, BMS, Boehringer-Ingelheim, Illumina, Lilly, MSD, Novartis, Qiagen, Pfizer, Roche. A. Hartmann from Abbvie, AstraZeneca, Biontech, BMS, Boehringer Ingelheim, Cepheid, Diaceutics, Illumina, Ipsen, Janssen, MSD, Nanostring, Novartis, Qiagen, QuIP GmbH, Roche, 3DHistotech. L.-C. Horn from Astra Zeneca, Roche, Dako, Novartis, Exact Sciences, GSK. D. Mayr from AstraZeneca, MSD, Roche, Novartis, BMS. R. Knüchel from MSD. J. Rüschoff from MSD/Merck, GSK, BMS, AstraZeneca, Roche, Exact Sciences, QuIP GmbH. H.-U. Schildhaus from MSD, BMS, Pfizer, Novartis Oncology, Roche Pharma, Molecular Health. M. Tiemann from BMS, MSD. W. Weichert from Roche, MSD, BMS, AstraZeneca, Pfizer, Merck, Lilly, Boehringer, Novartis, Takeda, Bayer, Amgen, Astellas, Illumina, Siemens, Agilent, GSK, ADC, Molecular Health. R. Büttner is co-founder and scientific advisor, J. Rüschoff co-founder and CMO, H.-U. Schildhaus: employee of Targos Mol. Path. Gmbh.
For this article no studies with human participants or animals were performed by any of the authors. All studies performed were in accordance with the ethical standards indicated in each case.
The supplement containing this article is not sponsored by industry.
Additional information
Responsible editor
W. Roth, Mainz
About this article
Cite this article
Rüschoff, J., Baretton, G., Bläker, H. et al. MSI testing. Pathologe (2021). https://doi.org/10.1007/s00292-021-00948-3
Keywords
DNA mismatch repair

Endometrial carcinoma

Immune checkpoint inhibitors

Microsatellite instability

Prognosis
Schlüsselwörter
DNA-Mismatch-Reparatur

Endometriumkarzinome

Immuncheckpoint-Inhibitoren

Mikrosatelliteninstabilität

Prognose

Endometriumkarzinome