Zusammenfassung
Phosphatbinder wie Lanthancarbonat (LC) kommen bei dialysepflichtigen Patienten zur Regulierung des Phosphathaushalts häufig zum Einsatz. Erste histopathologische Berichte von LC-Ablagerungen im Gastrointestinaltrakt wurden 2015 publiziert.
Wir präsentieren den Fall eines multimorbiden 80-jährigen Patienten mit einer selten beschriebenen LC-Gastroenteropathie. Die Diagnosestellung kann rein histomorphologisch ohne klinischen Angaben nicht erfolgen, sodass wir die klinische Präsentation sowie einen Überblick über die histologischen Differenzialdiagnosen zusammenfassen.
Abstract
In order to regulate their phosphate uptake, patients with end-stage renal disease rely on phosphate binders such as lanthanum carbonate (LC). The earliest histopathological reports of this rare entity in the gastrointestinal mucosa were described and published in 2015.
We present a case of an 80-year-old patient with LC gastro-enteropathy. Histopathologically it can mimic other drug-induced depositions and even infectious or neoplastic entities. Evaluation of the patient's medical and especially drug history is essential to obtain the appropriate diagnosis. We present an overview of the clinical presentation and histological differential diagnosis of LC.
This is a preview of subscription content, log in to check access.
Access options
Buy single article
Instant access to the full article PDF.
US$ 39.95
Tax calculation will be finalised during checkout.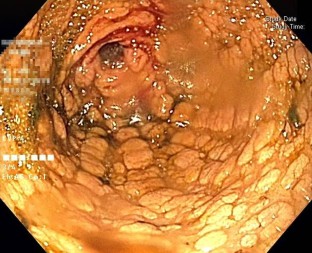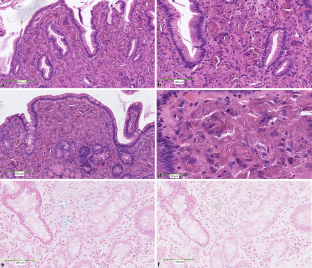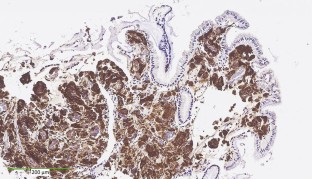 Literatur
1.

Davis RL, Abraham JL (2009) Lanthanum deposition in a dialysis patient. Nephrol Dial Transplant 24:3247–3250

2.

Goto K, Ogawa K (2016) Lanthanum deposition is frequently observed in the gastric mucosa of dialysis patients with lanthanum carbonate therapy: a clinicopathologic study of 13 cases, including 1 case of lanthanum granuloma in the colon and 2 nongranulomatous gastric cases. Int J Surg Pathol 24:89–92

3.

Haratake J, Yasunaga C, Ootani A et al (2015) Peculiar histiocytic lesions with massive lanthanum deposition in dialysis patients treated with lanthanum carbonate. Am J Surg Pathol 39:767–771

4.

Hattori K, Maeda T, Nishida S et al (2017) Correlation of lanthanum dosage with lanthanum deposition in the gastroduodenal mucosa of dialysis patients. Pathol Int 67:447–452

5.

Hoda RS, Sanyal S, Abraham JL et al (2017) Lanthanum deposition from oral lanthanum carbonate in the upper gastrointestinal tract. Histopathology 70:1072–1078

6.

Iwamuro M, Urata H, Tanaka T et al (2019) Frequent involvement of the duodenum with lanthanum deposition: a retrospective observational study. Intern Med 58(16):2283–2289

7.

Lacour B, Lucas A, Auchere D et al (2005) Chronic renal failure is associated with increased tissue deposition of lanthanum after 28-day oral administration. Kidney Int 67:1062–1069

8.

Makino M, Kawaguchi K, Shimojo H et al (2015) Extensive lanthanum deposition in the gastric mucosa: the first histopathological report. Pathol Int 65:33–37

9.

Matsukuma K, Gui D, Olson KA et al (2016) Osmoprep-associated gastritis: a histopathologic mimic of iron pill gastritis and mucosal calcinosis. Am J Surg Pathol 40:1550–1556

10.

Montgomery EA, Oshima K, Voltaggio L (2017) Survival guide to gastrointestinal mucosal biopsies

11.

Shitomi Y, Nishida H, Kusaba T et al (2017) Gastric lanthanosis (lanthanum deposition) in dialysis patients treated with lanthanum carbonate. Pathol Int 67:389–397

12.

Spasovski GB, Sikole A, Gelev S et al (2006) Evolution of bone and plasma concentration of lanthanum in dialysis patients before, during 1 year of treatment with lanthanum carbonate and after 2 years of follow-up. Nephrol Dial Transplant 21:2217–2224

13.

Valika AK, Jain D, Jaffe PE et al (2016) A nodular foreign body reaction in a dialysis patient receiving long-term treatment with lanthanum carbonate. Am J Kidney Dis 67:128–132

14.

Vieth M, Montgomery E (2017) Medication-associated gastrointestinal tract injury. Virchows Arch 470:245–266
Ethics declarations
Interessenkonflikt
C. Wagener, S. Schindera, T. Kuntzen und R. Grobholz geben an, dass kein Interessenkonflikt besteht.
Für diesen Beitrag wurden von den Autoren keine Studien an Menschen oder Tieren durchgeführt. Für die aufgeführten Studien gelten die jeweils dort angegebenen ethischen Richtlinien. Für Bildmaterial oder anderweitige Angaben innerhalb des Manuskripts, über die Patienten zu identifizieren sind, liegt von ihnen und/oder ihren gesetzlichen Vertretern eine schriftliche Einwilligung vor.
About this article
Cite this article
Wagener, C., Schindera, S., Kuntzen, T. et al. Unerwartete Ablagerungen im oberen Gastrointestinaltrakt. Pathologe (2020). https://doi.org/10.1007/s00292-020-00866-w
Schlüsselwörter
Lanthancarbonat

Schleimhautablagerung

Chronische Niereninsuffizienz

Gastrointestinale Aufnahme

Dialyse
Keywords
Lanthanum carbonate

Mucosal deposition

Chronic kidney disease

Gastrointestinal absorption

Dialysis