Zusammenfassung
Hintergrund und klinische Darstellung
Der Mangel an lysosomaler saurer Lipase (LAL-D) ist eine autosomal rezessiv vererbte Speichererkrankung, die durch eine Mutation im LIPA-Gen verursacht wird. Durch Kumulation von Cholesterinestern und Triglyceriden, unter anderem in den Hepatozyten, kommt es zu einer fortschreitenden Hepatomegalie mit Entwicklung einer Leberfibrose.
Serologisch zeigt sich typischerweise eine Erhöhung von Cholesterin, LDL ("low-density lipoprotein") und Triglyceriden bei verminderten HDL("high-density lipoprotein")-Werten. Histologisch dominiert das Bild einer mikrovesikulären Steatose der Leber mit schaumzelligen Kupffer-Zellen. Auch wenn das histologische Bild typisch ist, ist es, wie auch die laborchemischen Parameter und die Bildgebung, nicht spezifisch, sodass eine relevante Dunkelziffer an Erkrankten vermutet wird, bei denen eine uncharakteristische Fettlebererkrankung (NASH, NAFLD, kryptogene Leberzirrhose) diagnostiziert wurde.
Therapie
In der Vergangenheit konnten trotz verschiedener Therapieansätze keine entscheidenden Erfolge hinsichtlich der Vermeidung einer Leberzirrhose erzielt werden. Insbesondere Patienten mit Wolman-Erkrankung zeigen einen raschen Progress der Erkrankung und versterben innerhalb des ersten Lebensjahres. Erstmalig konnte nun durch Entwicklung einer Enzymersatztherapie mit Sebelipase Alfa (Kanuma®) eine signifikante Verbesserung der Dyslipoproteinämie und eine Senkung der Transaminasen erreicht werden. Die vielversprechenden Ergebnisse lassen auf eine erfolgreiche Langzeittherapie mit Steigerung der Lebenserwartung hoffen.
Fazit
Insbesondere im Hinblick auf die neuen medikamentösen Möglichkeiten sollte das Bewusstsein für die Existenz von LAL-D bei Klinikern und Pathologen gesteigert werden, um durch eine korrekte Diagnose der bislang unterdiagnostizierten Erkrankung eine erfolgreiche Therapie der Patienten zu ermöglichen.
Abstract
Background and clinical setting
Lysosomal acid lipase deficiency is an autosomal recessive storage disease caused by mutations in the LIPA gene. The accumulation of cholesteryl esters and triglycerides in hepatocytes lead to hepatomegaly with progressive fibrosis and liver cirrhosis.
Characteristically, patients have a hepatomegaly combined with high serum levels of cholesterol, LDL-cholesterol and in some cases triglyceride, whereas HDL-cholesterol is decreased. Histologically, hepatocytes show a microvesicular steatosis with typically ballooned Kupffer cells. Even though histological morphology is typical, it is not characteristic. Therefore LAL-D is supposed to be an underdiagnosed disease with a high number of unreported cases misdiagnosed as uncharacteristic fatty liver disease (NASH, NAFLD, cryptogenic liver cirrhosis). Further, there is overlap with other storage diseases, complicating a correct diagnosis.
Therapy
Until recently, different therapeutic options could not prevent development of liver cirrhosis. Patients with Wolman's disease have an especially rapid progression and die within the first six months of life. With the recent development of a new enzyme replacement therapy with sebelipase alfa (Kanuma ®), new therapeutic options with significant improvement of dyslipidemia and reduction of transaminases have become reality. Positive clinical results seem to have the potential to significantly raise life expectancy.
Conclusion
These new therapeutic options warrant an increase in awareness of LAL-D by clinicians and pathologists. Correct diagnosis of LAL-D is important for effective therapy and long-term survival.
Access options
Buy single article
Instant access to the full article PDF.
US$ 39.95
Tax calculation will be finalised during checkout.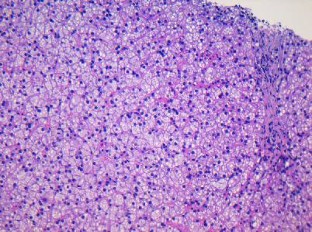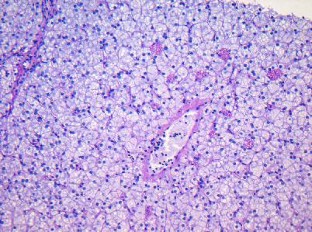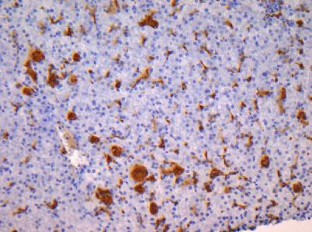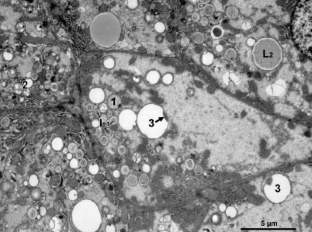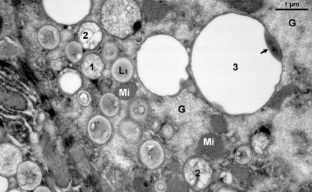 Literatur
1.

Bernstein DL et al (2013) Cholesteryl ester storage disease: review of the findings in 135 reported patients with an underdiagnosed disease. J Hepatol 58(6):1230–1243

2.

Weiskirchen R (2017) Fast progression of liver damage in lysosomal acid lipase deficiency. Curr Med Res Opin p:1–3

3.

Chora JR et al (2017) Lysosomal acid lipase deficiency: a hidden disease among cohorts of familial hypercholesterolemia? J Clin Lipidol 11(2):477–484.e2

4.

Reiner Z et al (2014) Lysosomal acid lipase deficiency—an under-recognized cause of dyslipidaemia and liver dysfunction. Atherosclerosis 235(1):21–30

5.

Hoffman EP et al (1993) Lysosomal Acid Lipase Deficiency. In: Pagon RA et al (Hrsg) GeneReviews(R). University of Washington, Seattle

6.

Su K, Donaldson E, Sharma R (2016) Novel treatment options for lysosomal acid lipase deficiency: critical appraisal of sebelipase alfa. Appl Clin Genet 9:157–167

7.

Himes RW et al (2016) Lysosomal acid lipase deficiency unmasked in two children with nonalcoholic fatty liver disease. Pediatrics 138(4):2364–2366. Pubmed: 15818756

8.

Drebber U et al (2005) Severe chronic diarrhea and weight loss in cholesteryl ester storage disease: a case report. World J Gastroenterol 11(15):2364–2366

9.

Boldrini R et al (2004) Wolman disease and cholesteryl ester storage disease diagnosed by histological and ultrastructural examination of intestinal and liver biopsy. Pathol Res Pract 200(3):231–240

10.

Hamilton J et al (2012) A new method for the measurement of lysosomal acid lipase in dried blood spots using the inhibitor lalistat 2. Clin Chim Acta 413(15–16):1207–1210

11.

Valayannopoulos V et al (2017) Lysosomal acid lipase deficiency: expanding differential diagnosis. Mol Genet Metab 120(1):62–66

12.

Pronicki M (2017) Wilson disease—liver pathology. Handb Clin Neurol 142:71–75

13.

Nagral A (2014) Gaucher disease. J Clin Exp Hepatol 4(1):37–50

14.

McGovern MM et al (2017) Disease manifestations and burden of illness in patients with acid sphingomyelinase deficiency (ASMD). Orphanet J Rare Dis 12(1):41

15.

Zhou H, Fischer HP (2008) Hereditary hemochromatosis, alpha-1-antitrypsin deficiency and Wilson's disease. Pathogenesis, clinical findings and pathways to diagnosis. Pathologe 29(1):73–83

16.

Burton BK et al (2015) A phase 3 trial of sebelipase alfa in lysosomal acid lipase deficiency. N Engl J Med 373(11):1010–1020

17.

Erwin AL (2017) The role of sebelipase alfa in the treatment of lysosomal acid lipase deficiency. Therap Adv Gastroenterol 10(7):553–562

18.

Frampton JE (2016) Sebelipase alfa: a review in lysosomal acid lipase deficiency. Am J Cardiovasc Drugs 16(6):461–468
Ethics declarations
Interessenkonflikt
S. Synoracki, S. Kathemann, K.W. Schmid, H. Jastrow und H. A. Baba geben an, dass kein Interessenkonflikt besteht.
Dieser Beitrag beinhaltet keine von den Autoren durchgeführten Studien an Menschen oder Tieren.
Additional information
Redaktion
H. H. Kreipe, Hannover
About this article
Cite this article
Synoracki, S., Kathemann, S., Schmid, K.W. et al. Mangel an lysosomaler saurer Lipase (LAL-D). Pathologe 39, 249–254 (2018). https://doi.org/10.1007/s00292-017-0400-z
Schlüsselwörter
Leberzirrhose

Mangel an lysosomaler saurer Lipase

Nichtalkoholische Fettlebererkrankung

Sebelipase alfa

Wolman-Erkrankung
Keywords
Liver cirrhosis

Lysosomal acid lipase deficiency

Non-alcoholic fatty liver disease

Sebelipase alfa

Wolman disease