Zusammenfassung
Der vorliegende Übersichtsartikel beschäftigt sich mit der Einteilung, Klinik und Morphologie der Schilddrüsenentzündungen. Diese machen ca. 20 % aller Schilddrüsenerkrankungen aus. Der überwiegende Teil dieser Fälle ist immunogenen Ursprungs, während nichtimmunogene Entzündungen (erregerbedingt, iatrogen) Seltenheiten darstellen.
Abstract
This review article deals with the classification, clinical features and morphology of thyroiditis. These inflammatory diseases account for approximately 20 % of all thyroid diseases. The vast majority of cases of thyroiditis are of immunogenic origin while non-immunogenic thyroiditis (caused by pathogens or iatrogenic) is a rarity.
Access options
Buy single article
Instant access to the full article PDF.
US$ 39.95
Tax calculation will be finalised during checkout.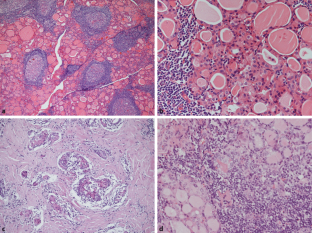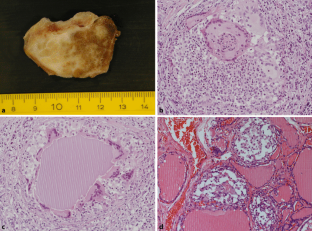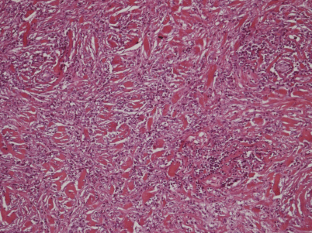 Literatur
1.

Ahmed R, Al-Shaikh S, Akhtar M (2012) Hashimoto thyroiditis: a century later. Adv Anat Pathol 19:181–186

2.

Alvarez-Marfany M, Roman SH, Drexler AJ, Robertson C, Stagnaro-Green A (1994) Long-term prospective study of postpartum thyroid dysfunction in women with insulin dependent diabetes mellitus. J Clin Endocrinol Metab 79:10–16

3.

Alzouebi M, Goepel JR, Horsman JM, Hancock BW (2012) Primary thyroid lymphoma: the 40 year experience of a UK lymphoma treatment centre. Int J Oncol 40:2075–2080

4.

Anand A, Singh KR, Kushwaha JK, Hussain N, Sonkar AA (2014) Papillary thyroid cancer and Hashimoto's Thyroiditis: an association less understood. Indian J Surg Oncol 5:199–204

5.

Asioli S, Erickson LA, Lloyd RV (2009) Solid cell nests in Hashimoto's thyroiditis sharing features with papillary thyroid microcarcinoma. Endocr Pathol 20:197–203

6.

Barbesino G, Chiovato L (2000) The genetics of Hashimoto's disease. Endocrinol Metab Clin North Am 29:357–374

7.

Berger SA, Zonszein J, Villamena P, Mittman N (1983) Infectious diseases of the thyroid gland. Rev Infect Dis 5:108–122

8.

Caturegli P, De Remigis A, Rose NR (2014) Hashimoto thyroiditis: clinical and diagnostic criteria. Autoimmun Rev 13:391–397

9.

Chan JK, Albores-Saavedra J, Battifora H, Carcangiu ML, Rosai J (1991) Sclerosing mucoepidermoid thyroid carcinoma with eosinophilia. A distinctive low-grade malignancy arising from the metaplastic follicles of Hashimoto's thyroiditis. Am J Surg Pathol 15:438–448

10.

Dahlgren M, Khosroshahi A, Nielson GP, Deshpande V, Stone JH (2010) Riedel's Thyroiditis and multifocal fibrosclerosis are part of the IgG4-related systemic disease spectrum. Arthritis Care Res 62:1312–1318

11.

Dayan CM, Daniels GH (1996) Chronic autoimmune thyroiditis. N Engl J Med 335:99–107

12.

de Groot L, Abalovich M, Alexander EK et al (2012) Management of thyroid dysfunction during pregnancy and postpartum: an Endocrine Society clinical practice guideline. J Clin Endocrinol Metab 97:2543–2565

13.

de Quervain F (1904) Die akute, nicht eitrige Thyreoiditis und die Beteiligung der Schilddrüse an akuten Intoxikationen und Infektionen überhaupt. Mitt Grenzgeb Med Chir Suppl 2:1–165

14.

Derringer GA, Thompson LD, Frommelt RA, Bijwaard KE, Heffess CS, Abbondanzo SL (2000) Malignant lymphoma of the thyroid gland: a clinicopathologic study of 108 cases. Am J Surg Pathol 24:623–639

15.

Desailloud R, Hober D (2009) Viruses and thyroiditis: an update. Virol J 6:5

16.

Dong YH, Fu DG (2014) Autoimmune thyroid disease: mechanism, genetics and current knowledge. Eur Rev Med Pharmacol Sci 18:3611–3618

17.

Erdem N, Erdogan M, Ozbek M et al (2007) Demographic and clinical features of patients with subacute thyroiditis: results of 169 patients from a single university center in Turkey. J Endocrinol Investig 30:546–550

18.

Frank TS, LiVolsi VA, Connor AM (1987) Cytomegalovirus infection of the thyroid in immunocompromised adults. Yale J Biol Med 60:1–8

19.

Golshan MM, McHenry CR, de Vente J, Kalajyian RC, Hsu RM, Tomashefski JF (1997) Acute suppurative thyroiditis and necrosis of the thyroid gland: a rare endocrine manifestation of acquired immunodeficiency syndrome. Surgery 121:593–596

20.

González-González A, Mate LA, Cabra JE (2008) Parasitic thyroid nodule in Hashimoto's thyroiditis. Endocrinol Nutr 55:301–303

21.

Harach HR, Williams ED (1990) The pathology of granulomatous diseases of the thyroid gland. Sarcoidosis 7:19–27

22.

Hashimoto H (1912) Zur Kenntnis der lymphomatösen Veränderung der Schilddrüse (Struma lymphomatosa). Arch Klin Chir 97:219–248

23.

Hunt JL, Baloch ZW, Barnes L et al (2002) Loss of heterozygosity mutations of tumor suppressor genes in cytologically atypical areas in chronic lymphocytic thyroiditis. Endocr Pathol 13:321–330

24.

Katoh R, Ishizaki T, Tomichi N, Yagawa K, Kurihara H (1989) Malacoplakia of the thyroid gland. Am J Clin Pathol 92:813–820

25.

Larsimont D, Hamels J, Fortunati D (1993) Thyroid-gland malakoplakia with autoimmune thyroiditis. Histopathology 23:491–494

26.

Lazarus JH, Ammari F, Oretti R, Parkes AB, Richards CJ, Harris B (1997) Clinical aspects of recurrent postpartum thyroiditis. Br J Gen Pract 47:305–308

27.

Lecuit M, Caumes E, Bricaire F, Gatineau M, Ménégaux F, Gentilini M (1995) Acute suppurative Salmonella enteritidis thyroiditis associated with thyrotoxicosis in a patient infected with the human immunodeficiency virus. Clin Infect Dis 20:196

28.

Lorenz K, Gimm O, Holzhausen HJ et al (2007) Riedel's thyroiditis: impact and strategy of a challenging surgery. Langenbecks Arch Surg 392:405–412

29.

Musholt TJ, Clerici T, Dralle H et al (2011) German Association of Endocrine Surgeons practice guidelines for the surgical treatment of benign thyroid disease. Langenbecks Arch Surg 396:639–649

30.

Nyulassy S, Hnilica P, Buc M et al (1977) Subacute (deQuervain's) thyroiditis: association with HLA-Bw35 antigen and abnormalities of the complement system, immunoglobulins and other serum proteins. J Clin Endocrinol Metab 45:270–274

31.

Ogawa E, Katsushima Y, Fujiwara I, Iinuma K (2003) Subacute thyroiditis in children: patient report and review of the literature. J Pediatr Endocrinol Metab 16:897–900

32.

Ord WM (1878) On myxoedema, a term proposed to be applied to an essential condition in the cretinoid infection observed in middle aged women. Med Chir Trans 61:57–78

33.

Papi G, Corrado S, Cesinaro AM, Novelli L, Smerieri A, Carapezzi C (2002) Riedel's thyroiditis: clinical, pathological and imaging features. Int J Clin Pract 56:65–67

34.

Papi G, LiVolsi V (2004) Current concepts on Riedel Thyreoiditis. Am J Clin Pathol 121:50–63

35.

Pearce EN, Farwell AP, Braverman LE (2003) Thyroiditis. N Engl J Med 348:2646–2655

36.

Pritchyk K, Newkirk K, Garlich P, Deeb Z (2004) Tamoxifen therapy for Riedel's thyroiditis. Laryngoscope 114:1758–1760

37.

Pyzik A, Grywalska E, Matyjaszek-Matuszek B, Roliński J (2015) Immune disorders in Hashimoto's thyroiditis: what do we know so far? J Immunol Res 2015:979167

38.

Riedel BM (1896) Die chronische, zur Bildung eisenharter Tumoren führende Entzündung der Schilddrüse. Verh Dtsch Ges Chir 25:101–105

39.

Rhoden KJ, Unger K, Salvatore G et al (2006) RET/papillary thyroid cancer rearrangement in nonneoplastic thyrocytes: follicular cells of Hashimoto's thyroiditis share low-level recombination events with a subset of papillary carcinoma. J Clin Endocrinol Metab 91:2414–2423

40.

Sakaihara M, Yamada H, Kato EH et al (2000) Postpartum thyroid dysfunction in women with normal thyroid function during pregnancy. Clin Endocrinol (Oxf) 53:487–492

41.

Schmid KW (1993) Subacute granulomatous (deQuervain's) thyroiditis. Am Soc Clin Pathol 93-7:1–4 (Check Sample Continuing Education Program AP)

42.

Schmitz KJ, Baumgaertel MW, Schmidt C, Sheu SY, Betzler M, Schmid KW (2008) Wegener's granulomatosis in the thyroid mimicking a tumour. Virchows Arch 452:571–574

43.

Shahi N, Abdelhamid MF, Jindall M, Awad RW (2010) Riedel's thyroiditis masquerading as anaplastic thyroid carcinoma: a case report. J Med Case Rep 4:15

44.

Sheu SY, Schmid KW (2003) Entzündliche Schilddrüsenerkrankungen. Epidemiologie, Klinik und Morphologie. Pathologe 24:339–347

45.

Shimizu M, Hirokawa M, Manabe T (1999) Parasitic nodule of the thyroid in a patient with Graves' disease. Virchows Arch 434:241–244

46.

Stein SA, Wartofsky L (2013) Primary thyroid lymphoma: a clinical review. J Clin Endocrinol Metab 98:3131–3138

47.

Synoracki S, Ting S, Siebolts U, Dralle H, Koperek O, Schmid KW (2015) Intraoperativer Gefrierschnitt der Schilddrüse. Pathologe 36:362–371

48.

Torres-Montaner A, Beltrán M, de la Romero OA, Oliva H (2001) Sarcoma of the thyroid region mimicking Riedel's thyroiditis. J Clin Pathol 54:570–572

49.

Tunbridge WM, Evered DC, Hall R et al (1977) The spectrum of thyroid disease in a community: the Whickham survey. Clin Endocrinol (Oxf) 7:481–493

50.

Vailati A, Marena C, Aristia L et al (1993) Sarcoidosis of the thyroid: report of a case and a review of the literature. Sarcoidosis 10:66–68

51.

Vanni R, Marras-Virdis S, Gerosa C, Lai ML, Tallini G (2000) Cytogenetics of thyroid nodules in Hashimoto thyroiditis. Cancer Genet Cytogenet 120:87–88

52.

Vaidya B, Harris PE, Barrett P, Kendall-Taylor P (1997) Corticosteroid therapy in Riedel's thyroiditis. Postgrad Med J 73:817–819

53.

Vargas PA, Bernardi FD, Alves VA et al (2000) Uncommon histopathological findings in fatal measles infection: pancreatitis, sialoadenitis and thyroiditis. Histopathology 37:141–146

54.

Vollenweider I, Hedinger C (1988) Solid cell nests (SCN) in Hashimoto's thyroiditis. Virchows Arch A Pathol Anat Histopathol 412:357–363

55.

Wan SK, Chan JK, Tang SK (1996) Paucicellular variant of anaplastic thyroid carcinoma. A mimic of Reidel's thyroiditis. Am J Clin Pathol 105:388–393

56.

Weetman AP (2012) The immunopathogenesis of chronic autoimmune thyroiditis one century after Hashimoto. Eur Thyroid J 1:243–250
Danksagung
Die Abb. 2a wurde freundlicherweise von Frau Dr. Eva Dankoweit-Timpe zur Verfügung gestellt.
Ethics declarations
Interessenkonflikt
S. Synoracki, S. Ting und K. W. Schmid geben an, dass kein Interessenkonflikt besteht.
Dieser Beitrag beinhaltet keine von den Autoren durchgeführten Studien an Menschen oder Tieren.
Additional information
Schwerpunktherausgeber
W. Saeger, Hamburg
About this article
Cite this article
Synoracki, S., Ting, S. & Schmid, K.W. Entzündungen der Schilddrüse. Pathologe 37, 215–223 (2016). https://doi.org/10.1007/s00292-016-0157-9
Schlüsselwörter
Thyreoiditis

Autoimmunthyreoiditis

Subakute granulomatöse Thyreoiditis

Riedel-Thyreoiditis

Immunogen
Keywords
Thyroiditis

Autoimmune thyroiditis

Subacute granulomatous thyroiditis

Riedel's thyroiditis

Immunogen