Zusammenfassung
Tumoren der Papilla Vateri sind insgesamt selten. Am häufigsten sind in dieser Lokalisation Adenome mit intestinaler Differenzierung, gefolgt von nichtinvasiven papillären Neoplasien vom pankreatikobiliären Typ und den neuroendokrinen Tumoren (Karzinoiden). Die Häufigkeit von Papillenkarzinomen ist mit etwa 0,5% aller gastrointestinalen malignen Tumoren sehr gering. Hier überwiegen Adenokarzinome vom intestinalen Typ, gefolgt vom pankreatikobiliären Typ. Die hoch malignen neuroendokrinen Karzinome der Papille sind sehr selten. Ampullenkarzinome können sporadisch auftreten oder auch Bestandteil verschiedener syndromaler Erkrankungen sein. Die TNM-relevante Abgrenzung echter Ampullenkarzinome von fortgeschrittenen Karzinomen der Duodenalschleimhaut, des distalen Gallen- bzw. Pankreasgangs oder des Pankreaskopfs kann problematisch sein. Neben histologischen und immunphänotypischen Kriterien sind für die korrekte Klassifikation der topographische Bezug des Tumorzentrums zur Papilla Vateri und der Nachweis präkanzeröser Läsionen im Papillenepithel wegweisend.
Abstract
Tumors of Vater's ampulla are generally uncommon. In this location intestinal type adenomas are frequently found, followed by noninvasive papillary neoplasms of the pancreaticobiliary type and neuroendocrine tumors (carcinoids). Carcinomas of Vater's ampulla represent about 0.5% of all gastrointestinal malignancies. Intestinal type adenocarcinoma is the most common malignant epithelial tumor followed by the pancreaticobiliary type adenocarcinoma. Highly malignant neuroendocrine carcinomas of Vater's ampulla are very uncommon. Carcinomas of the ampullary region can be sporadic or a component of several disease syndromes. Designation of large carcinomas as tumors with an ampullary or extra-ampullary origin can be difficult but is of relevance for a TNM conform classification. Helpful in the decision are the relationship between the tumor centre and Vater's ampulla, the existence of premalignant lesions in the ampullary epithelium as well as histology and immunostaining of the tumor.
Access options
Buy single article
Instant access to the full article PDF.
USD 39.95
Price excludes VAT (USA)
Tax calculation will be finalised during checkout.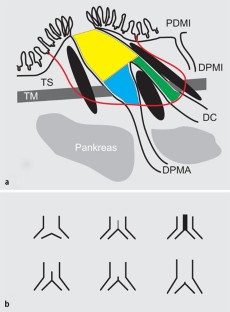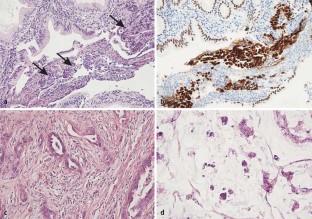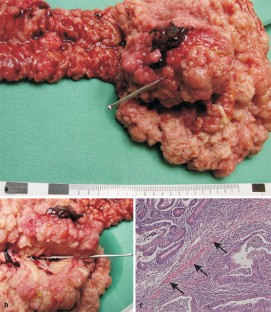 Literatur
Albores-Saavedra J, Hart A, Chablé-Montero F et al (2010) Carcinoids and high-grade neuroendocrine carcinomas of the ampulla of Vater: a comparative analysis of 139 cases from the surveillance, epidemiology, and end results program – a population based study. Arch Pathol Lab Med 134:1692–1696

Albores-Saavedra J, Schwartz AM, Batich K et al (2009) Cancers of the ampulla of vater: demographics, morphology, and survival based on 5,625 cases from the SEER program. J Surg Oncol 100:598–605

Bertoni G, Sassatelli R, Nigrisoli E et al (1996) High prevalence of adenomas and microadenomas of the duodenal papilla and periampullary region in patients with familial adenomatous polyposis. Eur J Gastroenterol Hepatol 8:1201–1206

Bohnacker S, Soehendra N, Maguchi H et al (2006) Endoscopic resection of benign tumors of the papilla of vater. Endoscopy 38:521–525

Das A, Neugut AI, Cooper GS et al (2004) Association of ampullary and colorectal malignancies. Cancer 100:524–530

Dziwisch L, Lierse W (1989) Three-dimensional arrangement of dense connective tissue around the human major duodenal papilla. Including the ampullary region and the distal choledochal duct. Acta Anat (Basel) 135:231–235

Fischer HP, Zhou H (2003) Pathogenese und Histopathologie von Adenomen und Karzinomen der Papilla Vateri. Pathologe 24:196–203

Fischer HP, Zhou H (2004) Pathogenesis of carcinoma of the papilla of Vater. J Hepatobiliary Pancreat Surg 11:301–309

Furukawa T, Klöppel G, Volkan Adsay N et al (2005) Classification of types of intraductal papillary-mucinous neoplasm of the pancreas: a consensus study. Virchows Arch 447:794–799

Garbrecht N, Anlauf M, Schmitt A et al (2008) Somatostatin-producing neuroendocrine tumors of the duodenum and pancreas: incidence, types, biological behavior, association with inherited syndromes, and functional activity. Endocr Relat Cancer 15:229–241

Henson DE, Schwartz AM, Nsouli H et al (2009) Carcinomas of the pancreas, gallbladder, extrahepatic bile ducts, and ampulla of vater share a field for carcinogenesis: a population-based study. Arch Pathol Lab Med 133:67–71

Kimura W, Futakawa N, Zhao B (2004) Neoplastic diseases of the papilla of Vater. J Hepatobiliary Pancreat Surg 11:223–231

Kimura W, Ohtsubo K (1988) Incidence, sites of origin, and immunohistochemical and histochemical characteristics of atypical epithelium and minute carcinoma of the papilla of Vater. Cancer 61:1394–1402

Kohler I, Jacob D, Budzies J et al (2011) Phenotypic and genotypic characterization of carcinomas of the papilla of Vater has prognostic and putative therapeutic implications. Am J Clin Pathol 135:202–211

McCarthy DM, Hruban RH, Argani P et al (2003) Role of the DPC4 tumor suppressor gene in adenocarcinoma of the ampulla of Vater: analysis of 140 cases. Mod Pathol 16:272–278

Noda Y, Watanabe H, Iwafuchi M et al (1992) Carcinoids and endocrine cell micronests of the minor and major duodenal papillae. Their incidence and characteristics. Cancer 70:1825–1833

Ruemmele P, Dietmaier W, Terracciano L et al (2009) Histopathologic features and microsatellite instability of cancers of the papilla of vater and their precursor lesions. Am J Surg Pathol 33:691–704

Sakorafas GH, Giannopoulos GA, Parasi A et al (2008) Large somatostatin-producing endocrine carcinoma of the ampulla of vater in association with GIST in a patient with von Recklinghausen's disease. Case report and review of the literature. JOP 9:633–639

Sessa F, Furlan D, Zampatti C et al (2007) Prognostic factors for ampullary adenocarcinomas: tumor stage, tumor histology, tumor location, immunohistochemistry and microsatellite instability. Virchows Arch 451:649–657

Sobol S, Cooperman AM (1978) Villous adenoma of the ampulla of Vater. An unusual cause of biliary colic and obstructive jaundice. Gastroenterology 75:107–109

Stolte M, Pscherer C (1996) Adenoma-carcinoma sequence in the papilla of Vater. Scand J Gastroenterol 31:376–382

Sunose Y, Ogawa T, Itoh H et al (2011) Large cell neuroendocrine carcinoma of the ampulla of vater with adenocarcinoma and squamous cell carcinoma components. Jpn J Clin Oncol 41:434–439

Westgaard A, Tafjord S, Farstad IN et al (2008) Pancreaticobiliary versus intestinal histologic type of differentiation is an independent prognostic factor in resected periampullary adenocarcinoma. BMC Cancer 8:170

Wittekind C, Tannapfel A (2001) Adenoma of the papilla and ampulla – premalignant lesions? Langenbecks Arch Surg 386:172–175

Yamaguchi K, Enjoji M (1991) Adenoma of the ampulla of Vater: putative precancerous lesion. Gut 32:1558–1561
Interessenkonflikt
Der korrespondierende Autor gibt an, dass kein Interessenkonflikt besteht.
About this article
Cite this article
Gaßler, N., Knüchel, R. Tumoren der Papilla Vateri. Pathologe 33, 17–23 (2012). https://doi.org/10.1007/s00292-011-1546-8
Published:

Issue Date:

DOI: https://doi.org/10.1007/s00292-011-1546-8
Schlüsselwörter
Keywords