Zusammenfassung
Die histopathologische Diagnostik der Leberbiopsie bildet einen wichtigen Grundstein der Diagnose und des Managements von Komplikationen im Verlauf der allogenen Lebertransplantation. In diesem Artikel werden histopathologische Schädigungsmuster unter Berücksichtigung neuer Aspekte aus der Literatur dargestellt. Innerhalb des Themengebiets der Transplantatabstoßung gilt der so genannten späten zellulären Abstoßung ein besonderes Interesse, wobei die histologischen Kriterien sich von der akuten zellulären Abstoßung unterscheiden und es eine Überlappung mit der De-novo-Autoimmunhepatitis und der idiopathischen Posttransplantationshepatitis zu geben scheint. Die zentrale Perivenulitis gilt als typisches Zeichen der späten zellulären Abstoßung und sollte differenzialdiagnostisch zu toxischen Zone-3-Nekrosen abgegrenzt werden. Neben der Abstoßungsproblematik ergeben sich vaskuläre und biliäre Veränderungen aus chirurgischen Komplikationen oder Folgen der immunsuppressiven Therapie. Des Weiteren spielt die Rekurrenz der zur Transplantation führenden Grunderkrankung eine wichtige Rolle. Insbesondere können auch kombinierte Schädigungsbilder vorkommen und stellen eine besondere Herausforderung an den Pathologen dar.
Abstract
Liver allograft pathology continues to play an important role in the diagnosis and management of complications in the course of liver transplantation. This article summarizes important patterns of liver damage and also considers new aspects of transplant pathology from the literature. In the context of transplant rejection, late cellular rejection has aroused new interest. Histopathological changes in late rejection differ from acute cellular rejection and there seem to be similarities to de novo autoimmune hepatitis and idiopathic post-transplant hepatitis. Central perivenulitis is a typical change in late cellular rejection and should be differentiated from central toxic necrosis. Other important areas of transplant pathology include vascular and biliary changes resulting from surgical complications or as sequelae of immunosuppressive therapy. Furthermore, disease recurrence plays an important role and combined patterns of disease poses a challenge for the pathologist.
This is a preview of subscription content,
to check access.
Access this article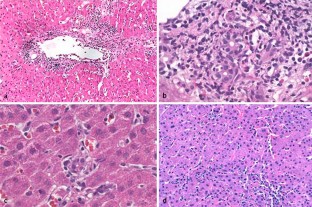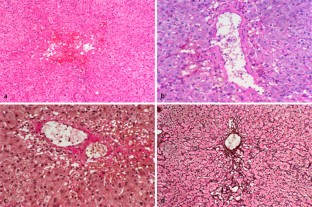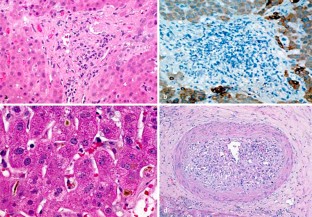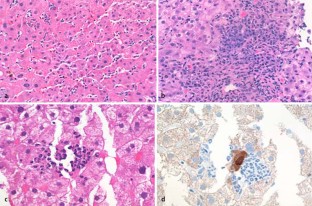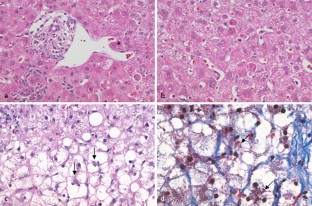 Literatur
Hubscher SG (2009) Transplantation pathology. Semin Liver Dis 29:74–90

Adeyi O, Fischer SE, Guindi M (2010) Liver allograft pathology: approach to interpretation of needle biopsies with clinicopathological correlation. J Clin Pathol 63:47–74

Hubscher SG, Portmann BC (2007) Transplantation pathology. In: Alastair D, Burt BCP, Linda DF (Hrsg) MacSween's pathology of the liver, 6. Aufl. Churchill Livingstone Elsevier, Philadelphia, S 815–879

Drebber U, Dienes HP (2008) Histopathology in liver transplantation. Pathologe 29:84–92

Nikeghbalian S, Nejatollahi SM, Salahi H et al (2007) Does donor's fatty liver change impact on early mortality and outcome of liver transplantation. Transplant Proc 39:1181–1183

Bessems M, Doorschodt BM, Kolkert JL et al (2007) Preservation of steatotic livers: a comparison between cold storage and machine perfusion preservation. Liver Transpl 13:497–504

Yamamoto K, Takada Y, Fujimoto Y et al (2007) Nonalcoholic steatohepatitis in donors for living donor liver transplantation. Transplantation 83:257–262

McCormack L, Petrowsky H, Jochum W et al (2007) Use of severely steatotic grafts in liver transplantation: a matched case-control study. Ann Surg 246:940–946; discussion 946–948

Angele MK, Rentsch M, Hartl WH et al (2008) Effect of graft steatosis on liver function and organ survival after liver transplantation. Am J Surg 195:214–220

Rey JW, Wirges U, Dienes HP, Fries JW (2009) Hepatic steatosis in organ donors: disparity between surgery and histology? Transplant Proc 41:2557–2560

Pungpapong S, Krishna M, Abraham SC et al (2006) Clinicopathologic findings and outcomes of liver transplantation using grafts from donors with unrecognized and unusual diseases. Liver Transpl 12:310–315

Burton JR Jr, Rosen HR (2006) Diagnosis and management of allograft failure. Clin Liver Dis 10:407–435

Duval M, Plin C, Elimadi A et al (2006) Implication of mitochondrial dysfunction and cell death in cold preservation – warm reperfusion-induced hepatocyte injury. Can J Physiol Pharmacol 84:547–554

Grezzana Filho Tde J, Corso CO, Zanotelli ML et al (2006) Liver glutathione depletion after preservation and reperfusion in human liver transplantation. Acta Cir Bras 21:223–229

Hubscher SG (1994) Pathology of liver allograft rejection. Transpl Immunol 2:118–123

Haga H, Egawa H, Fujimoto Y et al (2006) Acute humoral rejection and C4d immunostaining in ABO blood type-incompatible liver transplantation. Liver Transpl 12:457–464

Haga H, Egawa H, Shirase T et al (2004) Periportal edema and necrosis as diagnostic histological features of early humoral rejection in ABO-incompatible liver transplantation. Liver Transpl 10:16–27

Perrella O, Sbreglia C, Arenga G et al (2006) Acute rejection after liver transplantation: Is there a specific immunological pattern? Transplant Proc 38:3594–3596

Yilmaz F, Aydin U, Nart D et al (2006) The incidence and management of acute and chronic rejection after living donor liver transplantation. Transplant Proc 38:1435–1437

Sundaram SS, Melin-Aldana H, Neighbors K, Alonso EM (2006) Histologic characteristics of late cellular rejection, significance of centrilobular injury, and long-term outcome in pediatric liver transplant recipients. Liver Transpl 12:58–64

Kishi Y, Sugawara Y, Tamura S et al (2007) Histologic eosinophilia as an aid to diagnose acute cellular rejection after living donor liver transplantation. Clin Transplant 21:214–218

Lovell MO, Speeg KV, Halff GA et al (2004) Acute hepatic allograft rejection: a comparison of patients with and without centrilobular alterations during first rejection episode. Liver Transpl 10:369–373

Schmeding M, Dankof A, Krenn V et al (2006) C4d in acute rejection after liver transplantation – a valuable tool in differential diagnosis to hepatitis C recurrence. Am J Transplant 6:523–530

Neil DA, Hubscher SG (2010) Current views on rejection pathology in liver transplantation. Transpl Int 23:971–983

Abraham SC, Freese DK, Ishitani MB et al (2008) Significance of central perivenulitis in pediatric liver transplantation. Am J Surg Pathol 32:1479–1488

Krasinskas AM, Demetris AJ, Poterucha JJ, Abraham SC (2008) The prevalence and natural history of untreated isolated central perivenulitis in adult allograft livers. Liver Transpl 14:625–632

Hubscher SG, Buckels JA, Elias E et al (1991) Vanishing bile-duct syndrome following liver transplantation – is it reversible? Transplantation 51:1004–1010

Padbury RT, Gunson BK, Dousset B et al (1993) Steroid withdrawal from long-term immunosuppression in liver allograft recipients. Transplantation 55:789–794

Bellamy CO, Herriot MM, Harrison DJ, Bathgate AJ (2007) C4d immunopositivity is uncommon in ABO-compatible liver allografts, but correlates partially with lymphocytotoxic antibody status. Histopathology 50:739–749

Neil DA, Hubscher SG (2002) Histologic and biochemical changes during the evolution of chronic rejection of liver allografts. Hepatology 35:639–651

Hubscher SG (1987) Loss of bileducts after liver transplantation. Lancet 2:1149

Lowes JR, Hubscher SG, Neuberger JM (1993) Chronic rejection of the liver allograft. Gastroenterol Clin North Am 22:401–420

Matinlauri IH, Nurminen MM, Hockerstedt KA, Isoniemi HM (2006) Changes in liver graft rejections over time. Transplant Proc 38:2663–2666

(o A) (1997) Banff schema for grading liver allograft rejection: an international consensus document. Hepatology 25:658–663

Syn WK, Nightingale P, Gunson B et al (2007) Natural history of unexplained chronic hepatitis after liver transplantation. Liver Transpl 13:984–989

Demetris AJ, Adeyi O, Bellamy CO et al (2006) Liver biopsy interpretation for causes of late liver allograft dysfunction. Hepatology 44:489–501

Hubscher SG (2006) Transplantation pathology. Semin Diagn Pathol 23:170–181

Alvarez F, Berg PA, Bianchi FB et al (1999) International Autoimmune Hepatitis Group Report: review of criteria for diagnosis of autoimmune hepatitis. J Hepatol 31:929–938

Mieli-Vergani G, Vergani D (2004) De novo autoimmune hepatitis after liver transplantation. J Hepatol 40:3–7

Kerkar N, Hadzic N, Davies ET et al (1998) De-novo autoimmune hepatitis after liver transplantation. Lancet 351:409–413

Broniszczak D, Szymczak M, Kaminski A et al (2006) Vascular complications after pediatric liver transplantation from the living donors. Transplant Proc 38:1456–1458

Pacholczyk M, Lagiewska B, Gontarczyk GW et al (2006) Biliary complications following liver transplantation: single-center experience. Transplant Proc 38:247–249

Buis CI, Hoekstra H, Verdonk RC Porte RJ (2006) Causes and consequences of ischemic-type biliary lesions after liver transplantation. J Hepatobiliary Pancreat Surg 13:517–524

Sutcliffe R, Maguire D, Mroz A et al (2004) Bile duct strictures after adult liver transplantation: a role for biliary reconstructive surgery? Liver Transpl 10:928–934

Brandsaeter B, Schrumpf E, Clausen OP et al (2004) Recurrent sclerosing cholangitis or ischemic bile duct lesions – a diagnostic challenge? Liver Transpl 10:1073–1074

Hoppe L, Marroni CA, Bressane R et al (2006) Impact of cytomegalovirus infection on long-term survival after orthotopic liver transplantation. Transplant Proc 38:1924–1925

Basse G, Esposito L, Mengelle C et al (2006) Predictive factors for cytomegalovirus infection after orthotopic liver transplantation using an ultrasensitive polymerase chain reaction assay. Transplant Proc 38:2339–2341

Perkins JD (2007) Who is at risk for developing cytomegalovirus (CMV) infection following liver transplantation? Liver Transpl 13:1195–1198

Niedobitek G, Mutimer DJ, Williams A et al (1997) Epstein-Barr virus infection and malignant lymphomas in liver transplant recipients. Int J Cancer 73:514–520

Duclos-Vallee JC (2005) Recurrence of autoimmune hepatitis, primary biliary cirrhosis and primary sclerosing cholangitis after liver transplantation. Acta Gastroenterol Belg 68:331–336

Marinos G, Rossol S, Carucci P et al (2000) Immunopathogenesis of hepatitis B virus recurrence after liver transplantation. Transplantation 69:559–568

Thung SN (2006) Histologic findings in recurrent HBV. Liver Transpl 12:S50–S53

Charlton M (2007) Approach to recurrent hepatitis C following liver transplantation. Curr Gastroenterol Rep 9:23–30

Dixon LR, Crawford JM (2007) Early histologic changes in fibrosing cholestatic hepatitis C. Liver Transpl 13:219–226

Hubscher SG (2001) Recurrent autoimmune hepatitis after liver transplantation: diagnostic criteria, risk factors, and outcome. Liver Transpl 7:285–291

Gautam M, Cheruvattath R, Balan V (2006) Recurrence of autoimmune liver disease after liver transplantation: a systematic review. Liver Transpl 12:1813–1824

Wisell J, Boitnott J, Haas M et al (2006) Glycogen pseudoground glass change in hepatocytes. Am J Surg Pathol 30:1085–1090
Interessenkonflikt
Die korrespondierende Autorin gibt an, dass kein Interessenkonflikt besteht.
About this article
Cite this article
Drebber, U., Torbenson, M., Wedemeyer, I. et al. Aktuelle Aspekte zur Histopathologie im Rahmen der Lebertransplantation. Pathologe 32, 113–123 (2011). https://doi.org/10.1007/s00292-010-1405-z
Published:

Issue Date:

DOI: https://doi.org/10.1007/s00292-010-1405-z
Schlüsselwörter
Keywords