Zusammenfassung
Das autosomal-dominant vererbte Syndrom der multiplen endokrinen Neoplasien vom Typ 2 (MEN2) zeigt die Hauptkomponenten medulläres Schilddrüsenkarzinom, Phäochromozytom und Hyperparathyreoidismus. Klinisch werden aufgrund der beteiligten Tumoren und des biologischen Verlaufs drei distinkte Subtypen unterschieden (MEN2A, MEN2B, familiäres medulläres Schilddrüsenkarzinom). Die Erkrankung wird durch Keimbahnmutationen des RET-Protoonkogens ausgelöst, wobei die Lokalisation der jeweils vorliegenden Mutation am Gen mit dem zeitlichen Auftreten des den Krankheitsverlauf bestimmenden medullären Schilddrüsenkarzinoms korreliert und daher enormen Einfluss auf das Management der betroffenen Patienten und deren Angehörigen hat. Im vorliegenden Übersichtsartikel werden die Morphologie und Klinik der MEN2-assoziierten Tumoren und ihrer Vorläuferläsionen zusammengefasst.
Abstract
Multiple endocrine neoplasia type 2 (MEN 2) is an autosomal dominant inherited cancer syndrome with the major components medullary thyroid carcinoma, pheochromocytoma and hyperparathyroidism. Due to the clinical course three distinct subtypes are distinguished, MEN 2A, MEN 2B and familial medullary thyroid carcinoma. The disease is caused by germ-line mutations of the RET proto-oncogene and the localization of these mutations correlates with the onset of the development of medullary thyroid carcinoma, which is crucial for the clinical course and outcome of the disease. It therefore has a substantial influence on the clinical management of the affected patients and their relatives. This review summarizes the morphology and clinic of MEN 2-associated tumors and their respective precursor lesions.
Access options
Buy single article
Instant access to the full article PDF.
USD 39.95
Price excludes VAT (USA)
Tax calculation will be finalised during checkout.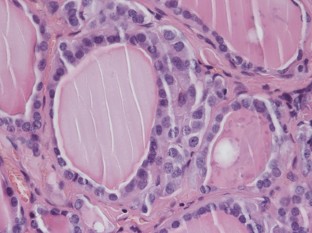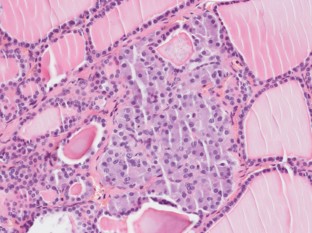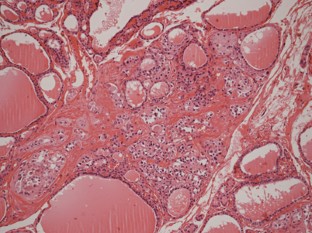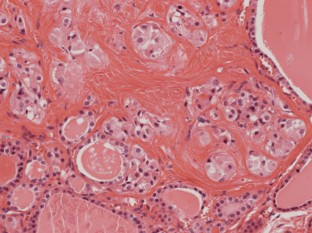 Literatur
American Thyroid Association (ATA) Guidelines Taskforce on Thyroid Nodules and Differentiated Thyroid Cancer, Cooper DS, Doherty GM, Haugen BR et al (2009) Revised American Thyroid Association management guidelines for patients with thyroid nodules and differentiated thyroid cancer. Thyroid 19:1167–1214

Brauckhoff M, Machens A, Hess S et al (2008) Premonitory symptoms preceding metastatic medullary thyroid cancer in MEN 2B: an exploratory analysis. Surgery 144:1044–1050

Dralle H, Machens A, Brauckhoff M et al (2005) Chirurgie der Schilddrüsenkarzinome. Onkologie 11:58–69

Elisei R, Cosci B, Romei C et al (2008) Prognostic significance of somatic RET oncogene mutations in sporadic medullary thyroid cancer: a 10-year follow-up study. J Clin Endocrinol Metab 93:682–687

Gimm O, Morrisson CD, Suster S et al (2004) Multiple endocrine neoplasia type 2. In: DeLellis RA, Lloyd RV, Heitz PU, Eng C (Hrsg) World Health Organization classification of tumours. Pathology & genetics. Tumours of endocrine organs. IARC, Lyon, S 211–217

Karges W (2005) Klinische und molekulare Genetik des Schilddrüsenkarzinoms. Onkologie 11:20–28

Kaserer K, Scheuba C, Neuhold N et al (2001) Sporadic versus familial medullary thyroid microcarcinoma: a histopathologic study of 50 consecutive patients. Am J Surg Pathol 25:1245–1251

Neumann HP, Vortmeyer A, Schmidt D et al (2007) Evidence of MEN-2 in the original description of classic pheochromocytoma. N Engl J Med 357:1311–1315

Raue F, Frank-Raue K (2009) Genotype-phenotype relationship in multiple endocrine neoplasia type 2. Implications for clinical management. Hormones (Athens) 8:23–28

Rosai J, Carcangiu M, DeLellis RA (1992) Tumors of the thyroid gland. In: Atlas of tumor pathology, vol 5. AFIP, Washington/DC

Saggiorato E, Rapa I, Garino F et al (2007) Absence of RET gene point mutations in sporadic thyroid C-cell hyperplasia. J Mol Diagn 9:214–219

Schmid KW, Ensinger C (1998) Atypical medullary thyroid carcinoma with little or no calcitonin expression. Virchows Arch 433:209–215

Schmid KW, Sheu SY, Görges R et al (2003) Tumoren der Schilddrüse. Pathologe 24:357–372

Schmid KW, Sheu SY, Tötsch M et al (2005) Pathologie des Schilddrüsenkarzinoms. Onkologie 11:29–39

Wollhk N, Schweizer H, Erlic Z et al (2010) Multiple endocrine neoplasia type 2. Best Pract Res Clin Endocrinol Metab 24:371–387
Interessenkonflikt
Der korrespondierende Autor gibt an, dass kein Interessenkonflikt besteht.
About this article
Cite this article
Sheu, SY., Schmid, K. Multiple endokrine Neoplasien Typ 2. Pathologe 31, 449–454 (2010). https://doi.org/10.1007/s00292-010-1389-8
Published:

Issue Date:

DOI: https://doi.org/10.1007/s00292-010-1389-8
Schlüsselwörter
Keywords