Zusammenfassung
Die bioptische Diagnostik früher und hochdifferenzierter Lebertumoren zählt zu den anspruchsvollsten Fragestellungen der histopathologischen Diagnostik. Sie unterliegt in den letzten Jahren aufgrund veränderter klinischer Rahmenbedingunen einer erheblichen Dynamik. Zudem wurden neue Erkenntnisse zur molekularen Pathogenese in die Biopsiediagnostik dieser Läsionen integriert. Neben der Definition prognoserelevanter Subtypen des frühen hepatozellulären Karzinoms wurden morphologische Algorithmen und neue immunhistologische Marker zur Differenzialdiagnose hochdifferenzierter hepatozellulärer Tumoren entwickelt. Daneben wurde eine neue, prognostisch relevante, molekularpathologische und histologische Klassifikation des Leberzelladenoms erarbeitet. Durch die konsequente Anwendung dieser neuen diagnostischen Erkenntnisse und unter Einbeziehung der so genannten "Matrixdiagnostik" gelingt heute bei fast allen hochdifferenzierten hepatozellulären Tumoren eine zuverlässige diagnostische Einstufung.
Abstract
Biopsy diagnosis of early and highly differentiated liver tumors is one of the most challenging tasks in histopathology. During recent years its parameters have changed fundamentally due to shifting clinical algorithms. Modern histopathology has met this challenge by defining new, prognostically relevant subtypes of early hepatocellular carcinoma and by elaborating morphological algorithms and novel immunohistological markers for the differential diagnosis of highly differentiated hepatocellular tumors. In addition, a new, predictive molecular pathological and histological classification of liver cell adenoma has been developed. By means of the consequent application of these new diagnostic tools, together with the so-called 'matrix diagnosis', a reliable diagnosis is achieved in the vast majority of these difficult cases.
This is a preview of subscription content,
to check access.
Access this article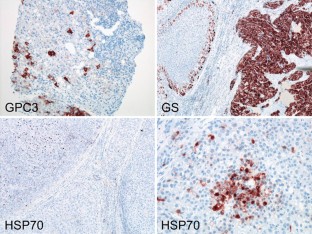 Literatur
Bioulac-Sage P, Laumonier H, Couchy G et al (2009) Hepatocellular adenoma management and phenotypic classification: the Bordeaux experience. Hepatology 50(2):481–489

Bioulac-Sage P, Rebouissou S, Thomas C et al (2007) Hepatocellular adenoma subtype classification using molecular markers and immunohistochemistry. Hepatology 46(3):740–748

Breuhahn K, Vreden S, Haddad R et al (2004) Molecular profiling of human hepatocellular carcinoma defines mutually exclusive interferon regulation and insulin-like growth factor II overexpression. Cancer Res 64(17):6058–6064

Di Tommaso L, Franchi G, Park YN et al (2007) Diagnostic value of HSP70, glypican 3 and glutamine synthetase in hepatocellular nodules in cirrhosis. Hepatology 45(3):725–734

Di Tommaso L, Destro A, Seok JY et al (2009) The application of markers (HSP70 GPC3 and GS) in liver biopsies is useful for detection of hepatocellular carcinoma. J Hepatol 50(4):746–754

International Consensus Group for Hepatocellular Neoplasia (2009) Pathologic diagnosis of early hepatocellular carcinoma: a report of the international consensus group for hepatocellular neoplasia. Hepatology 49(2):658–664. Erratum in: Hepatology 49(3):1058

International Working Party (1995) Terminology of nodular hepatocellular lesions. Hepatology 22(3):983–993

Jeannot E, Poussin K, Chiche L et al (2007) Association of CYP1B1 germ line mutations with hepatocyte nuclear factor 1alpha-mutated hepatocellular adenoma. Cancer Res 67(6):2611–2616

Kondo F, Wada K, Nagato Y et al (1989) Biopsy diagnosis of well-differentiated hepatocellular carcinoma based on new morphologic criteria. Hepatology 9(5):751–755

Ladeiro Y, Couchy G, Balabaud C et al (2008) MicroRNA profiling in hepatocellular tumors is associated with clinical features and oncogene/tumor suppressor gene mutations. Hepatology 47(6):1955–1963

Rebouissou S, Amessou M, Couchy G et al (2009) Frequent in-frame somatic deletions activate gp130 in inflammatory hepatocellular tumours. Nature 457(7226):200–204

Tátrai P, Somorácz A, Batmunkh E et al (2009) Agrin and CD34 immunohistochemistry for the discrimination of benign versus malignant hepatocellular lesions. Am J Surg Pathol 33(6):874–885

Wada K, Kondo F, Kondo Y (1988) Large regenerative nodules and dysplastic nodules in cirrhotic livers: a histopathologic study. Hepatology 8(6):1684–1688

Zucman-Rossi J, Jeannot E, Nhieu JT et al (2006) Genotype-phenotype correlation in hepatocellular adenoma: new classification and relationship with HCC. Hepatology 43(3):515–524
Interessenkonflikt
Der korrespondierende Autor gibt an, dass kein Interessenkonflikt besteht.
About this article
Cite this article
Schirmacher, P., Longerich, T. Hochdifferenzierte Lebertumoren. Pathologe 30 (Suppl 2), 200–206 (2009). https://doi.org/10.1007/s00292-009-1214-4
Published:

Issue Date:

DOI: https://doi.org/10.1007/s00292-009-1214-4
Schlüsselworte
Keywords