Zusammenfassung
Maligne Müller-Mischtumoren (MMMT, Karzinosarkome) sind seltene maligne epithelial-mesenchymale Mischtumoren. Mit 30–40% Gesamtüberlebensrate zeigen sie eine ungünstigere Prognose als schlecht/undifferenzierte bzw. seröse/klarzellige Endometriumkarzinome. In Abhängigkeit von der Histologie der mesenchymalen Komponente unterscheidet man homologe und heterologe MMMT. Histogenetisch wird die Konversionstheorie mit epithelialer Herkunft und Ausbildung einer metaplastischen mesenchymalen Komponente favorisiert. Prognostisch relevant ist das FIGO- bzw. pT-Stadium, gefolgt von den Lymphknotenmetastasen, der Tumorgröße und dem Nachweis eines serösen/klarzelligen Karzinoms. Die Unterscheidung in homologe und heterologe MMMT ist prognostisch unbedeutsam. Aufgrund des unzuverlässigen klinischen Stagings und einer hohen Zahl okkulter Lymphknotenmetastasen hat die pathologisch-anatomische Aufarbeitung große Bedeutung. Die Stadieneinteilung erfolgt in Analogie zu der des Endometriumkarzinoms. Differenzialdiagnostisch sind Sarkome des Uterus, Adenosarkome und benigne Metaplasien des Endometriums sowie undifferenzierte Karzinome abzugrenzen.
Abstract
Malignant mixed Mullerian tumors (MMMT; carcinosarcomas) are rare epithelial-mesenchymal tumors. With an overall survival rate of 30%–40% the prognosis is much worse compared to high grade endometrioid or serous/clear cell carcinomas. Depending on the histology of the mensenchymal components a distinction is made between homologous and heterologous MMMT. Clinical, morphologic and molecular data suggest that MMMTs are really metaplastic carcinomas in which the mesenchymal part retains epithelial features. The strongest prognostic factor is tumor stage followed by lymph node metastases, deep myometrial infiltration, involvement of the cervix and tumor size. The distinction between homologous and heterologous MMMT is prognostically insignificant. Due to unreliable clinical staging and a high rate of occult lymph node metastases, the pathological-anatomical work-up is of great importance. Clinical and pathologic staging should be performed as in endometrial carcinoma. The main differential diagnoses include uterine sarcomas, adenosarcoma and benign metaplastic change within the endometrium.
Access options
Buy single article
Instant access to the full article PDF.
USD 39.95
Price excludes VAT (USA)
Tax calculation will be finalised during checkout.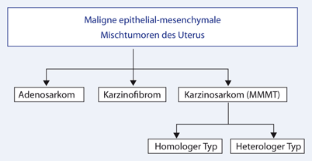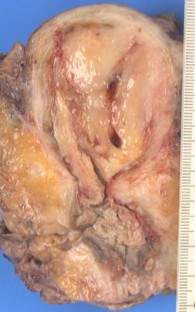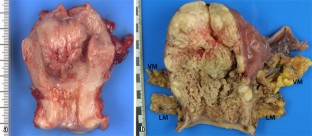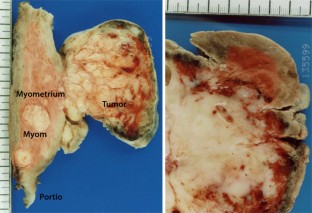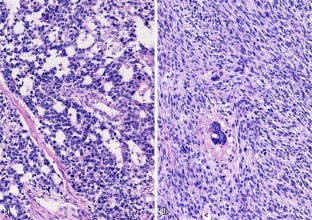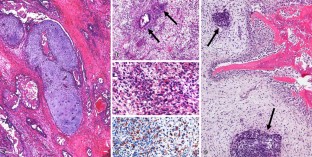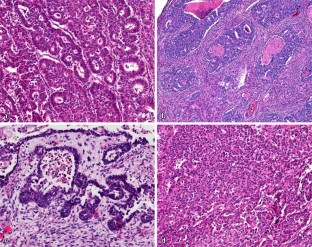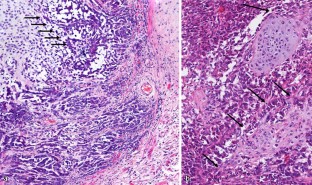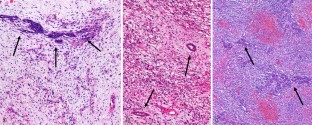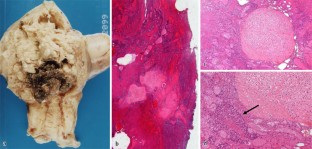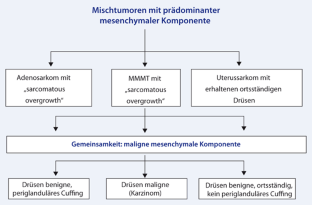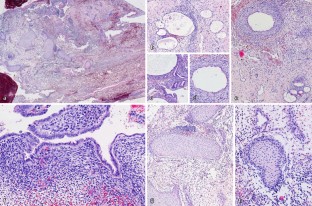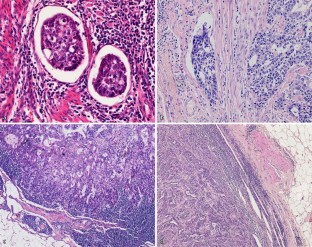 Literatur
Acharya S, Hensley ML, Montag AC, Fleming GF (2005) Rare uterine cancers. Lancet Oncol 6:961–971

 

 

Amant F, Cadron I, Fuso L et al (2005) Endometrial carcinosarcomas have a different prognosis and pattern of spread compared to high-risk epithelial endometrial cancer. Gynecol Oncol 98(2):274–280

 

 

 

 

 

Bodner-Adler B, Bodner K, Obermair A et al (2001) Prognostic parameters in carcinosarcomas of the uterus: a clinico-pathologic study. Anticancer Res 21(4B):3069–3074

 

Callister M, Ramondetta LM, Jhingran A et al (2004) Malignant mixed Müllerian tumors of the uterus: analysis of patterns of failure, prognostic factors and treatment outcome. Int J Radiat Oncol Biol Phys 58(3):786–796

 

 

 

 

 

 

 

 

 

 

 

 

 

 

 

 

 

 

 

McCluggage WG (2002) Malignant biphasic uterine tumours: carcinosarcomas or metaplastic carcinomas? J Clin Pathol 55(5):321–325

 

 

 

Nordal RR, Kristensen GB, Stenwig AE et al (1997) An evaluation of prognostic factors in uterine carcinosarcoma. Gynecol Oncol 67(3):316–321

 

 

 

 

Seidman JD, Chauhan S (2003) Evaluation of the relationship between adenosarcoma and carcinosarcoma and a hypothesis of the histogenesis of uterine sarcomas. Int J Gynecol Pathol 22(1):75–82

 

 

 

 

Silverberg SG, Major FJ, Blessing JA et al (1990) Carcinosarcoma (malignant mixed mesodermal tumor) of the uterus. A Gynecologic Oncology Group pathologic study of 203 cases. Int J Gynecol Pathol 9(1):1–19

 

 

 

 

 

 

Vaidya AP, Horowitz NS, Oliva E et al (2006) Uterine malignant mixed mullerian tumors should not be included in studies of endometrial carcinoma. Gynecol Oncol 103(2):684–687

 

 

Yamada SD, Burger RA, Brewster WR et al (2000) Pathologic variables and adjuvant therapy as predictors of recurrence and survival for patients with surgically evaluated carcinosarcoma of the uterus. Cancer 88(12):2782–2786

 

 
Interessenkonflikt
Der korrespondierende Autor gibt an, dass kein Interessenkonflikt besteht.
Additional information
Das nachstehende Literaturverzeichnis beinhaltet rezente Übersichtsarbeiten, die im Text mit den entsprechenden Zahlen zitiert sind.
Das vollständige Literaturverzeichnis kann beim korrespondierenden Autor angefordert werden.
About this article
Cite this article
Horn, LC., Dallacker, M. & Bilek, K. Karzinosarkome (maligne Müller-Mischtumoren) des Uterus. Pathologe 30, 292–301 (2009). https://doi.org/10.1007/s00292-009-1153-0
Published:

Issue Date:

DOI: https://doi.org/10.1007/s00292-009-1153-0
Schlüsselwörter
Keywords