Zusammenfassung
Stromatumoren des Uterus werden eingeteilt in Stromaknoten und Stromasarkome des Endometriums sowie undifferenzierte Sarkome. Die beiden erstgenannten Gruppen zeigen einen identischen histologischen Aufbau aus kleinen monomorphen zytoplasmaarmen Zellen und enthalten reichlich kleine dickwandige Blutgefäße. Stromasarkome unterscheiden sich von Stromaknoten durch ihr invasives Wachstum in das Myometrium sowie durch Blutgefäßeinbrüche. Undifferenzierte Sarkome lassen keine Ähnlichkeit mit den Stromazellen des normalen Endometriums der Proliferationsphase erkennen, aber auch keine glattmuskuläre oder rhabdomyogene Differenzierung. Adenosarkome sind gemischte Tumoren mit einer dem Stromasarkom ähnlichen mesenchymalen Komponente. Die eingeschlossenen benignen Drüsen werden charakteristischerweise von verdichteten Stromazellen umgeben. Typische keimstrangartige Tumoren des Uterus (UTROSCT Typ 2) zeigen eine prädominante Keimstrangdifferenzierung in einem gut umschriebenen Knoten. Eine fokale Keimstrangdifferenzierung kommt auch in Stromasarkomen oder Stromaknoten (UTROSCT Typ 1) vor.
Abstract
Uterine stromal neoplasms are classified into endometrial stromal nodules and stromal sarcomas, as well as undifferentiated sarcomas. The two former groups demonstrate identical histological composition, consisting of small monomorphous cells with scant cytoplasm and round nuclei and typically contain numerous arteriolar-type vessels. Stromal tumors are distinct from stromal nodules by virtue of their myometrial and vascular invasion. Undifferentiated sarcomas consist of polymorphic cells and lack any cytological similarity to the stroma of normal proliferative endometrium. There is no smooth or striated muscle differentiation. Adenosarcomas are mixed neoplasms with a low grade stromal sarcoma component containing benign glands, which are surrounded by condensed neoplastic stroma. Typical uterine tumors resembling ovarian sex cord tumors (UTROSCT Type2) show predominant sex cord differentiation in a well circumscribed nodule. Focal sex cord differentiation may occur in stromal nodules and stromal sarcomas (UTROSCT Type2).
Access options
Buy single article
Instant access to the full article PDF.
USD 39.95
Price excludes VAT (USA)
Tax calculation will be finalised during checkout.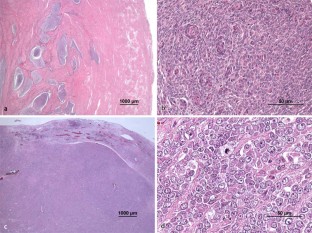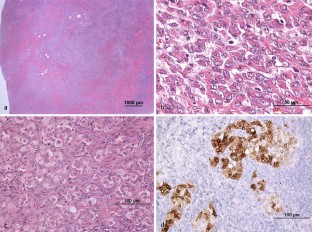 Abbreviations
ESS:

"Endometrial stromal sarcoma" (Stromasarkom des Endometriums)

ESN:

"Endometrial stromal nodule" (Stromaknoten des Endometriums)

UTROSCT:

"Uterine tumours resembling ovarian sex cord tumours" (keimstrangähnliche Tumoren des Uterus)
Literatur
Abeler VM, Royne O, Thoresen S et al (2009) Uterine sarcomas in Norway. A histopathological and prognostic survey of a total population from 1970 to 2000 including 419 patients. Histopathology 543:355–364

Baker P, Oliva E (2007) Endometrial stromal tumours of the uterus: a practical approach using conventional morphology and ancillary techniques. J Clin Pathol 603:235–243

Clement PB, Scully RE (1976) Uterine tumors resembling ovarian sex-cord tumors. A clinicopathologic analysis of fourteen cases. Am J Clin Pathol 663:512–525

Czernobilsky B (2008) Uterine tumors resembling ovarian sex cord tumors: an update. Int J Gynecol Pathol 272:229–235

Gallardo A, Prat J (2009) Mullerian adenosarcoma: a clinicopathologic and immunohistochemical study of 55 cases challenging the existence of adenofibroma. Am J Surg Pathol 332:278–288

Hrzenjak A, Moinfar F, Tavassoli FA et al (2005) JAZF1/JJAZ1 gene fusion in endometrial stromal sarcomas: molecular analysis by reverse transcriptase-polymerase chain reaction optimized for paraffin-embedded tissue. J Mol Diagn 73:388–395

Hurrell DP, McCluggage WG (2007) Uterine tumour resembling ovarian sex cord tumour is an immunohistochemically polyphenotypic neoplasm which exhibits coexpression of epithelial, myoid and sex cord markers. J Clin Pathol 6010:1148–1154

Kir G, Cetiner H, Karateke A et al (2005) Utility of MIB-1 and estrogen and progesterone receptor in distinguishing between endometrial stromal sarcomas and endometrial stromal nodules, highly cellular leiomyomas. Int J Gynecol Cancer 152:337–342

Kurihara S, Oda Y, Ohishi Y et al (2008) Endometrial stromal sarcomas and related high-grade sarcomas: immunohistochemical and molecular genetic study of 31 cases. Am J Surg Pathol 328:1228–1238

Lax SF (2007) Molecular genetic changes in epithelial, stromal and mixed neoplasms of the endometrium. Pathology 391:46–54

McCluggage WG (2004) A critical appraisal of the value of immunohistochemistry in diagnosis of uterine neoplasms. Adv Anat Pathol 113:162–171

McCluggage WG, Robboy SJ (2009) Mesenchymal uterie tumors, other than pure smooth muscle neoplasms, and adenomyosis. In: Robboy SJ, Mutter GL, Prat J et al (eds) Robboy's pathology of the female reproductive tract. Churchill Livingstone, New York, pp 427–456

Moinfar F, Regitnig P, Tabrizi AD et al (2004) Expression of androgen receptors in benign and malignant endometrial stromal neoplasms. Virchows Arch 444:410–414

Oliva E (2004) CD10 expression in the female genital tract: does it have useful diagnostic applications? Adv Anat Pathol 116:310–315

Oliva E, Clement PB, Young RH, Scully RE (1998) Mixed endometrial stromal and smooth muscle tumors of the uterus: a clinicopathologic study of 15 cases. Am J Surg Pathol 228:997–1005

Oliva E, Young RH, Clement PB et al (1995) Cellular benign mesenchymal tumors of the uterus. A comparative morphologic and immunohistochemical analysis of 33 highly cellular leiomyomas and six endometrial stromal nodules, two frequently confused tumors. Am J Surg Pathol 197:757–768

Prat J (2009) FIGO staging for uterine sarcomas. Int J Gynaecol Obstet 1043:177–178

Tavassoli FA, Devilee P (eds) (2003) Tumours of the breast and female genital organs. IARC, Lyon

Tavassoli FA, Norris HJ (1981) Mesenchymal tumours of the uterus. VII. A clinicopathological study of 60 endometrial stromal nodules. Histopathology 51:1–10

Zaloudek C, Hendrickson MR (2002) Mesenchymal tumors of the uterus. In: Kurman RJ (ed) Blaustein's pathology of the female genital tract. Springer, New York, pp 561–615
Interessenkonflikt
Der korrespondierende Autor gibt an, dass kein Interessenkonflikt besteht.
About this article
Cite this article
Lax, S. Mesenchymale Uterustumoren. Pathologe 30, 284–291 (2009). https://doi.org/10.1007/s00292-009-1152-1
Published:

Issue Date:

DOI: https://doi.org/10.1007/s00292-009-1152-1
Schlüsselwörter
Keywords