Zusammenfassung
Ziel
In unserer Studie reevaluierten wir die Histopathologie und Herkunft von Amyloid in Leberbiopsien.
Material und Methoden
Alle Leberbiopsien stammten aus einer Serie von 588 Fällen mit histologisch gesicherter Amyloidose, die zwischen 02/2006 und 01/2009 an das Amyloidregister der Charité eingesendet worden waren. Die Leberbiopsien waren formalinfixiert und in Paraffin eingebettet worden. Die Paraffinschnitte (3–5 μm) wurden mit HE und Kongorot gefärbt. Das Amyloid wurde immunhistochemisch klassifiziert mittels Antikörpern gegen die Amyloid-P-Komponente, AA-Amyloid, Apolipoprotein Al, Fibrinogen, Lysozym, λ- und κ-Leichtketten sowie Transthyretin.
Ergebnisse
Amyloid war enthalten in 46 Leberbiopsien (29 Männer, 17 Frauen; durchschnittliches Alter 60 Jahre, Umfang 34–87 Jahre). In 42 Fällen gelang eine immunhistochemische Klassifikation. Eine AL-Amyloidose lag in 40 (87%) Fällen vor, weiter differenziert wurde in AL-Amyloid vom λ- (26 Fälle, 57%) und vom κ-Leichtketten-Subtyp (14 Fälle, 30%). ATTR- und AA-Amyloidose wurden bei je einem Patienten (2%) nachgewiesen, bei 4 Patienten (9%) konnte das Amyloid nicht klassifiziert werden.
Fazit
Die hepatische Amyloidose ist am häufigsten eine AL-Amyloidose vom λ- and κ-Leichtketten-Subtyp und geht einher mit einer erheblichen Parenchymatrophie.
Abstract
Introduction
We reassessed the histopathology and origin of amyloid in liver biopsies.
Materials and Methods
All liver biopsies were retrieved from a series of 588 cases with histologically confirmed amyloidosis submitted between February 2006 and January 2009 to the Amyloid Registry of the Charité University Hospital. Liver biopsies had been fixed in formalin and embedded in paraffin. 3-5 μm thick paraffin sections were stained with hematoxylin and eosin and Congo red. Amyloid was classified immunohistochemically, using antibodies directed against amyloid P-component, AA amyloid, apolipoprotein AI, fibrinogen, lysozyme, λ- and κ-light chain, and transthyretin.
Results
Amyloid was found in 46 liver biopsies (29 men, 17 women; mean age 60 years, range 34-87 years). Immunohistochemical classification succeeded in 42 cases. AL amyloidosis was present in 40 (87%) cases and was further categorized into AL amyloid of λ-light chain origin in 26 (57%) cases, and κ-light chain origin in 14 (30%) cases. ATTR and AA amyloidosis were found in a single patient each (2%). In 4 (9%) cases, amyloid remained unclassified.
Conclusions
Hepatic amyloidosis is most commonly AL amyloid of λ- and κ-light chain origin and is often associated with marked parenchymal atrophy.
This is a preview of subscription content,
to check access.
Access this article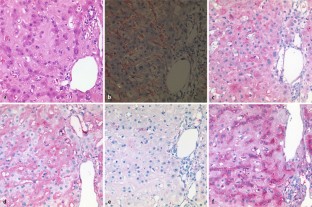 Literatur
Agaram N, Shia J, Klimstra DS et al (2005) Globular hepatic amyloid: a diagnostic peculiarity that bears clinical significance. Hum Pathol 36:845–849

Al KB, Shiffman M (2007) Percutaneous liver biopsy in clinical practice. Liver Int 27:1166–1173

Baretton G, Linke RP, Löhrs U (1990) Systemische Amyloidosen. Immunhistochemische Typisierung an Autopsien mit Hilfe zahlreicher spezifischer Antikörper. Pathologe 11:71–79

Bergesio F, Ciciani AM, Manganaro M et al (2008) Renal involvement in systemic amyloidosis: an Italian collaborative study on survival and renal outcome. Nephrol Dial Transplant 23:941–951

Bohne S, Sletten K, Menard R et al (2004) Cleavage of AL amyloid proteins and AL amyloid deposits by cathepsins BK and L. J Pathol 203:528–537

Brunt EM, Tiniakos DG (2004) Metabolic storage diseases: amyloidosis. Clin Liver Dis 8:915–930,

Buck FS, Koss MN (1991) Hepatic amyloidosis: morphologic differences between systemic AL and AA types. Hum Pathol 22:904–907

Comenzo RL, Zhang Y, Martinez C et al (2001) The tropism of organ involvement in primary systemic amyloidosis: contributions of Ig V(L) germ line gene use and clonal plasma cell burden. Blood 98:714–720

Dember LM (2006) Amyloidosis-associated kidney disease. J Am Soc Nephrol 17:3458–3471

Faa G, Van EP, De VR et al (1991) Light chain deposition disease of the liver associated with AL-type amyloidosis and severe cholestasis. J Hepatol 12:75–82

Gertz MA, Kyle RA (1997) Hepatic amyloidosis: Clinical appraisal in 77 patients. Hepatology 25:118–121

Gertz MA, Lacy MQ, Dispenzieri A et al (2005) Amyloidosis. Best Pract Res Clin Haematol 18:709–727

Gillmore JD, Lovat LB, Hawkins PN (1999) Amyloidosis and the liver. J Hepatol 30(Suppl 1):17–33:17–33

Gregorini G, Izzi C, Obici L et al (2005) Renal apolipoprotein A-I amyloidosis: a rare and usually ignored cause of hereditary tubulointerstitial nephritis. J Am Soc Nephrol 16:3680–3686

Hachulla E, Grateau G (2002) Diagnostic tools for amyloidosis. Joint Bone Spine 69:538–545

Hoffman MS, Stein BE, Davidian MM et al (1988) Hepatic amyloidosis presenting as severe intrahepatic cholestasis: a case report and review of the literature. Am J Gastroenterol 83:783–785

Kebbel A, Röcken C (2006) Immunohistochemical classification of amyloid in surgical pathology revisited. Am J Surg Pathol 30:673–683

Kholova I, Niessen HW (2005) Amyloid in the cardiovascular system: a review. J Clin Pathol 58:125–133

Kiyama M, Hoshii Y, Cui D et al (2007) Immunohistochemical and immunochemical study of amyloid in liver affected by systemic Alambda amyloidosis with antibodies against three different regions of immunoglobulin lambda light chain. Pathol Int 57:343–350

Kyle RA, Greipp PR (1983) Amyloidosis (AL). Clinical and laboratory features in 229 cases. Mayo Clin Proc 58:665–683

Lachmann HJ, Booth DR, Booth SE et al (2002) Misdiagnosis of hereditary amyloidosis as AL (primary) amyloidosis. N Engl J Med 346:1786–1791

Looi LM, Sumithran E (1988) Morphologic differences in the pattern of liver infiltration between systemic AL and AA amyloidosis. Hum Pathol 19:732–735

Lovat LB, Persey MR, Madhoo S et al (1998) The liver in systemic amyloidosis: insights from I-123 serum amyloid P component scintigraphy in 484 patients. Gut 42:727–734

Makhlouf HR, Goodman ZD (2007) Globular hepatic amyloid: an early stage in the pathway of amyloid formation: a study of 20 new cases. Am J Surg Pathol 31:1615–1621

Merlini G, Bellotti V (2003) Molecular mechanisms of amyloidosis. N Engl J Med 349:583–596

Mohr A, Miehlke S, Klauck S et al (1999) Hepatomegaly and cholestasis as primary clinical manifestation of an AL-kappa amyloidosis. Eur J Gastroenterol Hepatol 11:921–925

Park MA, Mueller PS, Kyle RA et al (2003) Primary (AL) hepatic amyloidosis: clinical features and natural history in 98 patients. Medicine 82:291–298

Puchtler H, Sweat F, Levine M (1962) On the binding of Congo red by amyloid. J Histochem Cytochem 10:355–364

Röcken C, Ernst J, Hund E et al (2006) Interdisziplinäre Leitlinien zur Diagnostik und Therapie der extrazerebralen Amyloidosen. Dtsch Med Wochenschr 131:S45–S66

Röcken C, Schwotzer E, Linke RP et al (1996) The classification of amyloid deposits in clinicopathological practice. Histopathology 29:325–335

Shah KB, Inoue Y, Mehra MR (2006) Amyloidosis and the heart: a comprehensive review. Arch Intern Med 166:1805–1813

Strege RJ, Saeger W, Linke RP (1998) Diagnosis and immunohistochemical classification of systemic amyloidoses. Report of 43 cases in an unselected autopsy series. Virchows Arch 433:19–27
Danksagung
Unser Projekt wurde teilfinanziert mit Mitteln der Europäischen Union (EU FP6 EURAMY) und des Deutschen Akademischen Austauschdienstes (DAAD). Wir möchten allen Pathologen danken, die uns amyloidhaltige Leberbiopsien zur immunhistochemischen Klassifizierung geschickt haben.
Interessenkonflikt
Der korrespondierende Autor gibt an, dass kein Interessenkonflikt besteht.
About this article
Cite this article
Gioeva, Z., Kieninger, B. & Röcken, C. Amyloidose in Leberbiopsien. Pathologe 30, 240–245 (2009). https://doi.org/10.1007/s00292-009-1133-4
Published:

Issue Date:

DOI: https://doi.org/10.1007/s00292-009-1133-4
Schlüsselwörter
Keywords