Zusammenfassung
Aufgrund einer differenten Pathogenese und Morphologie werden prinzipiell 2 Arten der vulvären intraephithelialen Neoplase (VIN) definiert: Die häufigste Form ist mit 98% die klassische VIN (mittleres Erkrankungsalter 30 bis 40 Jahre, Multifokalität, in etwa 90% Nachweis von "High-risk-HPV"). Die differenzierte VIN ("simplex type") ist mit 2–5% deutlich seltener. Sie wird in der Regel postmenopausal diagnostiziert (mittleres Erkrankungsalter etwa 65 Jahre), weist keine HPV-Assoziation, jedoch eine Alteration des p53-Tumorsuppressorgens auf. Sie wird meist im Zusammenhang mit einem (verhornenden) Vulvakarzinom diagnostiziert.
Die derzeit von der WHO favorisierte Unterteilung der VIN in VIN 1 bis 3 soll aufgrund neuerer Daten sowie aufgrund eines Vorschlages der "International Society for the Study of Vulvovaginal Diseases" (ISSVD) ersetzt werden. Dabei entfällt die Kategorie der VIN 1; die VIN 2 und VIN 3 werden unter dem Begriff VIN subsummiert. An der Unterscheidung zwischen klassischer und differenzierter Form der VIN ändert sich nichts.
Prognosefaktoren beim Vulvakarzinom sind das Tumorstadium, der Nachweis inguinaler Lymphknotenmetastasen, deren Größe sowie der Nachweis eines Kapseldurchbruchs, die Invasionstiefe des Karzinoms sowie der Abstand zum Resektionsrand. Kontrovers werden das Grading und Lymphgefäßeinbrüche diskutiert.
Abstract
On the basis of varying morphology and pathogenesis, two types of vulvar intraepithelial neoplasias (VIN) have been defined: the common type (~98%), classic VIN, is characterised by strong association to high-risk HPV infection (up to 90%), occurrence at younger age (median age 30--40 years) and multifocality. The differentiated (or simplex) type is rare (1%--2%) and is associated with older age (median age 65 years) and p53 alterations. It is usually diagnosed in combination with vulvar (keratinizing) squamous cell carcinoma.
The classification currently preferred by the WHO in which VIN are classified into VIN 1--3 is to be replaced due to new data and according to a proposal by the International Society for the Study of Vulvovaginal Diseases (ISSVD) which eliminates VIN 1 and combines VIN 2 and 3 to VIN of common or, depending on histopathology, differentiated type.
Prognostically relevant factors in vulvar cancer include stage of disease, inguinal lymph node involvement, size of metastatic deposits and presence of extracapsular extension, depth of invasion and distance of the tumor from resection margins. Tumor grade and the presence of lymphovascular space involvement are controversially discussed.
Access options
Buy single article
Instant access to the full article PDF.
USD 39.95
Price excludes VAT (USA)
Tax calculation will be finalised during checkout.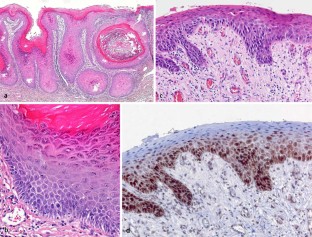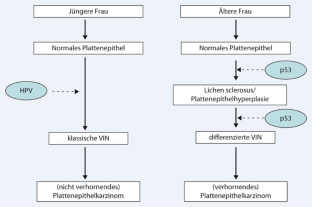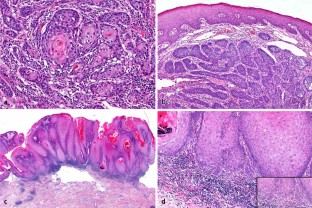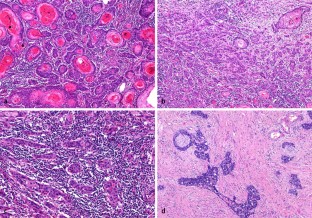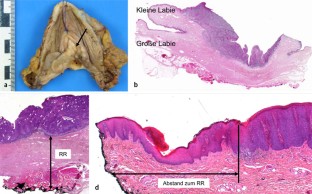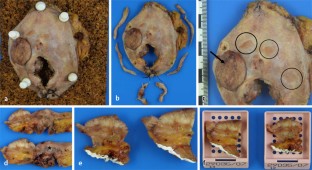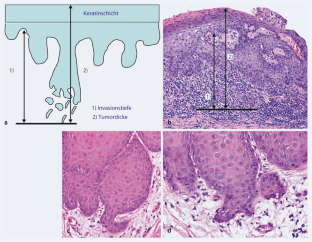 Literatur
Ambros RA, Malfetano JH, Mihm MC Jr (1996) Clinicopathologic features of vulvar squamous cell carcinomas exhibiting prominent fibromyxoid stromal response. Int J Gynecol Pathol 15:137–45

Beller U, Quinn MA, Benedet JL et al (2006) Carcinoma of the vulva. FIGO 6th Annual Report on the results of treatment in gynecological cancer. Int J Gynaecol Obstet 95 (Suppl 1):7–27

Chan JK, Sugiyama V, Pham H et al (2007) Margin distance and other clinico-pathologic prognostic factors in vulvar carcinoma: a multivariate analysis. Gynecol Oncol 104:636–641

de Giorgi V, Salvini C, Massi D et al (2005) Vulvar basal cell carcinoma: retrospective study and review of literature. Gynecol Oncol 97:192–194

Fox H, Wells M (2003) Recent advances in the pathology of the vulva. Histopathology 42:209–216

Hampl M, Wentzensen N, Vinokurova S et al (2007) Comprehensive analysis of 130 multicentric intraepithelial female lower genital tract lesions by HPV typing and p16 expression profile. J Cancer Res Clin Oncol 133:235–245

Hampl M, Hantschmann P, Michels W et al (2008) Validation of the accuracy of the sentinel lymph node procedure in patients with vulvar cancer: Results of a multicenter study in Germany. Gynecol Oncol 111:282–288

Hantschmann P, Sterzer S, Jeschke U, Friese K (2005) P53 expression in vulvar carcinoma, vulvar intraepithelial neoplasia, squamous cell hyperplasia and lichen sclerosus. Anticancer Res 25 (3A):1739–1745

Hart WR (2001) Vulvar intraepithelial neoplasia: historical aspects and current status. Int J Gynecol Pathol 20:16–30

Heaps JM, Fu YS, Montz FJ et al (1990) Surgical-Pathologic variables predictive of local recurrencein squamous cell carcinoma of the vulva. Gynecol Oncol 38:309–314

Heller DS (2007) Report of a new ISSVD classification of VIN. J Low Genit Tract Dis 11:46–47

Horn LC, Einenkel J, Hockel M et al (2005) Recommendations for the handling and oncologic pathology report of lymph node specimens submitted for evaluation of metastatic disease in gynecologic malignancies. Pathologe 26:266–272

Horn LC, Liebert UG, Edelmann J et al (2008) Adenoid squamous carcinoma (pseudoangiosarcomatous carcinoma) of the vulva: a rare but highly aggressive variant of squamous cell carcinoma-report of a case and review of the literature. Int J Gynecol Pathol 27:288–291

Horn LC, Richter CE, Hentschel B et al (2006) Juxtatumoral desmoplastic stromal reaction is associated with high tumor cell dissociation in squamous cell carcinomas of the uterine cervix. Ann Diagn Pathol 10:253–256

Japaze H, Van Dinh T, Woodruff JD (1982) Verrucous carcinoma of the vulva: study of 24 cases. Obstet Gynecol 60:462–466

Jemal A, Siegel R, Ward E et al (2008) Cancer statistics. CA Cancer J Clin 58:71–96

Judson PL, Habermann EB, Baxter NN et al (2006) Trends in the incidence of invasive and in situ vulvar carcinoma. Obstet Gynecol 107:1018–1022

Liegl B, Regauer S (2006) p53 immunostaining in lichen sclerosus is related to ischaemic stress and is not a marker of differentiated vulvar intraepithelial neoplasia (d-VIN). Histopathology 48:268–274

Magrina JF, Gonzalez-Bosquet J, Weaver AL et al (2000) Squamous cell carcinoma of the vulva stage IA: long-term results. Gynecol Oncol 76:24–27

Mulvany NJ, Allen DG (2008) Differentiated intraepithelial neoplasia of the vulva. Int J Gynecol Pathol 27:125–135

Oonk MH, Hollema H, de Hullu JA, van der Zee AG (2006) Prediction of lymph node metastases in vulvar cancer: a review. Int J Gynecol Cancer 16:963–971

Pecorelli S, Ngan HYS, Hacker NK (Eds) (2008) Staging classifications and clinical practice guidelines fpr gynaecological cancers 2008. http://www.figo.org/docs/staging_booklet.pdf

Raspagliesi F, Hanozet F, Ditto A et al (2006) Clinical and pathological prognostic factors in squamous cell carcinoma of the vulva. Gynecol Oncol 102:333–337

Roma AA, Hart WR (2007) Progression of simplex (differentiated) vulvar intraepithelial neoplasia to invasive squamous cell carcinoma: a prospective case study confirming its precursor role in the pathogenesis of vulvar cancer. Int J Gynecol Pathol 26:248–253

Scurry J, Wilkinson EJ (2006) Review of terminology of precursors of vulvar squamous cell carcinoma. J Low Genit Tract Dis 10:161–169

Sideri M, Jones RW, Wilkinson EJ et al (2005) Squamous vulvar intraepithelial neoplasia: 2004 modified terminology, ISSVD Vulvar Oncology Subcommittee. J Reprod Med 50:807–810

van de Nieuwenhof HP, van der Avoort IA, de Hullu JA (2008) Review of squamous premalignant vulvar lesions. Crit Rev Oncol Hematol 68:131–156

van der Velden J, Schilthuis MS, Hyde SE et al (2004) Squamous cell cancer of the vulva with occult lymph node metastases in the groin: the impact of surgical technique on recurrence pattern and survival. Int J Gynecol Cancer 14:633–638

Wilkinson EJ (1991) Superficially invasive carcinoma of the vulva. Clin Obstet Gynecol 34:651–661

Wilkinson EJ, Teixeira MR (2003) Tumors of the vulva. In: Tavassoli FA, Devilee P (eds) Pathology and genetics of tumours of the breast and female genital organs. World health organization classification of tumours. IARC Press, Lyon, pp 313–334

Wilkinson EJ (2000) Protocol for the examination of specimens from patients with carcinomas and malignant melanomas of the vulva: a basis for checklists. Cancer committee of the american college of pathologists. Arch Pathol Lab Med 124:51–56

Woida FM, Ribeiro-Silva A (2007) Adenoid cystic carcinoma of the Bartholin gland: an overview. Arch Pathol Lab Med 131:796–798

Yoder BJ, Rufforny I, Massoll NA, Wilkinson EJ (2008) Stage IA vulvar squamous cell carcinoma: An analysis of tumor invasive characteristics and risk. Am J Surg Pathol 32:765–772

Zaloudek C, Rabban JT (2005) Differentiated vulva intraepithelial neoplasia (VIN): An underrecognised form of high grade VIN associated with keratinising squamous cell carcinoma of the vulva. Pathol Case Rev 10:35–40
Interessenkonflikt
Der korrespondierende Autor gibt an, dass kein Interessenkonflikt besteht.
About this article
Cite this article
Horn, LC., Schierle, K., Klostermann, K. et al. Pathologisch-anatomische Aufarbeitung und Befundung von Präparaten bei Präkanzerosen und Karzinomen der Vulva. Pathologe 30, 56–64 (2009). https://doi.org/10.1007/s00292-008-1118-8
Published:

Issue Date:

DOI: https://doi.org/10.1007/s00292-008-1118-8
Schlüsselwörter
Keywords