Zusammenfassung
Die Feulgen-Färbung mit der Möglichkeit der quantitativen Wiedergabe der DNA-Menge eines Kerns ist eine gute und einfache Methode, die unregelmäßige DNA-Vermehrung einer malignen Zelle wiederzugeben, welche wiederum Ausdruck der genetischen Instabilität ist. Die genetische Instabilität einer Tumorzelle ist das Kernstück der WHO-Klassifikation des Harnblasenkarzinoms aus dem Jahr 2004, innerhalb derer flache und papilläre Neoplasien in "Low-" und "High-grade-Läsionen" eingeteilt werden. "High grade" gibt die genetische Instabilität und die damit verbundene höhere Progressionswahrscheinlichkeit wieder. Begleitende konkrete genetische Alterationen über die rein numerischen hinaus werden zunehmend diskriminierend identifiziert und zugeordnet. Der Stand der genetischen Untersuchungen insbesondere bei den Präkanzerosen wird hier im Kontext mit Morphologie (histologischer und zytologischer Diagnostik) und Klinik schwerpunktmäßig zusammengefasst.
Abstract
Feulgen staining represents a staining method to quantitatively document the DNA content of a nucleus. Thus it is an excellent and straightforward method to reflect the irregular increase in DNA content of a malignant cell as a sign of genetic instability. Genetic instability of the tumour cell is the key feature of the 2004 WHO classification of bladder tumours, in which flat and papillary neoplasia are grouped into low- and high-grade lesions. "High grade" represents the tumor with genetic instability and consequently a higher likelihood of progression. Concomitant distinct genetic aberrations other than the numeric ones are increasingly identified as discriminators and help group the entities. The current status of genetic investigations, especially those in precancerous lesions, will be outlined in this review in the context of morphology (histology and cytology) as well as clinical situation.
Access options
Buy single article
Instant access to the full article PDF.
USD 39.95
Price excludes VAT (USA)
Tax calculation will be finalised during checkout.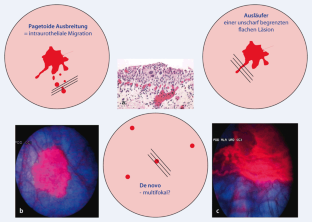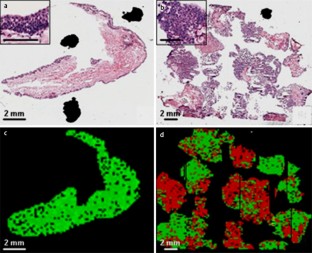 Literatur
Banks RE, Dunn MJ, Hochstrasser DF et al. (2000) Proteomics: new perspectives, new biomedical opportunities. Lancet 356: 1749–1756

Brassell SA, Kamat AM (2006) Contemporary intravesical treatment options for urothelial carcinoma of the bladder. Review J Natl Compr Canc Netw 10: 1027–1036

Caprioli RM, Farmer TB, Gile J (1997) Molecular imaging of biological samples: localization of peptides and proteins using MALDI-TOF-MS. Anal Chem 69: 4751–4760

Celis JE, Gromoy P (2003) Proteomics in translational cancer research: towards an integrated approach. Cancer Cell 3: 9–15

Chaurand P, Sanders ME, Jensen RA, Caprioli RM (2004) Proteomics in diagnostic pathology: profiling and imaging proteins directly in tissue sections. Am J Pathol 165: 1057–1068

Dhawan D, Hamdy FC, Rehman I et al. (2006) Evidence for the early onset of aberrant promoter methylation in urothelial carcinoma. J Pathol 209: 336–343

Dörrenhaus A, Müller T, Roos PH (2007) Increased CYP1A1 expression in human exfoliated urothelial cells of cigarette smokers compared to non-smokers. Arch Toxicol 81: 19–25

Dyrskjøt L, Kruhøffer M, Thykjaer T et al. (2004) Gene expression in the urinary bladder: a common carcinoma in situ gene expression signature exists disregarding histopathological classification. Cancer Res 64: 4040–4048

Eble JN, Sauter G, Epstsein JI, Sesterhenn IA (eds) (2004) Tumors of the urinary system and male genital tract. WHO classification of tumours. Pathology & genetics. IARC Press, Lyon

Gaisa NT, Donner A, Serenyi S v et al. (2008) Urotheliales Carcinoma in situ der Samenblasen - Ausdruck von Tumor-Multifokalität. Pathologe

Gontijo AM, Marcondes JP, Elias FN et al. (2002) DNA damage in cytologically normal urothelial cells of patients with a history of urothelial cell carcinoma. Environ Mol Mutagen 40: 190–199

Hafner C, Knuechel R, Zanardo L et al. (2001) Evidence for oligoclonality and tumor spread by intraluminal seeding in multifocal urothelial carcinomas of the upper and lower urinary tract. Oncogene 20: 4910–4915

Hanash S (2003) Disease proteomics. Nature 422: 226–232

Herbsleb M, Christensen OF, Thykjaer T et al. (2008) Bioinformatic identification of FGF p38-MAPK and calcium signalling pathways associated with carcinoma in situ in the urinary bladder. BMC Cancer 8: 37. Epub ehead of print

Hofstädter F, Delgado R, Jakse G, Judmaier W (1986) Urothelial dysplasia and carcinoma in situ of the bladder. Cancer 57: 356–361

Hungerhuber E, Stepp H, Kriegmair M et al. (2007) Seven years' experience with 5-aminolevulinic acid in detection of transitional cell carcinoma of the bladder. Urology 69: 260–264

Junker K, Boerner D, Schulze W et al. (2003) Analysis of genetic alterations in normal bladder urothelium. Urology 62: 1134–1138

Knowles MA (2006) Molecular subtypes of bladder cancer: Jekyll and Hyde or chalk and cheese? Review Carcinogenesis 27: 361–373

Knowles MA (2008) Novel therapeutic targets in bladder cancer: mutation and expression of FGF receptors. Review Future Oncol 4: 71–83

Knüchel R, Hartmann A, Stöhr R et al. (2003) Präkanzerosen des Urothels. Früherkennung und molekulares Verständnis durch endoskopische Fluoreszenzdiagnostik. Pathologe 24: 473–479

Koufou S, Langer SK, Lindemann-Docter K et al. (2006) Investigation of genetic aberrations in precancerous lesions of the bladder by double staining of fluroescence in situ hybridization and Ki-67 immunohistochemistry and by comparative genomic hybridisation. Path Res Pract 202: 337

Moore LE, Pfeiffer RM, Poscablo C et al. (2008) Genomic DNA hypomethylation as a biomarker for bladder cancer susceptibility in the spanish bladder cancer study: a case-control study. Lancet Oncol Epub ahead of print

Murta-Nascimento C, Schmitz-Dräger BJ, Zeegers MP et al. (2007) Epidemiology of urinary bladder cancer: from tumor development to patient's death. World J Urol 25: 285–295

Neuhausen A, Florl AR, Grimm MO, Schulz WA (2006) DNA methylation alterations in urothelial carcinoma. Cancer Biol Ther 5: 993–1001

Pelucchi C, Bosetti C, Negri E et al. (2006) Mechanisms of disease: the epidemiology of bladder cancer. Nat Clin Pract Urol 3: 327–340

Schwarz S, Rechenmacher M, Filbeck T et al. (2008) Value of multicolour fluorescence in situ hybridisation (UroVysion) in the differential diagnosis of flat urothelial lesions. J Clin Pathol 3: 272–277

Stoehr R, Zietz S, Burger M et al. (2005) Deletions of chromosomes 9 and 8p in histologically normal urothelium of patients with bladder cancer. Eur Urol 47: 58–63

Stoehr R, Hartmann A (2007) Histopathologie und Molekulargenetik des Harnblasenkarzinoms. Onkologe 12: 1058–1066

van Oers JM, Adam C, Denzinger S et al. (2006) Chromosome 9 deletions are more frequent than FGFR3 mutations in flat urothelial hyperplasias of the bladder. Int J Cancer 119: 1212–1215

Zaak D, Karl A, Knüchel R et al. (2005) Diagnosis of urothelial carcinoma of the bladder using fluorescence endoscopy. BJU International 96: 217–222
Danksagung
Die hier geschilderten Arbeiten wurden z. T. mit Forschungsgeldern der DFG gefördert: KN263 9–2, Sp 460/5–2.
Interessenkonflikt
Die korrespondierende Autorin gibt an, dass kein Interessenkonflikt besteht.
About this article
Cite this article
Knüchel-Clarke, R., Koufou, S., Speicher, M. et al. Präkanzerosen des Urothels. Pathologe 29, 364–370 (2008). https://doi.org/10.1007/s00292-008-1015-1
Published:

Issue Date:

DOI: https://doi.org/10.1007/s00292-008-1015-1
Schlüsselwörter
Keywords