Zusammenfassung
Der folgende Beitrag stellt die im klinischen Kontext eingesetzten Grading- und Staging-Systeme bei nichtneoplastischen Lebererkrankungen (chronische und Autoimmunhepatitis, Fettleber- und Steatohepatitis, medikamentös-toxische Leberschädigung, Eisenspeicherkrankheit und Gallenwegserkrankungen) vor. Zusätzlich kann der fibrotische Parenchymumbau beurteilt werden sowie eine Transplantatleber im Hinblick auf eine mögliche Abstoßungsreaktion. Grundlage der histopathologischen Diagnostik ist die Leberbiopsie. Die konsequente und korrekte Anwendung der histologischen Scores ist in der diagnostischen Beurteilung nichtneoplastischer Lebererkrankungen verpflichtend.
Für die verschiedenen Erkrankungen stehen unterschiedliche Scores zur Verfügung. Es handelt sich um qualitative oder semiquantitative Scores, die auf Empirie beruhen und ihre praktische Relevanz nachhaltig bewiesen haben.
Das Grading beschreibt jeweils die entzündliche Aktivität, das Staging das Ausmaß der Fibrose bzw. der Architekturstörung bis hin zur Leberzirrhose. Das Staging ist in vielen Fällen das histopathologische Kriterium für die Prognoseabschätzung und somit ausschlaggebend für Therapieindikation und den Therapiebeginn.
Abstract
This article describes the grading and staging systems used in the clinical context for non-neoplastic liver diseases (chronic and autoimmune hepatitis, fatty liver and steatohepatitis, medicinal toxic liver damage, iron storage disease and gall duct diseases). Fibrotic parenchymal alterations can also be assessed as well as livers planned for transplantation, with respect to possible rejection reactions. The basis for the histopathological diagnostic procedure is the liver biopsy. The consistent and correct use of the histological scores is obligatory in the diagnostic assessment of non-neoplastic liver diseases. Different scores are available for the various liver diseases. These are qualitative and quantitative scores based on empiricism and the practical relevance has been effectively proven. Grading describes the inflammatory activity and staging the extent of fibrosis or structural disorders up to liver cirrhosis. In many instances staging is the histopathological criteria for the prognosis assessment and is, therefore, decisive for therapy indications and therapy initiation.
This is a preview of subscription content,
to check access.
Access this article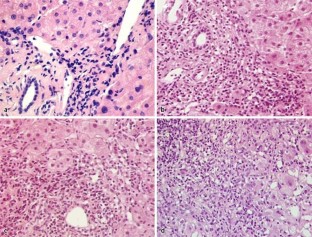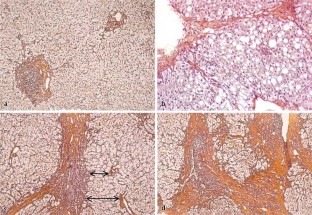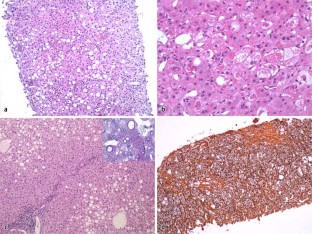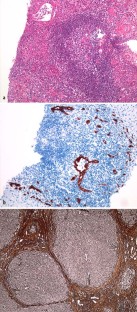 Literatur
Alla V, Bonkovsky HL (2005) Iron in nonhemochromatotic liver disorders. Semin Liver Dis 25: 461–472

Alvarez F, Berg PA, Bianchi FB et al. (1999) International Autoimmune Hepatitis Group Report: review of criteria for diagnosis of autoimmune hepatitis. J Hepatol 31: C929–938

Angulo P, Larson DR, Therneau TM et al. (1999) Time course of histological progression in primary sclerosing cholangitis. Am J Gastroenterol 94: 3310–3313

Arima M, Terao H, Kashima K et al. (2004) Regression of liver fibrosis in cases of chronic liver disease type C: quantitative evaluation by using computed image analysis. Intern Med 43: 902–910

Batts KP, Ludwig J (1995) Chronic hepatitis. An update on terminology and reporting. Am J Surg Pathol 19: 1409–1417

Bedossa P, Dargere D, Paradis V (2003) Sampling variability of liver fibrosis in chronic hepatitis C. Hepatology 38: 1449–1457

Bedossa P, Poynard T (1996) An algorithm for the grading of activity in chronic hepatitis C. The METAVIR Cooperative Study Group. Hepatology 24: 289–293

Blumberg RS, Chopra S, Ibrahim R et al. (1988) Primary hepatocellular carcinoma in idiopathic hemochromatosis after reversal of cirrhosis. Gastroenterology 95: 1399–1402

Brunt EM, Janney CG, Di Bisceglie AM et al. (1999) Nonalcoholic steatohepatitis: a proposal for grading and staging the histological lesions. Am J Gastroenterol 94: 2467–2474

Chevallier M, Guerret S, Chossegros P et al. (1994) A histological semiquantitative scoring system for evaluation of hepatic fibrosis in needle liver biopsy specimens: comparison with morphometric studies. Hepatology 20: 349–355

Czaja AJ, Carpenter HA (2001) Autoimmune hepatitis with incidental histologic features of bile duct injury. Hepatology 34: 659–665

Czaja AJ, Carpenter HA (1993) Sensitivity, specificity, and predictability of biopsy interpretations in chronic hepatitis. Gastroenterology 105: 1824–1832

Czaja AJ, Davis GL, Ludwig J et al. (1984) Complete resolution of inflammatory activity following corticosteroid treatment of HBsAg-negative chronic active hepatitis. Hepatology 4: 622–627

Demetris A, Adams D, Bellamy C et al. (2000) Update of the International Banff Schema for Liver Allograft Rejection: working recommendations for the histopathologic staging and reporting of chronic rejection. An International Panel. Hepatology 31: 792–799

Desmet VJ, Gerber M, Hoofnagle JH et al. (1994) Classification of chronic hepatitis: diagnosis, grading and staging. Hepatology 19: 1513–1520

Deugnier YM, Turlin B, Powell LW et al. (1993) Differentiation between heterozygotes and homozygotes in genetic hemochromatosis by means of a histological hepatic iron index: a study of 192 cases. Hepatology 17: 30–34

Diehl AM, Goodman Z, Ishak KG (1988) Alcohollike liver disease in nonalcoholics. A clinical and histologic comparison with alcohol-induced liver injury. Gastroenterology 95: 1056–1062

Edmondson HA, Peters RL, Reynolds TB et al. (1963) Sclerosing hyaline necrosis of the liver in the chronic alcoholic. A recognizable clinical syndrome. Ann Intern Med 59: 646–673

Falize L, Guillygomarc'h A, Perrin M et al. (2006) Reversibility of hepatic fibrosis in treated genetic hemochromatosis: a study of 36 cases. Hepatology 44: 472–477

Fellows IW, Stewart M, Jeffcoate WJ et al. (1988) Hepatocellular carcinoma in primary haemochromatosis in the absence of cirrhosis. Gut 29: 1603–1606

Goh J, Callagy G, McEntee G et al. (1999) Hepatocellular carcinoma arising in the absence of cirrhosis in genetic haemochromatosis: three case reports and review of literature. Eur J Gastroenterol Hepatol 11: 915–919

Goldin RD, Goldin JG, Burt AD et al. (1996) Intra-observer and inter-observer variation in the histopathological assessment of chronic viral hepatitis. J Hepatol 25: 649–654

Gressner AM (1991) Liver fibrosis: perspectives in pathobiochemical research and clinical outlook. Eur J Clin Chem Clin Biochem 29: 293–311

Hiramatsu K, Aoyama H, Zen Y et al. (2006) Proposal of a new staging and grading system of the liver for primary biliary cirrhosis. Histopathology 49: 466–478

International Panel (1997) Banff schema for grading liver allograft rejection: an international consensus document. Hepatology 25: 658–663

Ishak K, Baptista A, Bianchi L et al. (1995) Histological grading and staging of chronic hepatitis. J Hepatol 22: 696–699

Ishak KG, Zimmerman HJ (1995) Morphologic spectrum of drug-induced hepatic disease. Gastroenterol Clin North Am 24: 759–786

Johnson PJ, McFarlane IG (1993) Meeting report: International Autoimmune Hepatitis Group. Hepatology 18: 998–1005

Kaji K, Nakanuma Y, Sasaki M et al. (1995) Hemosiderin deposition in portal endothelial cells: a novel hepatic hemosiderosis frequent in chronic viral hepatitis B and C. Hum Pathol 26: 1080–1085

Kleiner DE, Brunt EM, Van Natta M et al. (2005) Design and validation of a histological scoring system for nonalcoholic fatty liver disease. Hepatology 41: 1313–1321

Knodell RG, Ishak KG, Black WC et al. (1981) Formulation and application of a numerical scoring system for assessing histological activity in asymptomatic chronic active hepatitis. Hepatology 1: 431–435

Locke GR 3rd, Therneau TM, Ludwig J et al. (1996) Time course of histological progression in primary biliary cirrhosis. Hepatology 23: 52–56

Ludwig J, Dickson ER, McDonald GS (1978) Staging of chronic nonsuppurative destructive cholangitis (syndrome of primary biliary cirrhosis). Virchows Arch A Pathol Anat Histol 379: 103–112

Ludwig J, Wiesner RH, Batts KP et al. (1987) The acute vanishing bile duct syndrome (acute irreversible rejection) after orthotopic liver transplantation. Hepatology 7: 476–483

Marcellin P, Asselah T, Boyer N (2002) Fibrosis and disease progression in hepatitis C. Hepatology 36: S47–56

Masseroli M, Caballero T, O'Valle F et al. (2000) Automatic quantification of liver fibrosis: design and validation of a new image analysis method: comparison with semi-quantitative indexes of fibrosis. J Hepatol 32: 453–464

Matteoni CA, Younossi ZM, Gramlich T et al. (1999) Nonalcoholic fatty liver disease: a spectrum of clinical and pathological severity. Gastroenterology 116: 1413–1419

Neil DA, Hubscher SG (2002) Histologic and biochemical changes during the evolution of chronic rejection of liver allografts. Hepatology 35: 639–651

Neuschwander-Tetri BA, Caldwell SH (2003) Nonalcoholic steatohepatitis: summary of an AASLD Single Topic Conference. Hepatology 37: 1202–1219

Nyfors A, Poulsen H (1977) Morphogenesis of fibrosis and cirrhosis in methotrexate-treated patients with psoriasis. Am J Surg Pathol 1: 235–243

Roenigk HH Jr., Auerbach R, Maibach HI et al. (1982) Methotrexate guidelines – revised. J Am Acad Dermatol 6: 145–155

Roenigk HH Jr., Auerbach R, Maibach HI et al. (1988) Methotrexate in psoriasis: revised guidelines. J Am Acad Dermatol 19: 145–156

Roenigk HH Jr., Bergfeld WF, St Jacques R et al. (1971) Hepatotoxicity of methotrexate in the treatment of psoriasis. Arch Dermatol 103: 250–261

Rubin E, Schaffner F, Popper H (1965) Primary biliary cirrhosis. Chronic non-suppurative destructive cholangitis. Am J Pathol 46: 387–407

Rubio CA, Porwit A (1988) Quantitation of fibrosis in liver biopsies. Anal Quant Cytol Histol 10: 107–109

Scheuer P (1967) Primary biliary cirrhosis. Proc R Soc Med 60: 1257–1260

Scheuer PJ (1991) Classification of chronic viral hepatitis: a need for reassessment. J Hepatol 13: 372–374

Scheuer PJ, Williams R, Muir AR (1962) Hepatic pathology in relatives of patients with haemochromatosis. The Journal Pathol Bacteriol 84: 53–64

Schirmacher P, Fleig WE, Tannapfel A et al. (2004) Bioptic diagnosis of chronic hepatitis. Results of an evidence-based consensus conference of the German Society of Pathology, of the German Society for Digestive and Metabolic Diseases and of Compensated Hepatitis (HepNet). Pathologe 25: 337–348

Sebagh M, Blakolmer K, Falissard B et al. (2002) Accuracy of bile duct changes for the diagnosis of chronic liver allograft rejection: reliability of the 1999 Banff schema. Hepatology 35: 117–125

Sebagh M, Debette M, Samuel D et al. (1999) "Silent" presentation of veno-occlusive disease after liver transplantation as part of the process of cellular rejection with endothelial predilection. Hepatology 30: 1144–1150

Singh R, Nair S, Farr G et al. (2002) Acute autoimmune hepatitis presenting with centrizonal liver disease: case report and review of the literature. Am J Gastroenterol 97: 2670–2673
Interessenkonflikt
Der korrespondierende Autor gibt an, dass kein Interessenkonflikt besteht.
About this article
Cite this article
Longerich, T., Flechtenmacher, C. & Schirmacher, P. Maß und Zahl in der Hepatopathologie. Pathologe 29, 15–26 (2008). https://doi.org/10.1007/s00292-007-0963-1
Published:

Issue Date:

DOI: https://doi.org/10.1007/s00292-007-0963-1
Schlüsselwörter
Keywords