Zusammenfassung
Die histopathologische Diagnostik nimmt einen wichtigen Stellenwert für die Analyse von Komplikationen im Rahmen der allogenen Lebertransplantation (LTX) ein. Dazu gehören die Indikationsstellung zur, die Analyse der Spenderleber vor und die Kontrollbiopsien nach LTX. Frühe Komplikationen sind der Preservations-/Reperfusionsschaden, der in der Nullbiopsie und bis zum Ende des ersten Monats auftreten kann, sowie die hyperakute und akute zelluläre Abstoßung mit Hauptmanifestationszeit im ersten Monat. Chirurgische Komplikationen können Ursache morphologischer Veränderungen im Lebergewebe sein, wie vaskuläre und biliäre Komplikationen. Opportunistische Infektionen und die chronische Abstoßung sind häufig im Zeitraum der ersten 12 Monate nach LTX zu verzeichnen, in den Folgemonaten und -jahren sind Rezidive der Grunderkrankung typisch. Medikamentös-toxische Leberparenchymschäden durch immunsuppressive oder andere Medikamente kommen vor. Bei einem hohen Prozentsatz erwachsener Patienten ist nach 6 Monaten das Auftreten einer idiopathischen chronischen Hepatitis beschrieben. Histologisch schwierige Differenzialdiagnosen sind kombinierte Schädigungsbilder aus verschiedenen Komplikationen.
Abstract
Histopathology plays an important role in the diagnosis of graft complications following liver transplantation (LTX) and includes the diagnosis of underlying liver disease, assessment of the donor liver before LTX and control biopsies after LTX. Within the early period after LTX (time zero and first month) preservation/reperfusion injury, as well as hyperacute and acute rejection may occur. Surgical vascular or biliary complications can cause parenchymal morphological changes. Within 12 months following LTX, histological signs of opportunistic infections and chronic rejection are frequent findings and disease recurrence is typical beyond the first year. Drug toxicity in liver allograft recipients can be induced by immunosuppressive therapy or other drugs. A high percentage of adult patients reveal histological features of idiopathic chronic hepatitis 6 months after LTX. Histopathological differential diagnosis of the combined underlying causes or complications is often difficult.
This is a preview of subscription content,
to check access.
Access this article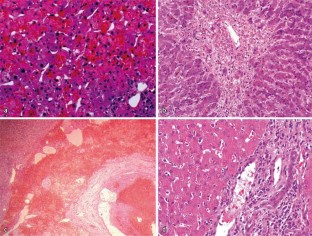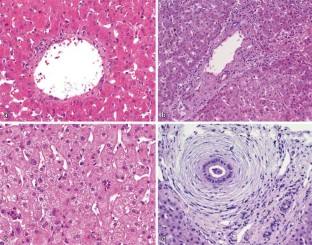 Literatur
Anonymous (1997) Banff schema for grading liver allograft rejection: an international consensus document. Hepatology 25: 658–663

Abraham S, Furth EE (1996) Quantitative evaluation of histological features in "time-zero" liver allograft biopsies as predictors of rejection or graft failure: receiver-operating characteristic analysis application. Hum Pathol 27: 1077–1084

Adam R, Cailliez V, Majno P et al. (2000) Normalised intrinsic mortality risk in liver transplantation: European Liver Transplant Registry study. Lancet 356: 621–627

Adam R, McMaster P, O'Grady JG et al. (2003) Evolution of liver transplantation in Europe: report of the European Liver Transplant Registry. Liver Transpl 9: 1231–1243

Basse G, Esposito L, Mengelle C et al. (2006) Predictive factors for cytomegalovirus infection after orthotopic liver transplantation using an ultrasensitive polymerase chain reaction assay. Transplant Proc 38: 2339–2341

Bessems M, Doorschodt BM, Kolkert JL et al. (2007) Preservation of steatotic livers: a comparison between cold storage and machine perfusion preservation. Liver Transpl 13: 497–504

Brandsaeter B, Schrumpf E, Clausen OP et al. (2004) Recurrent sclerosing cholangitis or ischemic bile duct lesions–a diagnostic challenge? Liver Transpl 10: 1073–1074

Broniszczak D, Szymczak M, Kaminski A et al. (2006) Vascular complications after pediatric liver transplantation from the living donors. Transplant Proc 38: 1456–1458

Buis CI, Hoekstra H, Verdonk RC, Porte RJ (2006) Causes and consequences of ischemic-type biliary lesions after liver transplantation. J Hepatobiliary Pancreat Surg 13: 517–524

Burton JR Jr, Rosen HR (2006) Diagnosis and management of allograft failure. Clin Liver Dis 10: 407–435

Charlton M (2007) Approach to recurrent hepatitis C following liver transplantation. Curr Gastroenterol Rep 9: 23–30

Colonna JO 2nd, Brems JJ, Goldstein LI et al. (1988) The importance of percutaneous liver biopsy in the management of the liver transplant recipient. Transplant Proc 20: 682–684

Demetris AJ, Adeyi O, Bellamy CO et al. (2006) Liver biopsy interpretation for causes of late liver allograft dysfunction. Hepatology 44: 489–501

Dixon LR, Crawford JM (2007) Early histologic changes in fibrosing cholestatic hepatitis C. Liver Transpl 13: 219–226

Drebber U, Kasper HU, Krupacz J et al. (2006) The role of Epstein-Barr virus in acute and chronic hepatitis. J Hepatol 44: 879–885

Duclos-Vallee JC (2005) Recurrence of autoimmune hepatitis, primary biliary cirrhosis and primary sclerosing cholangitis after liver transplantation. Acta Gastroenterol Belg 68: 331–336

Duval M, Plin C, Elimadi A et al. (2006) Implication of mitochondrial dysfunction and cell death in cold preservation–warm reperfusion-induced hepatocyte injury. Can J Physiol Pharmacol 84: 547–554

Evans HM, Kelly DA, McKiernan PJ, Hubscher S (2006) Progressive histological damage in liver allografts following pediatric liver transplantation. Hepatology 43: 1109–1117

Gautam M, Cheruvattath R, Balan V (2006) Recurrence of autoimmune liver disease after liver transplantation: a systematic review. Liver Transpl 12: 1813–1824

Grezzana Filho TJM, Corso CO, Zanotelli ML et al. (2006) Liver glutathione depletion after preservation and reperfusion in human liver transplantation. Acta Cir Bras 21: 223–229

Haga H, Egawa H, Shirase T et al. (2004) Periportal edema and necrosis as diagnostic histological features of early humoral rejection in ABO-incompatible liver transplantation. Liver Transpl 10: 16–27

Haga H, Egawa H, Fujimoto Y et al. (2006) Acute humoral rejection and C4d immunostaining in ABO blood type-incompatible liver transplantation. Liver Transpl 12: 457–464

Heneghan MA, Portmann BC, Norris SM et al. (2001) Graft dysfunction mimicking autoimmune hepatitis following liver transplantation in adults. Hepatology 34: 464–470

Hoppe L, Marroni CA, Bressane R et al. (2006) Impact of cytomegalovirus infection on long-term survival after orthotopic liver transplantation. Transplant Proc 38: 1924–1925

Hubscher SG (1987) Loss of bileducts after liver transplantation. Lancet 2: 1149

Hubscher SG, Buckels JA, Elias E et al. (1991) Vanishing bile-duct syndrome following liver transplantation–is it reversible? Transplantation 51: 1004–1010

Hubscher SG (1994) Pathology of liver allograft rejection. Transpl Immunol 2: 118–123

Hubscher SG (2001) Recurrent autoimmune hepatitis after liver transplantation: diagnostic criteria, risk factors, and outcome. Liver Transpl 7: 285–291

Hubscher SG (2006) Transplantation pathology. Semin Diagn Pathol 23: 170–181

Hubscher SG, Portmann BC (2007) Transplantation pathology. In: Alastair D, Burt BCP, Linda D, Ferrell (eds) MacSween's Pathology of the liver, 6th edn. Churchill Livingstone Elsevier, Philadelphia, pp 815–879

Jankowska I, Pawlowska J, Teisseyre M et al. (2004) Autoimmune hepatitis in transplanted liver. Transplant Proc 36: 3077–3082

Kasper HU, Drebber U, Hirsch I, Dienes HP (2006) [Morphology of drug induced liver damage]. Pathologe 27: 175–181

Kishi Y, Sugawara Y, Tamura S et al. (2007) Histologic eosinophilia as an aid to diagnose acute cellular rejection after living donor liver transplantation. Clin Transplant 21: 214–218

Lowes JR, Hubscher SG, Neuberger JM (1993) Chronic rejection of the liver allograft. Gastroenterol Clin North Am 22: 401–420

Marinos G, Rossol S, Carucci P et al. (2000) Immunopathogenesis of hepatitis B virus recurrence after liver transplantation. Transplantation 69: 559–568

Matinlauri IH, Nurminen MM, Hockerstedt KA, Isoniemi HM (2006) Changes in liver graft rejections over time. Transplant Proc 38: 2663–2666

Neil DA, Hubscher SG (2002) Histologic and biochemical changes during the evolution of chronic rejection of liver allografts. Hepatology 35: 639–651

Niedobitek G, Mutimer DJ, Williams A et al. (1997) Epstein-Barr virus infection and malignant lymphomas in liver transplant recipients. Int J Cancer 73: 514–520

Nikeghbalian S, Nejatollahi SM, Salahi H et al. (2007) Does donor's fatty liver change impact on early mortality and outcome of liver transplantation. Transplant Proc 39: 1181–1183

Pacholczyk M, Lagiewska B, Gontarczyk GW et al. (2006) Biliary complications following liver transplantation: single-center experience. Transplant Proc 38: 247–249

Perkins JD (2007) Who is at risk for developing cytomegalovirus (CMV) infection following liver transplantation? Liver Transpl 13: 1195–1198

Perrella O, Sbreglia C, Arenga G et al. (2006) Acute rejection after liver transplantation: Is there a specific immunological pattern? Transplant Proc 38: 3594–3596

Portmann B (2004) Liver allograft pathology and biopsy interpretation. Verh Dtsch Ges Pathol 88: 29–38

Pungpapong S, Krishna M, Abraham SC et al. (2006) Clinicopathologic findings and outcomes of liver transplantation using grafts from donors with unrecognized and unusual diseases. Liver Transpl 12: 310–315

Rodriguez-Diaz Y, Reyes-Rodriguez R, Dorta-Francisco MC et al. (2006) De novo autoimmune hepatitis following liver transplantation for primary biliary cirrhosis. Transplant Proc 38: 1467–1470

Schmeding M, Dankof A, Krenn V et al. (2006) C4d in acute rejection after liver transplantation–a valuable tool in differential diagnosis to hepatitis C recurrence. Am J Transplant 6: 523–530

Sundaram SS, Melin-Aldana H, Neighbors K, Alonso EM (2006) Histologic characteristics of late cellular rejection, significance of centrilobular injury, and long-term outcome in pediatric liver transplant recipients. Liver Transpl 12: 58–64

Sutcliffe R, Maguire D, Mroz A et al. (2004) Bile duct strictures after adult liver transplantation: a role for biliary reconstructive surgery? Liver Transpl 10: 928–934

Syn WK, Nightingale P, Gunson B et al. (2007) Natural history of unexplained chronic hepatitis after liver transplantation. Liver Transpl 13: 984–989

Thung SN (2006) Histologic findings in recurrent HBV. Liver Transpl 12: S50–S53

Yamamoto K, Takada Y, Fujimoto Y et al. (2007) Nonalcoholic steatohepatitis in donors for living donor liver transplantation. Transplantation 83: 257–262

Yilmaz F, Aydin U, Nart D et al. (2006) The incidence and management of acute and chronic rejection after living donor liver transplantation. Transplant Proc 38: 1435–1437
Interessenkonflikt
Der korrespondierende Autor gibt an, dass kein Interessenkonflikt besteht.
About this article
Cite this article
Drebber, U., Dienes, H. Transplantationspathologie der Leber. Pathologe 29, 84–92 (2008). https://doi.org/10.1007/s00292-007-0956-0
Published:

Issue Date:

DOI: https://doi.org/10.1007/s00292-007-0956-0
Schlüsselwörter
Keywords