Zusammenfassung
Cholestasen im Neugeborenen- und Säuglingsalter stellen Pädiater und Pathologen nicht selten vor diagnostische Probleme. Eine Besonderheit der Neugeborenenleber besteht in ihrer Eigenschaft, auf unterschiedliche kausalgenetische Faktoren mit einem unspezifischen Reaktionsmuster unter dem Bild der so genannten neonatalen Hepatitis in Erscheinung zu treten. Eine differenzialdiagnostische Abgrenzung der verschiedenen Krankheitsbilder ist histologisch bei Beachtung spezieller morphologischer Teilkomponenten durchaus möglich. So manifestieren sich extrahepatische Gallenabflussstörungen wie Atresien oder Stenosen des Ductus hepaticus bzw. Choledochuszysten zudem mit portalen Gallengangsproliferaten einschließlich Gallenretentionszeichen. Bei einem Alagille-Syndrom (Syn.: arteriohepatische Dysplasie) hingegen ist der Nachweis eines interlobulären Gallengangsmangels ein wichtiges, differenzialdiagnostisches Merkmal. Stoffwechseldefekte, wie die Fruktoseintoleranz und die Galaktosämie, sind zusätzlich mit einer Leberzellverfettung vergesellschaftet. Die Kenntnis des klinischen Verlaufs, der laborchemischen und bildgebenden Daten sind in der Zusammenschau mit dem morphologischen Befund für die definitive Diagnosestellung erforderlich und setzen eine enge Kooperation zwischen Pädiater und Pathologen voraus.
Abstract
Cholestasis in neonates and infants frequently confronts pediatricians and pathologists with diagnostic problems. A specific feature of the liver in neonates is the ability to react to different causative factors with a non-specific hepatitis-like picture, the so-called neonatal hepatitis. A diagnostic discrimination of the various diseases is histologically only possible with close attention to typical morphologic features. Thus, extrahepatic biliary obstructions, such as atresia or stenosis of the hepatic duct or choledochal cysts present with portal bile duct proliferation and signs of bile retention in the neoducts. In Alagille syndrome (arteriohepatic dysplasia), however, paucity of intrahepatic bile ducts is an important diagnostic feature. Metabolic disorders, such as fructosemia and galactosemia are additionally associated with steatosis. Knowledge of the clinical course and laboratory and imaging data are necessary to make the definitive diagnosis in synopsis with the morphologic findings and requires a close co-operation between the pediatrician and the pathologist.
Access options
Buy single article
Instant access to the full article PDF.
USD 39.95
Price excludes VAT (USA)
Tax calculation will be finalised during checkout.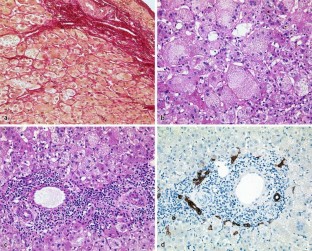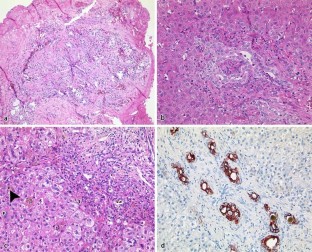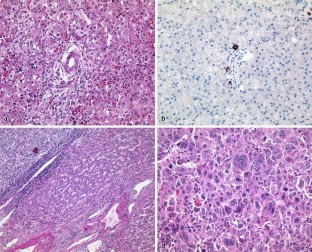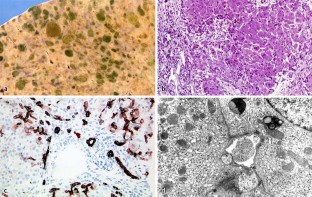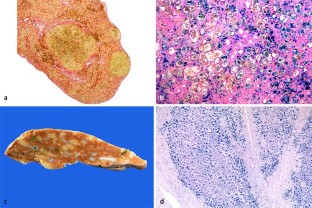 Literatur
Angulo P, Lindor KD (1999) Primary sclerosing cholangitis. Hepatology 30: 325–332

Azar G, Beneck D, Lane B et al. (2002) Atypical morphologic presentation of biliary atresia and value of serial liver biopsies. J Pediatr Gastroenterol Nutr 34: 212–215

Bates MD, Bucuvales JC, Alonso W et al. (1998) Biliary atresia: Pathogenesis and treatment. Semin Liver Dis 18: 281–293

Bar Meir M, Hadas-Halperin J, Fisher D et al. (2000) Neonatal sclerosing cholangitis associated with autoimmune phenomena. J Pediatr Gastroenterol Nutr 30: 332–334

Brown HL, Abernathy MP (1998) Cytomegalovirus infection. Semin Perinatol 22: 260–266

Colombo C, Crosignani A, Batezzati PM (1999) Liver involvement in cystic fibrosis. J Hepatol 31: 946–954

Demers SI, Russo P, Lettre F et al. (2003) Frequent mutation reversion in a severe liver disease, hereditary tyrosinemia, inversely correlates with clinical severity. Hum Pathol 34: 1313–1320

Deutsch GH, Sokol RJ, Stathos TH et al. (2001) Proliferation to paucity: evolution of bile duct abnormalities in a case of Alagille syndrome. Pediatr Dev Pathol 4: 559–563

Dimmick JE, Applegarth DA (1993) Pathology of peroxisomal disorders. Perspect Pediatr Pathol 17: 45–98

Drut R, Drut RM, Gomez MA et al. (1998) Presence of human papilloma virus in EBA. J Pediatr Gastroenterol Nutr 27: 530–535

Dufour JF, Pratt DS (2001) Alagille syndrome with colonic polyposis. Am J Gastorenterol 96: 2727–2777

Emmerick KM, Rand EB, Goldmuntz E et al. (1999) Features of Alagille syndrome in 92 patients: frequency and relation to prognosis. Hepatology 29: 431–437

Flynn DM, Nijjar S, Hubscher SG et al. (2004) The role of Notch receptor expression in bile duct development and disease. J Pathol 204: 55–64

Guarner J, Greer PW, Barlett J et al. (1999) Congenital syphilis in a newborn: an immunopathologic study. Mod Pathol 12: 82–87

Ishak KG (2002) Inherited metabolic diseases of the liver. Clin Liver Dis 6: 455–479

Ishak K, Sharp H, Schwarzenberg S (2002) Metabolic errors and liver disease. In: MacSween RNM, Burt AD, Portmann BC et al. (eds) Pathology of the liver. Churchill-Livingstone, London, p 194

Jacquemin E (2000) Progressive familial intrahepatic Cholestasis: genetic basis and treatment. Clin Liver Dis 4: 753–763

Jansen PL, Muller M (2000) The molecular genetics of familial intrahepatic cholestasis. Gut 47: 1–5

Karrev FM, Hall RJ, Lilly JR (1991) Biliary atresia and the polysplenia syndrome. J Pediatr Surg 26: 524–527

Kelly AL, Lunt PW, Rodrigues F et al. (2001) Classification and genetic features of neonatal hemochromatosis: a study of 27 affected pedigrees and molecular analysis of genes implicated in iron metabolism. J Med Genet 38: 599–610

Kelley RJ, Raymond GV, Watkins PA (2004) Zellweger syndrome and other disorders of peroxisomal metabolism. In: Walker AM, Goulet OJ, Kleinman RE et al. (eds) Pediatric gastrointestinal disease. Decker BC, Hamilton, pp 1401–1428

Libbrecht L, Spinner NB, Moore EC et al. (2005) Peripheral bile duct paucity and cholestasis in the liver of a patient with Alagille syndrome: further evidence supporting a lack of postnatal bile duct branching and elongation. Am J Surg Pathol 29: 820−826

Liu C, Chiu JH, Chin T et al. (2000) Expression of fas Ligand on bile ductule epithelium in biliary atresia – a poor prognostic factor. J Pediatr Surg 35: 1591–1596

Lynfield R, Guerina NG (1997) Toxoplasmosis. Pediatr Rev 18: 75–83

McKiernan PJ, Baker AJ, Kelly DA (2000) The frequency and outcome of biliary atresia in the UK and Ireland. Lancet 355: 25–29

Piccoli DA, Spinner NB (2001) Alagille sindrome and the Jagged 1 gene. Semin Liver Dis 21: 525–534

Raweily EA, Gibson AA, Burt AD (1990) Abnormalities of intrahepatic bile ducts in extrahepatic biliary atresia. Histopathology 17: 521–527

Riepenhoff-Talty M, Gouvea V, Evans MJ et al. (1996) Detection of group C rotavirus in infants with extrahepatic atresia. J Infect Dis 174: 8–15

Russo PA, Mitchel GA, Tanguay RM (2001) Tyrosinemia: a review. Pediatr Dev Pathol 4: 212–221

Russo P, Rand E, Haber BA (2004) Diseases of the biliary tree in infancy and childhood. In: Russo P, Ruchelli E, Piccoli D (eds) Pathology of pediatric and liver disease. Springer, New York, pp 203–236

Russo P, Loomes KM (2004) Diseases of the biliary tree in infancy and childhood. Part B: Disease of the intrahepatic biliary tree-paucity of intrahepatic bile ducts. In: Russo P, Ruchelli E, Piccoli D (eds) Pathology of pediatric gastrointestinal and liver disease. Springer, New York, pp 220–228

Schreiber RA, Kleinman RE (2002) Biliary atresia. J Pediatr Gastroenterol Nutr (Suppl 1) 35: S11–S16

Silver MM, Valberg LS, Cutz E et al. (1993) Hepatic morphology and iron quantitation in perinatal hemochromatosis. Comparison with a large perinatal control population, including cases with chronic liver disease. Am J Pathol 143: 1312–1325

Tatekawa Y, Asonuma K, Remoto S et al. (2001) Liver transplantation for biliary atresia associated with malignant hepatic tumors. J Pediatr Surg 36: 436–439

Trauner M, Fickert P, Wagner M (2007) MDR 3 (ABCB4) defects: a paradigm for the genetics of adult cholestastic syndromes. Semin Liver Dis 27: 77–98

Tyler KL, Sokol RY, Oberhaus SM et al. (1998) Detection of reovirus RNA in choledochal cysts. Hepatology 27: 1475–1482
Danksagung
Für die Herstellung der Schnittpräparate und Färbungen danken wir Frau Susanne Steiner, für die Hilfe bei der Bildbearbeitung danken wir Herrn Gerrit Klemm und seinen Mitarbeiterinnen und Mitarbeitern.
Interessenkonflikt
Die korrespondierende Autorin gibt an, dass kein Interessenkonflikt besteht.
About this article
Cite this article
Knöpfle, G., Adam, A. & Fischer, HP. Cholestase-assoziierte Lebererkrankungen im Neugeborenen- und Säuglingsalter. Pathologe 29, 61–72 (2008). https://doi.org/10.1007/s00292-007-0955-1
Published:

Issue Date:

DOI: https://doi.org/10.1007/s00292-007-0955-1
Schlüsselwörter
Keywords