Zusammenfassung
Das hepatozelluläre Karzinom (HCC) entsteht zu etwa 15–20% in nichtzirrhotischen Lebern. Alle Ursachen, die ein HCC in einer Leberzirrhose (LZ) verursachen, können auch ohne Zirrhose zu einem HCC führen. Nach der relativen Häufigkeit kann man grob 3 Gruppen von Erkrankungen unterscheiden. 1. HCC, die selten ohne LZ entstehen (z. B. Virushepatitis, Alkoholabusus). 2. HCC, die häufiger auch ohne LZ entstehen (z. B. Alpha-1-Antitrypsin-Mangel, Hämochromatose, nichtalkoholische Fettlebererkrankung). 3. HCC, die grundsätzlich ohne LZ entstehen (z. B. Glykogenose Typ 1, Gebrauch oraler Kontrazeptiva/anaboler Steroide). In Fällen der Gruppen 1 und 2 war die notwendige zytotoxische Dosis der Noxe zum Erreichen einer LZ noch nicht erreicht, der karzinogene Effekt hingegen schon wirksam, möglicherweise begünstigt durch Ko-Karzinogene und Wirtsfaktoren. Karzinogene der Gruppe 3 verändern eher adaptativ den hepatozellulären Metabolismus ohne nennenswerte Zytotoxizität, können aber bei langfristiger Einwirkung dennoch zu HCC führen. Insbesondere in diesen Fällen entstehen die Karzinome oft über die Zwischenstufe des hepatozellulären Adenoms (Adenom-Karzinom-Sequenz).
Abstract
Of hepatocellular carcinomas (HCC), 15–20% occur in the non-cirrhotic liver. All factors which cause HCC when liver cirrhosis (LC) is present, can also lead to HCC without LC. On the basis of the relative frequency, HCC can be roughly differentiated into 3 groups: 1) HCC, rarely occurring without cirrhosis (e.g. virus hepatitis, alcohol abuse). 2) HCC, frequently occurring without LC (alpha1-antiytrypsin deficiency, hemochromatosis, non-alcoholic fatty liver disease). 3) HCC, consistently occurring without LC (glycogen storage disease type 1, consumption of oral contraceptives/anabolic steroids). In groups 1 and 2 the level of hepatocellular toxicity necessary to reach LC is not yet achieved but the carcinogenic effect is already strong enough to induce HCC, possibly owing to the influence of additional carcinogens or host factors. In group 3, the carcinogenic effect is mediated by a long-standing alteration of the hepatocellular metabolism that is of low toxic effect and does not lead to cell death, but is nevertheless carcinogenic. In these cases, the initial formation of hepatocellular adenomas that subsequently transform into HCC is a common finding (adenoma-carcinoma sequence).
This is a preview of subscription content,
to check access.
Access this article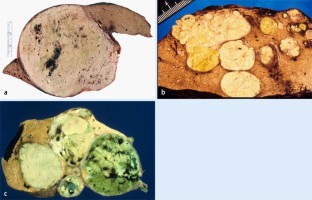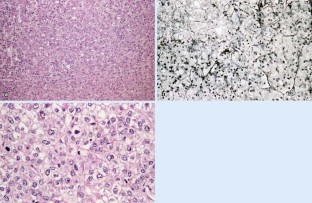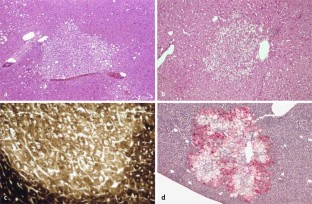 Literatur
Bannasch P (1996) Pathogenesis of hepatocellular carcinoma: sequential cellular, molecular, and metabolic changes. Prog Liver Dis 14: 161–197

Bianchi L (1993) Glycogen storage disease I and hepatocellular tumours. Eur J Pediatr 152: S63–S70

Blanc JF, De Ledinghen V, Bernard PH et al. (2000) Increased incidence of HFE C282Y mutations in patients with iron overload and hepatocellular carcinoma developed in non-cirrhotic liver. J Hepatol 32: 805–811

Bralet MP, Degott C, Belghiti J, Terris B (1998) Prevalence of the haemochromatosis gene mutation in non-cirrhotic liver with hepatocellular carcinoma. J Hepatol 28: 740–741

Burri E, Steuerwald M, Cathomas G et al. (2006) Hepatocellular carcinoma in a liver-cell adenoma within a non-cirrhotic liver. Eur J Gastroenterol Hepatol 18: 437–441

Cattan S, Wendum D, Chazouilleres O et al. (2000) Hepatocellular carcinoma and focal hepatic glycogenosis after prolonged azathioprine therapy. Hum Pathol 31: 874–876

Chen SC, Cummings OW, Hartley MP et al. (2006) Hepatocellular carcinoma occurring in a patient with Crohn's disease treated with both azathioprine and infliximab. Dig Dis Sci 51: 952–955

Closset J, Veys I, Peny MO et al. (2000) Retrospective analysis of 29 patients surgically treated for hepatocellular adenoma or focal nodular hyperplasia. Hepatogastroenterology 47: 1382–1384

Davila JA, Morgan RO, Shaib Y et al. (2005) Diabetes increases the risk of hepatocellular carcinoma in the United States: A population based case control study. Gut 54: 533–539

Dombrowski F, Flaschka C, Klotz L et al. (2006) Hepatocellular neoplasms after intrahepatic transplantation of ovarian fragments into ovariectomized rats. Hepatology 43: 857–867

Dombrowski F, Mathieu C, Evert M (2006) Hepatocellular neoplasms induced by low-number pancreatic islet transplants in autoimmune diabetic BB/Pfd rats. Cancer Res 66: 1833–1843

Edmondson HA, Reynolds TB, Henderson B, Benton B (1977) Regression of liver cell adenomas associated with oral contraceptives. Ann Intern Med 86: 180–182

El-Serag HB, Rudolph KL (2007) Hepatocellular carcinoma: epidemiology and molecular carcinogenesis. Gastroenterology 132: 2557–2576

El-Serag HB, Tran T, Everhart JE (2004) Diabetes increases the risk of chronic liver disease and hepatocellular carcinoma. Gastroenterology 126: 460–468

Evert M, Schneider-Stock R, Dombrowski F (2005) Overexpression of fatty acid synthase in chemically and hormonally induced hepatocarcinogenesis of the rat. Lab Invest 85: 99–108

Ferrell LD (1993) Hepatocellular carcinoma arising in a focus of multilobular adenoma. A case report. Am J Surg Path 17: 525–529

Fischer G, Hartmann H, Droese M et al. (1986) Histochemical and immunohistochemical detection of putative preneoplastic liver foci in women after long-term use of oral contraceptives. Virchows Arch B Cell Pathol 50: 321–327

Foster JH, Berman MM (1994) The malignant transformation of liver cell adenomas. Arch Surg 129: 712–717

Franco LM, Krishnamurthy V, Bali D et al. (2005) Hepatocellular carcinoma in glycogen storage diesease type Ia: A case series. J Inherit Metab Dis 28:153–162

Gordon SC, Reddy R, Livingstone AS et al. (1986) Resolution of a contraceptive-steroid-induced hepatic adenoma with subsequent evolution into hepatocellular carcinoma. Ann Intern Med 105: 547–549

Gyorffy EJ, Bredfeldt JE, Black WC (1989) Transformation of hepatic cell adenoma to hepatocellular carcinoma due to oral contraceptive use. Ann Intern Med 110: 489–490

Hai S, Kubo S, Shuto T et al. (2006) Hepatocellular carcinoma arising from nonalcoholic steatohepatitis: Report of two cases. Surg Today 36: 390–394

Korula J, Yellin A, Kanel G et al. (1991) Hepatocellular carcinoma coexisting with hepatic adenoma. Incidental discovery after long-term oral contraceptive use. Western J Med 155: 416–418

Kowdley KV (2004) Iron, hemochromatosis and hepatocellular carcinoma. Gastroenterology 127: S79–S86

Lai MS, Hsieh MS, Chiu YH, Chen THH (2006) Type 2 diabetes and hepatocellular carcinoma: A cohort study in high prevalence area of hepatitis virus infection. Hepatology 43: 1295–1302

Libbrecht L, Craninx M, Nevens F et al. (2001) Predictive value of liver cell dysplasia for development of hepatocellular carcinoma in patients with non-cirrhotic and cirrhotic chronic viral hepatitis. Histopathology 39: 66–73

MacSween RNM, Burt AD, Portmann BC et al. (eds) (2002) Pathology of the liver. Harcourt, London

Nzeako U, Goodman Z, Ishak KG (1996) Hepatocellular carcinoma in cirrhotic and noncirrhotic livers. Am J Clin Pathol 105: 65–75

Ohata K, Hamasaki K, Toriyama K et al. (2003) Hepatic steatosis is a risk factor for hepatocellular carcinoma in patients with chronic hepatitis c virus infection. Cancer 97: 3036–3043

Okuda K, Nakashima T, Kojiro M et al. (1989) Hepatocellular carcinoma without cirrhosis in Japanese patients. Gastroenterology 97: 140–146

Okuda K, Tabor E (eds) (1997) Liver Cancer. Churchill-Livingstone, London

Regimbeau JM, Colombat M, Mognol P et al. (2004) Obesity and diabetes as a risk factor for hepatocellular carcinoma. Liver Transpl 10: S69–S73

Su Q, Benner A, Hofmann WJ et al. (1997) Human hepatic preneoplasia: phenotypes and proliferation kinetics of foci and nodules of altered hepatocytes and their relationship to liver cell dysplasia. Virchows Arch 431: 291–406

Tesluk H, Lawrie J (1981) Hepatocellular adenoma. Its transformation to carcinoma in a user of oral contraceptives. Arch Pathol Lab Med 105: 296–299

Trevisani F, D'Intino PE, Caraceni P et al. (1995) Etiologic factors and clinical presentation of hepatocellular carcinoma. Differences between cirrhotic and noncirrhotic Italian patients. Cancer 75: 2220–2232

Turlin B, Juguet F, Moirand R et al. (1995) Increased liver iron stores in patients with hepatocellular carcinoma developed on a noncirrhotic liver. Hepatology 22: 446–450

Van Roey G, Fevery J, van Steenbergen W (1999) Hepatocellular carcinoma in Belgium: clinical and virological characteristics of 154 consecutive cirrhotic and non-cirrhotic patients. Eur J Gastroenterol Hepatol 12: 61–66

Velazquez I, Alter BP (2004) Androgens and liver tumors: Fanconi's anemia and Non-Fanconi's conditions (2004) Am J Hematol 77: 257–267

Yu MC, Yuan JM (2004) Environmental factors and risk for hepatocellular carcinoma. Gastroenterology 237: S72–S78

Zhou H, Ortiz-Pallardo ME, Ko Y, Fischer HP (2000) Is heterozygous alpha-1-antitrypsin deficiency type PIZ a risk factor for primary liver carcinoma? Cancer 88: 2668–2676
Interessenkonflikt
Der korrespondierende Autor gibt an, dass kein Interessenkonflikt besteht.
About this article
Cite this article
Evert, M., Dombrowski, F. Hepatozelluläre Karzinome in der nichtzirrhotischen Leber. Pathologe 29, 47–52 (2008). https://doi.org/10.1007/s00292-007-0953-3
Published:

Issue Date:

DOI: https://doi.org/10.1007/s00292-007-0953-3
Schlüsselwörter
Keywords