Zusammenfassung
Die bronchoalveoläre Lavage (BAL) ist eine etablierte Methode, um mit Hilfe eines Bronchoskops Material von den peripheren Atemwegen wie den terminalen Bronchiolen und den Alveolen zu gewinnen. Bei Beachtung der Standardprotokolle wird sie vom Patienten gut vertragen und spielt daher eine wichtige Rolle bei der Diagnose von interstitiellen Lungenerkrankungen und auch von Infektionskrankheiten. Bei bestimmten Krankheitsbildern wie z. B. der Alveolarproteinose oder einer Langerhans-Zell-Histiozytose erlauben spezifische Befunde, auf eine invasive Diagnostik zu verzichten. Bei anderen Erkrankungen ist in vielen Fällen eine Einengung der Differenzialdiagnosen möglich. Dennoch kann bis heute häufig nicht gänzlich auf die Biopsie verzichtet werden. Die Kombination beider Methoden erlaubt in Zusammenschau mit den klinisch erhobenen Befunden eine zuverlässige Diagnostik sowie die Erforschung der pathologischen Veränderungen bei Entzündungen und fibrosierenden Lungenerkrankungen.
Abstract
Bronchoalveolar lavage (BAL) has become an established method for the diagnosis of infectious and interstitial lung diseases. Using a bronchoscope material from the peripheral airways and aleveolar spaces can be obtained. When standard protocols are followed the procedure is generally well tolerated and in combination with clinical tests allows a reliable diagnosis in many cases. Certain clinical entities, e.g. alveolar proteinosis and Langerhans cell histiocytosis can be diagnosed by BAL alone without resorting to invasive diagnostic tests. In other diseases, BAL allows to narrow the range of the differential diagnosis. However, biopsies can often still not be avoided completely. A combination of both methods together with the clinical findings represents a powerful tool for diagnosis and research into the pathologic alterations in inflammatory and fibroising lung diseases.
Access options
Buy single article
Instant access to the full article PDF.
USD 39.95
Price excludes VAT (USA)
Tax calculation will be finalised during checkout.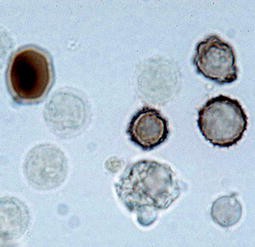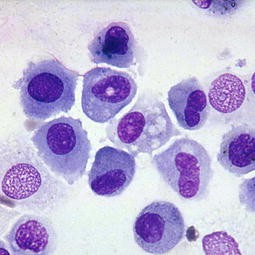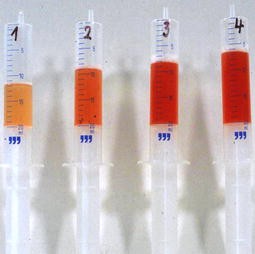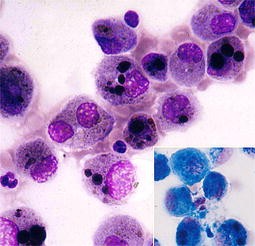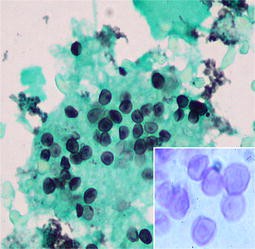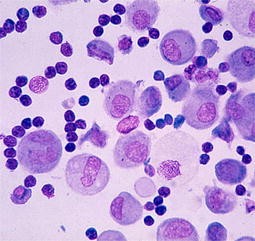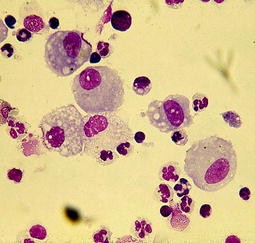 Literatur
BAL Cooperative Group Steering Committee (1990) Bronchoalveolar lavage constituents in healthy individuals, idiopathic pulmonary fibrosis, and selected comparison groups. Am Rev Respir Dis 141: S169–S202

Baughman RP, Dohn MN, Frame PT (1994) The continuing utility of bronchoalveolar lavage to diagnose opportunistic infection in AIDS patients. Am J Med 97: 515–522

Baughman RP, Drent M (2001) Role of bronchoalveolar lavage in interstitial lung disease. Clin Chest Med 22: 331–341

Benzer A, Ofner D, Totsch M, Klima G (1994) Early diagnosis of fat embolism syndrome by automated image analysis of alveolar macrophages. J Clin Monit 10: 213–215

Costabel U (1988) The alveolitis of hypersensitivity pneumonitis. Eur Respir J 1: 5–9

Costabel U (1994) Atlas der bronchoalveolären Lavage. Thieme, Stuttgart

Costabel U, Guzman J (2003) Bronchoalveolar lavage. In: Gobson GJ, Geddes DM, Costabel U et al. (eds) Respiratory Medecine. 3rd edn. Saunders, London, pp 438–448

Costabel U, Guzman J (1996) Die klinische Bedeutung der bronchoalveolären Lavage. Atemw Lungenerkrankungen 22: 110–114

Costabel U, Guzman J (2001) Bronchoalveolar lavage in interstitial lung disease. Curr Opin Pulm Med 7: 255–261

Costabel U, Teschler H, Guzman J (1992) Bronchiolitis obliterans organizing pneumonia (BOOP): The cytological and immunocytological profile of bronchoalveolar lavage. Eur Respir J 5: 791–797

Costabel U, Uzaslan E, Guzman J (2004) Bronchoalveolar lavage in drug-induced lung disease. Clin Chest Med 25: 25–35

Costabel U, Zaiss AW, Guzman J (1992) Sensitivity and specificity of BAL findings in sarcoidosis. Sarcoidosis 9: 211–214

Blic J de, McKelvie P, Le BM et al. (1987) Value of bronchoalveolar lavage in the management of severe acute pneumonia and interstitial pneumonitis in the immunocompromised child. Thorax 42: 759–765

Blic J de, Midulla F, Barbato A et al. (2000) Bronchoalveolar lavage in children. ERS Task Force on bronchoalveolar lavage in children. European Respiratory Society. Eur Respir J 15: 217–231

Fend F, Mikuz G, Ott G, Rothmund J (1989) Diagnostic value of combined bronchoalveolar lavage and transbronchial lung biopsy. Pathol Res Pract 184: 312–317

Finley TN, Swenson EW, Curran WS (1967) Broncho-pulmonary lavage in normal subjects and patients with obstructive lung disease. Ann Intern Med 66: 651–658

Garcia JG, Wolven RG, Garcia PL, Keogh BA (1986) Assessment of interlobar variation of bronchoalveolar lavage cellular differentials in interstitial lung diseases. Am Rev Respir Dis 133: 444–449

Golde DW, Drew WL, Klein HZ et al. (1975) Occult pulmonary haemorrhage in leukemia. Brit Med J II: 166–168

Harbeck RJ (1998) Immunophenotyping of bronchoalveolar lavage lymphocytes. Clin Diagn Lab Immunol 5: 271–277

Haslam PL, Baughman RP (1999) Report of ERS Task Force: Guidelines for measurement of acellular components and standardization of BAL. Eur Respir J 14: 245–248

Haslam PL, Dewar A, Butchers P et al. (1987) Mast cells, atypical lymphocytes, and neutrophils in bronchoalveolar lavage in extrinsic allergic alveolitis. Comparison with other interstitial lung diseases. Am Rev Respir Dis 135: 35–47

Jamnig R, Sideroff G, Puelacher C et al. (1991) Bronchoalveoläre Lavage und Tuberkulose: Vergleich zwischen Immunzytologie und Klinik. Mitt Öst Sanit Verwalt 92: 253–254

Keimowitz RI (1964) Immunoglobulins in normal human tracheobronchial washings. A quallitative and quantitative study. J Lab Clin Med 63: 54–59

Klech H, Hutter C (1990) Clinical guidelines and indications for bronchoalveolar lavage (BAL): report of the European Society of Pneumology Task Force on BAL. Eur Respir J 3: 937–974

Klech H, Pohl W (1989) Technical recommendations and guidelines for bronchoalveolar lavage (BAL). Report of the ERS Task Group. Eur Respir J 2: 561–585

Mairinger T, Gschwendtner A, Toetsch M et al. (1996) Automated cell differentiation of bronchoalveolar lavage samples with two-step image analysis. Anal Quant Cytol Histol 18: 453–460

Myrvik QN, Leake ES, Farris B (1961) Studies on pulmonary alveolar macrophages from the normal rabbit: A technique to procure them in a high state of purity. J Immunol 86: 128–132

Peterson MW, Nugent KM, Jolles H et al. (1988) Uniformity of bronchoalveolar lavage in patients with pulmonary sarcoidosis. Am Rev Respir Dis 137: 79–84

Poletti V, Cazzato S, Minicuci N et al. (1996) The diagnostic value of bronchoalveolar lavage and transbronchial lung biopsy in cryptogenic organizing pneumonia. Eur Respir J 9: 2513–2516

Reynolds HY, Newball HH (1974) Analysis of proteins and respiratory cells obtained from human lungs by bronchial lavage. J Lab Clin Med 84: 559–573

Rudd RM, Haslam PL, Turner-Warwick M (1981) Cryptogenic fibrosing alveolitis. Relationships of pulmonary physiology and bronchoalveolar lavage to response to treatment and prognosis. Am Rev Respir Dis 124: 1–8

Schnabel A, Csernok E, Braun J, Gross WL (2000) Activation of neutrophils, eosinophils, and lymphocytes in the lower respiratory tract in Wegener's granulomatosis. Am J Respir Crit Care Med 161: 399–405

Schwaiger A, Prior C, Weyrer K et al. (1991) Non-Hodgkin's lymphoma of the lung diagnosed by gene rearrangement from bronchoalveolar lavage fluid: a fast and noninvasive method. Blood 77: 2538–2539

Semenzato G, Poletti V (1992) Bronchoalveolar lavage in lung cancer. Respiration (Suppl 1)59: 44–46

Turner-Warwick M, Haslam PL (1987) The value of serial bronchoalveolar lavages in assessing the clinical progress of patients with cryptogenic fibrosing alveolitis. Am Rev Respir Dis 135: 26–34

Winterbauer RH, Lammert J, Selland M et al. (1993) Bronchoalveolar lavage cell populations in the diagnosis of sarcoidosis. Chest 104: 352–361
Interessenkonflikt
Keine Angaben
About this article
Cite this article
Tötsch, M., Guzman, J., Theegarten, D. et al. Bronchoalveoläre Lavage. Pathologe 28, 346–353 (2007). https://doi.org/10.1007/s00292-007-0926-6
Published:

Issue Date:

DOI: https://doi.org/10.1007/s00292-007-0926-6
Schlüsselwörter
Keywords