Zusammenfassung
Amyloid ist eine pathologische Proteinablagerung im Gewebe, die im konventionell Hämatoxylin/Eosin-gefärbten Schnittpräparat homogen eosinrot erscheint und nach Kongorotfärbung im polarisierten Licht eine charakteristische apfelgrüne Polarisationsfarbe aufweist. Über 26 verschiedene, autologe physiologische Proteine sind bereits beschrieben worden, die Amyloid bilden können. In der klinischen Pathologie ist die Immunglobulin-Leichtketten-assoziierte AL-Amyloidose die häufigste generalisiert auftretende Amyloidose, gefolgt von der hereditären und nichthereditären ATTR-Amyloidose und der AA-Amyloidose. Die AA-Amyloidose tritt meistens im Gefolge einer chronisch-infektiösen oder -inflammatorischen Grunderkrankung auf und kann eine potenziell lebensbegrenzende Komplikation darstellen. Das Ursachenspektrum der AA-Amyloidose hat sich in den vergangenen Jahrzehnten gewandelt und wird jetzt von chronisch-rheumatischen Erkrankungen und hereditären Fiebersyndromen bestimmt. Die frühzeitige Diagnose einer Amyloidose und deren korrekte Klassifikation stellen unverändert eine große Herausforderung dar. Eine genaue Klassifikation des Amyloids und der Amyloidose ist für die Prognoseabschätzung und Therapieplanung unverzichtbar. Für die Behandlung der AA-Amyloidosen stehen neben entzündungshemmenden zukünftig möglicherweise auch spezifische Behandlungsstrategien zur Verfügung.
Abstract
Amyloid is a pathological protein deposit in tissue which has a red eosin color when the slice preparation is stained with traditional hematoxylin and eosin and after Congo red staining under polarized light exhibits a characteristic apple-green polarization color. Over 26 different autologous physiological proteins have been described that can form amyloid. In surgical pathology, immunoglobulin light chain-associated AL amyloidosis is the most frequent generally occurring amyloidosis, followed by hereditary and nonhereditary ATTR amyloidosis and AA amyloidosis. AA amyloidosis mostly develops subsequent to chronic infectious or inflammatory underlying disease and can represent a potentially life threatening complication. The spectrum of causes for AA amyloidosis has changed in the past few decades and is now determined by chronic rheumatic diseases and hereditary periodic fever syndromes. Early diagnosis of an amyloidosis and its correct classification continue to pose a great challenge. Precise classification of the amyloid and amyloidosis is essential for prognosis assessment and treatment planning. In addition to anti-inflammatory management of AA amyloidosis, specific treatment strategies may possibly become available in the future.
Access options
Buy single article
Instant access to the full article PDF.
USD 39.95
Price excludes VAT (USA)
Tax calculation will be finalised during checkout.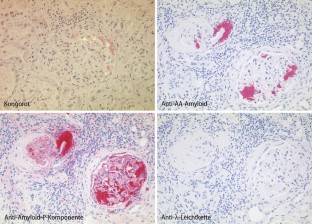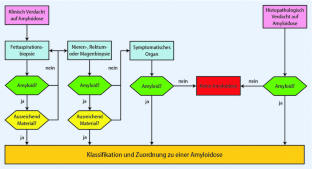 Literatur
Bohne S, Sletten K, Menard R, Bühling F et al. (2004) Cleavage of AL amyloid proteins and AL amyloid deposits by cathepsins B, K, and L. J Pathol 203: 528–537

Brandt K, Cathcart ES, Cohen AS (1968) A clinical analysis of the course and prognosis of forty-two patients with amyloidosis. Am J Med 44:955–969

Browning MJ, Banks RA, Tribe CR et al. (1985) Ten years' experience of an amyloid clinic – a clinicopathological survey. Q J Med 54: 213–227

Charra B, Calemard E, Uzan M et al. (1985) Carpal tunnel syndrome, shoulder pain and amyloid deposits in long-term haemodialysis patients. Proc Eur Dial Transplant Assoc Eur Ren Assoc 21: 291–295

Ensari C, Ensari A, Tumer N et al. (2005) Clinicopathological and epidemiological analysis of amyloidosis in Turkish patients. Nephrol Dial Transplant 20: 1721–1725

Ernst J, Wienands K, Mayer-Schlagintweit S et al. (1997) Can specific laboratory constellations improve the indication for rectal biopsy and thus contribute to the early diagnosis of AA amyloidosis in inflammatory rheumatic diseases? Clin Neuropathol 16: 49

Gertz MA, Kyle RA (1991) Secondary systemic amyloidosis: response and survival in 64 patients. Medicine (Baltimore) 70: 246–256

Gertz MA, Lacy MQ, Dispenzieri A (2002) Immunoglobulin light chain amyloidosis and the kidney. Kidney Int 61: 1–9

Gillmore JD, Lovat LB, Persey MR et al. (2001) Amyloid load and clinical outcome in AA amyloidosis in relation to circulating concentration of serum amyloid A protein. Lancet 358: 24–29

Grateau G (2003) Musculoskeletal disorders in secondary amyloidosis and hereditary fevers. Best Pract Res Clin Rheumatol 17: 929–944

Greenstein AJ, Sachar DB, Panday AK et al. (1992) Amyloidosis and inflammatory bowel disease. A 50-year experience with 25 patients. Medicine Baltimore 71: 261–270

Gregorini G, Izzi C, Obici L et al. (2005) Renal apolipoprotein A-I amyloidosis: a rare and usually ignored cause of hereditary tubulointerstitial nephritis. J Am Soc Nephrol 16: 3680–3686

Hazenberg BP, Van Rijswijk MH (1994) Clinical and therapeutic aspects of AA amyloidosis. Baillieres Clin Rheumatol 8: 661–690

Hazenberg BPC, Vanrijswijk MH (2000) Where has secondary amyloid gone? Ann Rheumatic Dis 59: 577–579

Helin HJ, Korpela MM, Mustonen JT et al. (1995) Renal biopsy findings and clinicopathologic correlations in rheumatoid arthritis. Arthritis Rheum 38: 242–247

Hook V, Toneff T, Bogyo M et al. (2005) Inhibition of cathepsin B reduces beta-amyloid production in regulated secretory vesicles of neuronal chromaffin cells: evidence for cathepsin B as a candidate beta-secretase of Alzheimer's disease. Biol Chem 386: 931–940

Ishii W, Matsuda M, Nakamura N et al. (2003) Phenol Congo red staining enhances the diagnostic value of abdominal fat aspiration biopsy in reactive AA amyloidosis secondary to rheumatoid arthritis. Intern Med 42: 400–405

Janssen S, Rijswijk MHv, Meijer S et al. (1986) Clinical evaluation of AA and AL amyloid disease. In: Marrink J, Van Rijswijk MH (eds) Amyloidosis. M.Nijhoff Publ, Dordrecht-Boston-Lancester, pp 61–72

Kaipiainen-Seppänen O, Myllykangas-Luosujärvi R, Lampainen E, Ikaheimo R (2000) Intensive treatment of rheumatoid arthritis reduces need for dialysis due to secondary amyloidosis. Scand J Rheumatol 29: 232–235

Kaplan B, Hrncic R, Murphy CL et al. (1999) Microextraction and purification techniques applicable to chemical characterization of amyloid proteins in minute amounts of tissue. Methods Enzymol 309: 67–81

Kazatchkine MD, Husby G, Araki S et al. (1993) Nomenclature of amyloid and amyloidosis – WHO-IUIS nomenclature sub-committee. Bull WHO 71: 105–108

Kebbel A, Röcken C (2006) Immunohistochemical classification of amyloid in surgical pathology revisited. Am J Surg Pathol 30: 673–683

Kobayashi H, Tada S, Fuchigami T et al. (1996) Secondary amyloidosis in patients with rheumatoid arthritis: diagnostic and prognostic value of gastroduodenal biopsy. Br J Rheumatol 35: 44–49

Kuroda T, Tanabe N, Sakatsume M et al. (2002) Comparison of gastroduodenal, renal and abdominal fat biopsies for diagnosing amyloidosis in rheumatoid arthritis. Clin Rheumatol 21: 123–128

Laiho K, Tiitinen S, Kaarela K et al. (1999) Secondary amyloidosis has decreased in patients with inflammatory joint disease in Finland. Clin Rheumatol 18: 122–123

Linke RP (2000) Highly sensitive diagnosis of amyloid and various amyloid syndromes using Congo red fluorescence. Virchows Arch 436: 439–448

Magnus JH, Stenstad T (1997) Proteoglycans and the extracellular matrix in amyloidosis. Amyloid 4: 121–134

Maury CP, Liljestrom M, Laiho K et al. (2003) Tumor necrosis factor alpha, its soluble receptor I, and −308 gene promoter polymorphism in patients with rheumatoid arthritis with or without amyloidosis: implications for the pathogenesis of nephropathy and anemia of chronic disease in reactive amyloidosis. Arthritis Rheum 48: 3068–3076

Maury CP, Tiitinen S, Laiho K et al. (2002) Raised circulating interleukin-18 levels in reactive AA-amyloidosis. Amyloid 9: 141–144

Merlini G, Bellotti V (2003) Molecular mechanisms of amyloidosis. N Engl J Med 349: 583–596

Myllykangas-Luosujärvi R, Aho K, Kautiainen H et al. (1999) Amyloidosis in a nationwide series of 1666 subjects with rheumatoid arthritis who died during 1989 in Finland. Rheumatology 38: 499–503

Nakano M, Ueno M, Nishi S et al. (1998) Analysis of renal pathology and drug history in 158 Japanese patients with rheumatoid arthritis. Clin Nephrol 50: 154–160

Obici L, Manno C, Muda AO et al. (2004) First report of systemic reactive (AA) amyloidosis in a patient with the hyperimmunoglobulinemia D with periodic fever syndrome. Arthritis Rheum 50: 2966–2969

Olsen KE, Sletten K, Westermark P (1999) The use of subcutaneous fat tissue for amyloid typing by enzyme- linked immunosorbent assay. Am J Clin Pathol 111: 355–362

Pras M, Itzchaki M, Prelli F et al. (1985) Amyloid arthropathy: characterization of the amyloid protein. Clin Exp Rheumatol 3: 327–331

Puchtler H, Sweat F, Levine M (1962) On the binding of Congo red by amyloid. J Histochem Cytochem 10: 355–364

Röcken C, Ernst J, Hund E et al. (2006) Interdisziplinäre Leitlinien zur Diagnostik und Therapie der extrazerebralen Amyloidosen. DMW 27: S45–S66

Röcken C, Kronsbein H, Sletten K et al. (2002) Amyloidosis of the breast. Virchows Arch 440: 527–535

Röcken C, Menard R, Bühling F et al. (2005) Proteolysis of serum amyloid A and AA amyloid proteins by cysteine proteases: cathepsin B generates AA amyloid proteins and cathepsin L may prevent their formation. Ann Rheum Dis 64: 808–815

Röcken C, Schwotzer E, Linke RP et al. (1996) The classification of amyloid deposits in clinicopathological practice. Histopathology 29: 325–335

Röcken C, Shakespeare A (2002) Pathology, diagnosis and pathogenesis of AA amyloidosis. Virchows Arch 440: 111–122

Röcken C, Sletten K (2003) Amyloid in surgical pathology. Virchows Arch 443: 3–16

Röcken C, Tautenhahn J, Bühling F et al. (2006) Prevalence and pathology of amyloid in atherosclerotic arteries. Arterioscler Thromb Vasc Biol 26: 676–677

Tanaka F, Migita K, Honda S et al. (2003) Clinical outcome and survival of secondary (AA) amyloidosis. Clin Exp Rheumatol 21: 343–346

Tishler M, Pras M, Yaron M (1988) Abdominal fat tissue aspirate in amyloidosis of familial Mediterranean fever. Clin Exp Rheumatol 6: 395–397

Tuglular S, Yalcinkaya F, Paydas S et al. (2002) A retrospective analysis for aetiology and clinical findings of 287 secondary amyloidosis cases in Turkey. Nephrol Dial Transplant 17: 2003–2005

Varga J, Idelson BA, Felson D et al. (1987) Lack of amyloid in abdominal fat aspirates from patients undergoing long-term hemodialysis. Arch Intern Med 147: 1455–1457

Wester AL, Vatn MH, Fausa O (2001) Secondary amyloidosis in inflammatory bowel disease: a study of 18 patients admitted to Rikshospitalet University Hospital, Oslo, from 1962 to 1998. Inflamm Bowel Dis 7: 295–300

Westermark P, Stenkvist B (1973) A new method for the diagnosis of systemic amyloidosis. Arch Int Med 132: 522–523

Yamada M, Hatakeyama S, Tsukagoshi H (1985) Gastrointestinal amyloid deposition in AL (primary or myeloma-associated) and AA (secondary) amyloidosis: diagnostic value of gastric biopsy. Hum Pathol 16: 1206–1211
Interessenkonflikt
Es besteht kein Interessenkonflikt. Der korrespondierende Autor versichert, dass keine Verbindungen mit einer Firma, deren Produkt in dem Artikel genannt ist, oder einer Firma, die ein Konkurrenzprodukt vertreibt, bestehen. Die Präsentation des Themas ist unabhängig und die Darstellung der Inhalte produktneutral.
About this article
Cite this article
Röcken, C., Ernst, J. Amyloiddiagnostik bei rheumatischen Erkrankungen. Pathologe 27, 422–430 (2006). https://doi.org/10.1007/s00292-006-0861-y
Issue Date:

DOI: https://doi.org/10.1007/s00292-006-0861-y
Schlüsselwörter
Keywords