Zusammenfassung
Primäre Lymphome der Leber sind seltene Malignome, die mit einer chronischen Virushepatitis, Immunsuppression oder Autoimmunerkrankungen assoziiert sein können, wohingegen sekundäre hepatische Lymphome als Ausdruck einer disseminierten Lymphomerkrankung vergleichsweise oft beobachtet werden. In abnehmender Häufigkeit finden sich diffuse großzellige B-Zell-Lymphome, chronische lymphatische B-Zell-Leukämien, Hodgkin-Lymphome, periphere T-Zell-Lymphome, follikuläre Lymphome und Marginalzonenlymphome. Aufgrund charakteristischer histomorphologischer Infiltrationsmuster ist es auch in Leberbiopsaten möglich, B-Zell-Lymphome durch eine Selektion immunhistologischer Marker zeit- und kosteneffektiv einzugrenzen, während bei T-Zell-Lymphomen nicht selten ergänzende molekularpathologische Untersuchungen notwendig sind. Differenzialdiagnostisch müssen hepatische Lymphome zum einen von entzündlichen Leber- und Gallenwegserkrankungen, zum anderen z. B. von undifferenzierten Karzinomen, inflammatorischen myofibroblastären Tumoren sowie histiozytären und dendritischen Tumoren abgegrenzt werden.
Abstract
Primary hepatic lymphomas represent rare neoplasms, which are partly observed in association with chronic viral hepatitis, immunosuppression and autoimmune diseases. In contrast, secondary hepatic lymphomas are much more frequent and represent disseminated disease. Lymphomas involving the liver include, with decreasing frequency, diffuse large B-cell lymphoma, small lymphocytic lymphoma, Hodgkin's lymphoma, peripheral T-cell lymphoma, follicular lymphoma and extranodal marginal zone B-cell lymphoma. Many B-cell lymphomas in the liver reveal a characteristic infiltration pattern allowing a rapid and cost-effective diagnosis based on focused immunohistochemical analyses. In contrast, most T-cell lymphomas show a more diverse morphology, which is sometimes difficult to differentiate from a reactive condition. Therefore, additional molecular analyses are frequently necessary. The differential diagnosis includes hepatitis and inflammatory bile duct diseases, undifferentiated carcinoma, inflammatory myofibroblastic tumor as well as histiocytic and dendritic cell neoplasms.
Access options
Buy single article
Instant access to the full article PDF.
USD 39.95
Price excludes VAT (USA)
Tax calculation will be finalised during checkout.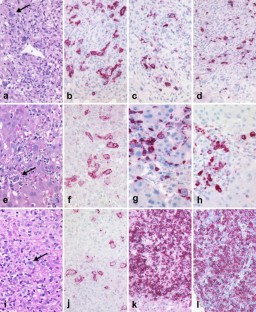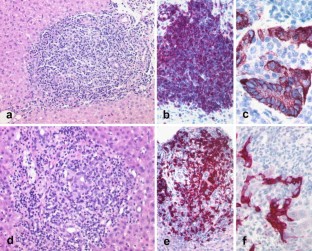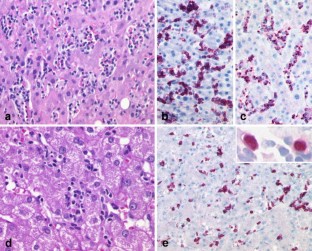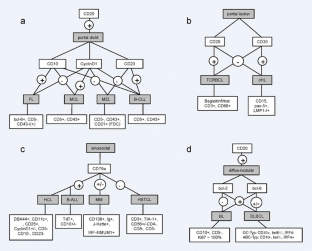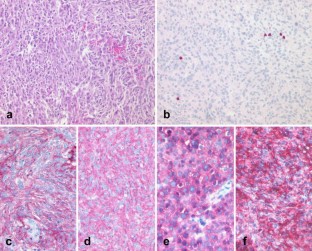 Literatur
Andreola S, Audisio RA, Mazzaferro V et al. (1988) Primary lymphoma of the liver showing immunohistochemical evidence of T-cell origin. Successful management by right trisegmentectomy. Dig Dis Sci 33: 1632–1636

Andres E, Perrin AE, Maloisel F et al. (2003) Primary hepatic anaplastic large cell Ki-1 non-Hodgkin's lymphoma and hereditary hemochromatosis: a fortuitous association? Clin Lab Haematol 25: 185–186

Anthony PP, Sarsfield P, Clarke T (1990) Primary lymphoma of the liver: clinical and pathological features of 10 patients. J Clin Pathol 43: 1007–1013

Avlonitis VS, Linos D (1999) Primary hepatic lymphoma: a review. Eur J Surg 165: 725–729

Bronowicki JP, Bineau C, Feugier P et al. (2003) Primary lymphoma of the liver: clinical-pathological features and relationship with HCV infection in French patients. Hepatology 7: 781–787

Caccamo D, Pervez NK, Marchevsky A (1986) Primary lymphoma of the liver in the acquired immunodeficiency syndrome. Arch Pathol Lab Med 110: 553–555

Castroagudin JF, Gonzalez-Quintela A, Fraga M et al. (1999) Presentation of T-cell-rich B-cell lymphoma mimicking acute hepatitis. Hepatogastroenterology 46: 1710–1713

Collins MH, Orazi A, Baumann M et al. (1993) Primary hepatic B-cell lymphoma in a child. Am J Surg Pathol 17: 1182–1186

Cooke CB, Krenacs L, Stetler-Stevenson M et al. (1996) Hepatosplenic T-cell lymphoma: a distinct clinicopathologic entity of cytotoxic gamma delta T-cell origin. Blood 88: 4265–4274

Coupland SE, Dallenbach FE, Stein H (2000) Kleinzellige B-Zell-Lymphome: Differential-diagnostische Leitlinien. Pathologe 21: 147–161

Dargent JL, De Wolf-Peeters C (1998) Liver involvement by lymphoma: identification of a distinctive pattern of infiltration related to T-cell/histiocyte-rich B-cell lymphoma. Ann Diagn Pathol 2: 363–369

Eom DW, Huh JR, Kang YK et al. (2004) Clinicopathological features of eight Korean cases of primary hepatic lymphoma. Pathol Int 54: 830–836

Ferluga D, Luzar B, Gadzijev EM (2003) Follicular lymphoma of the gallbladder and extrahepatic bile ducts. Virchows Arch 442: 136–140

Freeman HJ (1997) Hepatobiliary tract and pancreatic disorders in celiac disease. Can J Gastroenterol 11: 77–81

Gockel HR, Heidemann J, Lugering A et al. (2005) Stable remission after administration of rituximab in a patient with primary hepatic marginal zone B-cell lymphoma. Eur J Haematol 74: 445–447

Harris AC, Kornstein MJ (1993) Malignant lymphoma imitating hepatitis. Cancer 71: 2639–2646

Harris AC, Ben-Ezra JM, Contos MJ, Kornstein MJ (1996) Malignant lymphoma can present as hepatobiliary disease. Cancer 78: 2011–2019

Huang CB, Eng HL, Chuang JH et al. (1997) Primary Burkitt's lymphoma of the liver: report of a case with long-term survival after surgical resection and combination chemotherapy. J Pediatr Hematol Oncol 19: 135–138

Iannitto E, Ammatuna E, Tripodo C et al. (2004) Long-lasting remission of primary hepatic lymphoma and hepatitis C virus infection achieved by the alpha-interferon treatment. Hematol J 5: 530–533

Jaffe ES (1987) Malignant lymphomas: pathology of hepatic involvement. Semin Liver Dis 7: 257–268

Jaffe ES, Harris NL, Stein H, Vardiman JW (eds) (2001) Pathology and genetics of tumours of haematopoietic and lymphoid tissues. World Health Organisation.IARC, Lyon

Kim H, Dorfman RF (1974) Morphological studies of 84 untreated patients subjected to laparotomy for the staging of non-Hodgkin's lymphomas. Cancer 33: 657–674

Kirk CM, Lewin D, Lazarchick J (1999) Primary hepatic B-cell lymphoma of mucosa-associated lymphoid tissue. Arch Pathol Lab Med 123: 716–719

Lee SS, Cho KJ, Kim CW, Kang YK (1999) Clinicopathological analysis of 501 non-Hodgkin's lymphomas in Korea according to the revised European-American classification of lymphoid neoplasms. Histopathology 35: 345–354

Lei KI (1998) Primary non-Hodgkin's lymphoma of the liver. Leuk Lymphoma 29: 293–299

Levine AM, Shimodaira D, Lai MM (2003) Treatment of HCV-related mantle-cell lymphoma with ribavirin and pegylated interferon Alfa. N Engl J Med 349: 2078–2079

Luppi M, Grazia Ferrari M, Bonaccorsi G et al. (1996) Hepatitis C virus infection in subsets of neoplastic lymphoproliferations not associated with cryoglobulinemia. Leukemia 10: 351–355

Macon WR, Levy NB, Kurtin PJ et al. (2001) Hepatosplenic alphabeta T-cell lymphomas: a report of 14 cases and comparison with hepatosplenic gammadelta T-cell lymphomas. Am J Surg Pathol 25: 285–296

Maher MM, McDermott SR, Fenlon HM et al. (2001) Imaging of primary non-Hodgkin's lymphoma of the liver. Clin Radiol 56: 295–301

Memeo L, Pecorello I, Ciardi A et al. (1999) Primary non-Hodgkin's lymphoma of the liver. Acta Oncol 38: 655–658

Miller ST, Wollner N, Meyers PA et al. (1983) Primary hepatic or hepatosplenic non-Hodgkin's lymphoma in children. Cancer 52: 2285–2288

Myszor MF, Record CO (1990) Primary and secondary malignant disease of the liver and fulminant hepatic failure. J Clin Gastroenterol 12: 441–446

Ng P, Slater S, Radvan G, Price A (1999) Hepatic plasmacytomas: case report and review of imaging features. Australas Radiol 43: 98–101

Noronha V, Shafi NQ, Obando JA, Kummar S (2005) Primary non-Hodgkin's lymphoma of the liver. Crit Rev Oncol Hematol 53: 199–207

Ohsawa M, Aozasa K, Horiuchi K et al. (1992) Malignant lymphoma of the liver. Report of five cases and review of the literature. Dig Dis Sci 37: 1105–1109

Olatunji O, Okpala IE, Sorunmu MA (1991) Hepatitis B surface antigenaemia in patients with malignant lymphoproliferative disorders. Tokai J Exp Clin Med 16: 171–173

Osborne BM, Butler JJ, Guarda LA (1985) Primary lymphoma of the liver. Ten cases and a review of the literature. Cancer 56: 2902–2910

Penn I (1998) Primary malignancies of the hepato-biliary-pancreatic system in organ allograft recipients. J Hepatobiliary Pancreat Surg 5: 157–164

Ramos G, Murao M, de Oliveira BM et al. (1997) Primary hepatic non-Hodgkin's lymphoma in children: a case report and review of the literature. Med Pediatr Oncol 28: 370–372

Reichert CM, O'Leary TJ, Levens DL et al. (1983) Autopsy pathology in the acquired immune deficiency syndrome. Am J Pathol 112: 357–382

Romet-Lemonne JL, McLane MF, Elfassi E et al. (1983) Hepatitis B virus infection in cultured human lymphoblastoid cells. Science 221: 667–669

Rostaing L, Suc B, Fourtanier G et al. (1995) Liver B cell lymphoma after liver transplantation. Transplant Proc 27: 1781–1782

Sato S, Masuda T, Oikawa H et al. (1999) Primary hepatic lymphoma associated with primary biliary cirrhosis. Am J Gastroenterol 94: 1669–1673

Scheimberg IB, Pollock DJ, Collins PW et al. (1995) Pathology of the liver in leukaemia and lymphoma. A study of 110 autopsies. Histopathology 26: 311–321

Scoazec JY, Degott C, Brousse N et al. (1991) Non-Hodgkin's lymphoma presenting as a primary tumor of the liver: presentation, diagnosis and outcome in eight patients. Hepatology 13: 870–875

Silvestri F, Pipan C, Barillari G et al. (1996) Prevalence of hepatitis C virus infection in patients with lymphoproliferative disorders. Blood 87: 4296–4301

Smith MS, Nguyen GK (1996) Primary hepatic non-Hodgkin's lymphoma manifested initially as acute hepatitis. Diagn Cytopathol 14: 191–193

Stancu M, Jones D, Vega F, Medeiros LJ (2002) Peripheral T-cell lymphoma arising in the liver. Am J Clin Pathol 118: 574–581

Sutton E, Malatjalian D, Hayne OA, Hanly JG (1989) Liver lymphoma in systemic lupus erythematosus. J Rheumatol 16: 1584–1588

Tsuruta S, Enjoji M, Nakamuta M et al. (2002) Primary hepatic lymphoma in a patient with Sjogren's syndrome. J Gastroenterol 37: 129–132

Tsutsumi Y, Deng YL, Uchiyama M et al. (1991) OPD4-positive T-cell lymphoma of the liver in systemic lupus erythematosus. Acta Pathol Jpn 41: 829–833

Walz-Mattmuller R, Horny HP, Ruck P, Kaiserling E (1998) Incidence and pattern of liver involvement in haematological malignancies. Pathol Res Pract 194: 781–789

Wands JR, Chura CM, Roll FJ, Maddrey WC (1975) Serial studies of hepatitis-associated antigen and antibody in patients receiving antitumor chemotherapy for myeloproliferative and lymphoproliferative disorders. Gastroenterology 68: 105–112

Ye MQ, Suriawinata A, Black C et al. (2000) Primary hepatic marginal zone B-cell lymphoma of mucosa-associated lymphoid tissue type in a patient with primary biliary cirrhosis. Arch Pathol Lab Med 124: 604–608

Yoshimoto T, Araki Y, Kawano K et al. (1990) Primary hepatic lymphoma in a patient with autoimmune hemolytic anemia and SLE. Rinsho Ketsueki 31: 1878–1883

Zignego AL, Macchia D, Monti M (1992) Infection of peripheral mononuclear blood cells by hepatitis C virus. J Hepatol 15: 382–386

Zignego AL, Giannelli F, Marrocchi ME et al. (2000) T(14;18) translocation in chronic hepatitis C virus infection. Hepatology 31: 474–479
Interessenkonflikt
Es besteht kein Interessenkonflikt. Der korrespondierende Autor versichert, dass keine Verbindungen mit einer Firma, deren Produkt in dem Artikel genannt ist, oder einer Firma, die ein Konkurrenzprodukt vertreibt, bestehen. Die Präsentation des Themas ist unabhängig und die Darstellung der Inhalte produktneutral.
About this article
Cite this article
Longerich, T., Schirmacher, P., Dienes, H.P. et al. Maligne Lymphome in der Leber. Pathologe 27, 263–272 (2006). https://doi.org/10.1007/s00292-006-0838-x
Issue Date:

DOI: https://doi.org/10.1007/s00292-006-0838-x
Schlüsselwörter
Keywords