Zusammenfassung
Im Gegensatz zum hepatozellulären Karzinom (HCC) existierten bisher kaum molekularpathologische Untersuchungen des hepatozellulären Adenoms (HCA). Erkenntnisse zur Pathogenese liegen nur in Ansätzen vor. Besonders von chirurgischer Seite wird eine Operationsindikation wegen einer möglichen malignen Entartung des HCA gestellt. Die publizierten Fälle von Übergängen von HCA in ein HCC wurden auf der Basis heutiger morphologischer Standards neu evaluiert. Auch erfolgte ein Vergleich neuer molekularpathologischer Untersuchungen des HCA – vor allem Arbeiten eigener Arbeitsgruppen – mit denen des HCC. Die Ergebnisse sprechen dagegen, dass es sich bei typischen solitären HCA prämenopausaler Frauen um eine Vorläuferläsion des HCC handelt. Nach kritischer Revision der Literatur blieb nur eine Kasuistik eines Übergangs HCA/HCC unter einer heute nicht mehr üblichen Hormontherapie. Eine Abgrenzung besonderer HCA bei genetischen und Stoffwechselerkrankungen, Kindern, Männern, Adenomatosen und von HCA-artigen Tumoren bei bekannten Risikofaktoren des HCC erscheint sinnvoll. Bei den "klassischen" HCA dagegen könnte die onkologische chirurgische Indikation entfallen. Voraussetzung ist eine histologische Abklärung, ggf. mit Unterstützung durch molekularpathologische Methoden.
Abstract
In contrast to hepatocellular carcinoma (HCC), very few molecular pathological studies have been carried out on hepatocellular adenoma (HCA). Particularly from the surgical point of view, based on views passed on verbally and in the literature of the 1970s and 1980s, a possible degeneration of the HCA provides grounds for operating. Published cases of transitions from HCA into HCC were evaluated on the basis of today's morphological standards. A comparison was made between the patterns of new molecular pathological studies of HCA, above all the work of our own groups, and those of HCC. The results speak against the suggestion that a typical solitary HCA in pre-menopausal women is a precursor lesion of HCC. After a critical review of the literature, only one casuistic case of a transition of HCA to HCC under a hormone therapy, which is no longer practiced today, remained. A limitation of particular HCA in genetic and metabolic diseases, children, adult males, adenomatosis, and HCA-like tumors with known risk factors of HCC would seem pragmatically meaningful. With classic HCA, however, the oncological indication for surgery does not apply. A prerequisite is a histological clarification, if necessary with the support of molecular pathological methods.
This is a preview of subscription content,
to check access.
Access this article
We're sorry, something doesn't seem to be working properly.
Please try refreshing the page. If that doesn't work, please contact support so we can address the problem.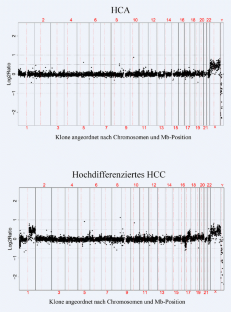 Literatur
Bala S, Wunsch PH, Ballhausen WG (1997) Childhood hepatocellular adenoma in familial adenomatous polyposis: mutations in adenomatous polyposis coli gene and p53. Gastroenterology 112: 919–922

Bianchi L (1993) Glycogen storage disease I and hepatocellular tumours. Eur J Pediat; 152 Suppl 1: S63–S70 (review)

Bioulac-Sage P, Rebouissou S, Sa Cunha A et al. (2005) Clinical, morphologic, and molecular features defining so-called telangiectatic focal nodular hyperplasias of the liver. Gastroenterology 128: 1211–1218

Chen YJ, Chen PJ, Lee MC et al. (2002) Chromosomal analysis of hepatic adenoma and focal nodular hyperplasia by comparative genomic hybridization. Genes Chromosomes Cancer 35: 138–143

Chen YW, Jeng YM, Yeh SH, Chen PJ (2002) P53 gene and Wnt signaling in benign neoplasms: beta-catenin mutations in hepatic adenoma but not in focal nodular hyperplasia. Hepatology 36: 927–935

Ferrell LD (1993) Hepatocellular carcinoma arising in a focus of multilobular adenoma. A case report. Am J Surg Pathol 17: 525–529

Ferrell LD, Crawford JM, Dhillon AP et al. (1993) Proposal for standardized criteria for the diagnosis of benign, borderline, and malignant hepatocellular lesions arising in chronic advanced liver disease. Am J Surg Pathol 17: 1113–1123

Flemming P, Wilkens L, Kreipe HH (2000) Histopathological diagnosis of primary liver tumors. Pathologe 22: 184–190

Foster JH, Berman MM (1993) The malignant transformation of liver cell adenomas. Arch Surg 129: 712–717 (review)

Goldfarb S (1976) Sex hormones and hepatic neoplasia. Cancer Res 36: 2584–2588

Gordon SC, Reddy KR, Livingstone AS et al. (1986) Resolution of a contraceptive-steroid-induced hepatic adenoma with subsequent evolution into hepatocellular carcinoma. Ann Intern Med 105: 547–549

Grazioli L, Federle MP, Ichikawa T et al. (2000) Liver adenomatosis: clinical, histopathologic, and imaging findings in 15 patients. Radiology 216: 395–402

Gyorffy EJ, Bredfeldt JE, Black WC (1989) Transformation of hepatic cell adenoma to hepatocellular carcinoma due to oral contraceptive use. Ann Intern Med 110: 489–490

Heinemann LA, Weimann A, Gerken G et al. (1998) Modern oral contraceptive use and benign liver tumors: the German Benign Liver Tumor Case-Control Study. Eur J Contracept Reprod Health Care 3: 194–200

Herman P, Machado MA, Volpe P et al. (1994)Transformation of hepatic adenoma into hepatocellular carcinoma in patients with prolonged use of oral contraceptives. Rev Hosp Clin Fac Med Sao Paulo 49: 30–33

Ito M, Sasaki M, Wen CY et al. (2003) Liver cell adenoma with malignant transformation: a case report. World J Gastroenterol 9: 2379–2381

Janes CH, McGill DB, Ludwig J, Krom RA (1993) Liver cell adenoma at the age of 3 years and transplantation 19 years later after development of carcinoma: a case report. Hepatology 17: 583–585

Kusano N, Shiraishi K, Kubo K et al. (1999) Genetic aberrations detected by comparative genomic hybridization in hepatocellular carcinomas: their relationship to clinicopathological features. Hepatology 29: 1858–1862

Lack EE, Neave C, Vawter GF (1983) Hepatocellular carcinoma. Review of 32 cases in childhood and adolescence. Cancer 52: 1510–1515

Leese T, Farges O, Bismuth H (1988) Liver cell adenomas. A 12-year surgical experience from a specialist hepato-biliary unit. Ann Surg 208: 558–564

Lehmann U, Berg-Ribbe I, Wingen LU et al. (2005) Distinct methylation patterns of benign and malignant liver tumors revealed by quantitative methylation profiling. Clin Cancer Res 11: 3654–3660

Perret AG, Mosnier JF, Porcheron J et al. (1996) Role of oral contraceptives in the growth of a multilobular adenoma associated with a hepatocellular carcinoma in a young woman. J Hepatol 25: 976–979

Scott FR, El-Refaie A, More L et al. (1996) Hepatocellular carcinoma arising in an adenoma: value of QBend 10 immunostaining in diagnosis of liver cell carcinoma. Histopathology 28: 472–474

Takayasu H, Motoi T, Kanamori Y et al. (2002) Two case reports of childhood liver cell adenomas harboring beta-catenin abnormalities. Hum Pathol 33: 852–855

Tannapfel A, Busse C, Geissler F et al. (2002) INK4a-ARF alterations in liver cell adenoma. Gut 51: 253–258

Tao LC (1991) Oral contraceptive-associated liver cell adenoma and hepatocellular carcinoma. Cytomorphology and mechanism of malignant transformation. Cancer 68: 341–347

Terkivatan T, de Wilt JH, de Man RA et al. (2001) Indications and long-term outcome of treatment for benign hepatic tumors: a critical appraisal. Arch Surg 136: 1033–1038

Terracciano L, Tornillo L (2003) Cytogenetic alterations in liver cell tumors as detected by comparative genomic hybridization. Pathologica 95: 71–82 (review)

Terracciano LM, Tornillo L, Avoledo P et al. (2004) Fibrolamellar hepatocellular carcinoma occurring 5 years after hepatocellular adenoma in a 14-year-old girl: a case report with comparative genomic hybridization analysis. Arch Pathol Lab Med 128: 222–226

Tesluk H, Lawrie J (1981) Hepatocellular adenoma. Its transformation to carcinoma in a user of oral contraceptives. Arch Pathol Lab Med 105: 296–299

Torbenson M, Lee JH, Choti M et al. (2002) Hepatic adenomas: analysis of sex steroid receptor status and the Wnt signaling pathway. Mod Pathol 15: 189–196

Weimann A, Fronhoff K, Gratz KF et al. (1998) Diagnostic and therapeutic strategies in hepatocellular adenoma. Zentralbl Chir 123: 140–144

Wilkens L, Bredt M, Flemming P et al. (2001 a) Diagnostic impact of fluorescence in situ hybridization in the differentiation of hepatocellular adenoma and well-differentiated hepatocellular carcinoma. J Mol Diagn 3: 68–73

Wilkens L, Bredt M, Flemming P et al. (2001) Differentiation of liver cell adenomas from well-differentiated hepatocellular carcinomas by comparative genomic hybridization (2001 b). J Pathol 193: 476–482

Wilkens L, Flemming P, Bredt M, Kreipe H (2002 a) Detection of chromosomal imbalances in hepatocellular carcinoma. Expert Rev Mol Diagn 2: 120–128 (review)

Wilkens L, Bredt M, Flemming A et al. (2002 b) Detection of chromosomal aberrations in well-differentiated hepatocellular carcinoma by bright-field in situ hybridization. Mod Pathol 15: 470–475

Wilkens L, Flemming P, Gebel M et al. (2004) Induction of aneuploidy by increasing chromosomal instability during dedifferentiation of hepatocellular carcinoma. Proc Natl Acad Sci USA 101: 1309–1314

Wilkens L, Becker T, Schlegelberger B et al. (2006) Preserved reticulin network in a case of hepatocellular carcinoma. Histopathology (in press)

Zucman-Rossi J (2004) Genetic alterations in hepatocellular adenomas: recent findings and new challenges. J Hepatol 40: 1036–1039 (review)
Interessenkonflikt
Es besteht kein Interessenkonflikt. Der korrespondierende Autor versichert, dass keine Verbindungen mit einer Firma, deren Produkt in dem Artikel genannt ist, oder einer Firma, die ein Konkurrenzprodukt vertreibt, bestehen. Die Präsentation des Themas ist unabhängig und die Darstellung der Inhalte produktneutral.
About this article
Cite this article
Flemming, P., Lehmann, U., Kreipe, H. et al. Leberzelladenom. Pathologe 27, 238–243 (2006). https://doi.org/10.1007/s00292-006-0835-0
Issue Date:

DOI: https://doi.org/10.1007/s00292-006-0835-0
Schlüsselwörter
Keywords