Zusammenfassung
Die morphologisch begründete Diagnostik kleiner mesothelialer Läsionen im bioptischen Einsendegut gewinnt vor der zunehmenden therapeutischen und bekannten berufsgenossenschaftlichen Relevanz im Falle maligner Mesotheliome an Bedeutung. Es wird eine konventionell lichtmikroskopisch und immunhistochemisch begründete Klassifikation zur Planung des weiteren klinischen Procedere vorgestellt. Die reaktive Mesothelhyperplasie heilt ad integrum. Mesotheliale Inklusionen kommen bei rezidivierenden Pleuritisschüben regelmäßig vor und dürfen nicht mit epitheloiden Mesotheliomen verwechselt werden. Bei der atypischen Mesothelproliferation muss sich eine weitere Abklärung zum Malignomnachweis anschließen, während das Mesothelioma in situ die früheste morphologisch eindeutige maligne Mesothelveränderung darstellt, die auch als Sicherung eines Mesothelioms vor versicherungsmedizinschem Hintergrund gilt. Beginnendes invasives Wachstum kennzeichnet das Frühmesotheliom. Immunhistochemisch hat sich in der Differenzialdiagnose neben Panzytokeratin, Ck 5/6, Calretinin und MiB-1 das EMA als hilfreich erwiesen, wohingegen Telomerase nicht verwertbar ist.
Abstract
The morphological diagnosis of small mesothelial lesions in pleural biopsies is gaining importance in view of more aggressive, multimodal therapeutic options and of medicolegal aspects if a malignant mesothelioma is diagnosed. We present a light microscopically and immunohistochemically based morphological classification for the planning of further clinical follow-up procedures. A reactive mesothelial hyperplasia heals without scars. Mesothelial inclusions in pleuritic scars are common in recurrent pleuritis and must not be confused with an epithelioid component of a desmoplastic mesothelioma. In case of atypical mesothelial proliferations, further diagnostic procedures have to be performed to obtain a clear diagnosis of malignancy. Mesothelioma in situ is the first morphological step in neoplastic mesothelial changes, also with regard to medicolegal aspects for the unambiguous diagnosis of a mesothelioma. Early infiltrative growth is characteristic of so called early mesothelioma. A useful immunohistochemical panel for the differential diagnosis consists of anti-cytokeratin, Ck 5/6, calretinin, EMA and MiB-1, whereas the immunohistochemical detection of telomerase is not helpful.
Access options
Buy single article
Instant access to the full article PDF.
USD 39.95
Price excludes VAT (USA)
Tax calculation will be finalised during checkout.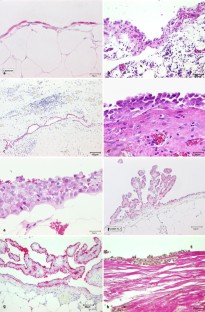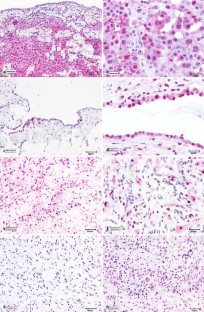 Literatur
Attanoos RL, Griffin A, Gibbs AR (2003) The use of immunohistochemistry in distinguishing reactive from neoplastic mesothelium. A novel use for desmin and comparative evaluation with epithelial membrane antigen, p53, platelet-derived growth factor-receptor, P-glycoprotein and Bcl-2. Histopathology 43:231–238

Cury PM, Butcher DN, Corrin B, Nicholson AG (1999) The use of histological and immunohistochemical markers to distinguish pleural malignant mesothelioma and in situ mesothelioma from reactive mesothelial hyperplasia and reactive pleural fibrosis. J Pathol 189:251–257

Henderson DW, Shilkin KB, Whitaker D (1998) Reactive mesothelial hyperplasia vs. mesothelioma including mesothelioma in situ. A brief review. Am J Clin Pathol 110:397–404

Krismann M, Jaworska M, Müller K-M, Johnen G (2002) Molecular cytogenetic differences between histological subtypes of malignant mesotheliomas — DNA cytometry and comparative genomic hybridisation of 90 cases. J Pathology 197:363–371

Kumaki F, Kawai T, Churg A et al. (2002) Expression of Telomerase reverse transcriptase (TERT) in malignant mesotheliomas. Am J Surg Pathol 26:365–370

Simon F, Johnen G, Krismann M, Müller K-M (2005) Chromosomal alterations in early stages of malignant mesotheliomas. Virchows Arch 447:762–767

To A, Dearnaley DP, Ormerod MG et al. (1982) Epithelial membrane antigen. Its use in the cytodiagnosis of malignancy in serous effusions. Am J Clin Pathol 78:214–219

Wittekind C, Bootz F, Meyer HJ (Hrsg) (2002) TNM Klassifikation maligner Tumoren, 6. Aufl. Springer, Berlin Heidelberg New York Tokyo
Interessenkonflikt:
Es besteht kein Interessenkonflikt. Der korrespondierende Autor versichert, dass keine Verbindungen mit einer Firma, deren Produkt in dem Artikel genannt ist, oder einer Firma, die ein Konkurrenzprodukt vertreibt, bestehen. Die Präsentation des Themas ist unabhängig und die Darstellung der Inhalte produktneutral.
Additional information
Herrn Prof. Dr. Klaus-Michael Müller zum 65. Geburtstag gewidmet.
About this article
Cite this article
Krismann, M., Thattamparambil, P., Simon, F. et al. Praktische Differenzialdiagnose präneoplastischer Veränderungen der Pleura und früher mesothelialer Neoplasien. Pathologe 27, 99–105 (2006). https://doi.org/10.1007/s00292-005-0815-9
Issue Date:

DOI: https://doi.org/10.1007/s00292-005-0815-9
Schlüsselwörter
Keywords