Zusammenfassung
Neuroendokrine Karzinome der Zervix sind selten. Sie treten beginnend vom jungen Erwachsenenalter bis ins hohe Lebensalter auf. Zwei Typen werden unterschieden: kleinzelliges Karzinom ("oat cell") und großzelliges neuroendokrines Karzinom. Beide können in Kombination mit einem Adenokarzinom oder einem Plattenepithelkarzinom der Zervix vorkommen. Immunhistochemisch findet sich eine konstante Expression zumindest eines neuroendokrinen Markers (Chromogranin, Synaptophysin, NSE) und von p16INK4a. Eine Expression des Retinoblastomproteins (pRb) wird nicht beobachtet. Die Expression von p53 ist inkonstant. Typischerweise findet sich eine Assoziation mit einer "High-risk-HPV Infektion", wobei HPV18 häufiger nachgewiesen wird als HPV16. Die Prognose ist ungünstig, da schon früh Lymphknotenmetastasen und hämatogene Metastasen in Lunge, Leber, Knochen und Gehirn auftreten.
Abstract
Neuroendocrine carcinomas of the cervix are rare. They cover a wide age range occurring in young adult women and very old women. Two types are distinguished: small cell carcinoma (oat cell) and large cell neuroendocrine carcinoma. They either occur in pure form or in combination with adenocarcinoma or squamous cell carcinoma. By immunohistochemistry, the expression of at least one neuroendocrine marker (chromogranin, synaptophysin, NSE) is a constant finding. PRb protein can not be detected, whereas the expression of p53 varies. Typically, there is an association with a high risk HPV infection. HPV 18 is found more often than HPV 16. The prognosis is still poor with early metastases to regional lymph nodes and distant sites such as lung, liver, bone, and brain.
Access options
Buy single article
Instant access to the full article PDF.
USD 39.95
Price includes VAT (USA)
Tax calculation will be finalised during checkout.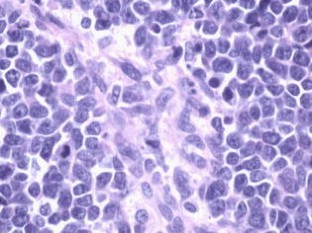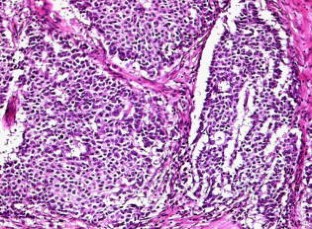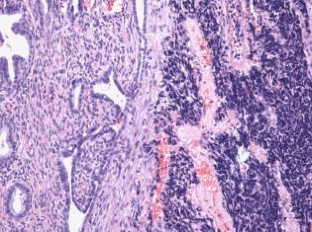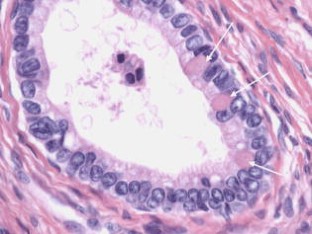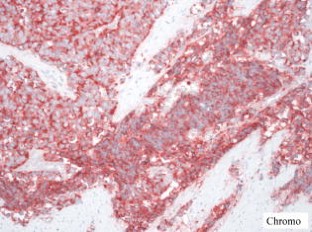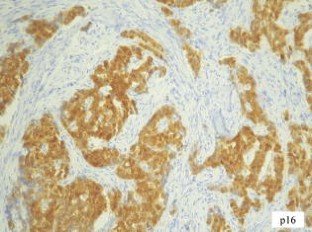 Literatur
1.

Abeler VM, Holm R, Nesland JM, Kjorstad KE (1994) Small cell carcinoma of the cervix. A clinicopathologic study of 26 patients. Cancer 73:672–677

2.

Chan JK, Loizzi V, Burger RA et al. (2003) Prognostic factors in neuroendocrine small cell cervical carcinoma: a multivariate analysis. Cancer 97:568–574

3.

Conner MG, Richter H, Moran CA et al. (2002) Small cell carcinoma of the cervix: a clinicopathologic and immunohistochemical study of 23 cases. Ann Diagn Pathol 6:345–348

4.

Gilks CB, Young RH, Gersell DJ, Clement PB (1997) Large cell neuroendocrine [corrected] carcinoma of the uterine cervix: a clinicopathologic study of 12 cases. Am J Surg Pathol 21:905–914

5.

Herrington CS, Graham D, Southern SA et al. (1999) Loss of retinoblastoma protein expression is frequent in small cell neuroendocrine carcinoma of the cervix and is unrelated to HPV type. Hum Pathol 30:906–910

6.

Horn LC, Fischer U, Bilek K (1996) Neuroendocrine differentiated carcinoma of the uterine cervix. Zentralbl Gynakol 118:679–683

7.

Horn LC, Fischer U, Bilek K (1997) Primitive neuroectodermal tumor of the cervix uteri. A case report. Gen Diagn Pathol 142:227–230

8.

Ishida GM, Kato N, Hayasaka T et al. (2004) Small cell neuroendocrine carcinomas of the uterine cervix: a histological, immunohistochemical, and molecular genetic study. Int J Gynecol Pathol 23:366–372

9.

Kostopoulos IS, Barbanis SB, Kaloutsi VD, Papadimitriou CS (2000) Synchronous occurrence of multiple malignant neoplasms in the uterus (adenocarcinoma of the endometrium, large B-cell lymphoma of the cervix). Pathol Res Pract 196:573–575

10.

Mannion C, Park WS, Man YG et al. (1998) Endocrine tumors of the cervix: morphologic assessment, expression of human papillomavirus, and evaluation for loss of heterozygosity on 1p,3p, 11q, and 17p. Cancer 83:1391–1400

11.

Masumoto N, Fujii T, Ishikawa M et al. (2003) P16 overexpression and human papillomavirus infection in small cell carcinoma of the uterine cervix. Hum Pathol 34:778–783

12.

Miller B, Dockter M, el Torky M, Photopulos G (1991) Small cell carcinoma of the cervix: a clinical and flow-cytometric study. Gynecol Oncol 42:27–33

13.

Silva E, Kott M, Ordonez N (1984) Endocrine carcinoma intermediate cell type of the uterine cervix. Cancer 54:1705–1713

14.

Stoler MH, Mills SE, Gersell DJ, Walker AN (1991) Small-cell neuroendocrine carcinoma of the cervix. A human papillomavirus type 18-associated cancer. Am J Surg Pathol 15:28–32

15.

Straughn JM Jr, Richter HE, Conner MG et al. (2001) Predictors of outcome in small cell carcinoma of the cervix — a case series. Gynecol Oncol 83:216–220

16.

Viswanathan AN, Deavers MT, Jhingran A et al. (2004) Small cell neuroendocrine carcinoma of the cervix: outcome and patterns of recurrence. Gynecol Oncol 93:27–33
Interessenkonflikt:
Der korrespondierende Autor versichert, dass keine Verbindungen mit einer Firma, deren Produkt in dem Artikel genannt ist, oder einer Firma, die ein Konkurrenzprodukt vertreibt, bestehen.
About this article
Cite this article
Schmidt, D., Horn, LC. & Kommoss, F. Neuroendokrine Karzinome der Cervix uteri. Pathologe 26, 262–265 (2005). https://doi.org/10.1007/s00292-005-0766-1
Schlüsselwörter
Zervix

Neuroendokrines Zervixkarzinom

HPV-Infektion

p16INK4a

Immunhistochemie
Keywords
Cervix

Neuroendocrine carcinoma

HPV infection

p16INK4a

Immunohistochemistry