Zusammenfassung
Bestimmte Typen der humanen Papillomviren (so genannte humane Papillomviren vom Hochrisikotyp: HR-HPV). spielen eine zentrale Rolle bei der Entstehung des Zervixkarzinoms. Zwar sind diese Viren in der Bevölkerung sehr weit verbreitet, jedoch entwickelt sich nach einer HPV-Infektion eher selten eine klinisch relevante Läsion. Für die Entstehung einer Dysplasie ist die deregulierte Expression der viralen Onkoproteine E6 und E7 in epithelialen Stammzellen erforderlich. Im Verlauf einer akuten Infektion werden diese Gene aber normalerweise nur in differenzierten und zellzyklusarretierten Zellen der oberen Schichten des Epithels exprimiert. Kommt es dagegen zur Aktivierung dieser Gene in den proliferierenden Basal- und Parabasalzellen, kann es durch Beeinträchtigung der Zellzyklusregulation, des mitotischen Spindelapparats und der Zentrosomenfunktionen zur Störung der Chromosomenverteilung und -struktur während der Mitose kommen. Dies führt zur chromosomalen Instabilität und bereitet den Boden für die anschließende Karzinogenese. Die Expression des HPV-E7-Onkoproteins bewirkt eine massive Überexpression des zellulären p16INK4a-Proteins, das sich daher zunehmend als geeigneter Surrogatmarker für die Diagnostik in Zytologie und Histologie erweist. Diese Übersicht fasst die Mechanismen der HPV-assoziierten Transformation zusammen und legt die sich daraus ergebende Möglichkeiten für die Diagnostik des Zerivxkarzinoms dar.
Abstract
Specific types of the human papillomaviruses (high risk human papillomaviruses) play an essential role in the pathogenesis of cervical cancer. Although infections by these viruses are very common in the general population, only few result in clinically relevant lesions. Continuous and deregulated expression of two viral oncoproteins E6 and E7 in basal or parabasal cells are required to induce and maintain neoplastic growth. In the course of an acute HPV-infection these genes are exclusively expressed in cell cycle arrested, terminally differentiated cells in the intermediate or superficial layers of the epithelium. Accidental activation of these genes in proliferating cells in the basal or parabasal cell layers results in interference with the cell cycle regulation, disturbances of the mitotic spindle apparatus and centrosome functions. This results in numerical and structural chromosome aberrations, chromosomal instability, increasing aneuploidy and initiates cervical carcinogenesis. The deregulated expression of the viral oncogene E7 is indicated by strong over-expression of the cellular p16INK4a gene product. This finding may have significant influence on novel strategies in cervical cancer diagnosis and screening. This review summarizes the basic molecular mechanisms of how papillomaviruses contribute to cellular transformation and how this can influence future diagnostic applications.
Access options
Buy single article
Instant access to the full article PDF.
US$ 39.95
Tax calculation will be finalised during checkout.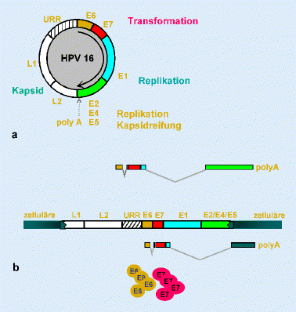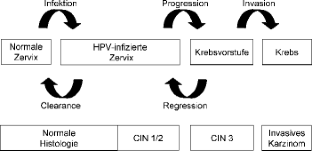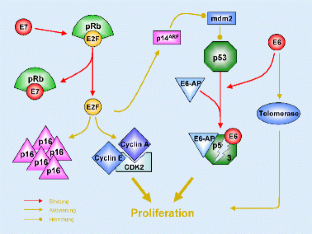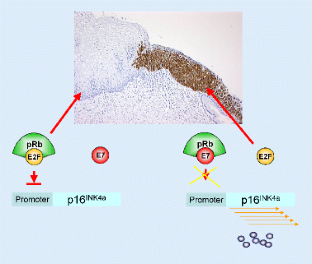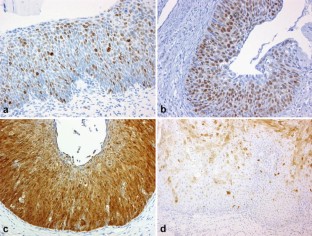 Literatur
1.

Brake T, Connor JP, Petereit DG, Lambert PF (2003) Comparative analysis of cervical cancer in women and in a human papillomavirus-transgenic mouse model: identification of minichromosome maintenance protein 7 as an informative biomarker for human cervical cancer. Cancer Res 63:8173–8180

2.

Casas-Cordero M, Morin C, Roy M et al. (1981) Origin of the koilocyte in condylomata of the human cervix: ultrastructural study. Acta Cytol 25:383–392

3.

De Villiers EM, Fauquet C, Broker TR et al. (2004) Classification of papillomaviruses. Virology 324:17–27

4.

Duensing S, Münger K (2004) Mechanisms of genomic instability in human cancer: insights from studies with human papillomavirus oncoproteins. Int J Cancer 109:157–162

5.

Guo M, Hu L, Baliga M et al. (2004) The predictive value of p16(INK4a) and hybrid capture 2 human papillomavirus testing for high-grade cervical intraepithelial neoplasia. Am J Clin Pathol 122:894–901

6.

Ho GY, Bierman R, Beardsley L et al. (1998) Natural history of cervicovaginal papillomavirus infection in young women. N Engl J Med 338:423–428

7.

Keating JT, Cviko A, Riethdorf S et al. (2001) Ki-67, cyclin E, and p16INK4a are complimentary surrogate biomarkers for human papilloma virus-related cervical neoplasia. Am J Surg Pathol 25:884–891

8.

Khleif SN, DeGregori J, Yee CL et al. (1996) Inhibition of cyclin D-CDK4/CDK6 activity is associated with an E2F-mediated induction of cyclin kinase inhibitor activity. Proc Natl Acad Sci U S A 93:4350–4354

9.

Klaes R, Woerner SM, Ridder R et al. (1999) Detection of high-risk cervical intraepithelial neoplasia and cervical cancer by amplification of transcripts derived from integrated papillomavirus oncogenes. Cancer Res 59:6132–6136

10.

Klaes R, Friedrich T, Spitkovsky D et al. (2001) Overexpression of p16INK4a as a specific marker for dysplastic and neoplastic epithelial cells of the cervix uteri. Int J Cancer 92:276–284

11.

Klaes R, Benner A, Friedrich T et al. (2002) p16INK4a immunohistochemistry improves interobserver agreement in the diagnosis of cervical intraepithelial neoplasia. Am J Surg Pathol 26:1389–1399

12.

Koutsky L (1997) Epidemiology of genital human papillomavirus infection. Am J Med 102:3–8

13.

Longworth MS, Laimins LA (2004) Pathogenesis of human papillomaviruses in differentiating epithelia. Microbiol Mol Biol Rev 68:362–372

14.

Luft F, Klaes R, Nees M et al. (2001) Detection of integrated papillomavirus sequences by ligation-mediated PCR (DIPS-PCR) and molecular characterization in cervical cancer cells. Int J Cancer 92:9–17

15.

Mantovani F, Banks L (2001) The human papillomavirus E6 protein and its contribution to malignant progression. Oncogene 20:7874–7887

16.

Middleton K, Peh W, Southern S et al. (2003) Organization of human papillomavirus productive cycle during neoplastic progression provides a basis for selection of diagnostic markers. J Virol 77:10186–10201

17.

Münger K, Basile JR, Duensing S et al. (2001) Biological activities and molecular targets of the human papillomavirus E7 oncoprotein. Oncogene 20:7888–7898

18.

Munoz N, Bosch FX, Castellsague X et al. (2004) Against which human papillomavirus types shall we vaccinate and screen? The international perspective. Int J Cancer 111:278–285

19.

Munoz N, Bosch FX, de Sanjose S et al. (2003) Epidemiologic classification of human papillomavirus types associated with cervical cancer. N Engl J Med 348:518–527

20.

Negri G, Egarter-Vigl E, Kasal A et al. (2003) p16INK4a is a useful marker for the diagnosis of adenocarcinoma of the cervix uteri and its precursors: an immunohistochemical study with immunocytochemical correlations. Am J Surg Pathol 27:187–193

21.

Negri G, Vittadello F, Romano F et al. (2004) p16INK4a expression and progression risk of low-grade intraepithelial neoplasia of the cervix uteri. Virchows Arch 445:616–620

22.

Papanicolaou GN, Traut HF (1997) The diagnostic value of vaginal smears in carcinoma of the uterus. 1941. Arch Pathol Lab Med 121:211–224

23.

Parkin DM, Bray FI, Devesa SS (2001) Cancer burden in the year 2000. The global picture. Eur J Cancer 37 [Suppl 8]:S4–66

24.

Richardson H, Kelsall G, Tellier P et al. (2003) The natural history of type-specific human papillomavirus infections in female university students. Cancer Epidemiol Biomarkers Prev 12:485–490

25.

Rosenfeld WD, Rose E, Vermund SH et al. (1992) Follow-up evaluation of cervicovaginal human papillomavirus infection in adolescents. J Pediatr 121:307–311

26.

Sano T, Oyama T, Kashiwabara K et al. (1998) Expression status of p16 protein is associated with human papillomavirus oncogenic potential in cervical and genital lesions. Am J Pathol 153:1741–1748

27.

Solomon D, Schiffman M, Tarone R (2001) Comparison of three management strategies for patients with atypical squamous cells of undetermined significance: baseline results from a randomized trial. J Natl Cancer Inst 93:293–299

28.

Stanley M (2003) Genital human papillomavirus infections — current and prospective therapies. J Natl Cancer Inst Monogr, Chapter 17: 117–124

29.

Tavassoli F, Devilee P (eds) (2003) World Health Organization Classification of Tumours. Pathology and genetics of tumours of the breast and female genital organs. IARC, Lyon

30.

Trunk MJ, Dallenbach-Hellweg G, Ridder R et al. (2004) Morphologic characteristics of p16INK4a-positive cells in cervical cytology samples. Acta Cytol 48:771–782

31.

Wang SS, Trunk M, Schiffman M et al. (2004) Validation of p16INK4a as a marker of oncogenic human papillomavirus infection in cervical biopsies from a population-based cohort in Costa Rica. Cancer Epidemiol Biomarkers Prev 13:1355–1360

32.

Wentzensen N, Vinokurova S, von Knebel Doeberitz M (2004) Systematic review of genomic integration sites of human papillomavirus genomes in epithelial dysplasia and invasive cancer of the female lower genital tract. Cancer Res 64:3878–3884

33.

Yoon CS, Kim KD, Park SN, Cheong SW (2001) alpha(6) integrin is the main receptor of human papillomavirus type 16 VLP. Biochem Biophys Res Commun 283:668–673

34.

Yoshida T, Fukuda T, Sano T et al. (2004) Usefulness of liquid-based cytology specimens for the immunocytochemical study of p16 expression and human papillomavirus testing: a comparative study using simultaneously sampled histology materials. Cancer 102:100–108

35.

Zur Hausen H (2002) Papillomaviruses and cancer: from basic studies to clinical application. Nat Rev Cancer 2:342–350
Interessenkonflikt:
Der korrespondierende Autor weist auf eine Verbindung mit folgender Firma/Firmen hin: M. J. Trunk ist Angestellter der Firma mtm Laboratories AG, die diagnostische Tests (p16INK4a) entwickelt und vermarktet.
About this article
Cite this article
Trunk, M.J., Wentzensen, N. & von Knebel Doeberitz, M. Molekulare Pathogenese des Zervixkarzinoms und seiner Vorstufen. Pathologe 26, 283–290 (2005). https://doi.org/10.1007/s00292-005-0763-4
Schlüsselwörter
Zervixkarzinom

Humanes Papillomvirus

Zervikale intraepitheliale Neoplasie

Onkogene

p16INK4a
Keywords
Cervical carcinoma

Human papillomavirus

Cervical intraepithelial neoplasia

Oncogenes

p16INK4a