Zusammenfassung
Das duktale Adenokarzinom des Pankreas ist der bei weitem häufigste maligne Pankreastumor. Es gehört zu den Tumoren mit schlechter Prognose. Die morphologischen Charakteristika sind: bevorzugte Lokalisation im Pankreaskopf, duktal-glanduläre Tumorstrukturen verbunden mit ausgeprägter Desmoplasie und CEA- und MUC1-Positivität. Varianten dieses Karzinoms sind das adenosquamöse Karzinom, das undifferenzierte pleomorphe Karzinom sowie der gemischte duktal-endokrine Tumor. Mit der Definition von Gangveränderungen als pankreatische intraepitheliale Neoplasie (PanIN) konnten ein Progressionsmodell für die Entstehung des duktalen Pankreaskarzinoms entwickelt und korrespondierende Genalterationen nachgewiesen werden.
Abstract
Pancreatic ductal adenocarcinoma is the most frequent malignant pancreatic tumor. It is one of the tumors that has a particularly poor prognosis. Its morphological characteristics are: preferential localization in the head of the pancreas, ductal-glandular tumor structures combined with marked desmoplasia and CEA and MUC1 positivity. Variants of this carcinoma include adenosquamous carcinomas, undifferentiated pleomorphic carcinomas and mixed ductal-endocrine tumors. With the definition of ductal lesions as pancreatic intraepithelial neoplasia, a progression model for pancreatic ductal carcinoma has been developed and corresponding gene alterations have been detected.
Access options
Buy single article
Instant access to the full article PDF.
US$ 39.95
Tax calculation will be finalised during checkout.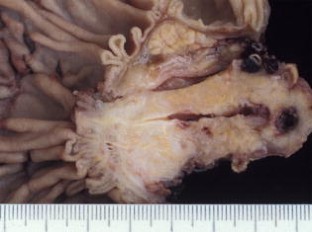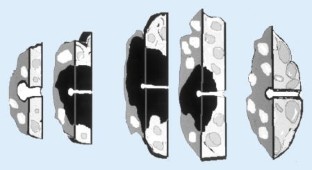 Literatur
1.

Adsay NV, Merati K, Andea A et al. (2002) The dichotomy in the preinvasive neoplasia to invasive carcinoma sequence in the pancreas: differential expression of MUC1 and MUC2 supports the existence of two separate pathways of carcinogenesis. Mod Pathol 15: 1087–1095

2.

Adsay NV, Pierson C, Sarkar F et al. (2001) Colloid (mucinous noncystic) carcinoma of the pancreas. Am J Surg Pathol 25: 26–42

3.

Ahlgren JD (1996) Epidemiology and risk factors in pancreatic cancer. Semin Oncol 23: 241–250

4.

Arbeitsgemeinschaft Bevölkerungsbezogener Krebsregister in Deutschland (2002) Krebs in Deutschland, Häufigkeiten und Trends, 3. aktualisierte Auflage. ABKD, Saarbrücken

5.

Biankin AV, Kench JG, Dijkman FP, Biankin SA, Henshall SM (2003) Molecular pathogenesis of precursor lesions of pancreatic ductal adenocarcinoma. Pathology 35: 14–24

6.

Crnogorac-Jurcevic T, Missiaglia E, Blaveri E et al. (2003) Molecular alterations in pancreatic carcinoma: expression profiling shows that dysregulated expression of S100 genes is highly prevalent. J Pathol 201: 63–74

7.

Cubilla AL, Fitzgerald PJ (1976) Morphological lesions associated with human primary invasive nonendocrine pancreas cancer. Cancer Res 36: 2690–2698

8.

Efthimiou D, Crnogorac-Jurcevic T, Lemoine NR (2001) Pancreatic cancer genetics. Pancreatology 1: 575

9.

Goggins M, Offerhaus GJ, Hilgers W et al. (1998) Pancreatic adenocarcinomas with DNA replication errors (RER+) are associated with wild-type K-ras and characteristic histopathology. Poor differentiation, a syncytial growth pattern, and pushing borders suggest RER+. Am J Pathol 152: 1501–1507

10.

Grützmann R, Foerder M, Alldinger I et al. (2003) Gene expression profiles of microdissected pancreatic ductal adenocarcinoma. Virchows Arch 443: 508–517

11.

Grützmann R, Saeger HD, Lüttges J, Schackert HK, Kalthoff H, Klöppel G, Pilarsky C (2004) Microarray-based gene expression profiling in pancreatic ductal carcinoma: status quo and perspectives. Int J Colorectal Dis 19: 410–413

12.

Hahn SA, Greenhalf B, Ellis I et al. (2003) BRCA2 germline mutations in familial pancreatic carcinoma. J Natl Cancer Inst 95: 214–221

13.

Harrison LE, Brennan MF (1998) Portal vein resection for pancreatic adenocarcinoma. Surg Oncol Clin N Am 7: 165–181

14.

Heinmöller E, Dietmaier W, Zirngibl H et al. (2000) Molecular analysis of microdissected tumors and preneoplastic intraductal lesions in pancreatic carcinoma. Am J Pathol 157: 83–92

15.

Henne-Bruns D, Vogel I, Luttges J, Kloppel G, Kremer B (2000) Surgery for ductal adenocarcinoma of the pancreatic head: staging, complications, and survival after regional versus extended lymphadenectomy. World J Surg 24: 595–601

16.

Hruban RH, Adsay NV, Albores-Saavedra J et al. (2001) Pancreatic intraepithelial neoplasia. A new nomenclature and classification system for pancreatic duct lesions. Am J Surg Pathol 25: 579–586

17.

Hruban RH, Takaori K, Klimstra DS et al. (2004) An illustrated consensus on the classification of pancreatic intraepithelial neoplasia and intraductal papillary mucinous neoplasms. Am J Surg Pathol 28: 977–987

18.

Iacobuzio-Donahue C, Maitra A, Olsen M et al. (2003) Exploration of global gene expression patterns in pancreatic adenocarcinoma using cDNA microarrays. Am J Pathol 162: 1151–1162

19.

Klöppel G (1984) Pancreatic, non-endocrine tumours. In: G Klöppel, Heitz PU (eds) Pancreatic pathology. Churchill Livingstone, Edinburgh, pp 79–113

20.

Klöppel G, Hruban RH, Longnecker DS, Adler G, Kern SE, Partanen TJ (2000) Ductal adenocarcinoma of the pancreas. In: SR Hamilton, LA Aaltonen (eds) Pathology and Genetics of Tumours of the Digestive System. WHO Classification of Tumours. IARC Press, Lyon, pp 221–230

21.

Klöppel G, Lüttges J (2004) The pathology of ductal-type pancreatic carcinomas and pancreatic intraepithelial neoplasia: insights for clinicians. Curr Gastroenterol Rep 6: 111–118

22.

Lowenfels AB, Maisonneuve P, Cavallini G, Ammann RW, Lankisch PG, Andersen JR, DiMagno EP, Andrén-Sandberg A, Domellöf L, The International Pancreatitis Study Group (1993) Pancreatitis and the risk of pancreatic cancer. N Engl J Med 328: 1433–1437

23.

Lowenfels AB, Maisonneuve P, DiMagno EP, Elitsur Y, Gates LK, Jr., Perrault J, Whitcomb DC, International Hereditary Pancreatitis Study Group (1997) Hereditary pancreatitis and the risk of pancreatic cancer. J Natl Cancer Inst 89: 442–446

24.

Lüttges J, Feyerabend B, Buchelt T, Pacena M, Klöppel G (2002) The mucin profile of noninvasive and invasive mucinous cystic neoplasms of the pancreas. Am J Surg Pathol 26: 466–471

25.

Lüttges J, Galehdari H, Bröcker V et al. (2001) Allelic loss is often the first hit in the biallelic inactivation of the p53 and DPC4 genes during pancreatic carcinogenesis. Am J Pathol 158: 1677–1683

26.

Lüttges J, Richter K, Schminke L, Heinitz C, Klöppel G (2003) MUC4 neoexpression in intraductal papillary mucinous carcinomas and pancreatic ductal adenocarcinomas. Virchows Arch 443: 282

27.

Lüttges J, Stigge C, Pacena M, Klöppel G (2004) Rare ductal adenocarcinoma of the pancreas in patients younger than age 40 years. An analysis of its features and a literature review. Cancer 100: 173–182

28.

Lüttges J, Vogel I, Menke M, Henne-Bruns D, Kremer B, Klöppel G (1998) The retroperitoneal resection margin and vessel involvement are important factors determining survival after pancreaticoduodenectomy for ductal adenocarcinoma of the head of the pancreas. Virchows Arch 433: 237–242

29.

Lüttges J, Zamboni G, Klöppel G (1999) Recommendation for the examination of pancreaticoduodenectomy specimens removed from patients with carcinoma of the exocrine pancreas. A proposal for a standardized pathological staging of pancreaticoduodenectomy specimens including a checklist. Dig Surg 16: 291–296

30.

Lüttges J, Zamboni G, Longnecker D, Klöppel G (2001) The immunohistochemical mucin expression pattern distinguishes different types of intraductal papillary mucinous neoplasms of the pancreas and determines their relationship to mucinous noncystic carcinoma and ductal adenocarcinoma. Am J Surg Pathol 25: 942–948

31.

Solcia E, Capella C, Klöppel G (1997) Tumors of the pancreas. AFIP Atlas of Tumor Pathology, third series, fascicle 20. Armed Forces Institute of Pathology, Washington/DC

32.

Sommers SC, Murphy SA, Warren S (1954) Pancreatic duct hyperplasia and cancer. Gastroenterology 27: 629–640

33.

Wagner M, Redaelli C, Lietz M, Seiler CA, Friess H, Buchler MW (2004) Curative resection is the single most important factor determining outcome in patients with pancreatic adenocarcinoma. Br J Surg 91: 586–594

34.

Whitcomb DC, Applebaum S, Martin SP (1999) Hereditary pancreatitis and pancreatic carcinoma. Ann N Y Acad Sci 880: 210–209

35.

Wilentz RE, Goggins M, Redston M et al. (2000) Genetic, immunohistochemical, and clinical features of medullary carcinoma of the pancreas: A newly described and characterized entity. Am J Pathol 156: 1641–1651

36.

Yamano M, Fujii H, Takagaki T, Kadowaki N, Watanabe H, Shirai T (2000) Genetic progression and divergence in pancreatic carcinoma. Am J Pathol 156: 2123–2133
About this article
Cite this article
Lüttges, J., Klöppel, G. Das duktale Pankreaskarzinom und seine Vorläufer. Pathologe 26, 12–17 (2005). https://doi.org/10.1007/s00292-004-0735-0
Schlüsselwörter
Pankreaskarzinom

Morphologie

Vorläuferveränderungen

Undifferenziertes pleomorphes Karzinom

Progressionsmodell
Keywords
Pancreatic carcinoma

Morphology

Precursor lesions

Undifferentiated pleomorphic carcinoma

Progression model