Zusammenfassung
Die chronische Pankreatitis ist eine Erkrankung mit entzündlich-fibrosierender Genese, die durch Schädigungen der interstitiellen, duktalen und/oder azinären Zellen ausgelöst wird. Die wichtigsten Ursachen hierfür sind Alkoholabusus, Genmutationen, autoimmune Reaktionslage, anatomische Besonderheiten und Gangobstruktionen. Das morphologische Spektrum der chronischen Pankreatitisformen, welche sich mit den genannten Ätiologien verbinden, zeigt Unterschiede, die in zunehmendem Maße eine ursächliche Zuordnung gestatten. Für die Abgrenzung der chronischen Pankreatitis vom duktalen Adenokarzinom des Pankreas wird ein Katalog, der fünf Kriterien umfasst, vorgestellt.
Abstract
Chronic pancreatitis is a fibroinflammatory disease that is induced by injuries to the interstitial, ductal, and/or acinar cells. The most important causes are alcohol abuse, gene mutations, autoimmune processes, special anatomic changes, and obstructive duct lesions. The morphologic spectrum of the various types of chronic pancreatitis related to the above causes shows features that increasingly allow an etiological distinction and categorization to be made. A catalog of five criteria is presented for distinguishing chronic pancreatitis from ductal adenocarcinoma of the pancreas.
Access options
Buy single article
Instant access to the full article PDF.
USD 39.95
Price excludes VAT (USA)
Tax calculation will be finalised during checkout.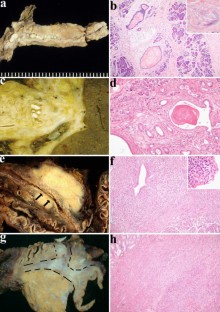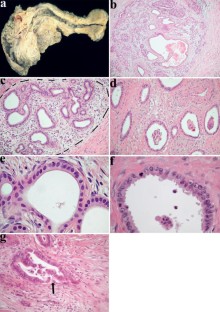 Literatur
Abraham SC, Leach S, Yeo CJ et al. (2003) Eosinophilic pancreatitis and increased eosinophils in the pancreas. Am J Surg Pathol 27: 334–342

Allen-Mersh TG (1985) What is the significance of pancreatic ductal mucinous hyperplasia? Gut 26: 825–833

Ammann RW, Heitz PU, Klöppel G (1996) Course of alcoholic chronic pancreatitis: a prospective clinicomorphological long-term study. Gastroenterology 111: 224–231

Apte MV, Haber PS, Darby SJ et al. (1999) Pancreatic stellate cells are activated by proinflammatory cytokines: implications for pancreatic fibrogenesis. Gut 44: 534–541

Ebert M, Kasper HU, Hernberg S et al. (1998) Overexpression of platelet-derived growth factor (PDGF) B chain and type β PDGF receptor in human chronic pancreatitis. Dig Dis Sci 43: 567–574

Ectors N, Maillet B, Aerts R et al. (1997) Non-alcoholic duct destructive chronic pancreatitis. Gut 41: 263–268

Etemad B, Whitcomb DC (2001) Chronic pancreatitis: diagnosis, classification, and new genetic developments. Gastroenterology 120: 682–707

Fléjou JF, Potet F, Molas G, Bernades P, Amouyal P, Fékété F (1993) Cystic dystrophy of the gastric and duodenal wall developing in heterotopic pancreas: an unrecognized entity. Gut 34: 343–347

Hruban RH, Adsay NV, Albores-Saavedra J et al. (2001) Pancreatic intraepithelial neoplasia. A new nomenclature and classification system for pancreatic duct lesions. Am J Surg Pathol 25: 579–586

Kawaguchi K, Koike M, Tsuruta K, Okamoto A, Tabata I, Fujita N (1991) Lymphoplasmacytic sclerosing pancreatitis with cholangitis: variant of primary sclerosing cholangitis extensively involving pancreas. Hum Pathol 22: 387–395

Kimura W, Nagai H, Kuroda A, Muto T, Esaki Y (1995) Analysis of small cystic lesions of the pancreas. Int J Pancreatol 18: 197–206

Klöppel G (1998) Chronic pancreatitis. Etiology, pathophysiology, and pathology. In: Howard J, Idezuki Y, Ihse I, Prinz R (eds) Surgical diseases of the pancreas, 3rd edn. Williams & Wilkins, Baltimore/MD, pp 321–328

Klöppel G (1999) Progression from acute to chronic pancreatitis. A pathologist's view. Surg Clin North Am 79: 801–814

Klöppel G, Maillet B (1992) The morphological basis for the evolution of acute pancreatitis into chronic pancreatitis. Virchows Arch A Pathol Anat 420: 1–4

Klöppel G, Lüttges J, Löhr M, Zamboni G, Longnecker D (2003) Autoimmune pancreatitis: pathological, clinical, and immunological features. Pancreas 27: 14–19

Klöppel G, Detlefsen S, Feyerabend B (2004) Fibrosis of the pancreas: the initial tissue damage and the resulting pattern. Virchows Arch 445: 1–8

Luttenberger T, Schmid-Kotsas A, Menke A et al. (2000) Platelet-derived growth factors stimulate proliferation and extracellular matrix synthesis of pancreatic stellate cells: implication in pathogenesis of pancreas fibrosis. Lab Invest 80: 47–55

Lüttges J, Stigge C, Pacena M, Klöppel G (2004) Rare ductal adenocarcinoma of the pancreas in patients younger than age 40 years. An analysis of its features and a literature review. Cancer 100: 173–182

Notohara K, Burgart LJ, Yadav D, Chari S, Smyrk TC (2003) Idiopathic chronic pancreatitis with periductal lymphoplasmacytic infiltration: clinicopathologic features of 35 cases. Am J Surg Pathol 27: 1119–1127

Schmitz-Moormann P, Hein J (1976) Changes of the pancreatic duct system associated with ageing. Virchows Arch A Pathol Anat 371: 145–152

Solcia E, Capella C, Klöppel G (1997) Tumors of the pancreas. AFIP Atlas of tumor pathology, 3rd series, fascicle 20. Armed Forces Institute of Pathology, Washington/DC

Stolte M, Weiss W, Volkholz H, Rösch W (1982) A special form of segmental pancreatitis: "groove pancreatitis". Hepatogastroenterology 29: 198–208

Weber SM, Cubukcu-Dimopulo O, Palesty JA, Suriawinata A, Klimstra D, Brennan MF, Conlon K (2003) Lymphoplasmacytic sclerosing pancreatitis: inflammatory mimic of pancreatic carcinoma. J Gastrointest Surg 7: 129–139

Witt H, Luck W, Hennies HC et al. (2000) Mutations in the gene encoding the serine protease inhibitor, Kazal type 1 are associated with chronic pancreatitis. Nat Genet 25: 213–216

Wreesmann V, Eijck CH van, Naus DC, Velthuysen ML van, Jeekel J, Mooi WJ (2001) Inflammatory pseudotumour (inflammatory myofibroblastic tumour) of the pancreas: a report of six cases associated with obliterative phlebitis. Histopathology 38: 105–110

Zamboni G, Lüttges J, Capelli P et al. (2004) Histopathological features of diagnostic and clinical relevance in autoimmune pancreatitis: a study on 53 resection specimens and 9 biopsy specimens. Virchows Arch 445: 552–563
Interessenkonflikt:
Keine Angaben
About this article
Cite this article
Klöppel, G., Sipos, B. & Lüttges, J. Das Spektrum der chronischen Pankreatitis. Pathologe 26, 59–66 (2005). https://doi.org/10.1007/s00292-004-0733-2
Issue Date:

DOI: https://doi.org/10.1007/s00292-004-0733-2
Schlüsselwörter
Keywords