Zusammenfassung
Adenokarzinoide sind seltene Tumoren mit histologischen Merkmalen sowohl von Karzinoiden, als auch von Adenokarzinomen. Sie besitzen ein aggressiveres biologisches Verhalten als klassische Karzinoide. Wir berichten über eine 64-jährige Patientin mit einer diffusen Infiltration der Appendixwand durch ein Adenokarzinoid. Aufgrund des Befalls des chirurgischen Absetzungsrandes und der Tumorausbreitung wurde eine Hemikolektomie durchgeführt. Es existieren keine eindeutigen Kriterien, welche die operative Wahl zwischen Appendektomie und Hemikolektomie vorschreiben. Es wird vermutet, dass bei kleinen Tumoren in der Appendixspitze die alleinige Appendektomie ausreichend ist. Patienten mit einer diffusen Appendixbeteiligung bedürfen einer aggressiveren chirurgischen Intervention.
Abstract
Adenocarcinoids are rare tumors with histological features of both carcinoid tumor and adenocarcinoma. They show a more aggressive biological behaviour than conventional carcinoids. We report a case of a 64-years-old female patient with a diffuse infiltration of the appendicular wall by an adenocarcinoid. Due to the positive surgical margin and the tumor expansion a hemicolectomy was performed. There are no precise criteria to direct the operative choice between appendectomy and hemicolectomy. It is thought that appendectomy is sufficient in case of small tumors in the tip of the appendix. Patients with diffuse appendicular involvement require a more aggressive surgical therapy.
Access options
Buy single article
Instant access to the full article PDF.
USD 39.95
Price excludes VAT (USA)
Tax calculation will be finalised during checkout.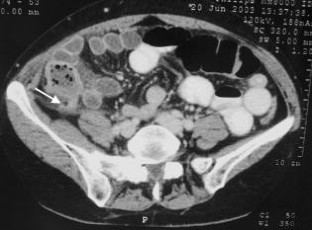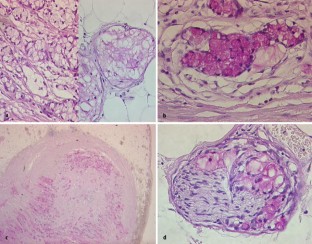 Literatur
Bak M, Asschenfeldt P (1988) Adenocarcinoid of the vermiform appendix. A clinicopathologic study of 20 cases. Dis Colon Rectum 31:605–612

Burke AP, Sobin LH, Federspiel BH et al. (1990) Goblet cell carcinoids and related tumors of the vermiform appendix. Am J Clin Pathol 94:27–35

Butler JA, Houshiar A, Lin F, Wilson SE (1994) Goblet cell carcinoid of the appendix. Am J Surg 168:685–687

Gagne F, Fortin P, Dufour V, Delage C (1969) Tumors of the appendix associating histologic features of carcinoid and adenocarcinoma. Ann Anat Pathol 14:393–406

Kanthan R, Saxena A, Kanthan SC (2001) Goblet cell carcinoids of the appendix: immunophenotype and ultrastructural study. Arch Pathol Lab Med 125:386–390

Klein HZ (1974) Mucinous carcinoid tumor of the vermiform appendix. Cancer 33:770–777

Levendoglu H, Cox CA, Nadimpalli V (1990) Composite (adenocarcinoid) tumors of the gastrointestinal tract. Dig Dis Sci 35:519–525

Mandai M, Konishi I, Tsuruta Y et al. (2001) Krukenberg tumor from an occult appendiceal adenocarcinoid: a case report and review of the literature. Eur J Obstet Gynecol Reprod Biol 97:90–95

McCusker ME, Cote TR, Clegg LX, Sobin LH (2002) Primary malignant neoplasms of the appendix: a population-based study from the surveillance, epidemiology and end-results program, 1973–1998. Cancer 94:3307–3312

Park K, Blessing K, Kerr K et al. (1990) Goblet cell carcinoid of the appendix. Gut 31:322–324

Subbuswamy SG, Gibbs NM, Ross CF, Morson BC (1974) Goblet cell carcinoid of the appendix. Cancer 34:338–344

Warkel RL, Cooper PH, Helwig EB (1978) Adenocarcinoid, a mucin-producing carcinoid tumor of the appendix: a study of 39 cases. Cancer 42:2781–2793
Interessenkonflikt:
Der korrespondierende Autor versichert, dass keine Verbindungen mit einer Firma, deren Produkt in dem Artikel genannt ist, oder einer Firma, die ein Konkurrenzprodukt vertreibt, bestehen.
About this article
Cite this article
Hirsch, I., Kasper, HU., Brabender, J. et al. Adenokarzinoid der Appendix vermiformis. Pathologe 26, 231–235 (2005). https://doi.org/10.1007/s00292-004-0715-4
Issue Date:

DOI: https://doi.org/10.1007/s00292-004-0715-4
Schlüsselwörter
Keywords