Zusammenfassung
Phospoinositid-3-Kinase (PI3-K) ist ein heterodimeres Enzym und in die Regulation von Zellzyklus, Apoptose, Zelladhäsion und Zellmotilität eingebunden. Es wird als Proto-Onkogen in humanen Karzinomen diskutiert. In der vorliegenden Arbeit wurde die PI3-K-Expression in normalem Plattenepithel der Mundhöhle, Dysplasien, Carcinomata in situ, invasiven Karzinomen und Lymphknotenmetastasen immunhistologisch untersucht. Die stärkste Immunreaktivität für die regulatorische p85α- und die katalytische p110α-Untereinheit wurde in invasiven Tumoren und Metastasen gefunden. Carcinomata in situ zeigten eine herdförmige Reaktion, Dysplasien und normales Epithel reagierten überwiegend negativ. Zusätzlich hemmte der PI3-K-Inhibitor LY294002 die Proliferations- und Invasionsfähigkeit der humanen HNSCC-Zelllinie CAL-27 und induzierte die Apoptose in vitro.
Unsere Ergebnisse deuten darauf hin, dass PI3-K ein Malignitäts- und Invasionsmarker beim Plattenepithelkarzinom des oberen Aerodigestivtraktes (HNSCC) ist. Wir schlagen vor, PI3-K als Proto-Onkogen in das vorläufige Mehrschrittkanzerogenesemodell des HNSCC aufzunehmen. PI3-K ist darüber hinaus ein potenzielles Ziel pharmakologischer Intervention.
Abstract
Phosphoinositide 3-kinase (PI3-K) is a heterodimeric enzyme involved in the regulation of mitogenesis, apoptosis, cell adhesion, and motility. PI3-K was suggested as a protooncogene in human cancer. To determine the expression of PI3-K during cancerogenesis and tumor invasion of HNSCC, we investigated normal and dysplastic epithelium of the oral cavity, squamous cell carcinoma and lymph node metastasis by immunohistochemistry. The strongest immunoreactivity for p85α and p110α was found in invasive tumors and their metastases. Carcinomas in situ showed a focal positivity. Dysplasias and normal epithelium reacted predominantly negatively. The PI3-K inhibitor LY294002 inhibited proliferation and invasion of the HNSCC cell line CAL-27 and induced apoptosis in vitro.
Our data suggest PI3-K as a marker of malignancy and tumor invasion. We suggest including PI3-K in the multistep carcinogenesis model of HNSCC. In addition, PI3-K is a potential target for pharmacological intervention.
Access options
Buy single article
Instant access to the full article PDF.
USD 39.95
Price excludes VAT (USA)
Tax calculation will be finalised during checkout.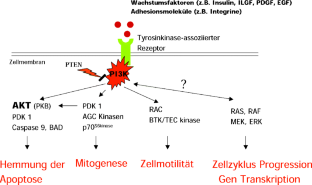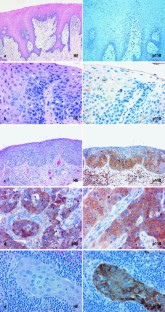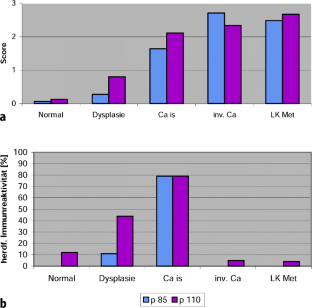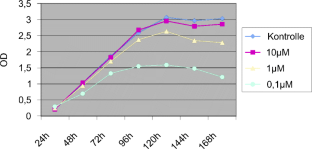 Literatur
Albini A, Iwamoto Y, Kleinman HK et al. (1987) A rapid in vitro assay for quantitating the invasive potential of tumor cells. Cancer Res 47: 3239–3245

Alessi DR, Deak M, Casamayor A et al. (1997) 3-Phosphoinositide-dependent protein kinase-1 (PDK1): structural and functional homology with the Drosophila DSTPK61 kinase. Curr Biol 7: 776–789

Bockmuhl U, Schluns K, Kuchler I, Petersen S, Petersen I (2000) Genetic imbalances with impact on survival in head and neck cancer patients. Am J Pathol 157: 369–375

Bohle RM, Bonczkowitz M, Altmannsberger HM, Schulz A (1997) Immunohistochemical double staining of microwave enhanced and nonenhanced nuclear and cytoplasmic antigens. Biotech Histochem 72: 10–15

Carpenter CL, Cantley LC (1996) Phosphoinositide 3-kinase and the regulation of cell growth. Biochem Biophys Acta 1288: M11-M16

Carpenter CL, Duckworth BC, Auger KR et al. (1990) Purification and characterization of phosphoinositide 3-kinase from rat liver. J Biol Chem 265: 19704–19711

Chang HW, Aoki M, Fruman D et al. (1997) Transformation of chicken cells by the gene encoding the catalytic subunit of PI 3-kinase. Science 276: 1848–1850

Estilo CL, O-Charoenrat P, Ngai IP et al. (2003) The role of novel oncogenes squamous cell carcinoma-related oncogene and phosphatidylinositol 3-kinase p110alpha in squamous cell carcinoma of the oral tongue. Clin Cancer Res 9: 2300–2306

Franke TF, Yang SI, Chan TO et al. (1995) The protein kinase encoded by the Akt proto-oncogene is a target of the PDGF-activated phosphatidylinositol 3-kinase. Cell 81: 727–736

Frankfurt OS, Krishan A (2001) Enzym-linked-immunosorbent assay (ELISA) for the specific detection of apoptotic cells and its application to rapid drug screening. J Immunol Methods 153: 133–143

Gasco M, Crook T (2003) The p53 network in head and neck cancer. Oral Oncol 39: 222–231

Gioanni J, Fischel JL, Lambert JC et al. (1988) Two new human tumor cell lines derived from squamous cell carcinomas of the tongue: establishment, characterization and response to cytotoxic treatment. Eur J Cancer Clin Oncol 24: 1445–1455

Hu L, Zaloudek C, Mills GB, Gray J, Jaffe RB (2000) In vivo and in vitro ovarian carcinoma growth inhibition by a phosphatidylinositol 3-kinase inhibitor (LY294002). Clin Cancer Res 6: 880–886

Hu P, Margolis B, Skolnik EY et al. (1992) Interaction of phosphatidylinositol 3-kinase-associated p85 with epidermal growth factor and platelet-derived growth factor receptors. Mol Cell Biol 12: 981–990

Hynes RO (1992) Specificity of cell adhesion in development: the cadherin superfamily. Curr Opin Genet Dev 2: 621–624

Jimenez C, Hernandez C, Pimentel B, Carrera AC (2002) The p85 regulatory subunit controls sequential activation of phosphoinositide 3-kinase by Tyr kinases and Ras. J Biol Chem 277: 41556–41562

Jimenez C, Jones DR, Rodriguez-Viciana P et al. (1998) Identification and characterization of a new oncogene derived from the regulatory subunit of phosphoinositide 3-kinase. EMBO J 17: 743–753

Khwaja A, Rodriguez-Viciana P, Wennstrom S, Warne PH, Downward J (1997) Role of phosphoinositide 3-OH kinase in cell transformation and control of the actin cytosceleton by Ras. Cell 89: 457–467

Kim J, Shin DM (1997) Biomarkers of squamous cell carcinoma of the head and neck. Histol Histopathol 12: 205–218

Lin X, Bohle AS, Dohrmann P et al. (2001) Overexpression of phosphatidylinositol 3-kinase in human lung cancer. Langenbecks Arch Surg 386: 293–301

Mercurio AM, Rabinovitz I, Shaw LM (2001) The alpha 6 beta 4 integrin and epithelial cell migration. Curr Opin Cell Biol 13: 541–545

Mitsui H, Takuwa N, Maruyama T et al. (2001) The MEK1-ERK map kinase pathway and the PI 3-kinase-Akt pathway independently mediate anti-apoptotic signals in HepG2 liver cancer cells. Int J Cancer 92: 55–62

Mosman T (1983) Rapid colorimetric assay for cellular growth and survival: application to proliferation and cytotoxic assays. J Immunol Methodes 65: 5563

Muir C, Weiland L (1995) Upper aerodigestive tract cancers. Cancer 75: 147–153

Muto M, Nakane M, Hitomi Y et al. (2002) Association between aldehyde dehydrogenase gene polymorphisms and the phenomenon of field cancerization in patients with head and neck cancer. Carcinogenesis 23: 1759–1765

Nagpal JK, Das BR (2003) Oral cancer: reviewing the present understanding of its molecular mechanism and exploring the future directions for its effective management. Oral Oncol 39: 213–221

Paez J, Sellers WR. (2003) PI3-K/PTEN/AKT pathway. A critical mediator of oncogenic signaling. Cancer Treat Res 115: 145–167

Panayotou G, Bax B, Gout I et al. (1992) Interaction of the p85 subunit of PI 3-kinase and its N-terminal SH2 domain with a PDGF receptor phosphorylation site: structural features and analysis of conformational changes. EMBO J 11: 4261–4272

Partridge M, Emilion G, Pateromichelakis S, Phillips E, Langdon J (1997) Field cancerisation of the oral cavity: comparison of the spectrum of molecular alterations in cases presenting with both dysplastic and malignant lesions. Oral Oncol 33: 332–337

Pleiman CM, Hertz WM, Cambier JC (1994) Activation of phosphatidylinositol-3' kinase by Src-family kinase SH3 binding to the p85 subunit. Science 263: 1609–1612

Renan MJ (1993) How many mutations are required for tumorigenesis? Implications from human cancer data. Mol Carcinog 7: 139–146

Shayesteh L, Lu Y, Kuo WL, Baldocchi R, Godfrey T et al. (1999) PIK3CA is implicated as an oncogene in ovarian cancer. Nat Genet 21: 99–102

Skolnik EY, Margolis B, Mohammadi M et al. (1991) Cloning of PI3-kinase-associated p85 utilizing a novel method for expression/cloning of target proteins for receptor tyrosine kinases. Cell 65: 83–90

Stein RC, Waterfield MD (2000) PI3-kinase inhibition: a target for drug development? Mol Med Today 6: 347–357

Su JD, Mayo LD, Donner DB, Durden DL (2003) PTEN and phosphatidylinositol 3'-kinase inhibitors up-regulate p53 and block tumor-induced angiogenesis: evidence for an effect on the tumor and endothelial compartment. Cancer Res 63: 3585–3592

Weber A, Wittekind C, Tannapfel A (2003) Genetic and epigenetic alterations of 9p21 gene products in benign and malignant tumors of the head and neck. Pathol Res Pract 199: 391–397

Woenckhaus J, Steger K, Werner E et al. (2002) Genomic gain of PIK3CA and increased expression of p110alpha are associated with progression of dysplasia into invasive squamous cell carcinoma. J Pathol 198: 335–342

Worsham MJ, Pals G, Schouten JP et al. (2003) Delineating genetic pathways of disease progression in head and neck squamous cell carcinoma. Arch Otolaryngol Head Neck Surg 129: 702–708

Zvelebil MJ, MacDougall L, Leevers S et al. (1996) Structural and functional diversity of phosphoinositide 3-kinases. Philos Trans R Soc Lond B Biol Sci 35: 217–223
About this article
Cite this article
Stahl, U., Wenk, J., Wagener, F. et al. Phosphoinositid-3-Kinase- (PI3-K) Expression. Pathologe 25, 31–37 (2004). https://doi.org/10.1007/s00292-003-0673-2
Issue Date:

DOI: https://doi.org/10.1007/s00292-003-0673-2
Schlüsselwörter
Keywords