Zusammenfassung
Die kombinierte licht- und elektronenmikroskopische und immunhistologische Untersuchung von Nierenbiopsien ermöglicht die verbindliche Typisierung und Behandlung der Glomerulonephritis (GN) und anderer Glomerulopathien. Unter 653 untersuchten Nierenbiopsien der Jahre 1990–1999 fanden sich 585 Fälle mit glomerulären Erkrankungen, die hinsichtlich ihrer Verknüpfung mit den 5 klinischen GN-Syndromen nach der WHO-Klassifikation ausgewertet wurden. Ein nephrotisches Syndrom war am häufigsten und bestand klinisch bei 258 der 585 Biopsiefälle mit glomerulären Erkrankungen (44%). Es lag in 77 der 87 Fälle mit Minimal-change-Nephropathie (89%), in 46 der 74 Fälle mit fokaler segmentaler Glomerulosklerose (62%) sowie in 19 der 24 Fälle mit diffuser membranöser GN (79%) vor. Die meisten histologischen Subtypen der diffusen GN waren nicht mit einem speziellen klinischen GN-Syndrom verknüpft. Nur die diffuse extrakapilläre GN ging in 14 der 16 Fälle (88%) mit einem rapid progressiven nephritischen Syndrom einher. Die IgA-Nephropathie war die häufigste glomeruläre Erkrankung und wurde in 122 der 502 primären und sekundären GN-Fälle (24%) gefunden. Obwohl einzelne GN-Formen vorrangig mit einem bestimmten klinischen Syndrom einhergehen können, ist im Einzelfall keine verbindliche Voraussage des histologischen GN-Typs möglich, sodass die Nierenbiopsie nach wie vor einen hohen klinischen Stellenwert besitzt.
Abstract
Renal biopsies studied by light and electron microscopy as well as by immunohistochemistry seem to be continually necessary for an adequate typing and therapy of glomerulonephritis (GN) and other glomerular diseases. Basing on 653 renal biopsies examined in Rostock from 1990 to 1999, the morphological classification in a total of 585 cases with glomerular diseases is presented in comparison to their clinical syndromes according to the WHO classification. A nephrotic syndrome was most frequent and clinically reported in 258 of the 585 biopsy cases with glomerular diseases (44%). It was seen in 77 of the 87 cases with minimal change nephropathy (55%), in 46 of the 74 cases with focal segmental glomerulosclerosis (62%), and in19 of the 24 diffuse membranous GN cases (79%). The majority of the varying histological subtypes of diffuse GN was not combined with a specific clinical syndrome except of diffuse crescentic GN presenting with a rapidly progressive nephritic syndrome in 14 of 16 cases (88%). IgA nephropathy was the most often diagnosed entity of glomerular diseases found in 122 of the 502 cases with primary or secondary GN (24%). It is obvious that a given morphological GN type can but must not be combined with a specific clinical GN syndrome, so that the clinical importance of renal biopsy is stressed.
Access options
Buy single article
Instant access to the full article PDF.
USD 39.95
Price excludes VAT (USA)
Tax calculation will be finalised during checkout.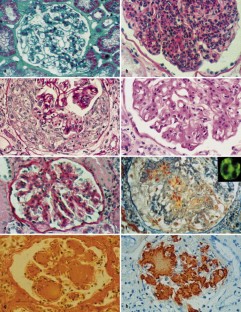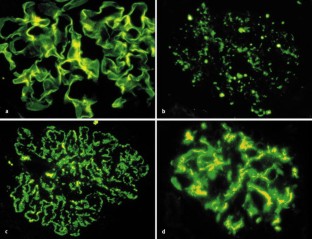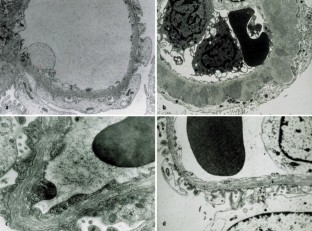 Literatur
Churg J, Bernstein J, Glassock RJ (eds) (1995) Renal Disease: Classification and Atlas of Glomerular Diseases, 2nd edn. Igaku-Shoin, New York Tokyo, pp 1–541

Ditscherlein G, Schneider W, Geist K et al. (1991) Glomerulonephritis im Nierenbiopsiematerial: Multicenter-Studie aus Ostdeutschland (ehemalige DDR). Z Klin Med 46:901–904

Donadio JV, Grande JP (2002) IgA nephropathy. N Engl J Med 347: 738–748

Haas M (2003) Incidental healed postinfectious glomerulonephritis: a study of 1012 renal biopsy specimens examined by electron microscopy. Hum Pathol 34:3-10

Helmchen U, Schubert GE (1997) Niere. In: Remmele W (Hrsg) Pathologie, 2. Aufl, Bd 5. Springer, Berlin Heidelberg New York Tokyo, S 95–172

Helmchen U, Wullbrand A (1998) Aktuelle Nierenbiopsiediagnostik. Begleittext zum Dia-Seminar. Internationale Akademie für Pathologie, Deutsche Abteilung, Bonn, S 1–46

Hrick DE, Chung-Park M, Sedor JR (1998) Glomerulonephritis. N Engl J Med 339:888–899

Jenette JC, Olson JL, Schwartz MM, Silvia FG (eds) (1998) Heptinstall's pathology of the kidney, 5th edn, vol I–II. Lippincott-Raven, Philadelphia-New York

Kerjaschki D (2001) Caught flat-footed: podocyte damage and the molecular bases of focal glomerulosclerosis. J Clin Invest 108:1583–1587

Mihatsch MJ (1979) A modern classification of glomerulonephritis. A step forward for the pathologist. Pathol Res Pract 164:35–48

Mihatsch MJ, Bock HA, Gudat F (1995) A patient with microhematuria and proteinuria: do we still need electronmicroscopy? Nephrol Dial Transplant 10:2368–2370

Myllymaki J, Saha H, Mustonen J, Helin H, Pasternack A (2003) IgM nephropathy: clinical picture and long-term prognosis. Am J Kidney Dis 41:343–350

Nizze H, Dunker H (1987) Die IgA-Nephritis (Morbus Berger). Z Klin Med 42:19–23

Nizze H, Kerjaschki D (2001) Niere. In: Böcker W, Denk H, Heitz PU (Hrsg) Pathologie, 2. Aufl. Urban & Fischer, München Jena, S 777–807

Nizze H, Anders O, Ziegler PG (1984) Akute Strahlennephropathie: Ein klinisch-pathologischer Fallbericht. Nieren- und Hochdruckkrankh 13:361–366

Nizze H, Schwabbauer P, Brachwitz C, Lange H (1997) Tödliche chronische Oxalose nach subletaler Äthylenglykolvergiftung. Pathologe 18:328–334

Schwarz A, Haller H (2002) Fehldiagnosen in der Nephrologie. Internist 43:595–606

Schmidt U, Franke J, Thomae U, Mann J (2002) Glomerulonephritiden. Internist 43:749–759

Serov VV, Warschavsky, Schill H, Nizze H (1986) Häufigkeit glomerulärer Erkrankungen nach der WHO-Klassifikation im Nierenbiopsiegut. Zentralbl Allg Pathol Pathol Anat 132:471–475

Sotsiou F, Dimitriadis G, Liapis H (2002) Diagnostic dilemmas in atypical postinfectious glomerulonephritis. Semin Diagn Pathol 19:146–159

Tisher CC, Brenner BM (eds) (1994) Renal pathology with clinical and functional correlations, 2nd edn, vol I–II. Lippincott, Philadelphia

Volhard F, Fahr T (1914) Die Brightsche Nierenkrankheit: Klinik, Pathologie und Atlas. Springer, Berlin, S 1–292

Wehner H, Nizze H, Waldherr R (1994) Glomeruläre Erkrankungen der Niere. Begleittext zur Lehrserie Nr. 64. Internationale Akademie für Pathologie, Deutsche Abteilung, Bonn, S 1–90

Zollinger HU, Mihatsch MJ (1978) Renal pathology in biopsy. Springer, Berlin Heidelberg New York, pp 1–684
About this article
Cite this article
Nizze, H., Mann, E., Stropahl, G. et al. Glomeruläre Krankheiten in der Nierenbiopsie. Pathologe 24, 421–432 (2003). https://doi.org/10.1007/s00292-003-0647-4
Issue Date:

DOI: https://doi.org/10.1007/s00292-003-0647-4
Schlüsselwörter
Keywords