Abstract
Chitosan–carboxymethylcellulose/flavylium salt (Ch–CMC/FS) films were obtained at different flavylium salt (FS) concentrations under acidic conditions in order to maintain de benzopyrylium form of the flavylium organic cation. Films were characterized by Fourier-transform infrared spectroscopy (FTIR), Raman spectroscopy, UV–Vis diffuse reflectance (DRUV) and emission spectroscopy. Thermal properties were also recorded by means of thermogravimetric analysis (TGA) and differential scanning calorimetry (DSC) techniques. FTIR and Raman spectra showed shifting of the carbonyl vibrations after addition of flavylium salt compound. Thermal stability prevailed even after addition of FS as was determined by TGA and DSC analysis. Ch–CMC/FS showed strong absorption in the visible part of the electromagnetic spectrum centred around λ = 450 nm. Luminescence profile after excitation at λ = 450 nm showed an emission centred around λ = 507 nm. FS appears to be chemically stabilized by the interaction with polyelectrolyte chains.
This is a preview of subscription content, log in to check access.
Access options
Buy single article
Instant access to the full article PDF.
US$ 39.95
Tax calculation will be finalised during checkout.
Subscribe to journal
Immediate online access to all issues from 2019. Subscription will auto renew annually.
US$ 119
Tax calculation will be finalised during checkout.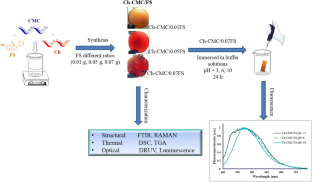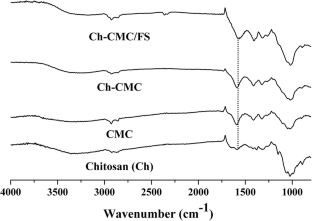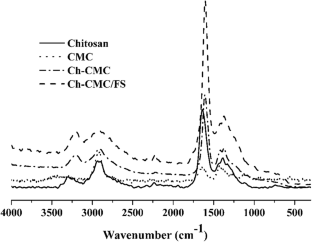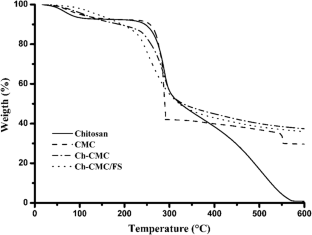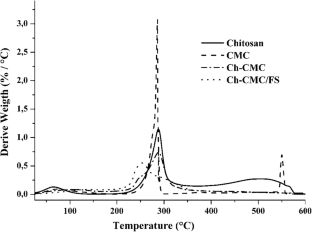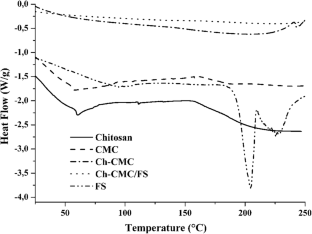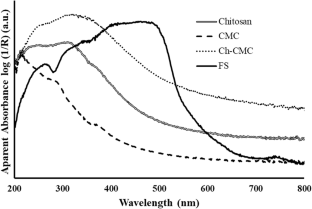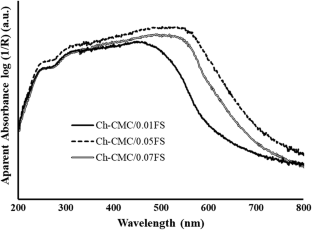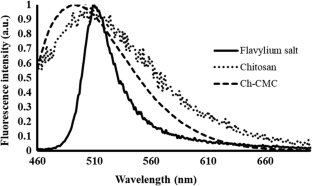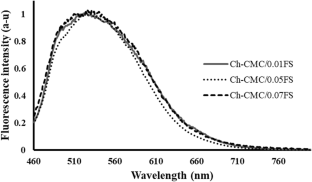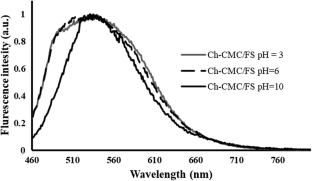 Acknowledgements
GZG thanks to Consejo Nacional de Ciencia y Tecnología (CONACyT) for support (CB-2013-01-222847 and INFRA-2015-01-251400). ASEM thanks CONACyT for a postdoctoral scholarship. DEV acknowledges the support given by PRODEP (OF-178204) and CONACyT (Grant No. 207363). Thanks to Raúl Orozco-Mena from Universidad Nacional Autónoma de Chihuahua for the recording of Raman spectroscopy.
Additional information
Publisher's Note
Springer Nature remains neutral with regard to jurisdictional claims in published maps and institutional affiliations.
About this article
Cite this article
Estrada-Montaño, A.S., Espinobarro-Velázquez, D., Sauzameda, M. et al. Photoluminescence in non-conjugated polyelectrolyte films containing 7-hydroxy-flavylium cation. Polym. Bull. 77, 5051–5063 (2020). https://doi.org/10.1007/s00289-019-02975-w
Received:

Revised:

Accepted:

Published:

Issue Date:
Keywords
Flavylium salt

Chitosan

Carboxymethylcellulose

Polyelectrolyte

Fluorescence