Abstract
To maximize the utility of natural extracts, they must be atomized and mixed with other useful materials to ensure their function is realized. We conducted experiments that involved electrospinning a natural extract in a polymer solution to fuse the extracts in polymer nanofibers. The Juniperus chinensis extracts (JCE) were mixed with a polyurethane (PU) solution to make a nanofiber web (PU/JCE), which was laminated with polyethylene terephthalate at 90, 110, and 130 °C (PU/JCE-LC). We analyzed the morphology, air permeability, water vapor transmission, resistance to water penetration, contact coldness (Qmax), and antibacterial properties of the fabricated PU/JCE nanofiber laminate composites. It was found that as the laminating temperature increased, the air and moisture permeability of the PU/JCE nanofiber laminate decreased, and its water resistance and Qmax increased. Also, the antibacterial test confirmed that the laminate provided antimicrobial activity against Staphylococcus aureus and Klebsiella pneumoniae. The results reveal that the combination process of electrospinning and laminating can provide an effective way to assign functionalities of natural extracts, which opens up the possibility of imparting a variety of functionalities from nature into polymeric nanofiber.
This is a preview of subscription content, log in to check access.
Access options
Buy single article
Instant access to the full article PDF.
US$ 39.95
Price includes VAT for USA
Subscribe to journal
Immediate online access to all issues from 2019. Subscription will auto renew annually.
US$ 199
This is the net price. Taxes to be calculated in checkout.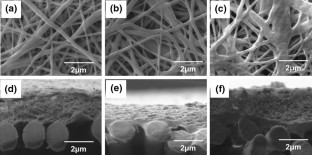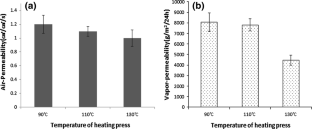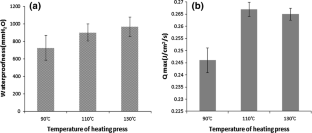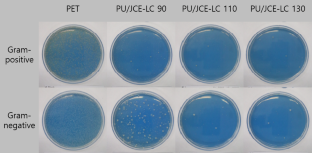 Acknowledgements
This work was supported by the National Research Foundation of Korea (NRF) Grant funded by Ministry of Science, ICT & Future Planning of the Korea Government (NRF-2017R1A2B4009315).
Ethics declarations
Conflict of interest
The authors declare that they have no competing financial interest.
Additional information
Publisher's Note
Springer Nature remains neutral with regard to jurisdictional claims in published maps and institutional affiliations.
Electronic supplementary material
Below is the link to the electronic supplementary material.
About this article
Cite this article
Kim, J., Lee, H., Lee, J. et al. Preparation and characterization of Juniperus chinensis extract-loaded polyurethane nanofiber laminate with polyurethane resin on polyethylene terephthalate fabric. Polym. Bull. 77, 919–928 (2020). https://doi.org/10.1007/s00289-019-02771-6
Received:

Revised:

Accepted:

Published:

Issue Date:
Keywords
Juniperus chinensis extracts (JCE)

Polyurethane

Electrospinning

Lamination

Antibacterial activity