Abstract
The sol–gel fabrication of new well-dispersed polyimide (PI)/TiO2 nanohybrid films is reported. The PI matrixes are synthesized via the polycondensation of pyromellitic dianhydride and a diamine monomer containing several constructive functional groups which introduced some interesting features to the final nanocomposite (NC) materials. The TiO2–heteroatom interactions associated with the flexible characteristic of polymer backbone (which facilitates the stated interactions) have been led to the fabrication of well-dispersed nanoparticles with less than 100 nm in sizes, as confirmed by means of transmission electron microscopy. Thermal analysis techniques (TGA and DSC) have shown the superior thermal stability of fabricated NCs. The UV–Vis spectroscopy has illustrated a growing trend in the absorption efficiency along with the increase in TiO2 contents. The created TiO2 nanoparticles showed amorphous structures according to the X-ray diffraction patterns.
Access options
Buy single article
Instant access to the full article PDF.
USD 39.95
Price excludes VAT (USA)
Tax calculation will be finalised during checkout.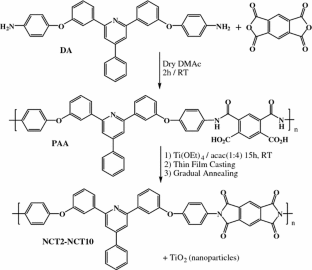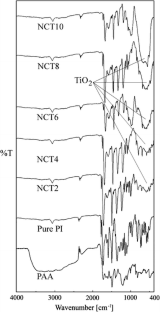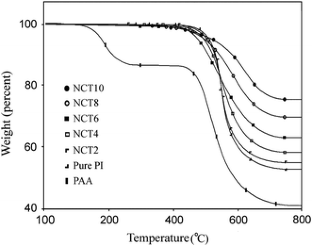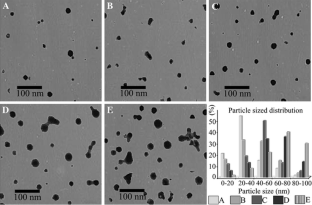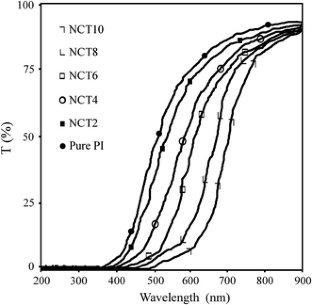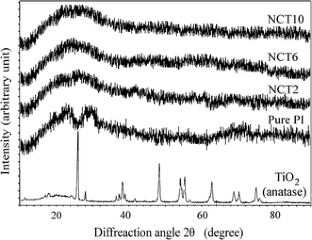 References
Mahdavian AR, Sarrafi Y, Shabankareh M (2009) Nanocomposite particles with core–shell morphology III: preparation and characterization of nano Al2O3–poly(styrene–methyl methacrylate) particles via miniemulsion polymerization. Polym Bull 63:329–340

Khan AA, Khan A (2010) Ion-exchange studies on poly-o-anisidine Sn(IV) phosphate nano composite and its application as Cd(II) ion-selective membrane electrode. Cent Eur J Chem 8:396–408

Lin D-J, Chen C-C, Chang C-L, Su Y-C, Cheng L-P (2002) Observation of nano-particles in silica/poly(HEMA) hybrid by electron microscopy. J Polym Res 9:115–118

Shin MK, Spinks GM, Shin SR, Kim SI, Kim SJ (2009) Nanocomposite hydrogel with high toughness for bioactuators. Adv Mater 21:1712–1715

Sirbuly DJ, Letant SE, Ratto TV (2008) Hydrogen sensing with subwavelength optical waveguides via porous silsesquioxane–palladium nanocomposites. Adv Mater 20:4724–4727

Pandey RK, Sandeep CSS, Philip R, Lakshminarayanan V (2009) Enhanced optical nonlinearity of polyaniline–porphyrin nanocomposite. J Phys Chem C 113:8630–8634

Zhang W, Li MKS, Yue P-L, Gao P (2008) Exfoliated Pt-clay/nafion nanocomposite membrane for self-humidifying polymer electrolyte fuel cells. Langmuir 24:2663–2670

Liao S-H, Weng C-C, Yen C-Y, Hsiao M-C, Ma C-CM, Tsai M-C, Su A, Yen M-Y, Lin Y-F, Liu P-L (2010) Preparation and properties of functionalized multiwalled carbon nanotubes/polypropylene nanocomposite bipolar plates for polymer electrolyte membrane fuel cells. J Power Sources 195:263–270

Cong H, Radosz M, Towler BF, Shen Y (2007) Polymer–inorganic nanocomposite membranes for gas separation. Sep Purif Technol 55:281–291

Lakshminarayana G, Nogami M (2009) Synthesis and characterization of proton conducting inorganic-organic hybrid nanocomposite membranes based on mixed PWA-PMA-TEOS-GPTMS-H3PO4-APTES for H2/O2 Fuel Cells. J Phys Chem C 113:14540–14550

Chiang P-C, Whang W-T (2003) The synthesis and morphology characteristic study of BAO-ODPA polyimide/TiO2 nano hybrid films. Polymer 44:2249–2254

Tsai M-H, Chang C-J, Chen P-J, Ko C-J (2008) Preparation and characteristics of poly(amide–imide)/titania nanocomposite thin films. Thin Solid Films 516:5654–5658

Liaw W-C, Chen K-P (2007) Preparation and characterization of poly(imide siloxane) (PIS)/titania (TiO2) hybrid nanocomposites by sol–gel processes. Eur Polym J 43:2265–2278

Liu L, Qinghua L, Jie Y, Xuefeng Q, Wenkai W, Zikang Z, Zongguang W (2002) Photosensitive polyimide (PSPI) materials containing inorganic nano particles (I)PSPI/TiO2 hybrid materials by sol–gel process. Mater Chem Phys 74:210–213

Yan S, Chen W, Yang X, Chen C, Huang M, Xu Z, Yeung KWK, Yi C (2011) Soluble polyimides based on a novel pyridine-containing diamine m,p-PAPP and various aromatic dianhydrides. Polym Bull 66:1191–1206

Tsai M-H, Huanga S-L, Chena P-J, Chiang P-C, Chena D-S, Luc H-H, Chiua W-M, Chend J-C, Lua H-T (2008) Characteristics and properties of polyimide/vanadium oxide hybrid membranes. Desalination 233:232–238

Tsai M-H, Whang W-T (2001) Low dielectric polyimide/poly(silsesquioxane)-like nanocomposite material. Polymer 42:4197–4207

Tsai M-H, Chiang P-C, Whang W-T, Ko C-J, Huang S-L (2006) Synthesis and characteristics of polyimide/siloxane hybrid films for reliability adhesion. Surf Coat Technol 200:3297–3302

Owpradit W, Jongsomjit B (2008) A comparative study on synthesis of LLDPE/TiO2 nanocomposites using different TiO2 by in situ polymerization with zirconocene/dMMAO catalyst. Mater Chem Phys 112:954–961

Severn JR, Chadwick JC, Duchateau R, Frienderichs N (2005) Bound but not gagged immobilizing single-site α-olefin polymerization catalysts. Chem Rev 105:4073–4147

Tang E, Cheng G, Pang X, Ma X, Xing F (2006) Synthesis of nano-ZnO/poly(methyl methacrylate) composite microsphere through emulsion polymerization and its UV-shielding property. Colloid Polym Sci 284:422–428

Zou H, Wu S, Shen J (2008) Polymer/silica nanocomposites: preparation, characterization, properties, and applications. Chem Rev 108:3893–3957

Khaled SM, Sui R, Charpentier PA, Rizkalla AS (2007) Synthesis of TiO2–PMMA nanocomposite: using methacrylic acid as a coupling agent. Langmuir 23:3988–3995

Sanchez C, Soler-Illia GJDAA, Ribot F, Lalot T, Mayer CR, Cabui V (2001) Designed hybrid organic–inorganic nanocomposites from functional nanobuilding blocks. Chem Mater 13:3061–3083

Hu Q, Marand E (1999) In situ formation of nanosized TiO2 domains within poly(amide–imide) by a sol–gel process. Polymer 40:4833–4843

Czarnobaj K (2011) Sol–gel-processed silica/polydimethylsiloxane/calcium xerogels as polymeric matrices for metronidazole delivery system. Polym Bull 66:223–237

Seyedjamali H, Pirisedigh A (2010) In situ sol–gel fabrication of new poly(amide–ether–imide)/titania (TiO2) nanocomposite thin films containing l-leucine moieties. Colloid Polym Sci 289:15–20

Kim YJ, Chung IS, In I, Kim SY (2005) Soluble rigid rod-like polyimides and polyamides containing curable pendent groups. Polymer 46:3992–4004

Zulfiqar S, Lieberwirth I, Sarwar MI (2008) Soluble aramid containing ether linkages: synthesis, static and dynamic light scattering studies. Chem Phys 344:202–208

Behniafar H, Boland P (2010) Heat stable and organosoluble polyimides containing laterally-attached phenoxy phenylene groups. J Polym Res 17:511–518

Que W, Zhou Y, Lam YL, Chan YC, Kam CH (2000) Optical and microstructural properties of sol–gel derived titania/organically modified silane thin films. Thin Solid Film 358:16–21
Acknowledgments
Financial support for this study from Research Affairs Division, Islamic Azad University, Kazerun Branch, Iran, and Iran nanotechnology Initiative Council and National Elite Foundation (NEF) is greatly acknowledged.
About this article
Cite this article
Seyedjamali, H., Pirisedigh, A. Synthesis of well-dispersed polyimide/TiO2 nanohybrid films using a pyridine-containing aromatic diamine. Polym. Bull. 68, 299–308 (2012). https://doi.org/10.1007/s00289-011-0532-x
Received:

Revised:

Accepted:

Published:

Issue Date:

DOI: https://doi.org/10.1007/s00289-011-0532-x
Keywords
Nanocomposite

Sol–gel

Polyimide

TiO2