Abstract
This study collected rectal swabs from diarrheal patients and in-house environmental samples from low-income households in Dhaka City, Bangladesh, over a 4-month period and investigated these to determine the domestic transmission pathways of Escherichia coli-associated diarrhea. The environmental samples included swabs from four frequently touched surfaces, drinking water and food. Both the rectal swabs and environmental samples were examined for virulence genes characteristic of diarrheagenic E. coli pathotypes by PCR. In addition, each sample was cultured for E. coli, and the strains were analyzed for virulence profile and subjected to multilocus sequence typing (MLST). The results showed that 31% (73 of 233) of all samples including rectal swabs and household samples were positive for one or more of the diarrheagenic E. coli virulence factors. PCR analyses showed that 28% (10/36) of the rectal swabs, 43% (58/136) of household swabs, 9% (3/32) of the food, and 7% (2/29) of the water samples were positive for various virulence genes. 6 Out of the 36 rectal swab samples and associated household samples were shown to have similar E. coli pathotypic genes, and the drinking vessel surface was identified as the major source of contamination. EAEC and CTEC were the most commonly identified pathotypes in the cultured isolates. The phylogenetic tree constructed by MLST data showed that the diarrheagenic isolates were clustered in several diversified lineages. This study supports the hypothesis that there are high-risk hotspots, particularly those surfaces associated with food consumption, for diarrheagenic E. coli contamination within the household environments of Bangladesh.
Access options
Buy single article
Instant access to the full article PDF.
USD 39.95
Price includes VAT (USA)
Tax calculation will be finalised during checkout.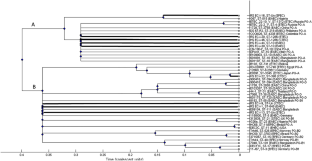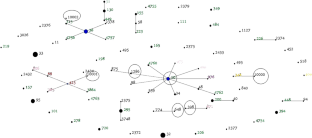 References
1.

Julian TR (2016) Environmental transmission of diarrheal pathogens in low and middle income countries. Environ Sci Process Impacts 18(8):944–955

2.

Troeger C, Forouzanfar M, Rao PC, Khalil I, Brown A, Reiner RC Jr, Fullman N, Thompson RL, Abajobir A, Ahmed M (2017) Estimates of global, regional, and national morbidity, mortality, and aetiologies of diarrhoeal diseases: a systematic analysis for the Global Burden of Disease Study 2015. Lancet Infect Dis 17(9):909–948

3.

Curtis V, Cairncross S, Yonli R (2000) Domestic hygiene and diarrhea—pinpointing the problem. Trop Med Int Health 5(1):22–32

4.

Wagner EG, Lanoix JN (1958) Excreta disposal for rural areas and small communities. Monogr Ser World Health Organ 39:1–182

5.

Pickering AJ, Julian TR, Marks SJ, Mattioli MC, Boehm AB, Schwab KJ, Davis J (2012) Fecal contamination and diarrheal pathogens on surfaces and in soils among Tanzanian households with and without improved sanitation. Environ Sci Technol 46(11):5736–5743. https://doi.org/10.1021/es300022c

6.

Aiello AE, Larson EL (2002) What is the evidence for a causal link between hygiene and infections? Lancet Infect Dis 2(2):103–110

7.

Farhana I, Hossain ZZ, Tulsiani SM, Jensen PKM, Begum A (2016) Survival of Vibrio cholerae O1 on fomites. World J Microbiol Biotechnol 32(9):146

8.

Gil AI, Lanata CF, Hartinger SM, Mausezahl D, Padilla B, Ochoa TJ, Lozada M, Pineda I, Verastegui H (2014) Fecal contamination of food, water, hands, and kitchen utensils at the household level in rural areas of Peru. J Environ Health 76(6):102–106

9.

Hossain ZZ, Farhana I, Tulsiani SM, Begum A, Jensen PK (2018) Transmission and toxigenic potential of Vibrio cholerae in Hilsha fish (Tenualosa ilisha) for human consumption in Bangladesh. Front Microbiol 9:222

10.

Navab-Daneshmand T, Friedrich MN, Gächter M, Montealegre MC, Mlambo LS, Nhiwatiwa T, Mosler H-J, Julian TR (2018) Escherichia coli contamination across multiple environmental compartments (soil, hands, drinking water, and handwashing water) in urban Harare: correlations and risk factors. Am J Trop Med Hyg 98(3):803–813

11.

Kaper JB, Nataro JP, Mobley HLT (2004) Pathogenic Escherichia coli. Nat Rev Microbiol 2:123. https://doi.org/10.1038/nrmicro818

12.

Meza-Segura M, Zaidi MB, Maldonado-Puga S, Huerta-Cantillo J, Chavez-Dueñas L, Navarro-Garcia F, Estrada-Garcia T (2017) Cytolethal distending toxin-producing Escherichia coli strains causing severe diarrhoea in young Mexican children. JMM Case Rep 4(2):e005079. https://doi.org/10.1099/jmmcr.0.005079

13.

Sahl JW, Sistrunk JR, Baby NI, Begum Y, Luo Q, Sheikh A, Qadri F, Fleckenstein JM, Rasko DA (2017) Insights into enterotoxigenic Escherichia coli diversity in Bangladesh utilizing genomic epidemiology. Sci Rep 7(1):3402

14.

Taniuchi M, Sobuz SU, Begum S, Platts-Mills JA, Liu J, Yang Z, Wang X-Q, Petri WA, Haque R, Houpt ER (2013) Etiology of diarrhea in Bangladeshi infants in the first year of life analyzed using molecular methods. J Infect Dis 208(11):1794–1802. https://doi.org/10.1093/infdis/jit507

15.

Orth D, Würzner R (2006) What makes an enterohemorrhagic Escherichia coli? Clin Infect Dis 43(9):1168–1169. https://doi.org/10.1086/508207

16.

Islam MA, Heuvelink A, De Boer E, Sturm P, Beumer R, Zwietering M, Faruque A, Haque R, Sack D, Talukder K (2007) Shiga toxin-producing Escherichia coli isolated from patients with diarrhoea in Bangladesh. J Med Microbiol 56(3):380–385

17.

Albert MJ, Faruque A, Faruque S, Sack R, Mahalanabis D (1999) Case–control study of enteropathogens associated with childhood diarrhea in Dhaka, Bangladesh. J Clin Microbiol 37(11):3458–3464

18.

Ercumen A, Pickering AJ, Kwong LH, Arnold BF, Parvez SM, Alam M, Sen D, Islam S, Kullmann C, Chase C (2017) Animal feces contribute to domestic fecal contamination: evidence from E. coli measured in water, hands, food, flies, and soil in Bangladesh. Environ Sci Technol 51(15):8725–8734

19.

Sultana R, Tamason CC, Carstensen LS, Ferdous J, Hossain ZZ, Begum A, Jensen PKM (2019) Water usage, hygiene and diarrhea in low-income urban communities—a mixed method prospective longitudinal study. MethodsX 6:2822–2837

20.

Azman AS, Lessler J, Satter SM, Mckay MV, Khan A, Ahmed D, Gurley ES (2015) Tracking cholera through surveillance of oral rehydration solution sales at pharmacies: insights from urban Bangladesh. PLoS Negl Trop Dis 9(12):e00042300

21.

Carstensen LS, Tamason CC, Sultana R, Tulsiani SM, Phelps MD, Gurley ES, Mackie Jensen PK (2019) The cholera phone: diarrheal disease surveillance by mobile phone in Bangladesh. Am J Trop Med Hyg 100(3):510–516. https://doi.org/10.4269/ajtmh.18-0546

22.

Kung'u JK, Boor KJ, Ame SM, Ali NS, Jackson AE, Stoltzfus R (2009) Bacterial populations in complementary foods and drinking-water in households with children aged 10–15 months in Zanzibar, Tanzania. J Health Popul Nutr 27(1):41–52. https://doi.org/10.3329/jhpn.v27i1.3316

23.

Cheesbrough M (1984) Medical laboratory manual for tropical countries, vol II. Butterworths, Sevenoaks

24.

De Medici D, Croci L, Delibato E, Di Pasquale S, Filetici E, Toti L (2003) Evaluation of DNA extraction methods for use in combination with SYBR green I real-time PCR to detect Salmonella enterica serotype enteritidis in poultry. Appl Environ Microbiol 69(6):3456–3461

25.

Heijnen L, Medema G (2006) Quantitative detection of E. coli, E. coli O157 and other shiga toxin producing E. coli in water samples using a culture method combined with real-time PCR. J Water Health 4(4):487–498

26.

Lüscher D, Altwegg M (1994) Detection of shigellae, enteroinvasive and enterotoxigenic Escherichia coli using the polymerase chain reaction (PCR) in patients returning from tropical countries. Mol Cell Probes 8(4):285–290

27.

Nguyen TV, Le Van P, Le Huy C, Gia KN, Weintraub A (2005) Detection and characterization of diarrheagenic Escherichia coli from young children in Hanoi, Vietnam. J Clin Microbiol 43(2):755–760

28.

Servin AL (2014) Pathogenesis of human diffusely adhering Escherichia coli expressing Afa/Dr adhesins (Afa/Dr DAEC): current insights and future challenges. Clin Microbiol Rev 27(4):823–869

29.

Yatsuyanagi J, Saito S, Sato H, Miyajima Y, Amano K-I, Enomoto K (2002) Characterization of enteropathogenic and enteroaggregative Escherichia coli isolated from diarrheal outbreaks. J Clin Microbiol 40(1):294–297

30.

Bielaszewska M, Fell M, Greune L, Prager R, Fruth A, Tschäpe H, Schmidt MA, Karch H (2004) Characterization of cytolethal distending toxin genes and expression in Shiga toxin-producing Escherichia coli strains of non-O157 sero groups. Infect Immun 72(3):1812–1816

31.

Clark CG, Johnson ST, Easy RH, Campbell JL, Rodgers FG (2002) PCR for detection of cdt-III and the relative frequencies of cytolethal distending toxin variant-producing Escherichia coli isolates from humans and cattle. J Clin Microbiol 40(7):2671–2674

32.

Tóth I, Hérault F, Beutin L, Oswald E (2003) Production of cytolethal distending toxins by pathogenic Escherichia coli strains isolated from human and animal sources: establishment of the existence of a new cdt variant (type IV). J Clin Microbiol 41(9):4285–4291

33.

Tartof SY, Solberg OD, Manges AR, Riley LW (2005) Analysis of a uropathogenic Escherichia coli clonal group by multilocus sequence typing. J Clin Microbiol 43(12):5860–5864. https://doi.org/10.1128/jcm.43.12.5860-5864.2005

34.

Guttman DS, Dykhuizen DE (1994) Clonal divergence in Escherichia coli as a result of recombination, not mutation. Science (New York NY) 266(5189):1380–1383. https://doi.org/10.1126/science.7973728

35.

Luby SP, Halder AK, Huda TM, Unicomb L, Sirajul Islam M, Arnold BF, Johnston RB (2015) Microbiological contamination of drinking water associated with subsequent child diarrhea. Am J Trop Med Hyg 93(5):904–911. https://doi.org/10.4269/ajtmh.15-0274

36.

Mattioli MC, Pickering AJ, Gilsdorf RJ, Davis J, Boehm AB (2013) Hands and water as vectors of diarrheal pathogens in Bagamoyo, Tanzania. Environ Sci Technol 47(1):355–363. https://doi.org/10.1021/es303878d

37.

Julian TR, MacDonald LH, Guo Y, Marks SJ, Kosek M, Yori PP, Pinedo SR, Schwab KJ (2013) Fecal indicator bacteria contamination of fomites and household demand for surface disinfection products: a case study from Peru. Am J Trop Med Hyg 89(5):869–872

38.

Km U, Khin M, Wai NN, Hman NW, Myint TT, Butler T (1992) Risk factors for the development of persistent diarrhoea and malnutrition in Burmese children. Int J Epidemiol 21(5):1021–1029

39.

Ngure FM, Humphrey JH, Mbuya MN, Majo F, Mutasa K, Govha M, Mazarura E, Chasekwa B, Prendergast AJ, Curtis V, Boor KJ, Stoltzfus RJ (2013) Formative research on hygiene behaviors and geophagy among infants and young children and implications of exposure to fecal bacteria. Am J Trop Med Hyg 89(4):709–716. https://doi.org/10.4269/ajtmh.12-0568

40.

Doza S, Jabeen Rahman M, Islam MA, Kwong LH, Unicomb L, Ercumen A, Pickering AJ, Parvez SM, Naser AM, Ashraf S, Das KK, Luby SP (2018) Prevalence and association of Escherichia coli and diarrheagenic Escherichia coli in stored foods for young children and flies caught in the same households in rural Bangladesh. Am J Trop Med Hyg 98(4):1031–1038. https://doi.org/10.4269/ajtmh.17-0408

41.

Lindeberg YL, Egedal K, Hossain ZZ, Phelps M, Tulsiani S, Farhana I, Begum A, Jensen PKM (2018) Can Escherichia coli fly? The role of flies as transmitters of E. coli to food in an urban slum in Bangladesh. Trop Med Int Health 23(1):2–9

42.

Onwubiko NE, Chinyeaka A (2015) Isolation and identification of bacterial contaminants from door handles in a tertiary institution in Umuahia, Abia State, Nigeria. Niger J Microbiol 29:3139–3147

43.

Wang Y, Moe CL, Teunis PF (2018) Children are exposed to fecal contamination via multiple interconnected pathways: a network model for exposure assessment. Risk Anal 38(11):2478–2496. https://doi.org/10.1111/risa.13146 (Epub 2018 Jul 27)

44.

Walker CLF, Sack D, Black RE (2010) Etiology of diarrhea in older children, adolescents and adults: a systematic review. PLoS Negl Trop Dis 4(8):e768

45.

Albert MJ, Faruque SM, Faruque AS, Bettelheim KA, Neogi PK, Bhuiyan NA, Kaper JB (1996) Controlled study of cytolethal distending toxin-producing Escherichia coli infections in Bangladeshi children. J Clin Microbiol 34(3):717–719

46.

Ansaruzzaman M, Albert MJ, Nahar S, Byun R, Katouli M, Kuhn I, Mollby R (2000) Clonal groups of enteropathogenic Escherichia coli isolated in case–control studies of diarrhoea in Bangladesh. J Med Microbiol 49(2):177–185. https://doi.org/10.1099/0022-1317-49-2-177

47.

Hinenoya A, Yasuda N, Mukaizawa N, Sheikh S, Niwa Y, Awasthi SP, Asakura M, Tsukamoto T, Nagita A, Albert MJ (2017) Association of cytolethal distending toxin-II gene-positive Escherichia coli with Escherichia albertii, an emerging enteropathogen. Int J Med Microbiol 307(8):564–571

48.

Nimri LF (2013) Escherichia albertii, a newly emerging enteric pathogen with poorly defined properties. Diagn Microbiol Infect Dis 77(2):91–95

49.

Matamoros S, Van Hattem JM, Arcilla MS, Willemse N, Melles DC, Penders J, Vinh TN, Hoa NT, de Jong MD, Schultsz C (2017) Global phylogenetic analysis of Escherichia coli and plasmids carrying the mcr-1 gene indicates bacterial diversity but plasmid restriction. Sci Rep 7(1):1–10

50.

Yu F, Chen X, Zheng S, Han D, Wang Y, Wang R, Wang B, Chen Y (2018) Prevalence and genetic diversity of human diarrheagenic Escherichia coli isolates by multilocus sequence typing. Int J Infect Dis 67:7–13

51.

Liu J, Gratz J, Amour C, Kibiki G, Becker S, Janaki L, Verweij JJ, Taniuchi M, Sobuz SU, Haque R, Haverstick DM, Houpt ER (2013) A laboratory-developed TaqMan array card for simultaneous detection of 19 enteropathogens. J Clin Microbiol 51(2):472–480. https://doi.org/10.1128/JCM.02658-12

52.

Mengelle C, Mansuy J, Prere M, Grouteau E, Claudet I, Kamar N, Huynh A, Plat G, Benard M, Marty N et al (2013) Simultaneous detection of gastrointestinal pathogens with a multiplex Luminex-based molecular assay in stool samples from diarrhoeic patients. Clin Microbiol Infect 19(10):E458–E465

53.

Schneeberger PHH, Becker SL, Pothier JF, Duffy B, N'Goran EK, Beuret C, Frey JE, Utzinger J (2016) Metagenomic diagnostics for the simultaneous detection of multiple pathogens in human stool specimens from Côte d'Ivoire: a proof-of-concept study. Infect Genet Evol 40:389–397. https://doi.org/10.1016/j.meegid.2015.08.044

54.

Rafique R, Rashid M-u, Monira S, Rahman Z, Mahmud M, Mustafiz M, Saif-Ur-Rahman K, Johura F-T, Islam S, Parvin T (2016) Transmission of infectious Vibrio cholerae through drinking water among the household contacts of cholera patients (CHoBI7 trial). Front Microbiol 7:163
Acknowledgements
This study was solely funded by the Danish International Development Agency (DANIDA)-Project Grant No. 12-040KU. We thank all the field staffs and our study participants from Arichpur for enduring and helping in sample collection from their households. We acknowledge editage English editing service for the professional English proof-reading of the manuscript.
Funding
This study was carried out as a part of a Danish Government (DANIDA) Funded Research Project 'Combating Cholera Caused by Climate Change' (C5) (Grant No. 12-040KU) in Bangladesh. The funder has no role in the design of the study and collection, analysis, and interpretation of data and in writing the manuscript.
Ethics declarations
Conflict of interest
None declared.
Ethical Approval
The study (Research protocol# PR-14006) was approved by the Ethical Review Committee (ERC) of International Centre for Diarrheal Disease Research, Bangladesh (ICDDR, B) and Faculty of Biological Science, University of Dhaka.
Informed Consent
Informed consents were taken from the household caretakers at the time of enrolment in the study. Patients or their guardian were also asked for written consent before rectal swab collection.
Additional information
Publisher's Note
Springer Nature remains neutral with regard to jurisdictional claims in published maps and institutional affiliations.
Supplementary Information
Below is the link to the electronic supplementary material.
About this article
Cite this article
Hossain, Z.Z., Sultana, R., Begum, A. et al. Investigation of the Domestic Reservoirs of Diarrheagenic Escherichia coli in Diarrhea Case Households of Urban Bangladesh. Curr Microbiol 78, 2534–2547 (2021). https://doi.org/10.1007/s00284-021-02506-9
Received:

Accepted:

Published:

Issue Date: